Marine Le Pen and Éric Zemmour Are Basically Tories
We're living in the anti-migrant hellscape of French fascists' dreams.
28 April 2022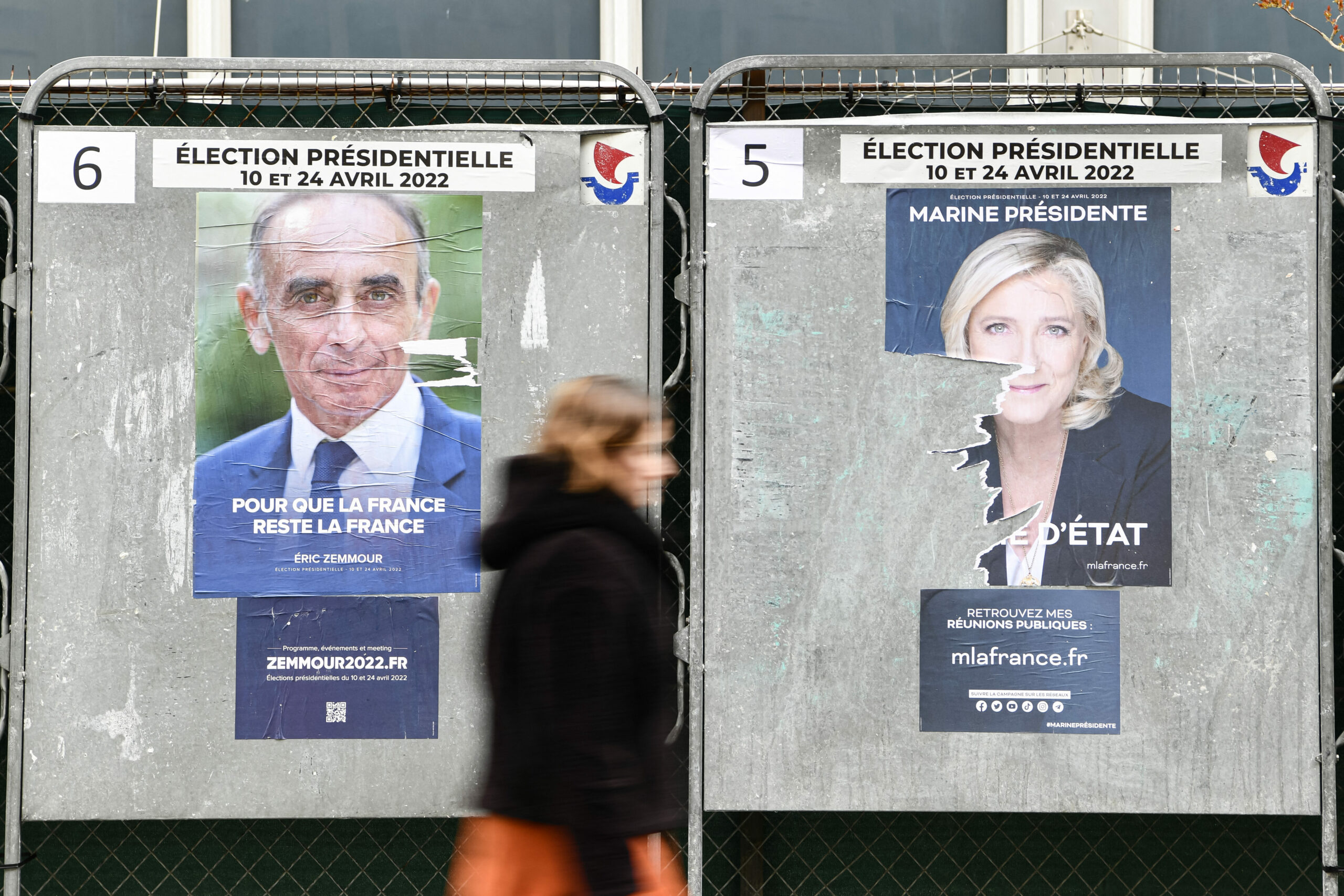 Victor Joly/Abacapress.com
When on Monday evening Emmanuel Macron's victory over Marine Le Pen was announced, many on this side of the Channel breathed a sigh of relief. France had just averted political catastrophe – fascism would not come to Britain's doorstep. During the campaign, British outlets repeatedly made Éric Zemmour out to be France's answer to Donald Trump, while even rightwing outlets like The Telegraph and Daily Express described him and Marine Le Pen as "nationalist hard-right" and "far-right".
What's interesting, however, is that these candidates from whom France has supposedly been saved campaigned for policies strikingly similar to those already in place in the UK – or are set to be very soon.
In her 2022 manifesto, Le Pen proposed deporting migrants who have received prison sentences – something the UK has been doing since 2007. Her suggestion to exclude all migrants from the welfare state is basically the UK's no recourse to public funds policy, a condition that means migrants without indefinite leave to remain cannot access any benefits or welfare support, in place since 1999 through the Immigration and Asylum Act. Migrants even have to pay a yearly fee in order to access NHS services. Le Pen also advocated clamping down on the right to asylum, which bears a close resemblance to Priti Patel's nationality and borders bill, often dubbed the "anti-refugee bill". Finally, she proposed removing automatic citizenship for migrants when they turn 18 – in the UK, automatic citizenship does not exist. In fact, it is even made prohibitively expensive through exorbitant fees that prevent many from getting citizenship.
Nor is it only Le Pen who is politically aligned with Tory policy. Zemmour – the brash candidate even further to Le Pen's right, a man who has declared Islam "incompatible" with French values and is being sued for Holocaust denial – led a campaign that had much in common with the existing UK immigration policies as well as the borders bill, including revoking the citizenship of criminals and terrorists, cracking down on "people smugglers", and the systematic removal of undocumented migrants and of migrants who are unemployed for six months. In the UK, migrant workers on the skilled worker visa have just 60 days to find new employment if they lose their job before facing removal. Zemmour is the picture of a modern Tory – in fact, he has even said that Boris Johnson is the political leader to whom he feels most akin "culturally and intellectually".
Of course, the French and British political contexts aren't perfectly comparable. Xenophobia and racism operate in very different ways in these two countries. Growing up in France, I experienced more racism than I have since I moved to the UK – from racial abuse from classmates and strangers to being told when I was granted French citizenship that I ought to change my name in order to facilitate my integration into French society. Hijabi women report experiencing targeted violence, which Le Pen and Zemmour have gleefully stoked. France also doesn't recognise race as a social concept – meaning there are no policies seeking to explicitly address the structural impact of racism or xenophobia. In the UK, on the other hand, while overt displays of racism may have become marginally less acceptable (though that doesn't stop Johnson from comparing Muslim women to letterboxes), the behavioural expression of racism and anti-migrant politics has been transmuted into a legal assault on the rights of marginalised people, as we see through Prevent, the policing bill and the borders bill.
France's extreme right politicians are not, in other words, dystopian visions of racist nationalism, anathema to British politics. Rather, they represent a political movement comparable and at times literally identical to our Tory government, particularly on issues of immigration. The reason for Britons' lack of self-awareness may be that groups like Ukip and the BNP made the Tories seem more moderate when, in actuality, they have simply repackaged their far-right politics in a bid to secure power, wrenching the Overton window rightward in the process.
British fear about Le Pen and Zemmour isn't misplaced: these figures pose a real danger to French society, normalising fascistic conceptions of nation, security and identity. But what this alarm also demonstrates is how deeply normalised far-right politics already is in the UK, to the point that we can't even recognise it as such. The echoes between Le Pen and Zemmour's proposals and UK immigration policies should ring alarm bells among the British: we're already living in the anti-migrant hellscape of French fascists' dreams.
Francesca Humi is an immigration caseworker and campaigner living in London.