4 Rape Revenge Plots Unfolding Worldwide
2 April 2014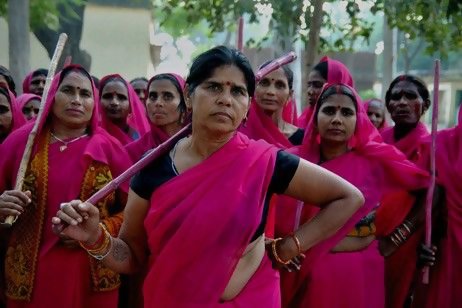 From the spectacle of injustice that was The Central Park Five to the realities flagged by Angelina Jolie's vague 'campaign' at Srebrenica, the disciplinary functions of rape — within and without the home, with and without classed and racialized dynamics — are the air we breathe, the backing vocals on our news feeds. Even in the rare instances when they're not making the news, individual or collective rapes — and the threat of them — continue to structure and pervade life in capitalist society across the globe. By way of counter-power, four closely interlinked manifestations of movement are illustrated below: demonstration, litigation, self-defence, and armed collective reprisal. Despite the tragic contemporary frequency of rape victims' self-immolation, suicide has not been included here.
1. Demonstration.
In India, following high-profile Mumbai and Delhi gang rape incidences, a bellicose and sustained anti-rape movement has compelled thousands to the streets and onto buses in protest. While 'traditional' religious, patriarchal, and even fascist elements are participating in the rush to affirm women's 'value', the majoritarian feminist contingent is, Kavita Krishnan argues, evolving a radical state- and family-critical analysis that seeks to revolutionize urban and rural caste-inflected sex relations alike.
In South Korea, incensed by Tokyo's retraction of its WWII-related apology, rallies that have taken place every week since 1991 are now vindicating afresh the former 'comfort women' of Japanese and U.S. officers. The ramifications of this solidarity with trafficked sex slaves potentially run very deep for South Korean feminists' struggles. These are demonstrations worth keeping an eye on.
2. Litigation.
The question of whether Twitter-storms can manipulate rape-apologist judges (as at Maryville, a year after Steubenville, USA) remains moot. But with massive grassroots support, eight UK women who became the unconsenting long-term sexual partners of undercover Metropolitan Police officers deployed to spy on political activist networks — some having children by them — are courageously conducting lengthy legal action to expose, redress, and hopefully impossibilize future repetitions of the experience they define as "being raped by the state".
On a brighter note, since a rule barring prostitutes as claimants was removed in 2012, fourteen sex workers in California who suffered rape (though not by police) have been granted compensation. Since the 1970s when the designation 'sex work' was invented, sex workers have been organizing all over the world (usually out of court) against the (seemingly all-too-routine) rapes perpetrated by police. Refer to the discussion on consent, and the final chapter, 'Movement', in Melissa Gira Grant's new book Playing the Whore.
3. Self-defence.
It was memorable when Rihanna shot her rapist down in 2010: celebrations of the individual vigilante abound, but very, very few aren't male. Here are a few recent, real, live, departures from the script.
On 7 March 2014, Thomson Reuters  reported the jailing of a woman, Fatima, who axed her habitual rapist to death in the city of Fès and proclaimed: "He killed me a thousand times before I ever came to kill him too".
In Ciudad Juárez, the assassin self-identified via email to the authorities as Diana "Cazadora de Choferes" (Hunter of Bus Drivers) caused an international stir by becoming, she said, an instrument for avenging rapes perpetrated by drivers with impunity. Reports in 2013 suggest "Diana" enjoyed considerable community solidarity in Mexico, and has not been apprehended to date.
It is as yet unclear what will become of Hong Kong resident and mother Yeung Ki during her eleven-day trial. Ki was the victim of her boyfriend's rape, long-term abuse, and concomitant attempts to blackmail her with threats of revenge pornography. This year she drugged him and used scissors to remove his penis (which she flushed down the toilet) prior to beating him to death.
There is fear, too, in the minds of the many activists dedicated to freeing Yakiri Rubí Rubio Aupart, who was until recently imprisoned in Mexico City. Yaki still faces a terrible battle in court. Though cleared of capital murder charges, she has been bailed at a sum ten times higher than could be expected, for "excess of legitimate defence". Meanwhile, the existence of her girlfriend, Rosa, is denied — lending a "corrective" flavour to the narrative, which many South Africans would find familiar. That she once had a lover with the same first name as one of the strangers who raped and slashed her, is apparently evidence enough for the judge that what happened could not have been rape. The dead kidnapper's brother, the accomplice, still walks free.
Late in 2012, Nevin Yildirim calmly handed herself into the police in Yalvaç, Turkey, having avenged herself on her rapist by shooting him and cutting his head off, dropping it in the town square. "Don't play with my honour!" she is reported to have proclaimed, as the head of her repeat abuser, her aunt's husband, rolled towards a café.
4. Armed collective reprisal.
To those seeking freedom, 'justice' would not be enough even if we could attain it. But the justice that revenge represents is often what we desire. The 'accountability processes' for rapists that (primarily) women have come up with in many milieus do include forms of anti-violent violence.
Urban feminist tribes, from San Francisco's surviving 'girl armies' to Berlin's antifascist Tuntenhaus veterans, are no strangers to the tactic of group rape vigilante fightback or 'bashback'. Worldwide, simple rape-defence training courses for men and women are also becoming more and more common.
A rural counterpart to look out for comes from Uttar Pradesh. Here, a militant group of women who are combating, hands-on, their community's scourge of domestic violence and rape by husbands, police, and others, goes by the name 'Gulabi Gang'—and has recently acquired a documentary and a website.
Whether those Western commentators delighted by reports of a stick-wielding sisterhood in pink saris would respond similarly to a 'bashback' approach to Woody Allens, Julian Assanges and Jimmy Saviles remains to be demonstrated.