7 Reasons 'Radical' Publishers are Getting OWNED by the Internet
1 May 2014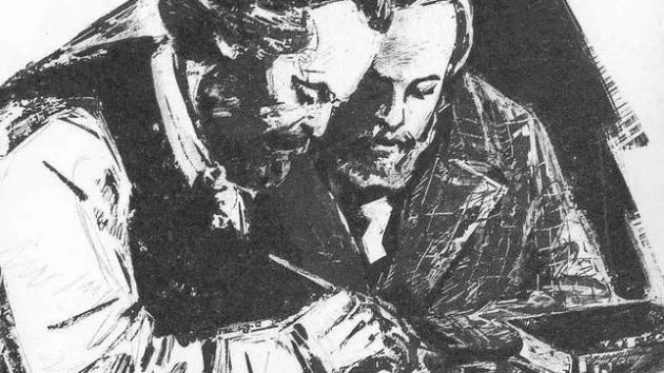 The law locks up the man or woman
Who steals the goose from off the common
And geese will still a common lack
Till they go and steal it back
Anonymous, 17th Century folk poem against enclosure
A writer is a productive labourer not in so far as he produces ideas, but in so far as he enriches the publisher who publishes his works, or if he is a wage-labourer for a capitalist.
Karl Marx, Theories of Surplus Value
Recently, Lawrence and Wishart, publishers of the Marx-Engels Collected Works (MECW), the most complete works available in English, issued an instruction to the Marxists.org internet archive to take down their digitised and freely-available copies of its text. The publishers' statement is here, and the Marxists.org statement can be read here.
The publishers' statement has two modes of reasoning: one is technological-industrial, about the relationship between the internet and conventional publishing; one is political, about what 'radical publishers' are for, and their uses. We think they're wrong on both. Here's why.
1. The internet changes things.
It's fashionable to dismiss the advent of the internet as less significant than claimed, arguing that it is a cosmetic change to society – simply speeding up delivery of commodities or information exchange – but affecting little beyond that. A parallel move is to suggest that the internet simply multiplies and extends our opportunities for mutual degradation and accelerates our slide into barbarism. What we'd say instead is that the internet changes things: the canary in the coal-mine here is the music industry. The bottom has irreversibly fallen out of the old model of the music industry and its various monopolies. Television, film and – yes – publishing are looking on anxiously. Commodities which are easily reduced to shareable, replicable information such as books, films or recorded music will be shared. That much seems obvious.
But the extent of this change and its consequences are less obvious. Analogies with the printing revolution verge on becoming cliché, but are nonetheless instructive. The monastic scriptoria certainly declined with the rise of the printing press, but more interesting is the use to which that press was first put. The first generation of books ('incunables') were printed to look as much like manuscripts as possible, just as ebooks today ape the form of printed books. But this will not always be so. The formal lag makes it possible for publishers to hope their model will be largely unaffected; we think an understanding of history makes this a foolish hope.
2. Once it's out, it's out.
Anyone passingly familiar with the internet will be familiar with the 'Streisand Effect' – that is, an attempt to ban or censor something will tend to increase its prominence and breadth of dissemination. The instantly and near-infinitely replicable quality of digital information makes this easy. It also means that it's almost absurd to grant a limited license to host a text on the internet: there are no fixed-duration licenses online, because information is either off or on the internet, and once it's on, it's very difficult to remove.
But we think Lawrence and Wishart are not so stupid as to fail to realise this. We think they know that communists, being by nature suspicious people, will have saved copies of the digitised MECW. So it is not communists who will be affected, but casual readers, researchers outside the university, students, those curious about Marx and so on. That is, they wish to make it difficult to access in order to monetise a series of legal claims to a corpus of work foundational to a social movement dedicated to the abolition of private property. In this, they are stupider than a latter-day Cnut, and infinitely more craven.
3. Who benefits from copyright?
The history of copyright law is a history of a legal compromise between the idea of a public good and the ravenous appetites of stationers and printers. The Statute of Anne, which established the first copyright law in England (with a term of 21 years, and the creation of a public domain into which works entered after its expiration), just as the guarantees to copyright in the Constitution of the United States, were framed primarily to advance the social good – the free availability of ideas – while also protecting the interests of authors and inventors. But the extension of copyright terms, both in the Berne Convention and by more recent national Copyright Acts, is largely a creature of copyright industries, as intellectual property intermediaries are disproportionate beneficiaries of terms extended beyond an author's life. There is little evidence, outside of top-selling artists, that creators benefit from substantially extended terms.
But we must consider specifics. In this case, Marx and Engels are long dead, having lived lives dedicated to the overthrow of private property and capitalism. The MECW, a co-venture between L&W and Progress Publishers in Moscow was substantially funded by Kremlin gold. Many of the translators worked not for the meagre stipends such work provides, but out of a conviction that this work ought to be translated into English. These facts ought to be borne in mind when L&W conflate the 'right' of a publisher to defend the copyright on such a project with the right of writers to be paid for their work. That is to say, as an entity with legal claims to this corpus, L&W are attempting to extract rent for access to it. But such a claim may be at once legitimate in the eyes of the law while remaining politically abhorrent.
4. Whose commons?
Perhaps the most patently ridiculous part of L&W's defence is their assertion that the academic library is a model of a commons:
"This will have the effect of maintaining a public presence of the Works, in the public sphere of the academic library, paid for by public funds. This is a model of commons that reimburses publishers, authors and translators for the work that has gone into creating a book or series of books."
We assume the publishers have failed to notice what has been happening to universities for the last few years, or indeed that these days attempting to enter an academic library improperly can get you arrested. Nor indeed will most people who have worked on a scholarly edition recognise this as a model in which they are even half-adequately rewarded, though perhaps emoluments for publishers are rather more substantial. The notion that the academic library model allows anything approaching 'access' to these works is so entirely preposterous we are forced to assume it is a joke, and the repetition of 'public' an exercise in cruel irony.
But there is also something obscene in this: Marx's political awakening, and some of his earliest thinking about private property, was based on the abrogation of the rights of peasants to use wood fallen in common lands. To suggest so regulated, enclosed and rent-seeking a form of access is a model of a 'commons' is to spit in his face, and ours.
5. A duty to radical publishers?
What comes across most forcefully from L&W's statement is an outraged sense of the duty of the 'radical' community to 'radical' publishers. The word 'radical' hides many sins (it doesn't mean 'communist'), but I think we can detect the mournful wail of an enterprise that no longer has Moscow gold to support it. But there's no obligation on any of us to support radical publishers simply by virtue of their existence, still less does 'radical' content make a publisher non-capitalist. One does not cease to be a capitalist enterprise simply by being a nice, abstemious, or inefficient capitalist. The argument that returns from MECW are sunk into providing free content and subsidising authors may be a little stronger if that content weren't badly microwaved Gramsci alongside the ramblings of prominent Labour racist Maurice Glasman and his various fellow-travellers.
Radical publishers are a necessary evil, but they are not necessary in themselves, and no obligation exists to keep them running out of sentiment. If we accept the internet changes things, then the old models of radical distribution are likely to change profoundly. In this, we might suggest writers' and publishers' interests are likely to differ; the role of publishers is likely to change. How will distribution change with the internet? How best to disseminate ideas? How best to pay living writers? This s an open discussion, but we imagine enclosure isn't high on the list.
6. Against Marxolatry: for the free use of Marx.
Lawrence and Wishart assume that their scholarly edition of Marx ought to be collected in the library, or on the shelves of those able to afford it, while the rest can make do with the editions of portions of his work already circulating in other editions. The Marx and Engels of the MECW are for specialists, who can interpret them for use by everyone else. This has been the model of official Marxism for decades, and accounts in part for the excessive weight given to intellectual workers and theorists in a movement supposed to be far wider than that. This promotes the veneration of Marx's work as scripture, accessed only by the suitably learned, whereas we believe in its importance especially as the record of a political life – in the letters, as well as the drafts and the manuscripts. Taking the MECW out of the hands of specialists allows us to shatter the doctrinal image of Marx propounded by this or that party and discover the record of a critical, changing mind committed to the abolition of capitalism and private property.
The young Marx knew about dusty collections of weighty tomes: 'You do not need to read the books; their exciting aspect suffices to touch your heart and strike your senses, something like a Gothic cathedral. These primitive gigantic works materially affect the mind; it feels oppressed under their mass, and the feeling of oppression is the beginning of awe. You do not master the books, they master you.' That's in the first volume of MECW, until recently available at the tap of a few keys from my home computer. Under L&W's new 'access' system, I'd have likely never read it. It seems the publishers want their edition to sit in a library as beautiful and useless as a Gothic chantry, a memorial to dead men, rather than a tool in the hands of the living.
7. It's not going away.
Ultimately, this is a political conflict. Lawrence and Wishart suggest that the work of Marx and Engels isn't the 'birthright' of the radical left; we think it is, and we think their work is foundational to the communist movement, and ought to be as widely and openly accessible as possible. We think their arguments for entitlement to rent rank a poor second alongside this, and are a betrayal of the impetus for the MECW's production in the first place.
We express our respect and solidarity for the brave choices made by Libcom and the Occupied Times to put mirrors of the online MECW on their sites (see links), and the decision by other sites to encourage the use of P2P technology to propagate the entire Marxists.org archive.