11 Sports Personalities Who Embraced Their Political Convictions
10 June 2014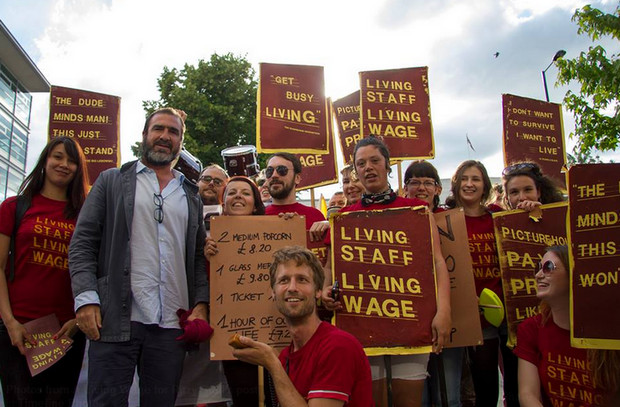 20 years since adopting the famous number 7 shirt at Manchester United, Eric Cantona was the talk of social media last week as he joined striking Ritzy cinema staff at a demonstration outside Hackney Picturehouse, posing for photographs in solidarity with their ongoing campaign for a living wage. It's relatively uncommon for sports stars to speak openly about their politics, aside from Frank Lampard declaring his Tory credentials or Joey Barton becoming the face of a pretty feeble anti-homophobia 'laces' campaign, but Cantona is by no means the first sports personality to wear his political convictions on his sleeve. Here are a selection:
1. Eric Cantona.
Okay, it's King Eric again. He was pretty cool for standing with Ritzy workers last week, but four years ago Cantona hit headlines by calling for a 'revolution against the 'banking oligarchy', starting with a run on the banks through global mass-withdrawal of funds. Nay-saying financial wonks came out in force about how we would only be punishing ourselves, but Cantona's interview went viral and the sentiment resonated with thousands the world over.
2. Martina Navratilova.
Arguably the greatest tennis player of all time, Navratilova is adored in the USA for her staunchly anti-Communist views, to the point that she refuses to speak Russian. Virulent pro-West stance aside, Navratilova is also known for being a high-profile gay rights campaigner, having announced her sexual orientation to the media at the height of her fame and popularity.
3. Paolo Di Canio.
Di Canio might be a West Ham legend, but he is also an unapologetic fascist. While the Roman salutes at Lazio probably gave it away, the open secret was confirmed in his autobiography in which he expressed his admiration for Italian fascist dictator Benito Mussolini.
4. Didier Drogba.
Perhaps foremost among sportspeople credited with using their status to bring about real material change is Ivory Coast captain and former Chelsea striker Didier Drogba. Following five years of intense civil war, Drogba is widely acknowledged to have played a crucial role in peace negotiations and brought an African Cup of Nations qualifier to the heart of rebel territory in 2008.
5. Cathy Freeman.
Having grown up in poverty and on the receiving end of constant racism, Australia's most prolific Aboriginal athlete was still subject to white Australians' anger when she waved the Aborigine flag alongside the Australian flag at the 1994 Commonwealth Games. Freeman remained a defiant figure standing up for Aboriginal justice and catapulted the issue onto the world stage when she lit the Olympic flame in Sydney in 2000.
6. Brian Clough.
Football hero Brian Clough was known for his managerial talent, his sharp wit and his unashamed socialist politics. A constant thorn in the establishment's side, he was a founder of the Anti-Nazi League and made hefty donations to strike funds – including free football tickets to striking miners.
7. Mahmoud Sarsak.
Palestinian footballer Mahmoud Sarsak was arrested in 2009 by Israeli authorities and held in prison for three years without charge or trial. In 2012 he began a hunger strike which gained international attention including a campaign by Celtic FC ultras, the Green Brigade. After 97 days on hunger strike, during which Sarsak lost around half his body mass, he was released. He remains a prominent campaigner against both the Israeli occupation of Palestine and attempts by Israel to host international football tournaments.
8. Vitali Klitschko.
Until recently Klitschko was primarily known as the boxer who forced Lennox Lewis into retirement and who has, with his brother, dominated the heavyweight division for the last ten years. During a period of injury in the mid-2000s, Klitschko took up electoral politics in Ukraine having been a key supporter of the Orange Revolution. Having formed a political party, the Ukrainian Democratic Alliance for Reform (UDAR – which translates to 'punch'), which stands on an anti-corruption and pro-European platform, Klitschko became a prominent figure during the recent Maidan protests. He soon retired from boxing, vacating his world title, and has recently been elected the Mayor of Kiev.
9. Diego Maradona.
Known for his legendary footballing talent and infamous 'hand of God', Maradona is perhaps less well known for his fraternal relations with Hugo Chavez and his friendship with Fidel Castro. He even has a tattoo of Castro's face. To match his tattoo of Che Guevara, naturally.
10. Billie Jean King.
A lifelong outspoken feminist, any advances in women's tennis – even though there are more to be desired – can be traced back to Billie Jean King. Having won the infamous 'Battle of the Sexes' match against tennis elder-statesman and bigot Bobby Riggs in 1973, King founded the Women's Tennis Association in the same year. She continues to be an advocate for women in sport and was among prominent LGBT voices speaking out against Russia's hosting of the 2014 Winter Olympics.
11. Muhammad Ali.
Last but by no means least is perhaps the most famous, iconic and loud personality known in any sport. Having joined the Nation of Islam in 1964, Muhammad Ali was a close friend of both Malcolm X and Elijah Muhammad. Three years after having one his first world title in 1964, Ali was called up by the Vietnam draft, to which he refused on conscientious grounds. His status as a conscientious objector was declined by the US government and he was subsequently arrested, charged with draft evasion, stripped of his world title and his boxing licence, and had his passport voided. In the meantime he continued to speak out against the war and in favour of racial justice, which he continued to do throughout his career.