3 Reasons You Should Take Interest in the World Cup
12 June 2014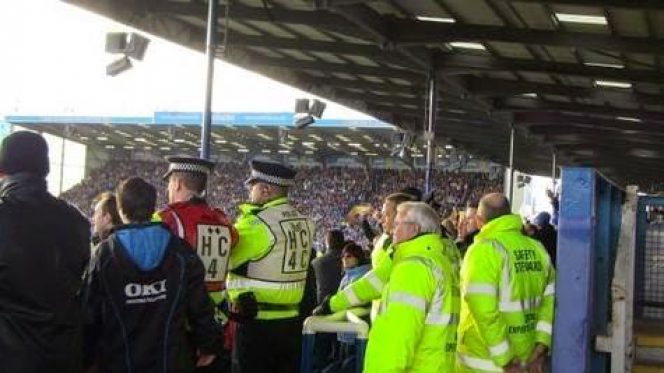 The World Cup kicks off today in São Paulo, where Brazil will take on Croatia. Though the England team and fans go into the tournament with rather more modest (some might say, realistic) expectations than usual, there is still plenty of hype, sensationalism and bullshit in the air. Anyone who doesn't like football – and for that matter, plenty of people who do – could be forgiven for just switching off. But there are many reasons for those on the left to be interested in the World Cup as a phenomenon, for its form and the practices associated with it rather than for, if you like, its sporting content. In particular, discussions around the policing of football fans and the management of their behaviour reveal how neoliberalism works in practice.
1. Top class professional football is one of the most potent examples of the commodification of popular culture.
One does not have to have read Debord's The Society of the Spectacle to appreciate that there is a growing distance between football fans and the people who run the clubs and the competitions. This distance exists in multiple dimensions. The players are multi-millionaires drawn from all over the world, the club administrators are business people first and last, and the match tickets are too expensive making the game increasingly a TV phenomenon. As Debord wrote, "All that once was directly lived has become mere representation."
Some fans have declared themselves to be 'Against Modern Football' a slogan that is limiting in its implied nostalgia for a past that was in fact problematic in other ways. Football clubs have not always been multi-national businesses, but they have always been private entities. Rather like universities, the point is not that they are now being 'privatised' but rather corporatised. Football clubs and competitions have been transformed along lines dictated by neoliberalism more generally, intensifying their exploitation of resources, diversifying beyond their core activities, and building their 'brands', in the No Logo sense.
At the same time, fans have become not participants in a human drama, but rather passive observers and consumers of a product. Manchester City's Head of Fan Relationship Management was recently caught on LinkedIn describing his job as "responsible for creating direct relationships with fans worldwide, learn about their interests and behaviours, and better engage them, serve them and monetise them." Though they are beginning to recognise its manifestations, most fans in Europe are doing little to challenge the neoliberal logic of modern football, beyond generalised complaining: "Football shoud be a party, not a show," as one fan put it on a Lille OSC forum I occasionally visit.
2. Policing is a key means by which the obedient consumption of football is enforced.
In this country, a dominant theme in the discourse surrounding football is the imminent risk of a break down of order. The way football violence is reported gives a clue as to nature of the media relationship with the police more generally.
Every World Cup or European Championship year, the BBC and national newspapers run stories in the build up to the tournament about the steps police will be taking to keep football hooligans from travelling overseas and causing trouble. Such stories come pre-loaded, naturally, with quotes from the police sources who plant them. More broadly, the content, structure and timing of such stories are almost always dictated by the police. In this story from the BBC website, the journalist has so hastily and sloppily copied and pasted the press release which is the basis for their reporting that they didn't even bother to render 'Ch Supt Barber' in the more familiar English 'Chief Superintendent Rachel Barber'.
3. Policing of football fans has been a laboratory for public order policing more widely. Paying attention to the way fans are policed gives a clue as to the direction of policing in general.
Note the words of the 'Ch Supt' in the article linked above: "We are the subject of envy of some of our colleagues across the world for the legislation that we have in the UK." Yes, many police forces and judiciary around the world are apparently jealous of the British police and judiciary's ability to curtail the liberty of football supporters.
As I've written elsewhere, the main means by which police 'manage' football violence is through the Football Banning Order. Any fan who has been convicted of a football-related offence (the offence in question need not be violent, and may be as minor as 'drunk in a football stadium') will almost always be issued with one of these football-ASBOs, lasting for a period of 3 to 10 years. During this time they will be banned from attending any matches anywhere in the country, and will also be required to surrender their passport to the police when their club side is playing in European competition, or when the national team is playing overseas. There is no evidence to support the contention that such a drastic curtailment of liberty even has the desired effect.