7 Ways the Localism Act is Shafting the Homeless and Precariously-Housed
28 July 2014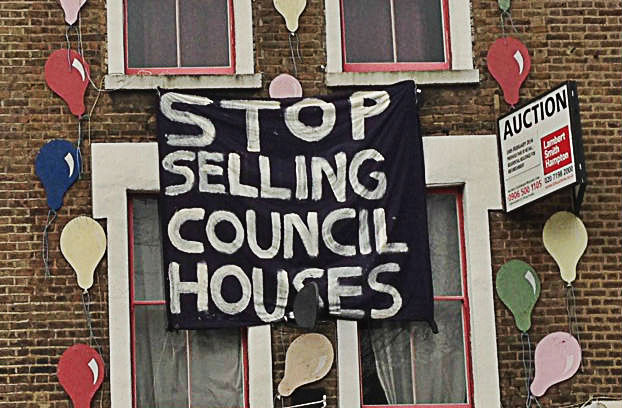 The Focus E15 mums' vibrant and unstoppable campaign has been important in highlighting what the largely unheard-of Localism Act means for homeless people and other precariously-housed people. While forced evictions reach an all time high as a result of housing benefit cuts, soaring rents and omnipotent landlords, the new powers given to local authorities under the Act further undermine the already dire homelessness provision.
1. Vulnerable people are being excluded from waiting lists and forced into workfare.
Under the Localism Act 2011 local authorities have been given more powers to set their own guidelines for their housing registers and waiting lists. Following guidance set by the Department for Communities and Local Government (DCLG), local authorities are setting extremely narrow criteria for accessing social housing and waiting lists, effectively excluding many vulnerable people. This can entail workfare as people are forced to 'volunteer' in order to be allowed on the register. Newham council's housing list now gives priority to people in paid work over those who are unemployed on the housing waiting list. Hammersmith and Fulham council have used their new powers to remove a homeless single mother from their housing list.
2. British homes for British soldiers.
In a move that echoes the BNP's 'British Jobs for British Workers' campaign, the DCLG guidance also gives additional priority to military personnel for "the important contribution they make to the country." Taking on this 'British Homes for British Workers' guidance with relish, then Hammersmith and Fulham cabinet minister Andrew Johnson sickeningly describes their housing waiting list criteria: "There can be no people more deserving of a council house or access to homeownership than those who give voluntary service in the name of Queen and country." Research by Inside Housing seems to confirm that as well as the nationalistic and racist prioritising of military personnel, the rest of the changes related to the housing register discriminate against BME populations.
3. The legacy of 'Right to Buy' lives on…
The decimation of social housing through Right to Buy, as well as cuts to funding for social housing, has meant that for many on these spiralling waiting lists the prospect of social housing was already slim. However, vulnerable groups of people are now being totally barred from any chance of social housing.
4. …but cuts to social housing are legitimised by a 'lack of demand'…!
These narrower guidelines enable councils to massively reduce the number of people on their housing waiting lists. Councils can use this to make it look like there is no demand for social housing as Hammersmith and Fulham Tory councillor Greg Smith did after the council slashed their list from 8,171 people in April 2012 to 768 people in April 2013.
5. Homeless people are being shafted into the private sector.
Councils have a legal duty to provide suitable temporary accommodation for homeless people who meet the narrow criteria (see this useful, clearly written leaflet on homeless rights). Before 2012, councils could only discharge their duty to homeless people with the offer of social housing from the housing register meaning that after months, even years, in utterly inappropriate and appalling housing conditions, people would finally get social housing allowing them relative security and affordable rents. Thanks to the Localism Act 2011, councils can now discharge their duty to homeless people with the offer of a private tenancy of at least 12 months. People who have experienced the distress and trauma of homelessness can be shafted into poor quality, insecure housing with extortionate rents, and the very real and constant threat of homelessness hanging over them.
6. And housing offices often try to wriggle out of their obligations.
Of course, even before this significant change to councils' homelessness duties, those people who the council did have a duty to house had to battle against the 'gatekeeping' practices of local housing offices where staff would employ practices to stop people registering as homeless. Hackney Housing Group, part of the London Coalition Against Poverty, is a mutual support and action group of mostly Portuguese-speaking black women who organise together to combat these gatekeeping practices – turning up on masse at the housing office to demand a homelessness application is made there and then.
7. This discharge of duty amounts to social cleansing.
This new power for councils to discharge their duty to homeless people through the private sector means social cleansing. For London boroughs, private rents are so high that housing benefit will not cover the rent, so councils are looking beyond London to house homeless people – Manchester, Birmingham, and Hastings are among some of the locations that London councils have been forcing people to move to tearing apart communities and severing any links and support networks that people depend on.
For the moment, what could be a mass forced migration of low-income people out of London is happening on a relatively small scale numbering officially 20 families a month across London from those councils who responded to FOIs. (These official statistics are likely to be highly misleading as they do not take into account those people and families who have been prevented from registering as homeless through various gatekeeping practices at the housing office, or who decided not to register as homeless, or who were not eligible to register as homeless.) But a trusted source told me that talk in one London council had been that they were holding off forcing people into the private sector outside London until after the (now-passed) local elections and were also waiting on the more 'evil councils' to take the lead on this. As rents and homelessness both rise, so too will the number of people forced out of their communities to precarious housing in alien cities. However, this apparent hesitancy of some London councils to enact such blatant social cleansing should be exploited as best as we can.
London Coalition Against Poverty, a coalition of local groups providing mutual support and action on housing and welfare issues, are planning a mass action against these councils. Check the LCAP website for more details soon.