When Music Mattered: 6 Records That Helped Shape Red Wedge
by Novara Reporters
7 November 2014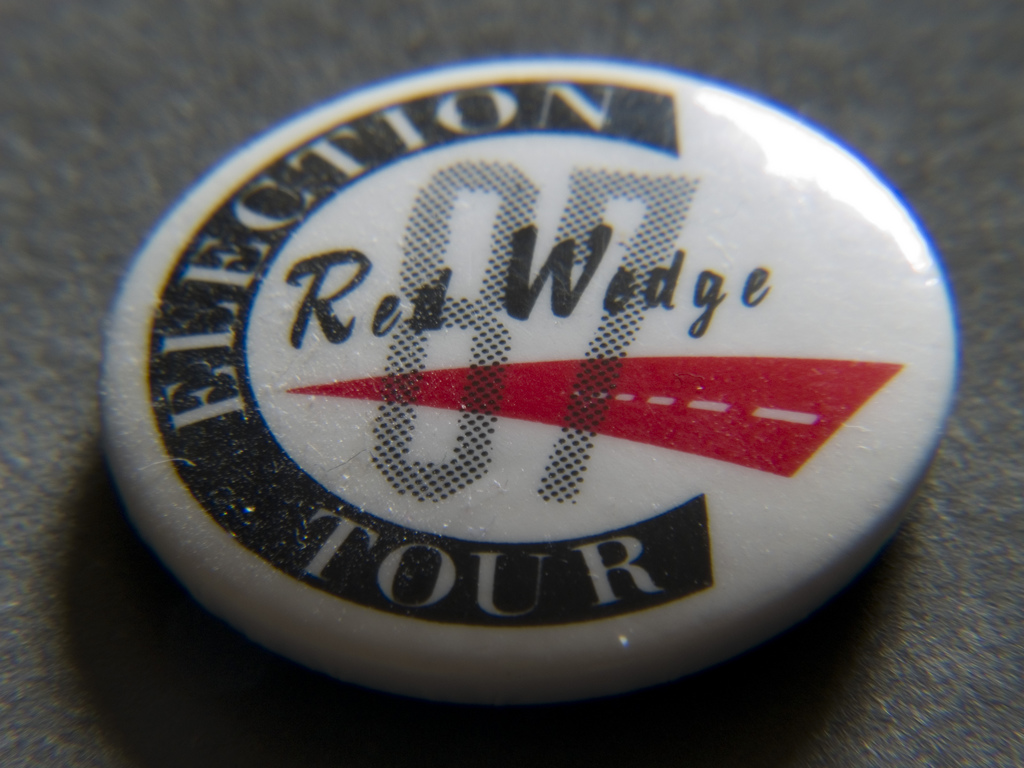 When comedic nonentity Andrew Lawrence wrote a Ukip-praising tirade against lefty comedians, "ethnic comedians and women-posing-as-comedians" (yes, really) a couple of weeks ago he probably didn't foresee Nigel Farage pledging his support on Twitter. In turn, Farage probably didn't see Frankie Boyle joining in the conversation.
@Nigel_Farage There are a lot of honest people in comedy, which is why they keep calling you a cunt

— Frankie Boyle (@frankieboyle) October 28, 2014
When black comedian Ava Vidal stepped in to slam both Ukip and right wing comedians, Farage couldn't bear not to have the last word, sparking further ripostes from Boyle and 'Imaginary Liberal Comedy Cabal' spokesperson Stewart Lee.
This exchange – cringeworthy, angering and amusing in equal measures – goes some way to vindicate a popular article from earlier this year which asked why it is now comedians – rather than musicians – taking on politics and arguing most vociferously against the status quo.
In Britain the last major intervention made by musicians into the mainstream political conversation was probably Red Wedge. Founded in the run up to the 1987 general election, the Red Wedge collective brought together well-known musicians to rally young people against Thatcher. Though broadly supportive of a Labour election victory, Red Wedge musicians also used the platform to denounce capitalism and homophobia while supporting unions and other forms of collective action. Here are a collection of hits from a time when music mattered:
1. Bronski Beat – Why?
Jimmy Somerville, Bronski Beat lead singer and patron of Lesbians and Gays Support the Miners, was among the most prominent members of Red Wedge. This 1984 hit was a defiant anthem against homophobic violence and bigotry in a decade strewn with media and government-led moral panics around homosexuality and AIDS.
https://www.youtube.com/watch?v=PxJVbe-D2cA
2. The Style Council – Walls Come Tumbling Down.
"You don't have to take this crap / You don't have to sit back and relax / You can actually try changing it"
Having spent his early 20s as a mod-revival hero in The Jam, Paul Weller's time in The Style Council was spent experimenting with music, style and politics. Perhaps the most content-rich song on this list, this 1985 record explores themes of class consciousness, debt, easy credit, unemployment, wage freezes and solidarity – all in under 3:30.
3. Strawberry Switchblade – Since Yesterday.
"And as we sit here alone / Looking for a reason to go on / It's so clear that all we have now / Are our thoughts of yesterday"
Glasgow's biggest all-woman new wave act released this bittersweet track in 1985. Uptempo yet melancholic, it perhaps marks bubblegum pop's 'No Future' moment.
4. Heaven 17 – (We Don'e Need This) Fascist Groove Thang.
30 years before the English Disco Lovers, Heaven 17 were fighting fascism with funk. Perhaps one of the few chart songs to mention Reagan and Hitler with an implicit reference to Thatcher, the song was banned by the BBC. More specifically, it was banned by Radio 1 DJ Mike Read, lifelong broadcaster of recent 'Ukip Calypso' fame…
https://www.youtube.com/watch?v=o-YCmncMCro
5. Kirsty MacColl – Free World.
Strictly speaking just after Red Wedge, but too perfect to exclude. This 1989 release is a pointed attack on Margaret Thatcher and her sinking premiership. From the closure of hospitals and schools to class war, MacColl – a prolific socialist and Red Wedge stalwart – spits venom in this fast-paced critique of Tory Britain. Two years later she would follow it up with a US-inspired counterpart, Walking Down Madison.
6. Billy Bragg – Which Side Are You On?
"This government had an idea / And parliament made it law / It seems like it's illegal / To fight for the union anymore"
Foremost among Red Wedge representatives was Billy Bragg, who really made his name during the 1984-85 miners' strike through playing near-constant fundraisers. Though he may divide opinion among the contemporary left, at the time he had the ability to sing about class struggle, scabs and strike-induced poverty with an earnestness belying someone of his relative youth.