Radical Lives: Charles Lahr
10 November 2014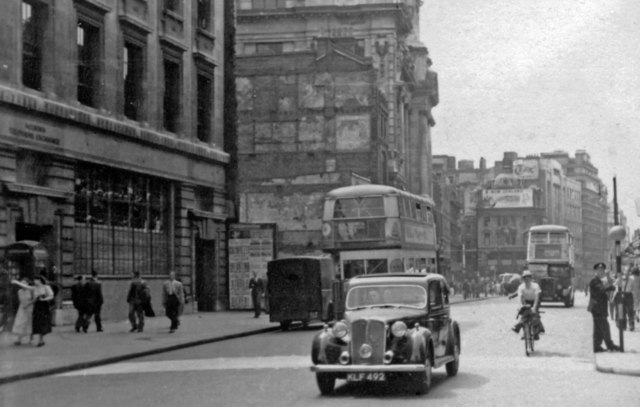 Charles Lahr was born in the Rhineland town of Bad Nauheim in 1885. Originally going by the name of Carl Lahr, he moved to London in 1905 having become an anarchist before leaving Germany. When he first arrived in England, Lahr worked in a bakery. According to Albert Meltzer, he was monitored by the Metropolitan Police, who allegedly suspected him of planning to assassinate Kaiser Wilhelm II, who was visiting Britain at the same time. Lahr was interned during the First World War as a potential enemy alien, and arrested in 1935 for receiving stolen books. As a German radical in Britain, Lahr was under constant surveillance.
What did he do?
Shortly after arriving in Britain, Lahr fortuitously met Guy Aldred who was also working as a baker. A fellow anarchist, Aldred founded the Industrial Union of Direct Actionists in 1907, with Lahr becoming secretary of the Whitechapel branch. Lahr was also a member of the Industrial Workers of the World (IWW), and he helped Aldred found the first Bakunin Press, as well as a number of small anarchist and educational organisations in the early years of the twentieth century. In 1922, Lahr married Esther Archer, a radical agitator and IWW organiser, having met her at the Socialist Club in Charlotte Street.
However Lahr is most renowned for the various second-hand bookshops he founded in London, foremost amongst which was Lahr's at 68 Red Lion Street, Holborn. Described by Jonathon Rose in his book The Intellectual Life of the British Working Classes as "a mecca for down-and-out Nietzcheans and scruffy poets," Lahr's was also frequented by prominent leftist radicals and Bloomsbury intellectuals. Rose tells the story of R.M. Fox, a factory worker and autodidact whose writings were published by the Hogarth Press and who taught for the Workers Educational Association. Fox was disillusioned with both the Labour Party and radical Marxists, but found in Lahr's a space to indulge his passion for "philosophic Germans, gloomy Scandinavians, sour Swedes and analytical Russians."
Lahr had bought the bookshop, originally called the Progressive Book Shop, from his friend, political associate, and fellow member of the IWW, Harold Edwards, who recalled in his short memoir that Lahr made a reasonable amount of money through the shop, especially in the 1920s, but cared so little for financial gain that much of the money was lost by being sunk into unsuccessful publishing ventures.
What were his ideas?
The popularity of Lahr's bookshop was as much about the proprietor as it was about the availability of a diverse set of radical and cosmopolitan texts in his bookshop. As Ken Weller suggests, the shop became "a centre of radical and advanced literary ideas." David Goodway, in a memoir of Lahr penned in the late 1970s, suggested that was "very probably the last" of the "great London radical booksellers-cum-publishers" whose lineage can be traced back to the late eighteenth century.
The beneficiaries of this vibrant atmosphere of political and intellectual discussion fostered by Lahr were numerous. For example, as Christian Høgsbjerg shows in his recent book C.L.R. James in Imperial Britain, Lahr took a particular interest in his customers and their own writings. James recalled that Lahr would "put aside a book or pamphlet for me… Through Charlie I was made acquainted with pamphlets and publications of the American Trotskysist movement, also with similar publications in French." Lahr also shaped James's thinking on the Russian Revolution, the demise of the German Revolution, and on Stalinism more broadly, on which James would publish his 1938 book, World Revolution.
What is his legacy?
Lahr was a political radical who fostered an open culture of discussion and exploration through the sharing of information that crossed national and political boundaries. A passionate anarchist, Lahr nevertheless stocked books from other political traditions – C.L.R. James recalled purchasing volumes by Stalin on Leninism from Lahr – and from those focused on political discussion beyond Britain.
For someone like James, initiating himself into the British left after arriving from Trinidad, Lahr was essential, providing details of political events and discussing contemporary political questions. For James, it was Lahr's role as a purveyor of knowledge that was most attractive; as he recalled, "Charlie did not so much argue a political issue. He disseminated information."
In an era of social media and online access to information about almost anyone and anything, it can be difficult to recover a sense of just how important such radical purveyors of information were to political and social movements. Lahr's bookshop was at the centre of a network of diverse radical political activists. Today's activists use newer forms of technology to perform much the same function that Lahr used his bookshops for – the sharing of information and the fostering of radical political movements. Yet to read the testimonies of Meltzer, James and others for whom Lahr performed a formative role in their own political understandings is to recognise the power that such facilitators have. Political struggle takes place not just on the street but in the mind; it will require many more Charlie Lahrs of the modern age if the radical left is to win.