An 'Unmitigated Disaster': 8 Reasons it's Kicking Off in Ireland
19 November 2014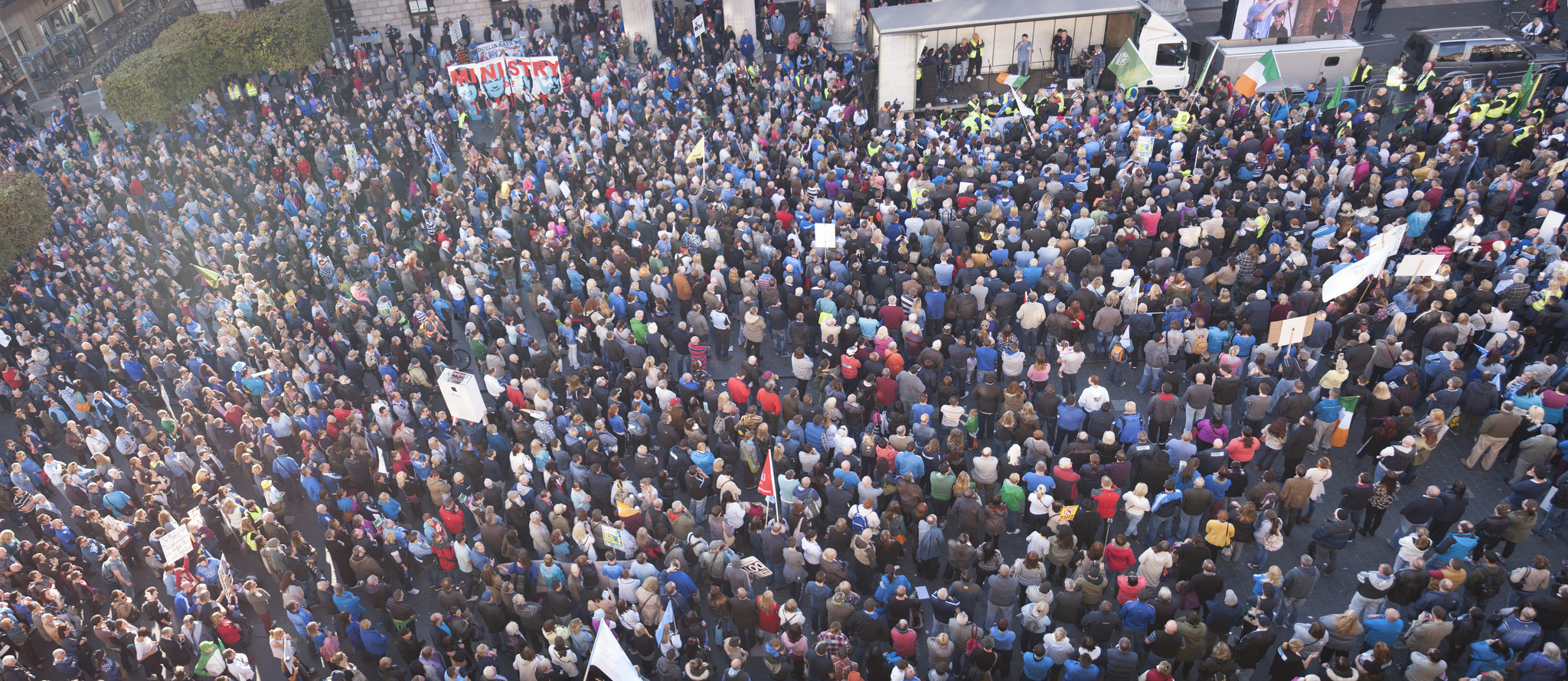 Water has been the main issue in Irish politics for the past few months. The development of Irish Water – a semi-state company tasked with implementing metered water charges as agreed with the EU and IMF as part of the bailout in 2010 – has prompted large-scale protests and shaken the government. Though it has yet to issue its first bills, Irish Water has been described by one member of government as an 'unmitigated disaster', and it has illuminated many issues that go to the heart of Irish politics today.
1. Civil disobedience is on the rise and making a difference.
Resistance to Irish Water has united people across class boundaries in a way that is rare in Ireland. Almost 100,000 people protested against water charges in Dublin this October, while upwards of 150,000 people came out for 90 different protests around the country on 1 November.
These demonstrations have built on and combined smaller protests which are continually happening in local communities across the state. While the water charges themselves are integral to the protests, it's also important to understand this visible anger in context of six years of austerity, and the slow build of organised movements over that time. Though the establishment parties would prefer to put the protests down to "a sinister fringe" made up of terrorists, communists and anarchists, the fact that fewer than half of Irish households have returned their registration packs suggests a much wider base of dissent.
These protests have caused the government to recant on the plans laid out in the budget last month and they now hope to simplify the charges greatly, capping them at a fixed annual rate of around €200 per household, for at least a number of years. Whether this will placate the protesters remains to be seen.
2. The government isn't communicating…
The government has attempted to put the failure of Irish Water so far down to a 'communication problem', and that's certainly been a contributing factor. People have gone months without confirmation of even basic questions like how much they are to be charged. Stories abounded that a call-out to fix a leak could cost hundreds of euro, even if the leak was outside a person's property. People who have to boil their water before using it didn't know if they'd have to pay or not. No one knew how landlords would deal with tenants' bills. People feared for the safety of delicate personal information, as registration forms asked for their children's PPS numbers (equivalent to Britain's National Insurance numbers).
3. …and fears of privatisation as proliferating.
One major concern has been that Irish Water will be sold off to a private company as soon as possible. Leaked documents from Irish Water's PR strategy showing the desired transition from 'citizen' to 'customer' only served to highlight the scheme's neoliberal endgame, putting no one's mind at ease.
A Seanad (Senate) motion calling for a referendum to enshrine the public ownership of Irish Water in the constitution caused the government parties to split. Labour senators supported the idea, but there's no sign from the government that any such referendum will actually be held.
4. The police are making matters worse.
Videos of considerable police presence in housing estates across the country have been filling up Facebook feeds for months now, as An Garda Siochána (National Police Service) are mobilised to make sure water meters get installed where they aren't wanted. The heavy-handed way the police have been dealing with protesters (as well as the demonisation of protesters in the media) will be familiar to anyone who remembers the Shell To Sea protests at Rossport in County Mayo, but the proliferation of footage online has made it significantly more visible this time around.
The sight of ordinary people, often outside their own homes, being thrown around, pepper-sprayed and hit with shields has shocked many who might previously have trusted the police to act in the public's best interest, and caused them to question how dozens of officers can be available for managing small protests while over 100 rural police stations have been closed down in recent years. A concerted media strategy suggesting three officers were being assaulted every day failed to convince most people, and a report published last week detailing widespread corruption, negligence and ineptitude throughout the police force has only worsened their image.
5. Cronyism is being exposed again…

Denis O'Brien, Ireland's second most famous tax exile, bought Siteserv, a company that specialises in installing water meters, from the Irish Bank Resolution Corporation (a state-owned zombie bank) shortly before winning three separate contracts – each worth €62m – to install water meters on behalf of the state. Before the deal, Siteserv owed the IBRC (i.e. the Irish citizenry) €144m. O'Brien purchased the company for a mere €45m, while the state writing off the €100m difference – even though his offer wasn't the highest bid received.
6. …and again…
John Tierney, managing director of Irish Water, caused outrage when he let slip the bonus scheme for the semi-state company's employees, which could see them earning up to 14% extra on top of their salaries even if their performance is under par. Tierney himself was once the Dublin City Manager, and he was responsible for wasting €96m on the Poolbeg incinerator project, before being promoted into his current position.
7. …and again.
Both Jerry Grant, Irish Water's head of asset management, and Elizabeth Arnett, head of communications and corporate services, previously worked for RPS Group, a consultancy firm that had advised the state in the setting up of Irish Water – part of a consultancy package that has so far cost the state €85m. RPS also made some €30m out of its consultancy contract on the Poolbeg project, a contract the European Commission described as "an illegal situation."
8. The social media storm is uncontainable.
While people like O'Brien and Tierney have previously been able to hide in plain sight – the former due in part to his firm grip on large portions of the national media – information about their dealings has spread mostly through social media, enlightening anyone who wants to find out more. It doesn't take much work to join these dots, and more people than ever before are doing so.