The Global Law Summit: Height of Hypocrisy
by Grace Loncraine
20 February 2015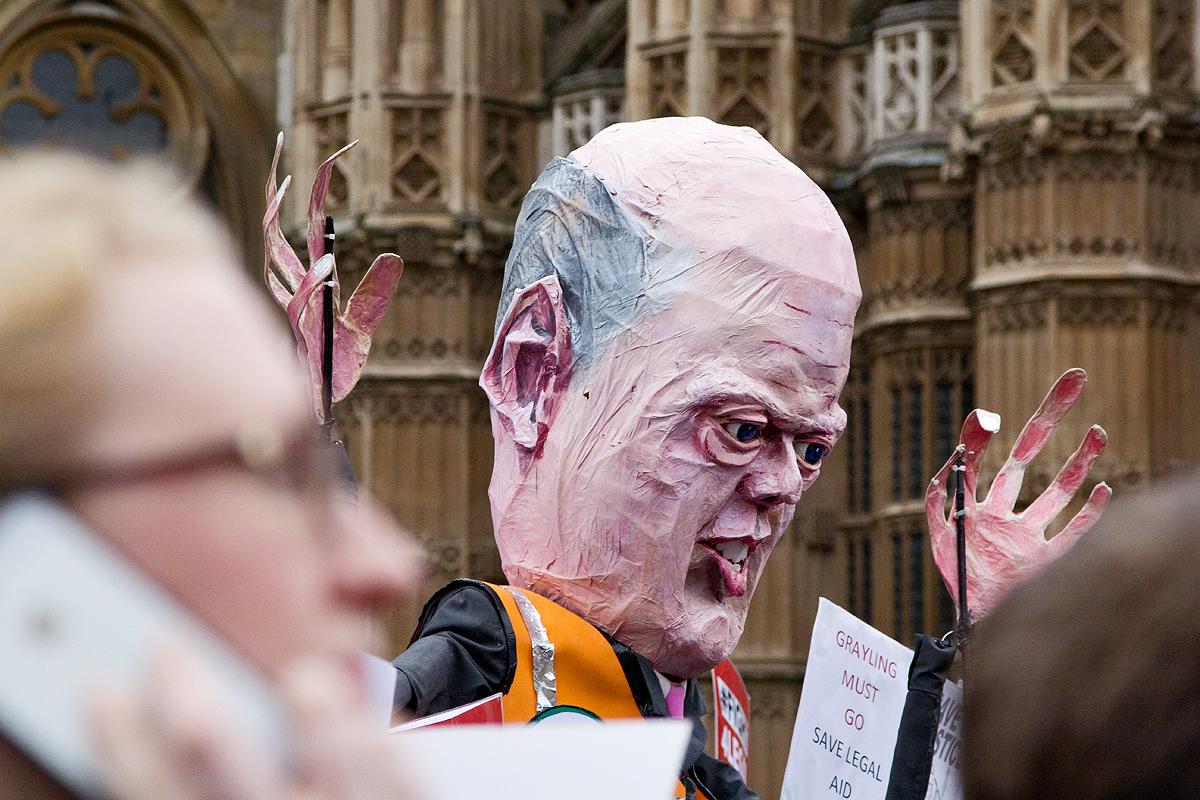 The year is 1985 and half of Britain's miners are on strike. Margaret Thatcher is determined to prevent organised labour bringing another Conservative government to its knees. She undermines their industrial action by stockpiling coal. She outlaws mass picketing. She transforms the police into a paramilitary force: unleashing it on this 'enemy within'. Then, mid onslaught, she finds out that the following year marks the 100th anniversary of the Haymarket Affair, memorialised by the socialist and trade union movements in the form of International Workers' Day.
Thatcher's dogged survival instinct takes over. Woe betide she let this momentous jubilee be the putty in somebody else's PR strategy. She reaches into the dark pit of her imagination and extracts… The Worldwide Socialist Conference. Nigel Lawson is to deliver the keynote address on the phenomenology of proletarian praxis. Foreign dignitaries will take bus tours through South Yorkshire. President Pinochet is the guest of honour…
Implausible? Try telling that to the community of justice campaigners, legal aid lawyers and victims of Lord Chancellor and Justice Secretary Chris Grayling's politics of demolition, who in recent months have watched evermore nauseating details emerge surrounding the Global Law Summit. Let me explain.
Since the Coalition took power, the Ministry of Justice has shown scant regard, if not outright disdain, for the principle it named itself after. Supreme Court Justices, Conservative commentators, and the cross-parliamentary Public Accounts Committee have recognised as much. For justice does not exist in the abstract, but in our ability to access it, and if you are not rich a number of its doors are now closed to you.
The Legal Aid, Sentencing and Punishment of Offenders (LASPO) Act 2012 did away with state-funded legal advice and representation for the vast majority of personal injury, welfare, employment, immigration, housing and family law cases, previously available on a means-tested basis. Of course, the poor and the vulnerable are still free to go to court and defend themselves. But ask Grayling and he'll assure you of the importance of having a competent lawyer by your side. After all, he repeatedly spends tax payers' money on hiring the most expensive around.
Coupled with cuts to local authority funding, the offshoot of these reforms has been the mass closure of advice centres, a logjam in the family courts because the 30% increase in self-representing litigants requires judges to spend time explaining the law (at far greater expense to the public purse than the lawyer they've been forced to replace), and a staggering 70% decrease from the previous year in employment claims – which in an age of zero hours contracts cannot be evidence of the voluntary implementation of best-practice measures by employers.
For those areas that survived the cuts, Grayling has attempted to raise the threshold of eligibility so high that, for many, access to justice is merely theoretical. Victims of domestic violence still have a right to legal representation, but for 50%, obtaining the stipulated evidence of abuse has proven impossible.
In terms of social welfare, there has been a 52% shortfall in the government's predicted caseload. The charity Legal Action Group believes this is down to the Ministry's failure to make people aware of their remaining rights, as well as the deterrents of increased bureaucracy and reduced pay for legal aid providers.
Thankfully, Grayling was thwarted by the courts in his attempt to introduce a residency criteria, apparently unmoved by the implications this would have for homeless men and women. Little surprise, then, that his sights are now set on restraining judicial review of executive action.
It must have been around the time that he was constructing a 'human rights safety net' under LAPSO too small to entangle a tadpole that news of the Magna Carta's 800th anniversary landed on Grayling's desk.
That fabled parchment is in parts classist, sexist and anti-Semitic. But is has been remembered down the ages as the earliest recognition in our nation's history that all men are subject to, and correspondingly have access to, the rule of law. Our Justice Minister could have cursed his bad luck.
Instead, he has organised an event with so little correlation between its supposed aim and execution that he might be doing it just to annoy us. The Global Law Summit claims to be about "grounding the legacy and values of Magna Carta in a firmly 21st century context," but the tagline slapped across the poster reads "Business is Great" – whilst the official website has an entire section dedicated to the art of networking.
Invitations have belatedly been sent to legal aid firms, but with tickets costing a week's wages for some solicitors, this can't help but feel tokenistic. Set to wax lyrical on the importance of the rule of law was Lord Green of HSBC scandal fame, but he was unceremoniously dropped earlier this week. Still there is Sir Roger Carr, the chair of criminally fraudulent BAE Systems, an addition to the programme which is frankly akin to News Corp lecturing on the sanctity of private life.
When it got its breath back, the Justice Alliance – a coalition of legal organisations, charities, campaigning groups and trade unions – realised that this outlandish display might be exactly what the movement to save legal aid needs to propel itself into the national spotlight. Despite hard-earned successes in the courts and solidarity across a sometimes divided profession, it is disheartening to note that justice issues do not even appear on a recent poll of voters' biggest concerns going into the general election. This is worrying, given that the courts provide a stage on which all other societal battles can be won or lost.
'Not the Global Law Summit' will be a carnival of historical inaccuracies, aimed at shouting our message from the rooftops. Beginning on Saturday 21 February at Runnymede in Surrey – the place of the Magna Carta's sealing – a 'relay for rights' will take justice campaigners along the Thames path, arriving at the doors of our betters at 1pm on 23 February. In the heart of Westminster we will hold a rally to introduce a Magna Carta for the 21st century, thus extending an olive branch to King John Grayling should he choose to accept. Then we'll kick-back and watch some world-class justice-themed comedy.
Thatcher never did host a Worldwide Socialist Conference. Come down and help us turn that into the best political decision of her career.