PFI, the Banks, and the People Uncovering the Biggest Threat to the NHS
by Joel Benjamin
27 April 2015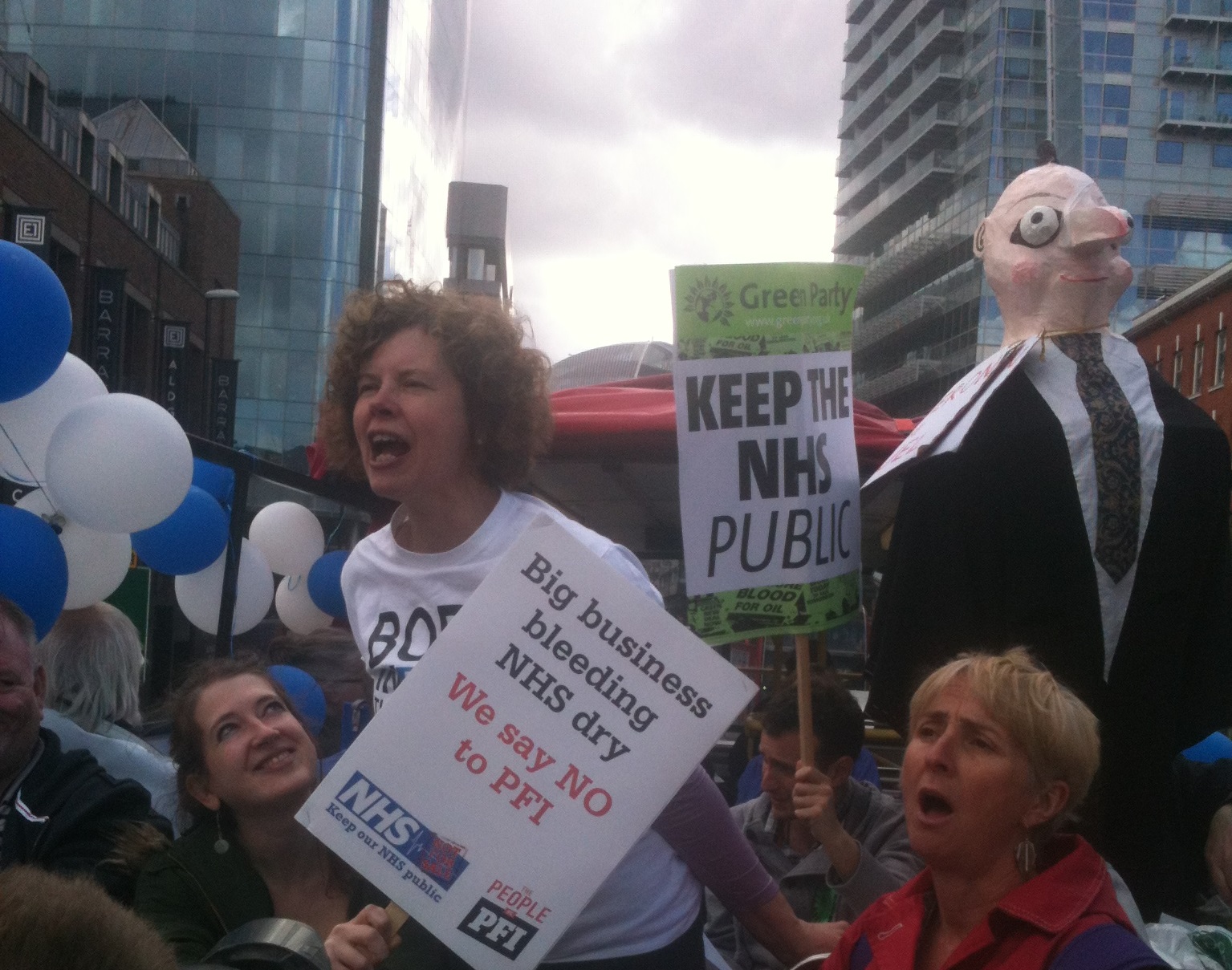 For a general election debate being fought on two headline issues, the NHS and public debt, there is one intrinsically linked issue strangely absent from the public debate. That issue is the Private Finance Initiative – PFI.
Through PFI, successive governments beginning with John Major's premiership in 1992 have managed to ring up £320bn in public infrastructure spending, including £80bn in the NHS alone. And yet as the finance was provided by City of London banks and not central government, none of the debt counts against the UK national debt. Sound absurd?
The Independent recently reported that the outstanding PFI debt at £222bn is more than 4 times the budget deficit being used to justify austerity cuts.
Labour leader Ed Miliband recently had the gall to state: "You can't fund the NHS from an IOU" – even though (as the image below demonstrates) New Labour signed the vast majority of PFI contracts, and an expensive IOU is precisely what PFI is.
With PFI, successive governments have deceived the electorate, hiding vast debts off the government books whilst claiming to be fiscally prudent – even though studies show PFI to be up to 3 times more expensive than traditional government borrowing, ultimately resulting in higher debt repayments.
The Public Accounts Committee and Goldman Sachs found private banks charge more than twice the rate of interest to finance public infrastructure than if the government provided the finance itself. The rates have further increased since the financial crisis, and will "never come down."
Campaign group The People vs PFI have held three consecutive days of action to put the issue of PFI debt on the political agenda, to highlight the role of PFI (and the banks who set PFI up to profit from it) in bankrupting our public services.
Day 1: #BarclaysAGM.
23 April saw People vs PFI campaigners visit the Barclays Annual General Meeting (AGM) to question the bank's board on its role in PFI financing and tax avoidance. Barclays are the largest investor in PFI of the UK high street banks, and were a shareholder in 'Partnerships UK' a division of HM Treasury that was 51% privatised by New Labour and gave advice on PFIs to public authorities.
Barclays CEO Antony Jenkins committed to respond in writing, clarifying the list of PFI projects it is involved in with a capital value of some £3bn.
Day 2: #HSBCagm.
On 24 April People vs PFI attended a turbulent HSBC AGM. There were notable tensions among bank shareholders following the recent Swiss Leaks scandal, as well as ongoing criminal prosecutions in France, Belgium and the USA.
As Richard Brooks notes in The Great Tax Robbery, HSBC – through its offshoot HSBC Infrastructure Company Ltd (HICL) – was the first UK company to take PFI offshore when it registered the HICL fund in the Channel Island tax haven, Guernsey.
Here's the HICL PFI corporate structure as detailed in the 2010 investor prospectus:
HSBC owns at least three NHS hospitals – in Barnet, Middlesex and Stoke Mandeville.
People vs PFI asked HSBC to clarify its risk management protocols for managing PFI projects, and the nature of its relationship with HICL and InfraRed Capital Partners and to clarify exactly how many PFI projects the bank currently owns.
Day 3: #BinBartsPFI open-topped bus tour.
On 25 April, local group Barts NHS People vs PFI led an open-topped bus tour of the PFI facilities covered by Barts Health NHS Trust in London, held in conjunction with Tower Hamlets Keep Our NHS Public, the Newham and Walthamstow Save our NHS groups, and local Green and TUSC groups.
Barts Health is the largest PFI deal in the NHS with a capital cost of £1.1bn and total repayment costs in excess of £7bn. PFI repayments are costing £2.4m a week.
Barts was recently put into special measures following a scathing Care Quality Commission report on Whipps Cross University Hospital, which outlined numerous management failures driven by rising PFI costs and deteriorating staff culture.
Senior management have resigned, and the Trust has been placed in special measures, with a decision on Barts Health's future delayed until after the election to avoid political fallout from the cuts and service closures likely to result.
Politicians and media fail to engage with the PFI problem.
Despite the gravity of the situation at Barts and three days of People vs PFI protests, it is unfortunate the only media outlets to pick up the PFI story are small scale independent news platforms and Russia Today.
PFI has proven to be a goldmine for private sector investors, with firms such as Carillion and Innisfree creaming 70% profits off the UK taxpayer. Clearly the City of London has a lot to lose from widespread knowledge of the PFI scam, and media and political interest in this issue remains scarce.
Anti-PFI campaigners should demand election candidates explore ways of extracting our public services from the disastrous grasp of secretive PFI deals. The renegotiation of existing PFI contracts at 'fair value' should be the starting point, with the NHS Reinstatement Bill 2015 demanding PFI debt be consolidated within HM Treasury to reduce the debt burden on NHS Trusts.
Despite PFI being an unmitigated disaster in the UK, public-private partnership (PPP) projects are now being hailed internationally as a global infrastructure financing model. Delegates from The People vs PFI recently attended the World Social Forum in Tunisia, where local activists pointed to presentations by the UK diplomats hailing PFI as a UK success story.
As the fight to protect the welfare state intensifies, it is crucial we connect anti-austerity struggles and resist financialisation and privatisation internationally, passing on the knowledge gained from hard-fought lessons, both at home and abroad.
Follow @PPLvsPFI and @PPLvsBartsPFI on Twitter.