6 Reflections on the Spanish Elections
26 May 2015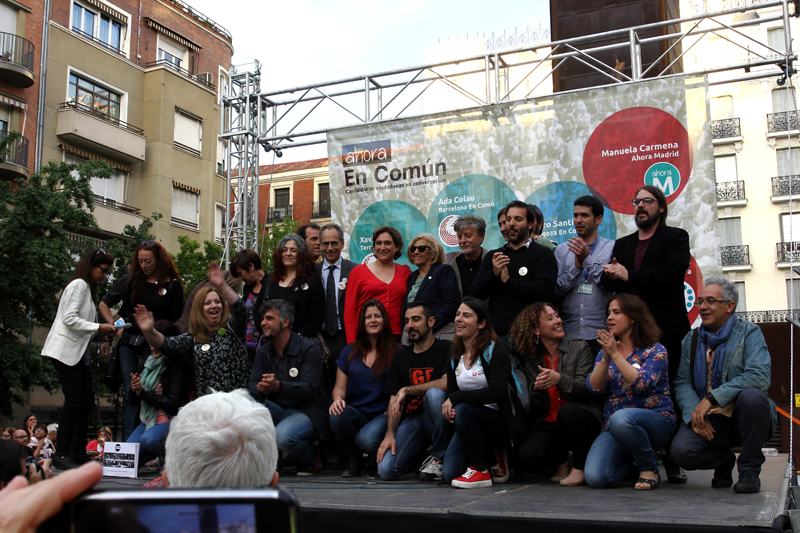 Municipal and regional elections took place in Spain at the weekend, with platforms rooted in social movements making significant gains – particularly in Barcelona where anti-eviction activist Ada Colau has been elected the new mayor. Since Syriza's victory in January, these elections have been touted as a weathervane not only for Spain's political trajectory ahead of the national elections later this year, but also for the feasibility of any future 'anti-austerity bloc' at EU level. Here are David Ferreira's reflections:
1. Left-wing citizens' platforms are on the rise.
The big results of the night that grabbed international attention were the performances in Barcelona and Madrid by left-wing platforms which involved high levels of neighbourhood and community engagement as well as backing from traditional and emerging parties of the left. In Barcelona Ada Colau, former spokeswoman for the renowned anti-home eviction network PAH (Platform for Mortgage Victims), led Barcelona en Comú (Barcelona in Common) to victory with 27% of the vote.
In Madrid, a similar political initiative, Ahora Madrid (Now Madrid) won 32% the vote, finishing just behind the ruling right-wing Popular Party (PP). Ahora Madrid is better positioned to govern should it reach an agreement with the Spanish socialist party, PSOE.
2. Madrid and Barcelona weren't the only major cities to bring thrills to a left sick of the dominance of PSOE and PP.
Those results were more or else expected. The shock came in the third biggest city, Valencia, where Compromis, a regionalist and left alternative party, polled in second place with 23% of the vote, just shy of PP's 26%. Opinion surveys just a week ahead of the elections had PP winning 31% and Compromis at 16%. Benefitting from the left majority elected in the city, Compromis can govern with the support of the Spanish socialists and Valencia en Comú.
3. The results don't stop there.
In the fifth biggest city, Zaragoza en Comun (Zaragoza in Common) won just shy of a quarter of the vote. In Palma de Mallorca, leftist formations MES-APIB and Som Palma got a combined 30% of the vote. In Alacant, Guanyar Alacant won 19% of the vote and Compromis 9%. Crowds celebrating the result there chanted "Not one more home eviction!" when they saw the results.
One of the most decisive results came in Cadiz where two leftist formations won 36% of the vote. In A Coruña, Marea Atlantica (Atlantic Tide) came first with 31%. These are extraordinary results for leftist formations which are in most cases barely a year old. Their high levels of participation made them flexible and best suited to their local cultures and conditions, in sharp contrast to national parties.
4. It wasn't all city elections, however.
One of the most compelling results came in the Valencia regional elections. There, the infamously corrupt PP crashed from 48% of the vote to 26%. They still finished first but have no hope of governing after the Socialists, Compromis, and Podemos took 55 of 99 seats. This isn't just a politically significant result. It also has cultural and historic resonance as a party like Compromis – situated ideologically in the Valencian nationalist left – is poised to enter, if not lead, a left coalition government. Just this past October on the Valencian national holiday, Compromis members were subjected to vicious abuse by Spanish fascists who consider Compromis a Catalan fifth column. The ruling PP fuels this hatred, having shut down the only public Catalan language channel in Valencia, RTVV, and blocking the signal of Catalonia's public TV channel. Thousands in Valencia celebrated both the regional and city results, and the unemployed RTVV workers were among the joyous crowds.
5. In Navarre, there was an equally if not greater defeat of the ruling political order.
The conservatives of UPN (Navarrese People's Union), which has governed for most of the last two and a half decades, had their worst result since 1987 – 27% of the vote. Crucially, a number of leftist and Basque nationalist parties now hold a majority. One of those parties, EH Bildu, is a left-wing, pro-independence party that was at one point outlawed by the Spanish government.
One of Bildu's main figures is one of the most prominent political prisoners in Europe today, Arnaldo Otegi – jailed for his purely political efforts to organize a party of the Basque pro-independence left. Bildu participating in government in Navarre is one of those worst case scenarios for the Spanish right that may play out in the coming days.
6. No summary of local elections can neglect the CUP (Popular Unity Candidates).
This formation of the Catalan far-left is ideologically committed to municipal politics, despite making the leap in 2012 to the Catalan parliament. Sunday's elections were a big result for CUP, winning 374 seats in city councils, making it the fourth-largest formation in Catalonia. It also entered Barcelona's city council for the first time, winning 7.4% of the vote and three seats.
Ada Colau of Barcelona en Comú has expressed her interest in working with CUP, which can deliver some essential votes on her more left-wing policy ambitions such as stopping home evictions and aiding families who can't afford utilities. CUP's success in Barcelona and in other cities shows that the choice between Catalan independence and leftist ambitions is a false one: those in CUP would argue the two go hand in hand.