Another Pride is Possible
by Charlotte Gerada and Dan Laverick
27 June 2015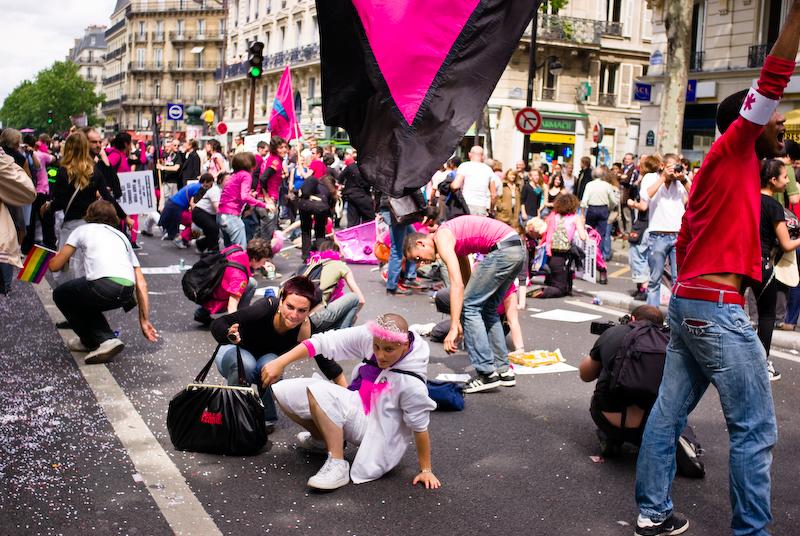 A first Pride experience can be truly liberating. Most people from LGBTQIA communities will remember what it was like to feel afraid of identifying openly along the gender lines they are most comfortable with, or for having and pursuing the sexual desires that feel most impulsive. We remember the shame we felt, not just before first coming out but long afterwards, in every new workplace or social situation, and how often and easily we were cowed into silence or heteronormative pretence.
For us, Pride has always offered an opportunity to feel secure and confident through strength in numbers and diversity, to be emboldened to explore who we are and what we want to be. It might have turned into a celebration, but it's a celebration that plays a role in securing ourselves against a usually (by default) 'hetero' environment, for the exploration and expression of our identities.
Perhaps the annual event plays such an important role in our individual and collective memories along those lines that we forget the struggle that we and our predecessors have been fighting all along: to live in a society where no one faces prejudice and discrimination, the shame and self-hatred, the anxiety and allure of pretence that heteronormative society imposes upon us. Many of us don't just think of Pride when we think of that all-too-fragile security and safety and freedom, but of more fixed and continuous spaces that have served us in precisely the same way as this annual event.
Those of us in London might remember the Joiners Arms on Hackney Road, which all year round provided opportunities to come dressed and identifying as you please, meet people without judgement, and leave with new (queer) friends more often than not, even if you arrived alone. Others remember, in a similar light, the Black Cap in Camden, Madame Jojos in Soho, or the Royal Vauxhall Tavern. All of these have now closed, except the latter, which is facing its own battle against closure at the hands of property developers and the gentrifying machinations of the London property market. Perhaps we might readily forget that the original "Gay Pride" in 1972, attended by around 700 people (mostly gay men), was held to protest against the systemic violence and harassment that was being targeted at venues like these and the people who frequented them.
The founders of Pride weren't looking for a day of the year to call their own, they were looking for a society in which they and others could feel free to explore the depths and limits of their queer sensibilities, desires, feelings and identities, without fear of reprisal. Many of the founders of Pride also considered their struggle as integrally associated, in solidarity with the struggles of other social groups living in situations of oppression. Many of the founders died of HIV/AIDS, in a social environment that considered them to be physically and psychologically sick, deserving of their terminal suffering, and undeserving of support. They probably wouldn't have been surprised to hear a political party leader saying people living with HIV shouldn't be allowed into the country, but they probably would be slightly more than surprised to hear that the very same party – Ukip – had been invited on a Pride parade merely for the fact that they'd paid for it.
Fast-forward to 'Pride in London' 2015, which sounds more like a pitch to host the Olympics than an event promoting minority rights – the core communities being served have apparently progressed past the point where the previous labels of 'Gay Pride', 'Lesbian and Gay Pride', then 'LGBT Pride', are deemed relevant. Tens of thousands are expected to march from Baker Street to Whitehall, certainly dressed to express but sadly led by a less inspiring bunch. Pride in London organisers have confirmed that the march is due to be led by this year's corporate sponsors (Citibank, Barclays and Starbucks, to name a few), and if it were up to them, Ukip would have had its own float. Pride in London organisers responded to protests against the inclusion of the anti-migrant, HIV-stigmatising, and openly homophobic party by disinviting it on the basis of the 'health and safety of volunteers', rather than basic political principles, and attacking the 'hypocrisy' of those who raised concerns.
Some considered the original invitation of Lesbians and Gays Support the Miners (LGSM) to front the 2015 parade to represent a much-needed return to Pride's political roots. LGSM, popularised in the recent film Pride, represent much of what the politically active and socially progressive LGBTQIA community are yearning for: solidarity with other oppressed groups, fearlessness in the face of adversity and a belief in justice and social transformation. But it appears the invitation might have been extended just to appeal to celebrity culture. Organisers were only comfortable with LGSM insofar as they didn't threaten the commercial and corporate-driven character of 'Pride in London'. So the unions who LGSM stood in solidarity with were demoted to section C – firmly lost in the middle of the parade – and the reformed LGSM members followed them the moment they found out.
The corporate focus of Pride in London should come as no surprise when you look at who is involved in running it. The Board who's responsible for the "delivery of the Pride event, and its strategic direction" is made up of mainly business bods, who have little or no connection to the queer community. Take the Board's chair, Michael Salter, who was Political Head of Broadcasting at No. 10 Downing Street. Apparently he has a passion for LGBT+ issues, but this seems at odds with his role within a Tory-led coalition that implemented savage spending cuts that have hit women, children, the disabled, BME and LGBTQIA communities the hardest. His passion for supporting our communities didn't prompt him to reach out to campaigns to save queer London spaces (an estimated 25% of which have closed since the beginning of the recession) from property developers, or consider how Pride could be in solidarity with those in our communities who are struggling most in what, for all the 'progress', remains an increasingly unequal society.
And there couldn't be a better time to re-politicise Pride. Austerity measures, alongside increasing poverty and inequality, have disproportionately impacted individuals who identify as LGTBQIA in a number of ways. NatCen research in 2013 found that because policy-makers and service-providers view addressing queer issues as a nice, non-essential activity, it could be cut in tough financial times. As a result, queers in need of help will struggle to get it. There's been a considerable reduction in funding for sexual and mental health services and voluntary organisations and groups that address LGBT-specific needs.
These cuts come when vulnerable queer people need it the most. Homelessness is on the up, and one in four homeless Brits are LGBT.  To make matters worse, LGBT rough-sleepers face significant discrimination as a 2014 Stonewall Housing Report outlined. There's also a rising incidence of violent homophobic and transphobic crime recorded by a total of 19 police forces, and a higher number LGBTQI workers in an increasingly low-paid, insecure and unequal economic environment. And despite the corporate funders securing prized frontline prominence on the parade, it appears that the TUC – also a Pride funder – hasn't been so lucky in getting its share of promotion. The TUC doesn't have anything more than an observer seat on the Community Advisory Board that guides and scrutinises on governance and organisation of Pride in London. The Campaigning and Political Group representative is a member of LGBTory, while the rep positions for Trans* people, older people and local groups are all vacant. Perhaps if they have a Trans* rep, the decision to include an organisation that has appropriated the T in LGBT for white, cis-gendered Conservatives might have faced more resistance.
The official shift from a 'protest' to a 'parade' occurred in 2004, costing £100,000 extra each year to hold and necessitating the kind of commercialisation that's been repelling many of us from turning up each year. Many consider these developments to have killed Pride, and some of us are planning a funeral for this year's event. By grieving for the Pride we've lost, we should also look forward to something different we can create – another Pride is possible. There's still a need to provide strength in numbers and diversity, to deliver ostentatious spectacles of being 'out and proud', to offer younger generations the time, space and exposure to diversity to decide who and what they feel most comfortable identifying as. There's also a need to recognise that success is never measured by how far the most privileged in our community have been accepted into the mainstream, but by how those most afflicted by multiple and overlapping oppressions gain voices, confidence, and material and emotional well-being.
For this we must put to bed Pride as it has become, and build something far more politically dissident, aiming not for a day of the year to throw a party, but for a society free of all forms of inequality, prejudice and oppression.