5 Reasons London's Bicycle Couriers are Organising (and Winning!)
by Ina Fever
14 October 2015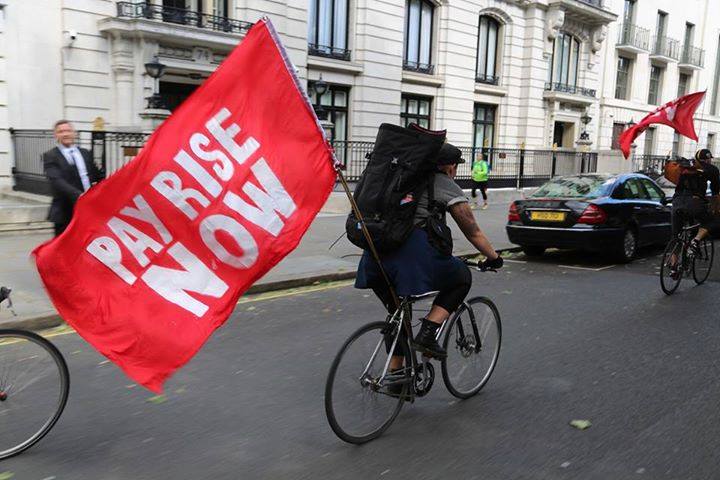 It worked for the cleaner-led 3 Cosas campaign and now it's working for London's couriers. Meet the latest branch of the Independent Workers of Great Britain (IWGB) to get unionising and winning. In a maisonette in Walworth, Ina Fever speaks to three of London's best bicycle couriers – Scott, Mags and Eni – on life as a courier, the struggles of the job and the campaign ahead.
1. A courier's life is hard.
Couriers are some of the most highly skilled workers in the city, transporting everything from cash and legal documents to medical supplies and people's organs. On top of the deadline pressure and avoiding getting 'doored' or worse on London's roads, riders have to spend years accumulating the kind of specialised, in-house knowledge that makes life and work a little easier.
Couriers can't be doing with Citymapper – they need to have the map in their head. Which roads are one-ways? How best to detour from the original A to B, pick up an extra package and get it delivered on the way to maximise earnings per mile? Which back alley is for the loading bay? What floor is the company on? Scott tells me he once saw a van driver break down in tears after realising the lift was broken: couriers don't get paid extra per floor.
Couriers have been precarious for as long as the trade has existed. They got on their bikes long before Norman Tebbit's father decided to get on his, and crucially, the difference between couriers and Norman Tebbit is that Tebbit is now a Lord while couriers haven't had a pay-rise since 1995. One rider transported £50k in cash to Coutts bank on the Strand and was paid £2 for it for the trouble. £2 is the base rate for a job within a postcode; unsurprisingly couriers want it raised.
2. CitySprint is making a mint.
Of course for every worker exploited, there's a man making money. CitySprint, the UK's 'industry-leader' in courier services – having bought up 17 courier companies in the last five years – took home £4.6m after tax in 2013/14. The firm also gave its CEO, Patrick Gallagher, a 55% pay rise, and dodged a hell of a lot of tax.
The courier community holds CitySprint directly responsible for wage-freezes because, as the biggest player in the game, the company has repeatedly beaten any competition that tried to pay couriers a higher wage. The lack of regulation in the industry means there's no bottom-rate for work.
CitySprint claims to have invested either £20m or £80m (the spokespeople seems unsure) into technology to help couriers' earnings. No figures have been provided to back this up, but still: maybe they could raise the per-job rate by 50p instead?
Everything from injury, lunch breaks, bike maintenance and time – always time – is the responsibility of the self-employed rider. Mags, in her 20s, tells me she can only work two days in a row otherwise her knee swells up and ruins her chances of working the rest of the week.
3. They're using an effective model.
The model for the couriers trying to unionise is simple: talking to each other over a coffee, then getting a few people to a meeting to plan for flashmob demonstrations in the receptions of the courier companies. Scott says: "I think this is really successful; the receptions aren't where we're allowed. We are invisible, we are just 'the bike'."
Strategically proficient, the couriers are also flashmobbing those who do business with CitySprint, pointing out that many living wage employers, such as ITV and Aviva, can hardly maintain their moral high ground and still do business with low-wage employer CitySprint.
4. The wins are piling up.
Despite the hardships, the three couriers I talk to love their job; they love being outdoors and being able to make their own money each day doing something they love – cycling.
Confidence is now riding high after three victories in the last three months. Under pressure from the IWGB, CitySprint dropped a regardless-of-distance 'CitySaver' scheme which had £1.25 as its base rate. Then in August the company reduced the cost of the hire for a courier pack from £24 to £10 a week.
This is massive win for the couriers at CitySprint, taking a currently unavoidable working cost (on the basis of a 48-week working year) from £1,152 down to £480.
On top of these back-to-back victories, in September the courier app Gophr became the first courier company in the UK to guarantee riders the London living wage plus reasonable costs following further campaigning by the IWGB.
Consider then that the Couriers and Logistics Branch of the IWGB only formed some six months ago, with their first protest happening in May. This is an incredible series of achievements in such a short space of time.
Other courier companies have now contacted the IWGB, looking to agree a rate increase directly. The campaign has real momentum: "Everything is at our disposal," I'm told.
5. There's always more to play for.
"Value yourself enough to say these things are wrong," says Mags. Eni says she wishes they'd been doing this years ago. Collective action is working.
The Couriers and Logistics Branch of the IWGB has three aims: higher rates, no charges, and no victimisation for union involvement. So far so good with the third, couriers have won a concession on the second, and they're pressing forward with the first.
If you're a courier, get involved @IWGB_CLB; if you're in a similar zero-hour position, think about this model; and if you're terrified of London's roads, go down to one of the couriers' flashmobs happening soon and do what you can to support London's speedsters in their fight for more pay.
–
Novara Media is trying to raise £10k in just 30 days. To support our mission to create media for a different politics, go to support.novaramedia.com. Help us spread the word using the hashtag #Novara10k!