The Disappearance of 43 Students in Mexico: One Year On
20 October 2015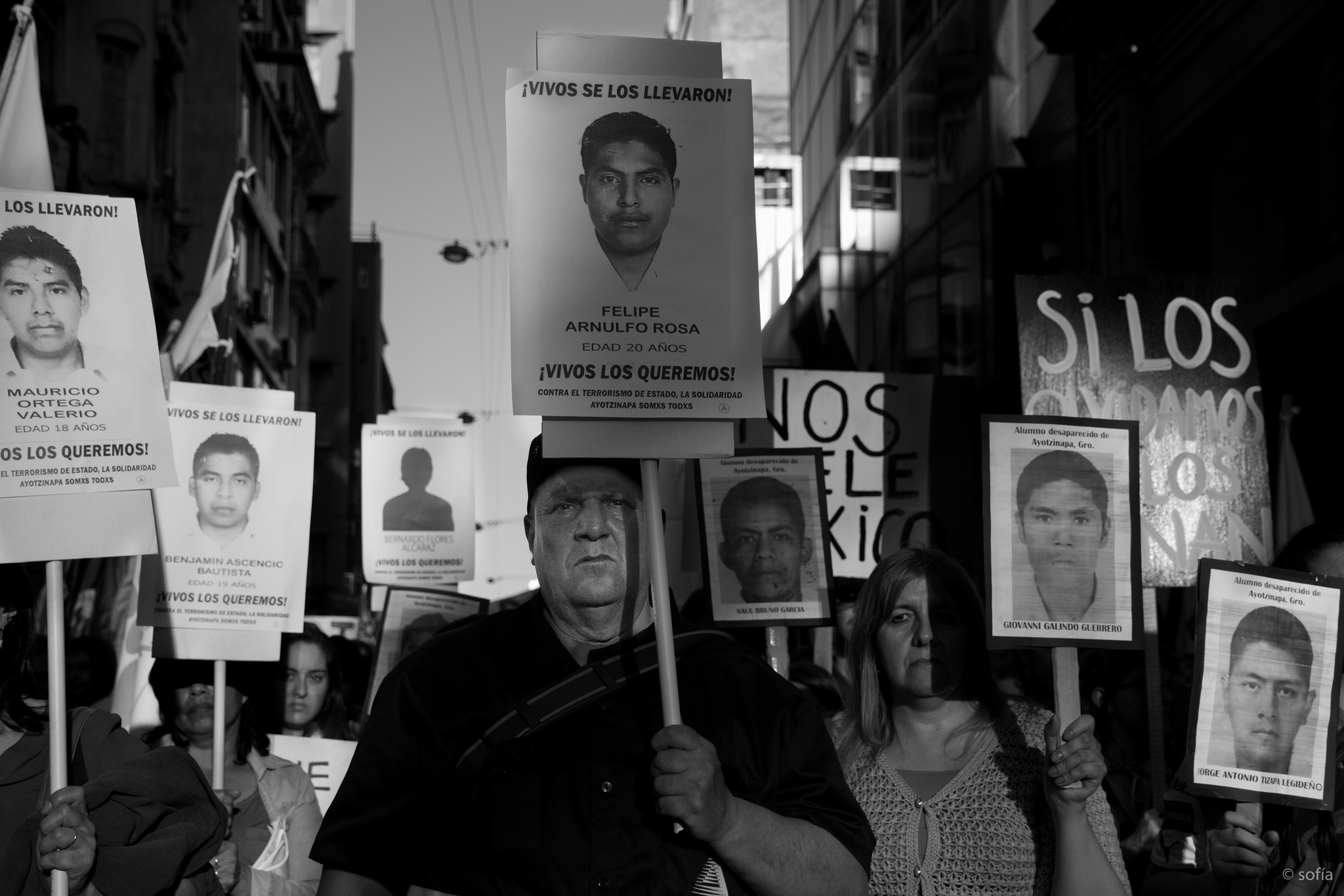 On the night of 26 September 2014 a group of students from the Raúl Isidro Burgos teacher training college were on buses headed to their school in Ayotzinapa, in the southwestern state of Guerrero, Mexico, when they came under attack by municipal police forces. Two students, Julio César Ramírez Nava and Daniel Solís Gallardo, were murdered along with three bystanders, and more than 20 students were injured.
The police also detained a group of 43 students who never ended up in official custody. They were forcibly disappeared and their whereabouts remain unknown. On the following day a third student, Julio César Mondragón, was found dead with visible marks of torture: his body was severely beaten and his face had been skinned.
Several survivors testify that the ambush was carried out by police and unidentified gunmen, and that after the attack police and army personnel threatened surviving victims when they entered a local hospital in search of medical attention and protection. This was later confirmed by new testimonies and journalistic investigations. A September 2015 report commissioned by the Inter-American Commission on Human Rights also helps substantiate this version of events.
Enforced disappearances and Mexico's human rights crisis.
As many in Mexico are acutely aware, Ayotzinapa is far from an isolated event, and enforced disappearances are recurring. Enforced disappearance is defined as "the deprivation of liberty by agents of the State or by persons or groups of persons acting with the authorization, support or acquiescence of the State, followed by a refusal to acknowledge the deprivation of liberty or by concealment of the fate or whereabouts of the disappeared person, which place such a person outside the protection of the law."
Since the late 1960s, enforced disappearances have been an ongoing issue in Mexico. They were originally used to target political dissidents and activists, both in urban and rural areas. Nobody has ever been charged for such crimes, many of which were committed in the 1970s and 1980s, and the whereabouts of hundreds of people 'disappeared' for political reasons in that era remain unknown.
Over the past ten years, in the context of the so-called 'War on Drugs', disappearances have increased dramatically. NGOs and activist collectives made up of victims' relatives estimate that approximately 30k people have 'disappeared' in Mexico since 2006. The government has failed to collect accurate information about the extent of the problem; neither has it adequately investigated the crimes or prosecuted the perpetrators.
According to a 2015 Human Rights Watch (HRW) report, disappearances involving security forces are "widespread" in Mexico, while at the same time a situation of near total impunity exists. The massive resurgence of enforced disappearances in the past decade is part of what HRW has called Mexico's "crisis of human rights", which includes extrajudicial executions, torture and ill-treatment as generalised phenomena.
In its 2014/2015 report, Amnesty International affirms that Mexico's public security system is "ineffective at investigating and prosecuting common crime and human rights violations"; human right defenders, activists and journalists are under constant threat; there is an endemic process of violence against women and girls; refugees, immigrants and indigenous communities have been denied the exercise of their rights, and that freedom of expression is not guaranteed.
Regarding the last issue, journalists, relatives of victims and human rights defenders are under constant threat by both organised crime and security forces. Avoiding responsibility, the government frequently attributes ongoing violence to criminal organisations. In September 2015  the United Nations Group on Enforced or Involuntary Disappearances confirmed these problems are present throughout the country and have been recognised by the UN committee since at least 2011.
The failure of the state's investigation.
The investigation into the disappearance of the 43 Ayotzinapa students, conducted by the Mexican attorney general's office, has come under harsh criticism. According to the official investigation, the students were detained by police officers from Iguala and then handed over to members of the Guerreros Unidos cartel and police from the nearby municipality of Cocula.
Gang members are said to have attacked the students after confusing them with members of a rival cartel, following orders given by Iguala's mayor, José Luis Abarca, who allegedly has links to drug trafficking. Allegedly the students were then killed, their bodies burned in a rubbish dump and their remains dumped in a river. Yet the parents of the 43 students, journalists and the Interdisciplinary Group of Independent Experts (GIEI) assembled by the Inter-American Commission on Human Rights have contested this account and accused the attorney general of deliberately manipulating facts and hiding evidence.
On 6 September 2015, the GIEI concluded that the 43 students were forcibly disappeared by local police from Iguala and Cocula, describing the attack as a coordinated action involving different agents of the state – including municipal, state and federal police forces and the army. Military personnel monitored the students' movements before, during and after the attack and had sufficient knowledge to prevent it from happening.
The report shows state officials denied the students any protection that night, while also highlighting the lack of attention given to survivors and their relatives in the subsequent search. It also makes clear there is no credible evidence to support the official conclusion that the 43 students were burned at a Cocula rubbish dump, pointing out that the gang members who confessed to killing the students showed signs of torture. According to the GIEI's report, the 43 students are legally considered "forcibly disappeared". For that reason, the search for them must continue.
National and international solidarity with Ayotzinapa.
The public debate on enforced disappearances and Mexico's human rights crisis contrasts sharply to the Mexican government's narrative of progress and modernisation articulated in recent years. The image of a modern, transparent Mexico, open to investment and international scrutiny, was thoroughly debunked once news of the disappearance of the 43 was picked up by international media.
Large rallies, attended by thousands of people standing in solidarity with the victims' relatives, have taken place in cities across Mexico, the rest of the Americas, Europe and Asia. Protesters have condemned the Mexican government for manipulating information and trying to close the case early, while also highlighting that foreign governments who engage in economic agreements with Mexico are complicit in the grave human rights crisis.
By government agreement, 2015 has been dubbed the 'dual year' of Mexico in the UK and the UK in Mexico. The agreement seeks to encourage UK investment in the exploitation of Mexico's natural resources, while also privileging progression of the economic agenda over protecting human rights.
In this context, solidarity groups, activists, MPs, and international organisations (such as Amnesty International and English PEN) have played a key role in highlighting Mexico's human rights situation in relation to the ongoing processes of dispossession of natural resources and civil and political rights. They have achieved this through a series of actions, including demonstrations, talks, academic seminars and visual campaigns. Importantly, they also aim to make visible the faces of those disappeared or otherwise affected by State violence, raising awareness in order to building solidarity and resistance.
London Mexico Solidarity is a group committed to supporting the Zapatista movement, along with social and environmental struggles, justice and democracy in Mexico.
T: @LondonMxSol
www.londonmexicosolidarity.org
–
Novara Media is trying to raise £10k in just 30 days. To support our mission to create media for a different politics, go to support.novaramedia.com. Help us spread the word using the hashtag #Novara10k!