After the Paris Attacks: 4 Questions We Need to Ask
17 November 2015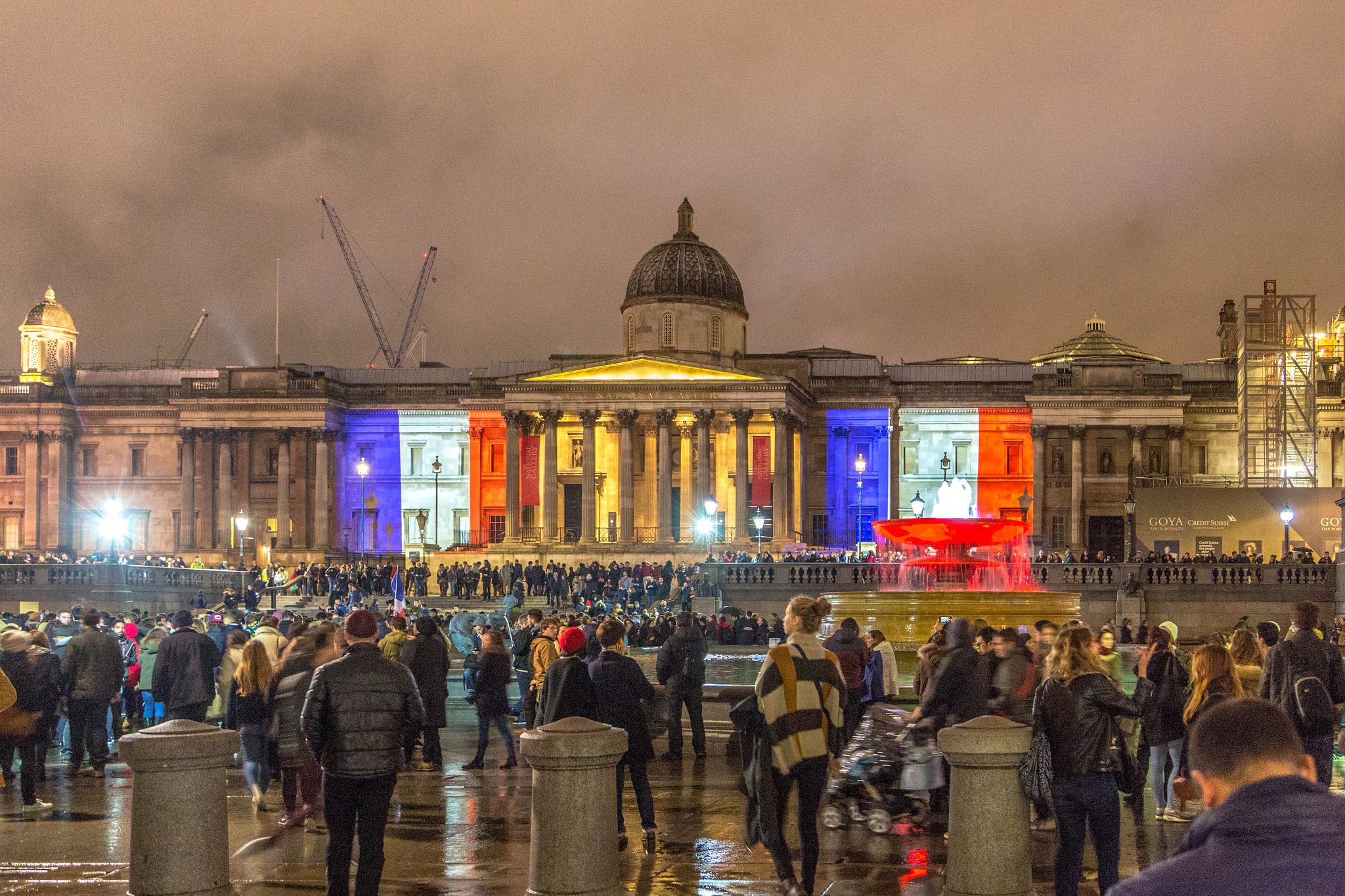 The war drums are beating again. After Paris, the right across Europe has lost no time in asserting that 13 November's atrocity demands military vengeance, the closing of Europe's borders to refugees, and ramped-up domestic surveillance powers. Conservative newspapers declare the Third World War to have started, and declare it 'the war we must win'; liberal newspapers, while deploring the encroachment on civil liberties, paint the Parisian attacks as a clash of values and an attempt to 'kill freedom' itself and concede to the French state the legal means to launch a 'legitimate response'. What, then, is a political response that doesn't fall into either of these traps?
1. What is terrorism supposed to achieve?
Though 'terrorism' itself is a political football – its definitions subject to political interpretation – it's reasonable to look at it as an asymmetric act of warfare, intended to project a message through the use of violence, either to 'sharpen contradictions' within a society or force the hand of an adversary.
The two dominant interpretations of 'Islamist' terrorism locate the problem either within a putative failure of Islamic culture to modernise (a conservative stance), or as the perverted confection of 20th century Wahhabi ideologues (a typically liberal one). As Arun Kundnani points out, insistence on a purely ideological genesis obscures the wider political antagonisms of the 'war on terror' both at home and abroad.
Reading the editorial in Libération, what is striking is the absence of any mention of any motivation on the part of the attackers: it is 'blind terrorism' and 'suicidal mysticism'. What little we know is that one attacker mentioned the conflict in Syria before carrying out his executions, and that ISIS has claimed responsibility for the attacks. This seems to be in line with the statements we read or hear from other perpetrators of terrorist attacks: what links Dzhokar Tsernaev, one of the Boston bombers, with the killers of Lee Rigby is a shared perception of a Western war against Muslims conducted in Iraq and Afghanistan, and the intention to bring the starkness of that conflict to the West.
The failures of both British state-led multiculturalism and French assimilationism to stem xenophobia and racism are also key to the experience of many of those drawn to Islamist politics. As is also true of ISIS fighters themselves, theology is secondary to the after-effects of war in prompting their action. However warped or unjust, there is a clear chain of reasoning that sees the shootings as a response to killings of civilians in Iraq, as part of a global battlefield. This terrorism is quite far from 'blind' and therefore incomprehensible: it aims to provoke a rush to war and draconian security measures, thus 'proving' their contention that the West is bent on the destruction of all Muslims.
If we take seriously what terrorists say about why they commit acts like the Paris attacks, rather than deeming them incomprehensible, we will be given pause by how clearly they feed off military occupation, internment and bombing. To proceed regardless with those same tactics seems the very definition of folly: if there is one certainty, it is that bombing campaigns, with immediate civilian casualties, 'collateral' damage, and long-term destruction of infrastructure – let alone the regular 'errors' that see the bombing of hospitals or of housing blocks – only serve to strengthen recruitment to ISIS.
2. Who gets to be free?
One major feature of editorialising on the Paris attacks is a nebulous suggestion that they were primarily an attack on freedom, along with some boilerplate praise of French or European freedoms, extending from the pleasures of wine-drinking to universal suffrage. At the same time, French lawmakers are preparing to extend the state of emergency – granting extensive police powers and restricting freedom of assembly – for three months, and propose permanent modification of the 1955 law governing emergency powers. Right-wing French politicians have proposed everything from internment camps for those suspected of terrorism (Laurent Wauquiez) to permanent enhancement of police powers and mandatory national service (Eric Ciotti). Meanwhile, David Cameron assures the populace that he intends to hire a further 2,000 spies, and various useful idiots press for the Snooper's Charter to be adopted – despite comparable powers doing little to prevent the Paris attacks. Freedom is praised in principle and assailed in practice.
But formal restrictions on freedom and programmes of surveillance have wider social effects. In the UK, the government's Prevent programme fosters a culture of suspicion which takes all Muslims as legitimate targets. In such a culture, violent reprisals against Muslims are a feature of the aftermath of atrocities: this was true after the murder of Lee Rigby in Woolwich, and similar attacks appear to be taking place in France. This should tell us that restrictions, harassment and intrusion will be experienced differentially in our society because of its divided and racialised structure: after the Woolwich attacks, the BBC political editor could say the attackers were 'of Muslim appearance'; dressed in jeans and a jacket, the comment could only refer to their skin colour.
It is in such moments the basic racist construction of Islamophobia becomes clear. It is just by such phrases we can see where the worst excesses of the new security culture will fall.
3. How do we understand ISIS?
There is an easily-caricatured leftist response to terrorist attacks, which is to point out the effects of US military occupation and violence as engendering terrorist groups, sometimes going as far as to assert a dubious solidarity with them.
Condemnation of ISIS's bloody theocracy ought to be absolute, but rather than a simple push-pull model of the relationship between military occupation and ISIS, we ought to take account of the role of autonomous intermediating ideology – the ultrareactionary version of Islam adhered to by ISIS's leaders, which claims to explain the ills of the present and offers a simple prescription for them – alongside the relatively thin, circumstantial loyalty felt by the majority of people serving as its functionaries or fighters. This is not the space for a full exploration of that issue, but it is essential to understanding both why simple military bombardment will not work, and how intractable the conflict will be as long as it is considered in isolation from the rest of the region.
It is worth mentioning, however, that any attempt to choke off funding to ISIS which doesn't address the money funnelled out of the Saudi state, or the black market oil exports greasing its operations, or that fails to acknowledge that the polity ISIS has tried to build in Raqqa is modelled in many ways on the Saudi state, is doomed to failure. It is here that the interests of the US state and petro-capital are clearest. But any solution to the situation in Syria would have as its necessary conditions the Turkish state's willingness to give up its territorial ambitions and repression of Kurdish movements, alongside Western powers' recognition that they have typically supported Saudi or Qatari proxies in the region, including the Saudi-driven war in Yemen.
These are necessary but not sufficient conditions to defeat ISIS: even with defunding and the demilitarising of Western foreign policy, ISIS's leaders would retain their broad vision of a Caliphate – but much of their strength and attraction would disappear. A consideration of the political potentials in the region must also come to terms with the legacy of colonialism – explicit and covert – in its make-up. Once it is recognised a military solution cannot work, it is along such lines that our political thinking must extend.
4. Who gets to grieve?
There has been much adroit social media commentary on the disparity between the publicly sanctioned mourning for the victims of the Paris attackers and its virtual absence for those killed by suicide bombings in Beirut a day previously. Equally, critics compare the number of casualties to those incurred nearly daily in the fighting between Assad, ISIS and other belligerents in the Syrian civil war.
It is taken as indicative of a mindset that values European lives above Arab lives, that takes violence and death to be a 'natural' part of life in the Middle East, but shocking when it reaches the capitals of the European heartlands. In the hands of some of the left, a crucial point about how we value life is transformed into a trite means of demonstrating one's political superiority. Nor is there much use in simply pointing out how unequal people's attention can be. Instead, perhaps it is better to build from the mourning felt for Paris and insist on extending it toward the oft-proclaimed universalism on which left political projects are built: if we value lives equally, then we must build a political project that values the life of a Syrian refugee desperately crossing the Mediterranean in a fragile dinghy, or a Beiruti nurse or shopper, equally to that of a concert-goer in the City of Light. Such a proposal, pursued seriously, is a banner raised against Atlanticist securocrats, ISIS's bloodthirsty leaders and European border militarists in equal measure.
The news that one of the Paris attackers may have come to Europe by exploiting the refugee routes means it is essential for any response to affirm the need for a European political settlement on refugees, and to act in solidarity with refugees and migrants who already face suspicion and opprobrium across the continent. Already, the conservative Polish MEP Konrad Szymański (among others) has insisted the Paris attacks mean Poland can no longer take the suggested number of refugees; similarly Slovak and Hungarian officials look likely to torpedo the next EU summit on refugees.
Nor are these attitudes confined to the right: the erratic Slavoj Žižek has taken the opportunity to affirm (again) his return to Eurocentrism in a meandering essay which veers between conspiracy theory, insistence that refugees possess an insurmountable inability to 'integrate', and a shrugging-off of any consideration of the legacy of imperialism – in other words, the policy position of a xenophobe in rhetorical drag as a universalist. The ease with which these positions are adopted can only underscore the need to affirm our solidarity with refugees, and our rejection of programmes designed to leave them dying on Europe's borders.
Our political response, then, cannot be the easy rush to war: among few certainties, it is clear that war is the midwife to movements like ISIS. At home, we need to demand our governments take and settle refugees and migrants fleeing Syria and Iraq, and that Europe lifts the routes for entry out of the hands of criminal gangs and mafia. Moreover, we need to tackle the failures of British state multiculturalism, and resist the imposition of Prevent and other programmes of surveillance, and the xenoracist culture which fosters them; equally we must demand Britain withdraws from its servile but profitable relationship to the Saudi regime.
Building a political movement in solidarity with migrants and refugees is of immediate importance: the EU expects another 3m refugees to arrive in 2016. It is the political issue that defines our period, and we must face it adequately, and now.
Photo: Jack Gordon/Flickr
–
If you want to support media for a different politics, you can donate or subscribe to Novara Media at support.novaramedia.com.