How and Why Junior Doctors Turned on the Tories
13 January 2016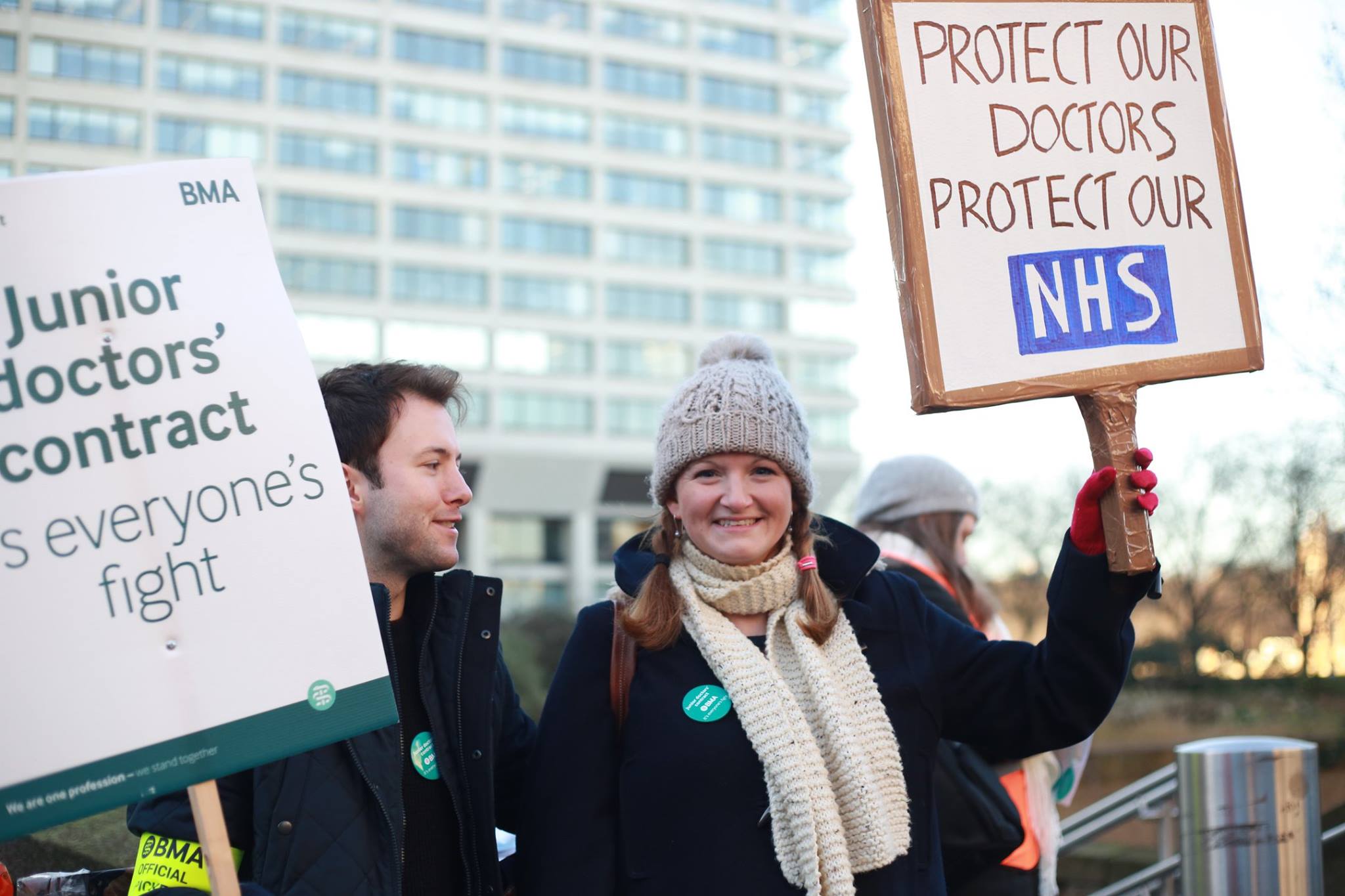 The dispute between the government and British Medical Association (BMA) broke onto the front pages back in November, with the announcement that 98% of BMA members, including myself, had voted in favour of industrial action – the first strike of the dispute taking place on 12 January.
This demonstrated an astonishing degree of agreement amongst a group for whom such action seemed improbable. Think 'doctor' and you might imagine moderate centre-ground politics. Instead, we've seen their backlash dubbed as radical or militant, with doctors from across the political spectrum unified in their fight against the proposed contract.
This dispute has been fuelled by some key themes:
Misinterpretation.
The government has stated it is acting to fulfil its election manifesto pledge to "ensure you can … receive the hospital care you need, seven days a week by 2020."
This is a reasonable sounding pledge which has been rejected by the medical profession in two key regards. First and most importantly, we believe this care already exists. Jeremy Hunt, the health secretary, has repeatedly blamed weekend staffing levels for 11,000 excess deaths each year. This number is lifted from a paper that specifically warns it would be "rash and misleading" to assume such deaths are preventable, due to the myriad confounding factors that limit retrospective studies like this. Those working on the frontline would argue these deaths are mostly explained by the 'emergency' nature of weekend admissions, while a big proportion of weekday admissions are for elective procedures which are inherently lower-risk.
We already work at night and over the weekend to provide emergency care for our patients around the clock, and we feel Hunt is wilfully misinterpreting this data to pursue the restructuring of NHS care which is politically motivated rather than evidence-based.
Second, we feel there is no evidence that the proposed contract would combat these supposed problems. The government is not proposing more doctors. It claims that total hours worked will not rise. Ministers claim they simply want to make it financially viable to roster more staff at weekends. However, nobody is saying that hospitals are overstaffed during the week. If there truly were an excess of deaths due to weekend staffing, would these changes not simply distribute it across the week?
Collusion.
Last week the Independent ran an exclusive which detailed correspondence between the Department of Health (DoH) and a supposedly independent NHS England director to build a case against junior doctors.
The letter in question – signed by medical director Bruce Keogh – was released in the aftermath of the Paris attacks, and called into question whether doctors would be on hand to act if a similar incident arose on a day of planned industrial action. At the time, this provoked a furious backlash amongst doctors who felt it questioned their professional integrity. We now know that DoH directly pressured NHS England to build a "hard-edged" argument against industrial action along these lines, also promising that Bruce Keogh would not be required field questions from the media the following day. It has also been raised that Keogh was one of the authors of the '11,000 deaths' paper – a figure that Hunt began to quote some time prior to its publication in the British Medical Journal.
Perhaps naively, doctors have been shocked by this degree of collusion and corruption at the top level of health policy-making. As things stand, NHS staff are practically undivided in their rejection of the health secretary's integrity and suitability for office. This leaves us at a point where many would feel inclined to reject whatever gets put on the table while Hunt remains in his role.
Refusal to negotiate.
The BMA's campaign has focussed on safety and fairness, relating to the two key areas of disagreement on which the government has shown no willingness to negotiate.
The first of these relates to safeguards to prevent NHS trusts from overworking junior doctors to the extent that the safety of patients is compromised. Currently, financial disincentives for over-working doctors make it cost-effective for trusts to ensure that hospitals are adequately staffed. As junior doctor Andrew Collier stated on BBC News, the proposed replacements are "toothless, they're like someone marking their own homework." We reject a contract that leaves us open to abuse from our employers, both for our sake and for the sake of our patients.
At the same time, the proposed contract attempts to reclassify those hours that are deemed 'unsociable'. We all know that being at work on a Saturday is unsociable. We all know that if you're at work at 2am, you're at work at night. To claim otherwise is frankly insulting. We also know that care has to be provided 24/7, and it is. It's quite clear to us the government wants more out-of-hours staffing, but it doesn't want to pay for it.
How things stand.
The situation is intriguingly balanced. The BMA has suffered from poor public relations and failure to reinforce its core messages, yet public opinion still weighs heavily in favour of the junior doctors, with two thirds supporting the 12 January action. Further, the concessions that would end the dispute – specifically the implementation of robust safeguards against unsafe working and a backtrack on the definition of unsociable hours – are those most integral to the government's proposals. The BMA has planned a full walkout, including emergency care, on 10 February. Clearly, all parties want to avoid this, and we should expect significant developments by then.
The government knows victory against junior doctors would provide it with a prototype with which to pick off other groups – particularly within the NHS, but across the public sector generally – in order to drive down wages. We recognise the significance of this battle – it's one that we have to win.
Photo: Gemma Song/Drawn to Light
–
If you want to support media for a different politics, you can donate or subscribe to Novara Media at support.novaramedia.com.