Post-Dover: 5 Things Antifascists Can Learn from a Motorway Services in Kent
by Novara Reporters
1 February 2016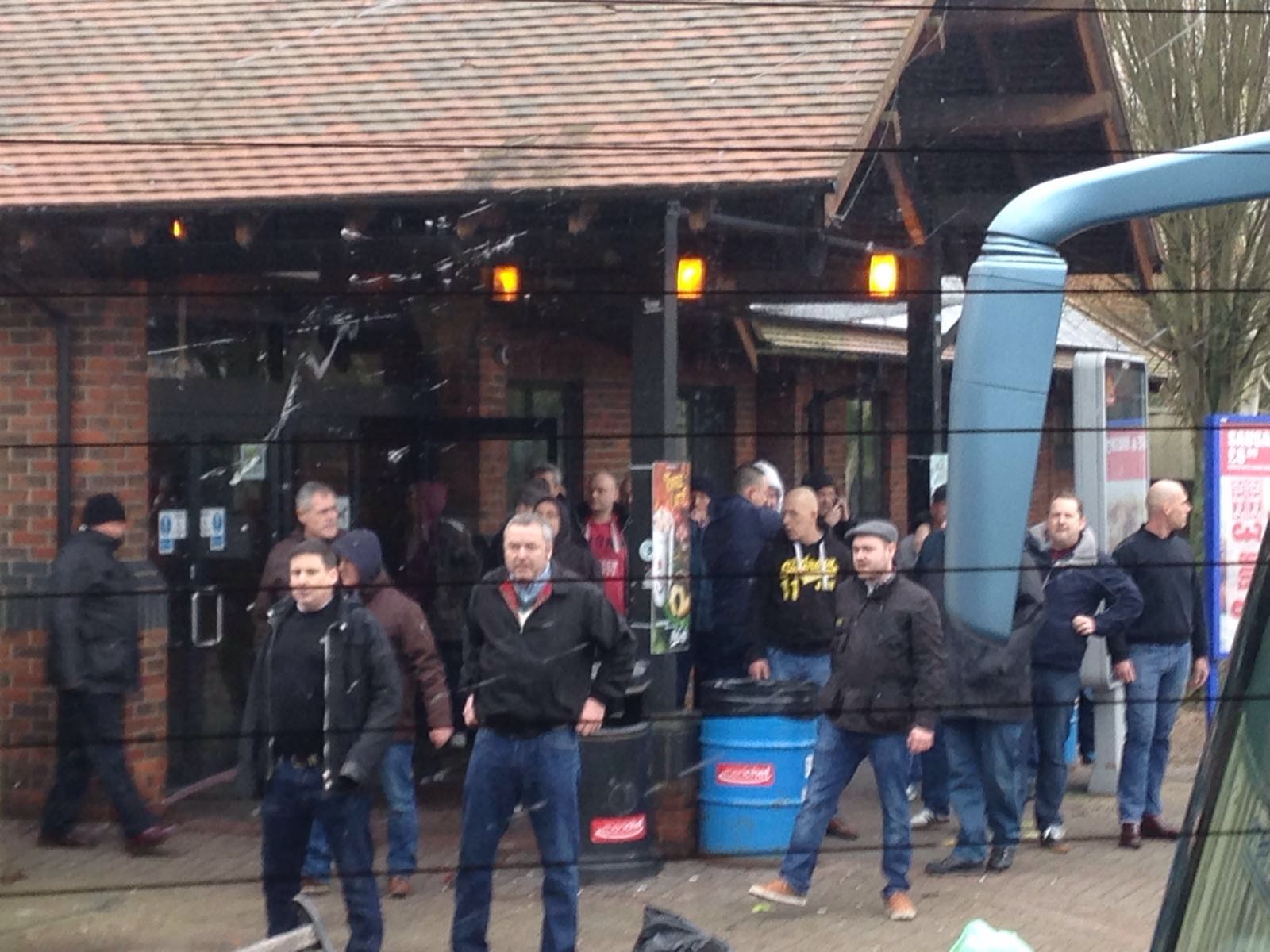 Last weekend saw one of the most ugly fascist street mobilisations since the 1980s. Assorted fascists and neo-Nazis descended on Dover from across the country to capitalise on the European border crisis, only to be outnumbered and humiliated by antifascists.
Before the planned demonstration and counter-demonstration, fascists and antifascists crossed paths at a motorway service station on the M20, where they were held by police. One of our reporters was there to witness events as they unfolded.
1. David Cameron was here in spirit.
Three days after the simultaneous occurrence of International Holocaust Memorial Day and Cameron's 'bunch of migrants' comment, on the way to demonstrations in Dover on 30 January, a tiny Roadchef motorway service station in Kent saw a coachload of neo-Nazis attack a broad coalition of groups from across the country, organised with the Anti-Fascist Network (AFN). The fall-out has important lessons for everyone opposed to fascism.
It's hard to convey the speed with which a toilet break turned into a full-on brawl. We had been there for maybe less than ten minutes, cigs were being finished and cubicle queues had shortened, when a coach pulled up in the neighbouring bay. A warning hiss went up from many antifa activists, fascisti fascisti, a few long 'ooos' were exchanged, and then one of the biggest blokes of the newly arrived crowd went in to land one. A pitch-battle ensued for maybe 20 minutes, with some casualties on both sides, but a significant majority of those were sustained on the side of the neo-Nazis.
The term neo-Nazi is often thrown about as a general pejorative across a wide spectrum of racist views, but here I want to use the epithet precisely: the coach contained a group called Chelsea Headhunters, a hooligan football firm who make up a large bulk of another group, Combat 18. For the uninitiated, Combat 18 are called as such because Adolf Hitler's initials – A and H – are the first and eighth letters of the alphabet, and they have a long history of violence against BME people and other minorities.
They are clear supporters of former fascist regimes: we saw a plethora of Nazi salutes from them on Saturday, and many Totenkopfs – the insignia of the group, as the bloke in the photograph above amply demonstrates. Combat 18's motto is Oderint dum metuant, which means 'let them hate, so long as they fear'. Police later confirmed they had found a bag of knives, nunchucks, knuckledusters and personally-fashioned weapons on Combat 18's coach afterwards. In short: these were hard men, intent on committing harm.
Having an openly anti-migrant premier, who chooses to cry wolf over a threat to 'the British people and hard-working taxpayers' and to dabble in reactionary racism for the purpose of scoring votes, creates an atmosphere or 'common-sense' which emboldens people to occupy the streets with their hateful racist, misogynistic and homophobic views in a flatly aggressive and dangerous way. Cameron is not a causal factor, but his speechifying works as a catalyst.
2. The fascists were roundly trounced.
By most measures, these neo-Nazis, despite being one of the 'ardest groups coming down to Dover on that day, and despite their weapons and obvious intent, were dealt a severe blow by antifascist activists.
This was a real victory in the fight against fascism, because here, in the outskirts of nowhere in the non-place of a motorway service station, the kind of background to Children of Men, it was obvious to those on the five coaches from London that there really are people in the UK who are dedicated to discriminative violence towards refugees, migrants and their supporters.
3. Strategy.
There is one important criticism to be made here, and I've buried it six-tenths of the way through the piece so any Twitter user indisposed to entertaining the idea of no borders will have gotten thoroughly bored by now. The criticism is this: by the Anti-Fascist Network's own account, we were not to stop in this service station for more than 15 minutes. Instead, the police, using Section 1 of PACE, detained us for just under six hours.
My guess is that what was anticipated was perhaps the odd car's worth from one particular group, and not a whole bus. But this was naïve, especially so as Maidstone is the M20's only service station on the 90-minute trip from London to Dover. What we encountered were 40 or 50 armed neo-Nazis; not only was it dangerous insofar as we were all scattered across the service station, but it meant fewer people turning out against racism in Dover.
4. What this all means for Europe.
Yesterday's events come in the week that Greece was threatened with expulsion from the passport-free zone of Europe under the Schengen agreement and the Danish parliament approved of a law proposal allowing the seizure of valuables from asylum seekers.
For those committed to a world with no borders, Saturday's events in south-east England will be heartening to hear, because it is easy to despair in the face of these moves. As Bridget, from Kent Anti-Racism Network (KARN), says so well:
I live in Folkestone where, in just one month, in 1914 the town took in 64,000 Belgian refugees displaced by war. This was at a time when the population of the town was just 20,000. We did it then because it was the right thing to do, and it is the right thing to do now. Europe needs to remember a bit of history – our collective moral compass is way off right now.
5. After Dover.
The issue of Dover won't go away either, because Dover represents an important place in the neo-Nazi imaginary: they are defending the shores, etc. A careful look at their Facebook pages shows Sara Ahmed's analysis that race is reproduced through a crisis of reproduction to be as insightful as ever. The groups, such as the South-East Alliance and National Front among others, always constitute themselves as the ones under attack. They use tracks in their promotional videos such as United We Stand, Divided We Fall by Two Steps from Hell. They called the whole thing a 'unity demo'.
Abstractions that they love, such as the nation and 'our way of life' are always in crisis; thus the need to rally together and march around a port every few months. This really is not so far from Cameron's charge that Jeremy Corbyn will not protect 'hard-working Britons'.
The long history of European resistance to fascism will have to continue, for the horizontal class antagonism that produces what happened in a motorway service station on Saturday is likely to produce it again. As Bridget from KARN put it: "they aren't going away, and neither are we."
Another report can be read here.
–
If you want to support media for a different politics, you can donate or subscribe to Novara Media at support.novaramedia.com.