Cut the Rent: Striking Students on the Front Lines of the Housing Crisis
14 February 2016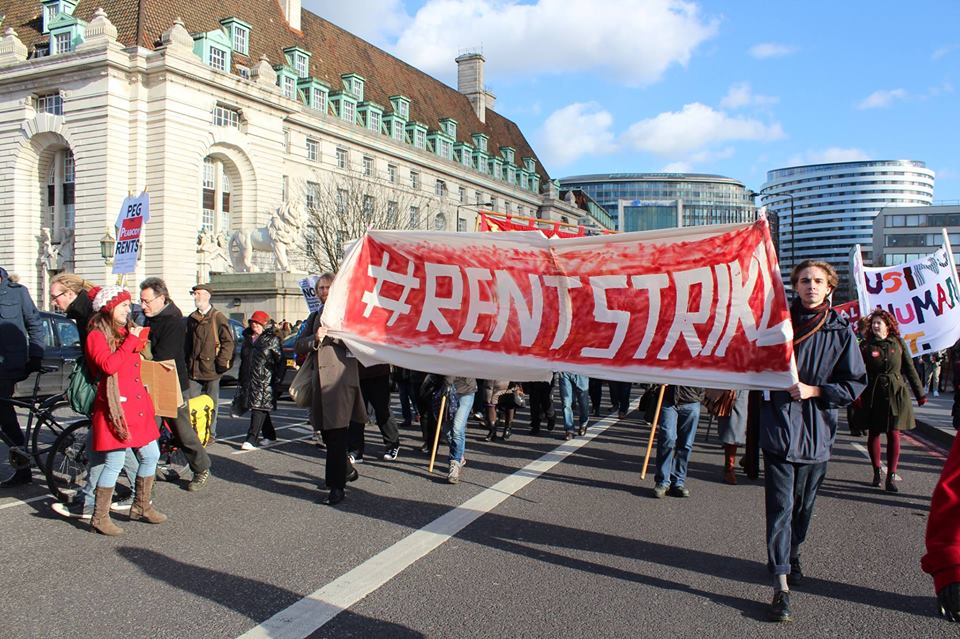 On 25 January, a rent strike was declared by more than 150 residents living in accommodation at University College London (UCL). Acting with the 'UCL, Cut the Rent' campaign, they're collectively withholding over £250k in protest at the increasingly unaffordable rent costs at the institution. A rent strike of this scale has not been seen in London for over three decades. Although the actions taken by these students – the majority of them in their first year of studies – are already causing a stir across a capital and country devastated by an out-of-control housing market, they aren't content with taking a merely symbolic stand: they're striking to win.
In the last six years, the price of accommodation at UCL has risen by an average of 56%, whilst student income guaranteed through the student finance system has increased by a maximum of 20%. This year, students living in the cheapest single room at the university are forced to pay in excess of £5.5k for their 40 week contract, whilst those in UCL's largest student halls are shelling out over £8k – just £9 under the maximum possible loan that students can claim. The university's prospectuses and website are always very keen to publicise the first-year accommodation guarantee for all students who accept their UCL offer as a 'firm' choice. What they don't mention is that you are not guaranteed accommodation you can actually afford. According to the National Union of Students, only 0.8% of rooms are 'affordable': 70 in total, which is a pitifully low number. At the same time, the university is set to make a £16m profit from running accommodation this year.
University management don't take students' income in account when setting rent prices; they're not bothered if rent for an academic year in UCL accommodation costs more than the minimum student loan, but the consequences cannot be ignored any longer.
The campaigners in Cut the Rent, such as myself, have heard countless stories from first years in halls who tell us about the (often multiple) part-time jobs they have no choice but to take up, just to have enough money to buy food. Many find themselves in the situation where their student loan – a provision supposed to allow them to study full time – does not even cover their rent, and so juggling a full-time degree and a part-time job is the only way to plug the gap between inadequate financial assistance and exorbitant rent prices. The student finance system can provide vital financial assistance to students from the lowest threshold of household income, which often includes young people from single-parent households. I could not have come to university without the grants and bursaries I receive every year. Unfortunately the Student Finance England system of allocating assistance is not perfect: there are many students who fall through the cracks, and the university has no interest in remedying this.
There is no data showing how many students never came to UCL simply because they couldn't afford it, which, whilst helping management ignore the issue, does not mean it isn't happening. The percentage of privately-educated students joining UCL each year – which in 2010 was 35.6% according to research by Sutton Trust – attests to this phenomenon. Students from disadvantaged backgrounds often report being actively discouraged from going to university in London by their peers, parents, and teachers – because sadly the determining factor is almost always cost: not the quality of the course, teaching, or facilities. This is usually left off the prospectus.
On the other hand, UCL students from lower-income backgrounds who do take the plunge, facing down the prospect of poverty for the sake of a top-flight degree, are often obliged to field the question: why would you come to study in London if you knew it was going to be ridiculously expensive? This is often simply an attempt to undermine the action these students take to contest their precarious living situations. It insinuates that we should stand by idly as the social cleansing of London accelerates, allowing London universities to become the exclusive preserve of students from more privileged backgrounds.
*
The situation at UCL is endemic of the dismantling of public higher education that started under New Labour, accelerated with the tripling of tuition fees in 2010 and is now continuing under the current Conservative government. The Higher Education Green Paper, currently under consultation and on its way to becoming a bill – possibly as soon as this summer – contains some of the key ingredients to further transform HE to an Americanised, marketised system in which more so-called 'prestigious' universities are able to charge higher tuition fees. To an extent, this has already been implemented unofficially in the UK: the drastic increase in accommodation fees represents 'tuition fee increases by stealth', as universities that charge the same tuition fees are still segregated by the cost of living.
These latest proposals are clearly the next steps down a path taken in 2010, which has fundamentally transformed the financial structure of the modern university – one that puts money, profit and market forces at the centre of the institution, with education itself a coincidental element in the equation.
Senior management in universities across the country actively lobbied for the tuition fee hike at the start of the decade, anticipating the governmental block grant would be cut enormously. For them, this was still a rational move; state funding is unstable and public in nature, whereas personal debt in the form of student loans is privatised. Universities were thereby enabled to secure loans against the debt of their own students, the certainty and sheer potential volume of this income being of great interest to investors – the students themselves reduced to consumers within a marketised system, which effectively becomes a debt factory through which the university is able to fund massive expansion projects.
UCL strives to divert attention from how the reforms of 2010 fundamentally disempower and exploit students, knowing that it subverts the university's image as valuing education above all else. In an all-student email sent out at the end of the first week of the rent strike, the Head of UCL Estates, Andrew Grainger, tried to convince students that "we [UCL] are a not-for-profit institution. This means that all the money raised from our rents is used to cover costs or to make improvements to the accommodation that we offer." This is grossly misleading; the lack of transparency UCL provides with its investments means we don't know where the massive surplus is going directly. The statements that have been released reassure students the profit from hall rents goes straight back into UCL estates, but the fact remains that UCL estates is a multi-billion pound empire which encompasses a lot more than just students' digs.
The values of UCL, upon which it was founded, include inclusiveness, openness, fairness and equality, and diversity: simply by looking at what is going on in residences, it is evident that this ethos is lost on the hacks who currently run it. UCL management is as disconnected from its constituent parts (the students and academics) as you can possibly get. Higher university management is largely made up of business professionals and management types, rather than people who, you know, have a background in education.
The tagline "Our customer promise: Agreeable accommodation in a friendly environment at affordable prices" on the front of the UCL residences website demonstrates how UCL regards its students. Referring to students as 'customers' perpetuates the neoliberal model of public universities in the UK: universities compete in a market, where the students are customers, and going to university is little more than a simple transaction: a degree in exchange for an extortionate tuition fee. Once they're through the door, the wellbeing of students is clearly not a priority.
As discourse within universities becomes increasingly market-oriented and the commodification of education as a whole accelerates, student accommodation is further mirroring the private rental sector. At UCL, alongside the recent rises in rental fees, the university has even closed some of the more affordable halls, resulting in an increased dependence on private providers such as Unite Students, which runs student accommodation on St Pancras Way. This hall, opened in the 2014/15 academic year, charges a cool £213.15 per week: over £8.5k for the year before basic living costs are factored in. Alongside skyrocketing rental prices across London, this has provided the backdrop for UCL's ruthless rent-setting policy – the university able to point to an increasingly out of control private market to distract from their own internal mess.
*
As the campaign comes in the wider context of the housing catastrophe currently tearing London apart, our actions have been recognised by other groups and individuals fighting those forces acting within the housing market which prioritise profit over families, homes and communities. Many students are priced out as the proportion of genuinely affordable rooms continues to decline at the university, and those living there now are acutely aware that they will shortly be thrown into the shark pit of London's private sector. For many organisers in the campaign, this is already a reality – so they're campaigning in recognition of these potential wider implications for the London housing market. Our actions have resonated with renters in London and across the UK because soaring rent prices affect everyone. Anyone who's ever moved to London spends at least their first three years complaining about how expensive it is, and how ridiculous the rent is for their shitty flat.
It also strikes a chord with the media, who are usually ready to dismiss the concerns of students as frivolous or idealistic. Quite the opposite: traditional print media and digital media have been constantly requesting interviews from both Cut the Rent organisers and the rent strikers during this ongoing action. Considering the gravity of the housing crisis – a mainstay in the news columns, comment pieces, and special reports – it's not difficult to see how the rent strike fits into this narrative. As the housing crisis bites harder, withholding rent starts to look less like the action of the radical fringes of London's student population, and more like a survival tactic.
It's clear that this action is necessary; these students are rent-striking as a form of direct protest and strong collective action against the blatant profiteering and exploitation directed at them and other students like them. The Cut the Rent campaign has succeeded where other student activist campaigns often struggle: mobilising large groups of young students who would have otherwise been largely apolitical.
Anyone doubting the effectiveness and necessity of collective direct action of achieving victories in the fight for free, accessible and liberated education should look not only to the successful rent strike campaigns at UCL last year (which forced the university into over £400k in concessions) but even further afield, to South Africa in 2015. Across the country, demonstrators defeated tuition fee increases, having coordinated massive marches and assemblies. A 10,000-strong demonstration outside the Union Buildings, South Africa's seat of government in Pretoria, became the largest single student demonstration in South Africa since the 1976 Soweto uprising. This reflects the feeling within the UCL campaign that if management don't listen to the demands of their students, then Cut the Rent has no option but to escalate the scale of action exponentially, incorporating even more halls and dramatically increasing the number of rent strikers until this vital victory is achieved.
UCL management are already panicking; by the time the rent strike has expanded, university managers all over the country will collectively break out in nervous sweats. These university bosses are using the relatively easy target of student rents in order to increase their revenue, whilst passing the burden onto students. The strike is important not only because it damages the university's reputation, but also because it undermines the whole new neoliberal financial structure of universities, which relies on exploiting students. If UCL management can't crush this campaign, then this will tell other students at UCL, and university halls residents all over the country, that this strategy works.
We're at a crucial point in the campaign; by the time this article is published, the campaign will have met for a second time with senior management at the university and, well, if you've made it this far it probably means UCL still isn't listening to its students. This campaign can be won, and it can be a turning point for both the student and housing movements across the UK, as radical action forces changes to happen. We could see these tactics replicated in universities nationwide during what could be the most exciting mobilisation of students since 2010.
In a wider context, the treatment of tenants at UCL is just the tip of the iceberg; as a result the campaign has received support from the Radical Housing Network and its constituent groups from across London, such as Focus E15, the Lambeth Housing Activists, and Sweets Way Resists. There is a clear perception that what is screwing students in universities is aggressively replicated in the private sector: radical collective action is the only solution, and everyone must work together to support this strike, to expand the strike and to take back control. The current situation is pretty dire for young people: we need to learn how to take appropriate steps to protect our rights against dodgy profiteering landlords, or in this case, UCL estates. Ultimately, universities must be accountable to their students, and so when decisions are made without taking student welfare into account, students must take action to protect themselves. Because if they won't – and if we don't – who will?
Photo: UCL Cut the Rent/Facebook
–
If you want to support media for a different politics, you can donate or subscribe to Novara Media at support.novaramedia.com.