Victory to the Heathrow 13! Against the Airport and Its World
by Ina Fever
24 February 2016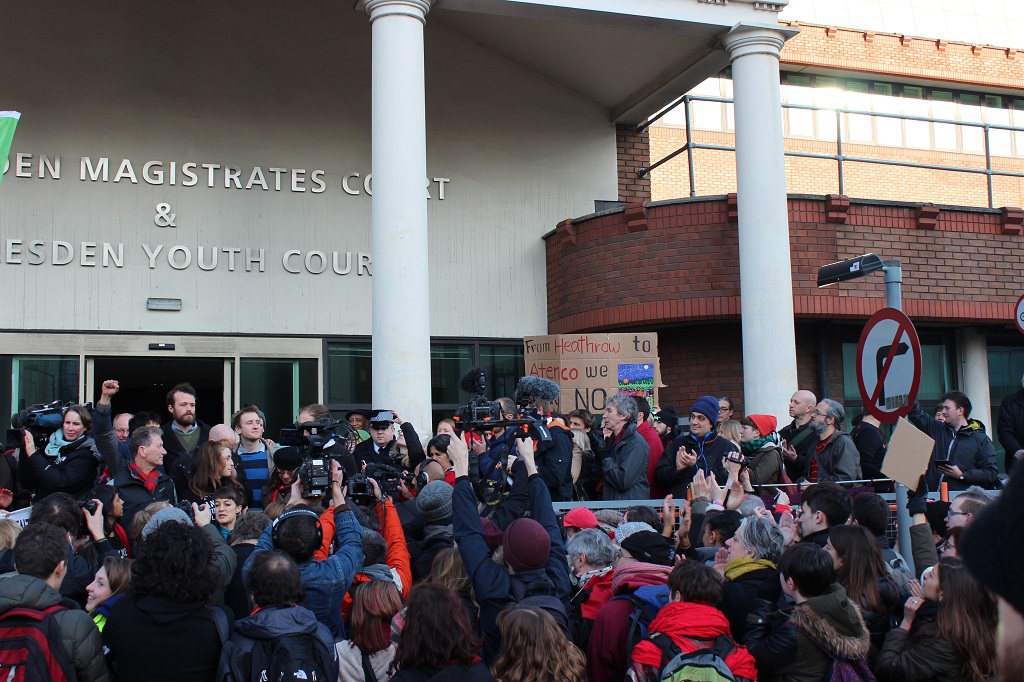 Last Summer, 13 ordinary people staged a peaceful protest on a runway at Heathrow. They were arrested and charged with aggravated trespass. Today they have been given jail sentences of six weeks, suspended for two years, with 120 hours of community service for ten of the group and 180 hours for the remaining three.
If this don't get those of you 'interested', 'going' we're not plane stupid!

Posted by Plane Stupid on Monday, 22 February 2016
To put this in context, the last time anyone in the UK was given jail time for aggravated trespass was in 1932, when 400 hikers decided to occupy a moor that was reserved for 'the shooting classes'.
One gets the sense that today's suspended custodial sentence is indeed an eerie echo of that interwar moment. Statistics abound, but the most frequently cited and eye-opening one is this: 15% of UK population fly 70% of the flights, while the majority don't fly at all, or at most three times a year.
This shows that the motivations to expand air travel come from the very few, whereas the environmental effects and detrimental consequences will be felt by many, especially in the Global South.
This is already a gobsmackingly unregulated industry; an industry unlike any other, which does not have to account for its pollution or its noise because of obscure loopholes and redacted paragraphs in Climate Change Summits.
The urgency of the group, known as the Heathrow 13, is in no doubt: if we do not stop aviation expansion, by 2037 all the carbon it is safe for the UK to emit will come from aviation alone.
Despite the relief of friends, family and supporters this is still an aggressive measure from the courts to deliberately disable a movement that has found its voice again. This movement is part of a new crystallization of forces against the airport and its world, its new runways and its jails. The court's decision was accompanied by a thorough display of police force, with no fewer than 12 police vans in the immediate vicinity of Willesden Magistrates' Court.
The airport's current inadequately substantiated ad campaign – and persistent Evening Standard pull-out – that whatever is good for Heathrow or Gatwick is good for Britain is misleading. The adverts, which portray a ridiculous and infantile spat between the anthropomorphic airports, are now also guilty of a presumption. It is not simply a case of either-or anymore; today it is a case of no more. The actions of the Heathrow 13 have made it clear: airports are the red line from which there is no going back.
Today's victory at Willesden Magistrates Court was witnessed by a huge group of around 300 supporters engaging in a lively and colourful solidarity demo all day from 9am for the UK's trending hashtag: #Heathrow13.
One man had been handing out red jumpsuits to all and sundry, including the shadow Chancellor, John McDonnell, who unfortunately wasn't able to get into it before his own speech. There was also a regular chorus of support from drivers beeping and cheering, and from members of the public fed up with how the government treats its junior doctors and the environment.
The pavement was packed and people were taking up stations on the other side of the road to hear from a list of notable speakers, including Caroline Lucas, John McDonnell and the Greens' London mayoral candidate, Sian Berry.
Given that this is the perhaps the most urgent matter of the capital city at the moment, both Labour and Conservatives' mayoral candidates were notable for their absence. Perhaps more so Zac Goldsmith, for it is the MP for Richmond Park who is now an unlikely ally after he threatened to trigger a by-election in September if plans for a third runway were to be made at Heathrow.
David Cameron's words continue to ring out; inverted by the movement and which now come back to haunt Heathrow: "No ifs, no buts, no third runway."
Photos: Ina Fever
–
If you want to support media for a different politics, you can donate or subscribe to Novara Media at support.novaramedia.com.