Magdalene Laundries: 'My life changed the day the state said sorry'
by Mary C
4 March 2016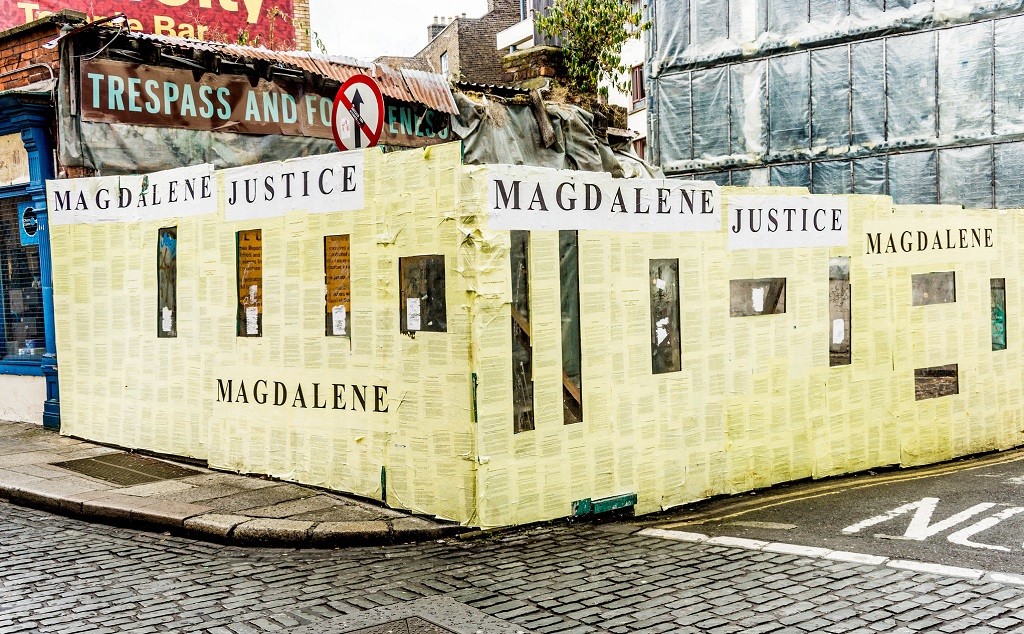 Content warning.
Three years ago last month, the Irish government issued a state apology to survivors of the country's infamous Magdalene laundries. That apology meant everything to me, just like it did for thousands of other women incarcerated for little more than being confident or poor. I bore deep scars from my time in a laundry.
Born in a Mother-and-Baby Home in Dublin, Ireland, my mother – just like 35,000 others – was forced to give me up because she wasn't married. The court ordered for my transferral to an orphanage in Kilkenny when I was two.
The orphanage wasn't a homely place. Love and care were absent. The days were long and hard, starting abruptly at 6.30am. After prayers, breakfast and mass, we earned our keep with hours of exhausting chores. Education was minimal, leaving us feeling totally unprepared for the outside world.
The nuns constantly reminded me that good Catholic girls obeyed authority and that my boldness would inevitably land me in trouble. And so it transpired when, aged just 12 years old, I was cast as a deviant. Yet I had done nothing wrong.
I was accused of starting a fire in the orphanage, ripped from my bed and thrown into a car by nuns and a social worker. Scared, frightened and confused, I had no idea where I was going, or why.
I was incarcerated in a Magdalene laundry for two long years and was coerced to wash dirty linen daily. I've carefully blocked those two hellish years from my memory.
When I finally got out, the same social worker transferred me to an infirmary. There, I was bullied by my peers and the nuns never ceased to find more elaborate ways to torture us. One nun would wet her cane and rub salt on it. I learned not to cry, either that or the punishment would be worse.
When I turned 16 the Irish state no longer had responsibility for me, so I found myself work and somewhere to stay. I thought I would relish a normal Irish life and freedom. Unfortunately, the reality was very different.
I had no formal qualifications and a barrage of stigma to fight against. I was considered subhuman and not worthy of the most basic of rights. Emblematic of that is how, when I was 17, I was raped by a police officer. I couldn't report the crime. The authorities would accuse me of lying and likely imprison me rather than my attacker.
A year later, aged 18, I finally gave up on Ireland. What should have been a short trip to visit my sister turned into a whole new chapter in London and the rest of my life hitherto.
I lived from pillar-to-post, working tough jobs and constantly felt like I was in everyone's way. I didn't have much luck with relationships either, having three children by two abusive men. I eventually escaped, registering as homeless and spending years moving from one sink council estate to the next.
After my sons flew the nest, my landlord served an eviction notice. At 40 years old I found myself homeless once more. But I had a glimmer of hope: I found out about an Irish survivor-led advice service in north London.
Phyllis Morgan from the Irish Women Survivors Support Network (IWSSN), compassionately supported me and secured a beautiful council flat. Phyllis was my guardian angel: from having nothing and no-one, I suddenly had a home, support workers and counselling. From that point on, my life only got better.
Shortly after being re-housed the Taoiseach, Enda Kenny TD, issued a state apology to Magdalene laundry women. All my life I'd walked down the street hanging my head in shame. After that apology, I could finally hold my head up high with pride. I had survived.
I always knew what had happened to me was wrong. Beneath the moralistic language were corrupt motivations for the laundries' existence. They served a dual purpose: increasing profit and policing women's behaviour. We were nothing more than slaves for the religious congregations.
Despite my hardships, I know I'm one of the lucky ones. Others remained homeless, grappled with addictions or even took their own lives. I was lucky because I survived, and now I am truly free; in my heart, mind and soul.
If you've been affected by this issue or would like to find out more about about the advice and support IWSSN offers, please visit their website, call 0207 267 9997 or contact them on Twitter or Facebook. 
Photo: William Murphy/Flickr
–
If you want to support media for a different politics, you can donate or subscribe to Novara Media at support.novaramedia.com.