Treat, Don't Police! Fighting the Immigration Act in the NHS
19 August 2016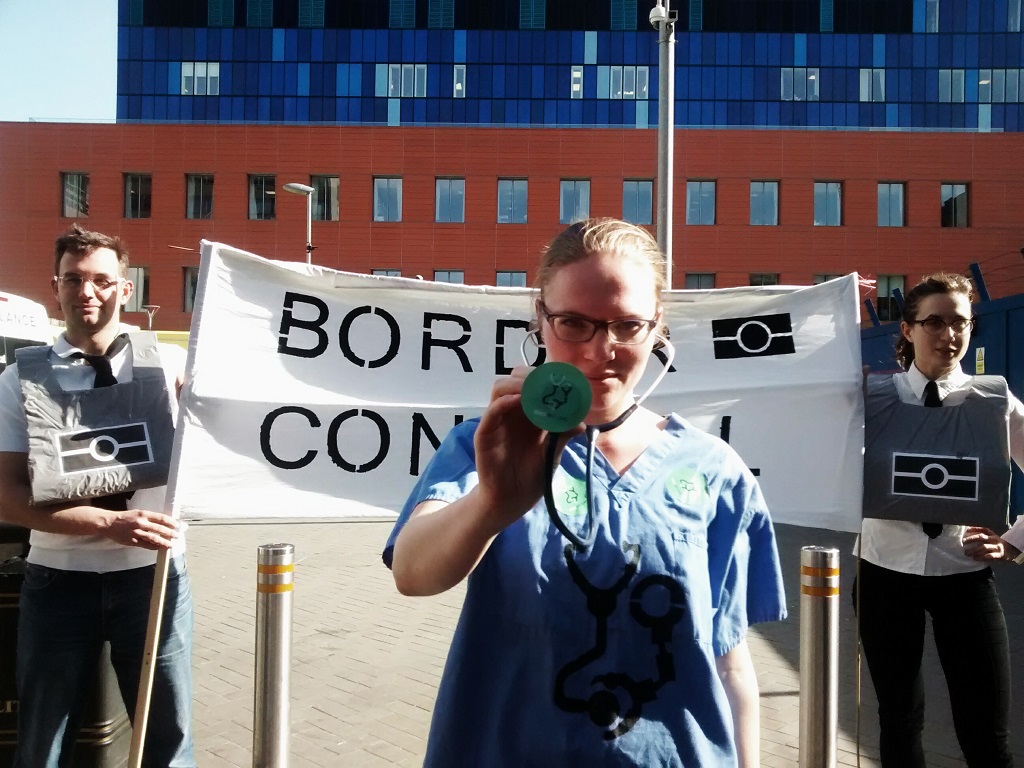 Many were shocked last month when the gourmet burger restaurant Byron appeared to collude with the Home Office to conduct a sting operation that resulted in dozens of their employees being arrested on immigration charges.
This government has stated its intention of creating a 'hostile environment' for undocumented migrants in the UK. Achieving that goal requires the cooperation of people from many different walks of life – an army of informants to dob in the most vulnerable. Information published recently reveals that there has been an 80% increase in immigration raids in London alone from 2012-2015, and at times these raids will have taken place after the Home Office has received information from community police officers and tip-offs from members of the public and professionals. The policing of UK borders is being devolved into every corner of our lives. The government is creating a panopticon in which we all police each other in areas ranging from employment and housing to – most troublingly – healthcare.
The Docs Not Cops coalition is a group of healthcare professionals, activists and concerned citizens fighting to keep the Home Office out of the NHS. We have been lobbying professional bodies like the British Medical Association (BMA) and staging direct actions such as our 'border control checkpoints' outside of NHS hospitals.
And yet, with little public awareness, the encroachment of immigration controls into the public health service increases. In the first months of 2016, there was a huge spike in requests by the Home Office to access NHS data. While an individual's medical records are generally restricted by data protection laws, agencies are able to see information such as when and where a patient accessed the NHS. Research gathered via Freedom of Information requests shows there has been a 225% increase in such data requests by the Home Office since 2014.
In 2014, the Con-Dem coalition passed the Immigration Act, which allowed for discriminatory healthcare policies aimed at migrants. With little public attention, the law scrapped the fundamental founding principles of the NHS. Instead of a universal health service, free at the point of access, a two-tiered system was created with non-EEA patients chargeable for certain services at 150% of NHS costs. Certain non-EEA citizens are now also required to pay a 'healthcare surcharge' while applying for visas to the UK. If they are unable to do so, their visa application is immediately rejected. A government consultation put out earlier this year has suggested extending these policies so that primary and emergency care, as well as ambulance services, could also be chargeable. Patients with any outstanding bills can then have their details shared with the Home Office.
For the first time ever, NHS staff are being asked to check the immigration status of the people they treat. Like employers and landlords, they have been asked by the Home Office to serve as border guards in order to push undocumented migrants out of the health service. With little training provided on a very complex piece of legislation, the new policies have led to a great deal of confusion. There is no consistency in the interpretation of the eligibilities for care, and many who should be exempt are being charged falsely or opportunistically. Decisions on who should be paying are often made on the grounds of racial profiling.
No one should be afraid to visit the doctor. And yet, in such a climate, is it any wonder that migrants, uncertain or confused about the care they are entitled to, are delaying seeking treatment or avoiding going to the doctor altogether? Immigration policing within the NHS has already led to tragic cases like that of Dalton Messam, who died in 2013 in East Ham from an unknown illness, too afraid to seek medical treatment in case he was deported. The changes to access to NHS healthcare introduced in 2014 will only make undocumented migrants less likely to seek care, with potentially fatal consequences. The current policies fuel a racist ideology and violate individuals' human rights. They also constitute a public health emergency which will harm, not help, the health of the UK and result in higher long-term costs.
Byron colluded with the Home Office out of corporate self-interest. It seems the company knew the status of its employees – many of whom had been working there for several years – and set them up to avoid a massive fine. Healthcare workers should have different priorities. In the NHS, staff have made a pledge to provide free access to sensitive, non-judgemental care. Their duty is to treat, not police.
As the dangerous and chilling reach of the Immigration Act becomes apparent, more and more members of the profession are joining our call to repeal it within healthcare, as are other members of the public.
For more information visit Docs Not Cops on Facebook, Twitter or at docsnotcops.co.uk.
Photos: Docs Not Cops
–
If you want to support media for a different politics, you can donate or subscribe to Novara Media at support.novaramedia.com.