5 Things You Need To Know About the UberEATS Strike
by Callum Cant
25 August 2016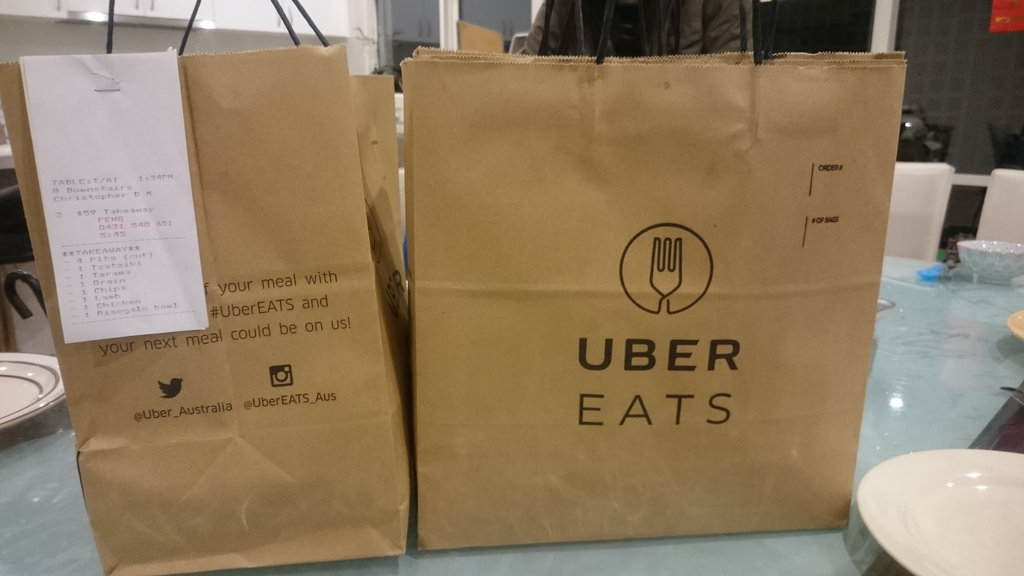 avlxyz/Flickr
On Friday, drivers for UberEats – the new food delivery platform from Uber – will go on strike for the first time ever. Following soon after the recent Deliveroo strike, these disputes represent exciting developments in new forms of political action at work.
1. Strikes without restrictions.
The precarious nature of the gig economy was once thought to be a barrier to militant action. But if anything, these new strikes show the potential for massive and spontaneous displays of workers' power in this new work environment.
A normal, legal trade union dispute can turn into a strike in a minimum of a month, going at top speed. Exchanging letters with employers, postal ballots, independent scrutineers and notice periods all combine to pour water on workers' organisation and take precious time.
In getting rid of all the protections guaranteed by law in order to allow increased exploitation, companies like Deliveroo and UberEats also got rid of all the legalistic restrictions on workplace organisation that protect them from grassroots militancy.
This means the only kind of action left available to workers is the wildcat strike. They don't need to ballot, they don't need to give notice, they don't need to comply with any special laws – they just stop answering calls and making deliveries. For these new militants, precarity is strength.
2. Crap pay.
The drivers' grievances are mostly around wages. When UberEats was first recruiting drivers, the company poached people from Deliveroo by offering above average pay. But since then, pay has been cut and cut. At the moment, UberEats driver are paid per delivery (this is called piecework), with no guaranteed hourly income. Deliveries can be paid at either peak or off-peak rates.
Drivers don't get paid if an order gets cancelled whilst they're on their way to pick up or deliver it, and they don't get paid for the time they spend waiting at restaurants, which can be up to 30 minutes. In some cases, drivers have worked an entire day and earned only £9 (£5 after subtracting the cost of petrol).
3. Collective bargaining.
UberEats knows two weekends of bad service could be ruinous for a fairly new platform. That's why, as soon as managers started to hear rumours of a strike they began to try and bring influential drivers in for individual negotiations. The drivers refused. Just like Deliveroo workers before them, they will only accept collective bargaining. It looks like Uber is running scared.
4. Strike network.
Drivers are communicating through the encrypted messaging app Telegram. Unlike Deliveroo riders, who shared common 'meet points', UberEats drivers have no meeting points built into their work. Instead, drivers have been looking out for other UberEats drivers as they travel around London, recruiting them on the roadside to join the strike network. But despite this barrier, the network is still growing rapidly. Drivers estimate that there are between 200-300 UberEats drivers in London, the majority of whom are now part of the strike network.
Petross Elia, general secretary of United Voices of the World (a militant, grassroots union supporting the strikers) expressed his excitement at this new wave of militancy in the gig economy: "The totally spontaneous and autonomous nature of this action is what makes it so exciting. It's not really organising as we know it – it's something else entirely.
"They're not following any of the strategic rules. They do what they want, and it works."
5. Strength from precarity.
Deliveroo and UberEats drivers are now meeting and discussing coordination. If this kind of action can spread out of London and to other companies, then it could begin to generalise into a really significant movement against crap pay and crap conditions.
We're witnessing the birth of new kinds of strike action, which break many of the long held assumptions about how to organise and win at work.
If you want to support the UberEats drivers, join their picket at the Uber offices right next to Aldgate East tube station, on Whitechapel High Street any time after 11am on Friday – but particularly from 5-7pm.