US Election Liveblog
by Aaron Bastani and Eleanor Penny
8 November 2016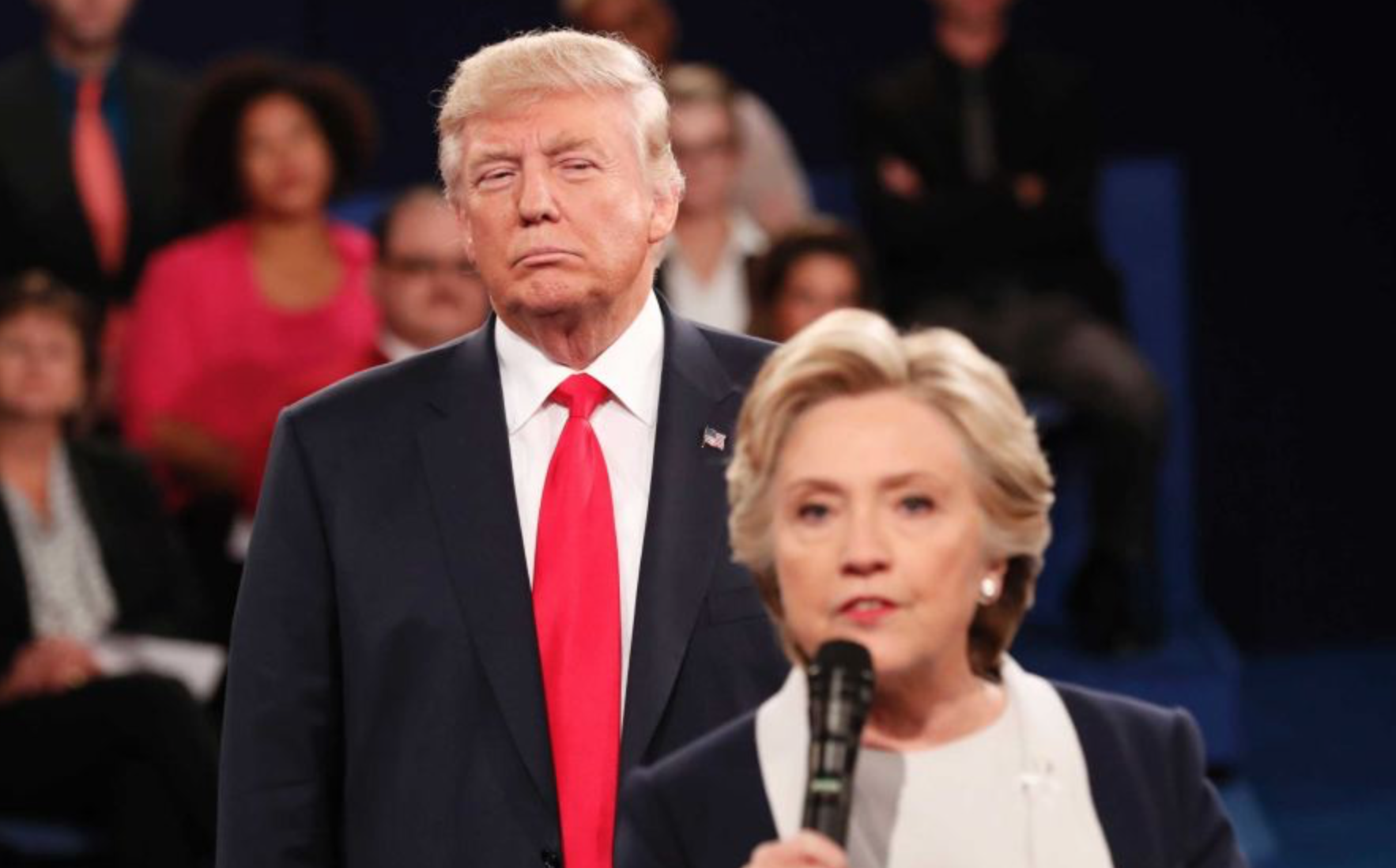 Update: 5:01
Time for bed. Donald J Trump is as good as in at the White House, the 45th President of the United States. He needs another 26 electoral college votes: Wisconsin, New Hampshire and Arizona will seal the deal. Elsewhere, Trump is narrowly ahead in Michigan and remains competitive in Pennsylvania. Its done.
For now he is also ahead in the popular vote  – the pundits are saying that will change, but there seems to be no data backing that.
Update: 3:51
Trump takes North Carolina. He is ahead on 50% returns in New Hampshire, as well as Wisconsin and Michigan. In 2012 Obama won Wisconsin by 7%, New Hampshire by 6% and Michigan by 10%.
In 2012 Obama won Ohio by 3 points. Trump has just won it by 15.
Florida, with 1% of votes remaining to be counted,  is almost certainly red.
The NYT is now giving a 94% likelihood of a Trump win.
Update: 3:01
The New York Times now has Trump at 64% to become the next President. Clinton is behind in Wisconsin, Michigan and New Hampshire. There were half a dozen seats that were toss ups between the two candidates, but those states weren't among them.
FiveThirtyEight still think Clinton has a 70% likelihood of winning. The kiss of death?
Update: 2:44
Clinton closing in Virginia but early indicators in Michigan and Minnesota aren't good. Clinton will be tested in a lot of seats which were meant to be easy now.
Meanwhile it looks like the Republicans have won the Senate. This wasn't meant to happen.
Update: 2:38
Over 45s haven't decided the President since 2004. Ditto white men. The future of winning in American politics was meant to be an unbeatable coalition of women, the young and minorities. That had demographics on it side – and with it history. Whatever the result tonight – and Trump looks an increasingly likely victor – that assumption has been blown out of the water. Why? Candidates, despite the trends, matter. They win and lose elections.
Update: 2:33
The New York Times thinks a Trump win is now likely.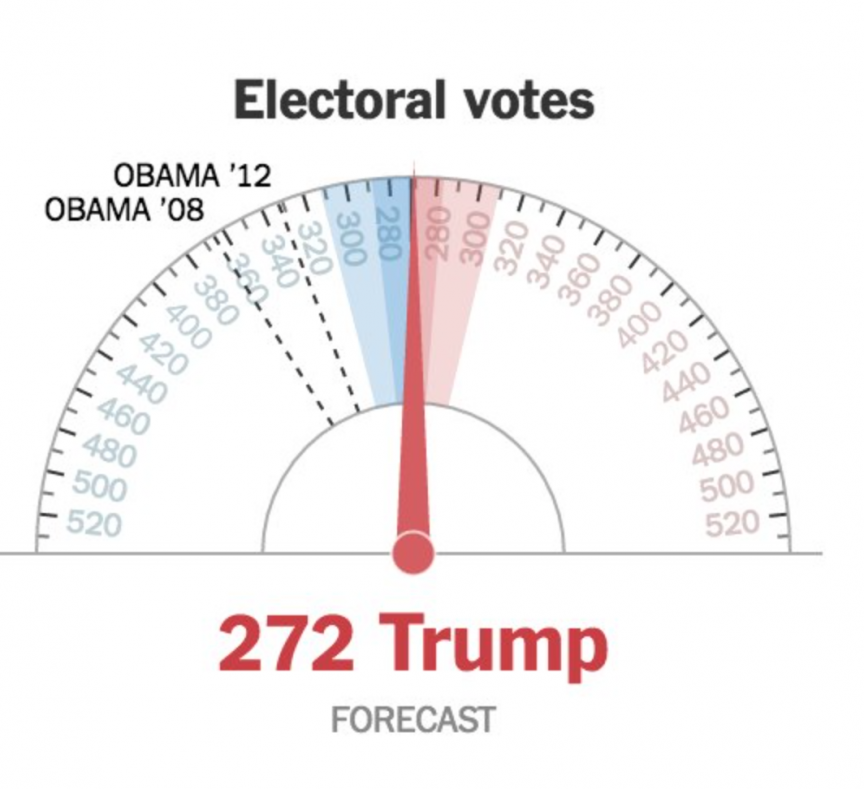 Update: 2:29
Trump now leading in Florida, Virginia and New Hampshire – the first two reporting on 94% and 77%. Trump is also now well ahead in Ohio.
Update: 2:07
A fortnight ago the likes of FiveThirtyEight said Clinton had an outside shot in places like Texas – something that just doesn't happen. Two things: that logic increasingly seems like nonsense, and Trump is now the projected winner in Texas.
Update: 1:59
Trump is now ahead in Virginia and Florida on 66% and 91% reporting respectively. Its increasingly clear he has a shot here.
Update: 1:55
Wait, what? Is Farage on Trump's payroll?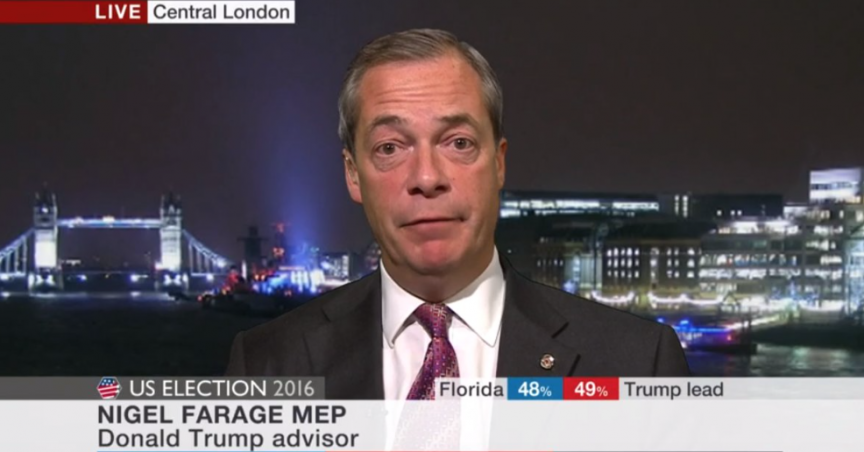 Update: 1:42
Cenk Uyghur makes an interesting point on the Young Turks coverage – easily the best of the night – if Hillary loses Florida and Nevada (even if she wins Pennsylvania) she probably needs New Hampshire. While the earliest exit poll in Georgia hinted at a big win for the Democratic nominee, as time passes that looks less and less likely.
Update: 1:20
Over 45s haven't decided a US presidential election since 2004. It looks like Trump could win that demographic tonight. In the UK thats been the path to power, Brexit and keeping Scotland in the union. In the US – increasingly – it doesn't matter nearly as much.
Clinton is winning on the same demographics that Labour would need to win power – the young, women and minorities. Aaron has written a few pieces on this topic over at the LRB blog. One on Labour and one on Bernie Sanders.
Update: 1:08
Interesting exit poll data on the FiveThirtyEight blog. 60% of Trump voters think the next generation of Americans will be worse off than the current one. The last 40 years tells us thats correct. It was a similar story with Brexit, with 'remainers' more optimistic about the future.
The thing is, the last forty years indicate their hunch is almost certainly correct.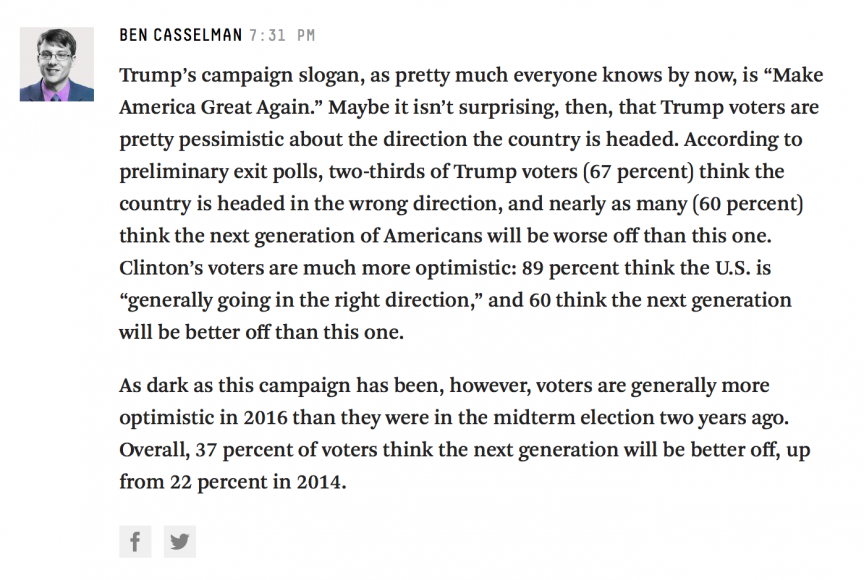 Update: 1:03
Florida exit poll: 48% Clinton 46% Trump.
With 75% of the vote in Clinton leads Trump 49%-48%.
Pennsylvania exit poll gives Clinton the state with 50%.
Update: 0:53
Clinton now on 50% in Florida with over 70% of the vote in. If Trump doesn't win in this state he has little chance of becoming president. The state exit poll should be out shortly.
Update: 0:42
55% of the vote in in Florida, Trump leads Clinton 50% to 47%. This state really matters.
Update: 0:33
The first big exit polls of the night are released.
Carolina exit poll: Clinton 48% – Trump 47%
Ohio: Trump 48% – Clinton 47%.
Taken together, that would indicate tonight will be no walkover. In North Carolina, interestingly, the Hispanic vote for Clinton is surprisingly weak: 57% compared to 35% for Trump. If even vaguely representative of the national picture that would be very underwhelming for the Democrats.
Update: 0:26
Skys ever tactful Kay Burley finds a group of people eating dinner
Update: 0:21
Sky's Adam Boulton asks if there is a room for a new 'centrist party' in the US. Even though that is precisely the politics two party systems are designed to lead to…and activists are increasingly angry at establishment, technocratic politics within their respective parties. Why do some people just refuse to get it?
Update: 0:13
Exit polls for Ohio and North Carolina are out within the next twenty minutes. They'll tell us a lot about just how much Trump can challenge tonight.
The Democrat performance in Georgia seems UP on 2012, in no small part because of Latino votes. Again, that is likely to be one of the big stories of the night. Could Hillary's coalition win big? After Ohio, we'll have more of an idea.
Update: 0:04
Trump polling 48% in Georgia, Clinton 47%. Clinton takes 90% of African-American vote and overwhelming majority of hispanics. Trump looks on course to take a massive 72% among white voters.
Gary Johnson, the libertarian party candidate, is on 4% in the same state. Could he be the big variable which upsets the Republican party tonight?
Update: 0:01
First exit poll in Georgia for Trump isn't good. Would indicate worst performance by a Republican there since the 1996 election…watch this space.
Update: 23:56
Tonight we are looking at two of the most unpopular politicians in US history battling it out for the White House.
But Trump seems to have claimed that accolade at least, with a national exit poll saying that 32% of the electorate view him as trustworthy, compared to 38% for the former Secretary of State.
Update: 23:47
Flight to Sterling? Markets have priced in a Clinton win. If Trump pulls off an unlikely victory tonight it could mean that the Dollar starts to go south – just like the pound did on the night of the Brexit result. What would that mean from a UK perspective? Well, our own basket case currency might look that little bit less risky…
Update: 23:41
For those in the UK trying to work out how long you need to stay up, this via @cspanjeremy is useful. Basically another six hours, if this is a normal election. Which we know it isn't.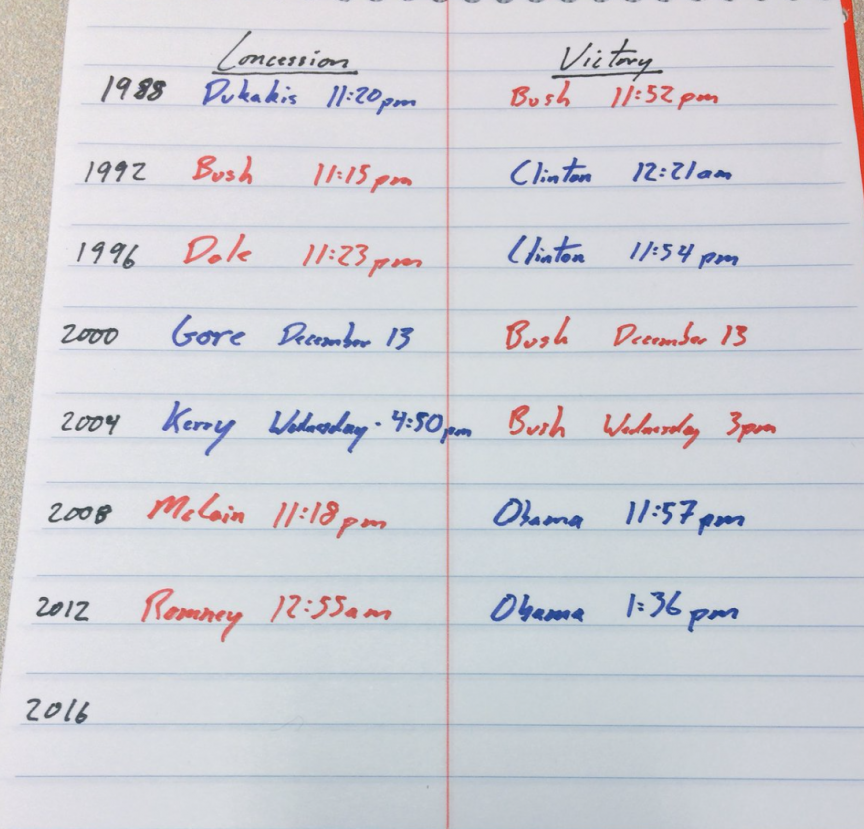 Update: 23:38
Trumps campaign manager getting the excuses in early?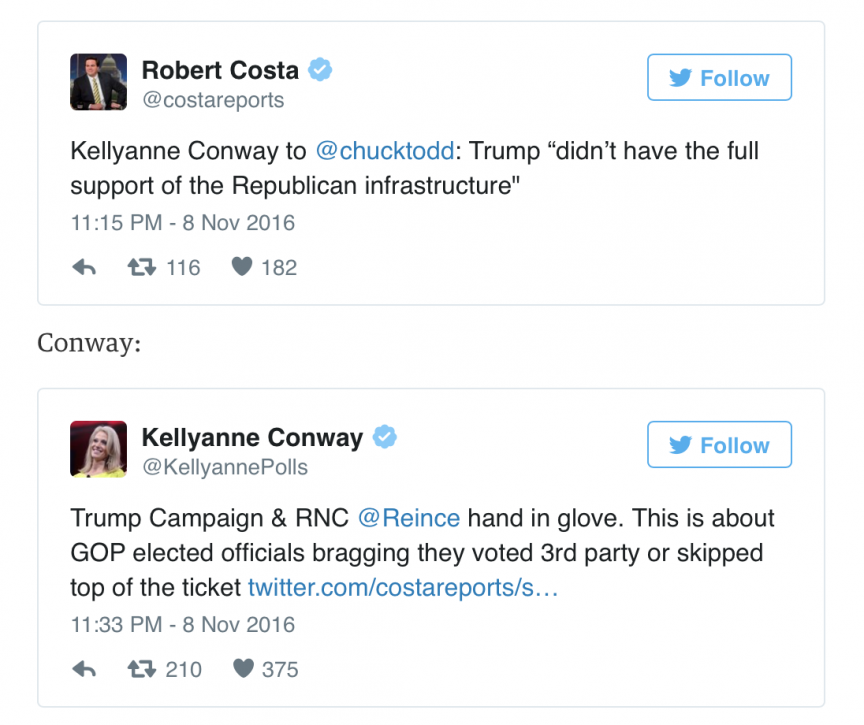 Night kicks off: 23:00
And we're live with our coverage of tonight's elections. Its not only the White House that is up for grabs over the coming hours but seats in both the Senate (34 out of 100) and the House of Representatives (435 seats) too. Additionally, there are reams of other measures and proposals being voted on a state by state basis.
For now the big news is that an incredibly life-like cake of the Republican nominee has just arrived at Trump Tower.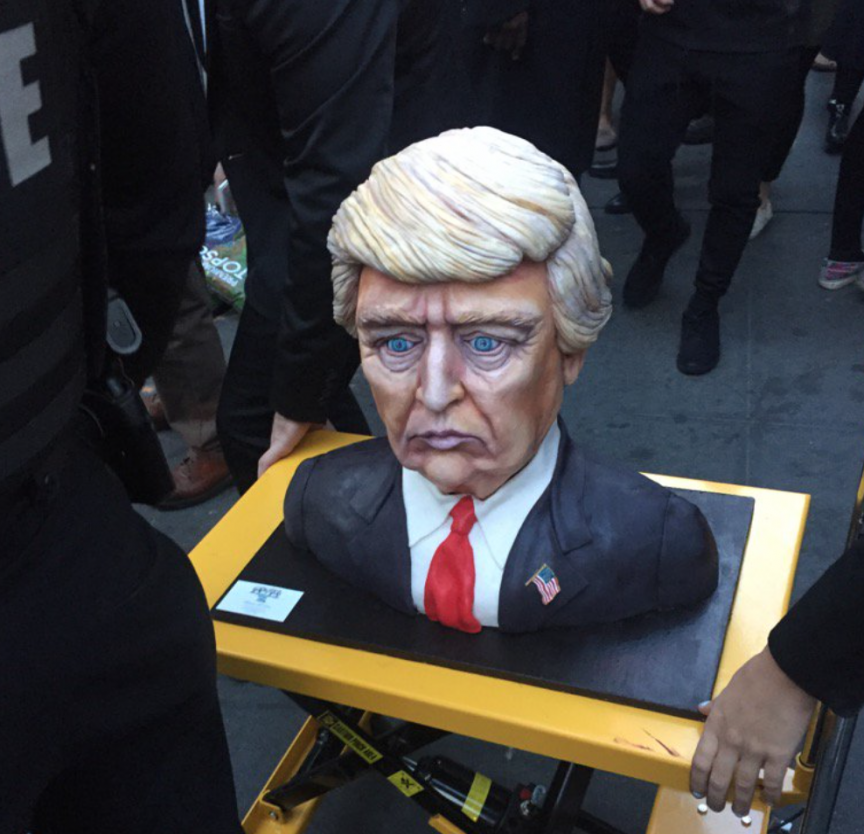 Each candidate needs 270 Electoral College votes to secure a majority. Barring a Gore vs Bush situation in which a recount is called, at roughly 5am we'll know who's taken the White House.
Key swing states include Wisconsin, Virginia, Pennsylvania, Ohio, North Carolina, New Hampshire, Nevada, Michigan and Iowa; elections are reliably nail-biting in these states.
However, the key issues of this election (including migration and the concerns of a white working-class populations 'left behind' by globalisation) may have redrawn these traditional battle lines. New Mexico used to be a red state – but Obama won it both times, and its high migrant population looks to swing it in Clinton's favour.
Early results out of Indiana seem to indicate a significant lead for trump – but then again, only 1% of the vote has been called. All to play for.