It's Time to #ShutDown Heathrow's Third Runway
by Daphne Lausanne
25 November 2016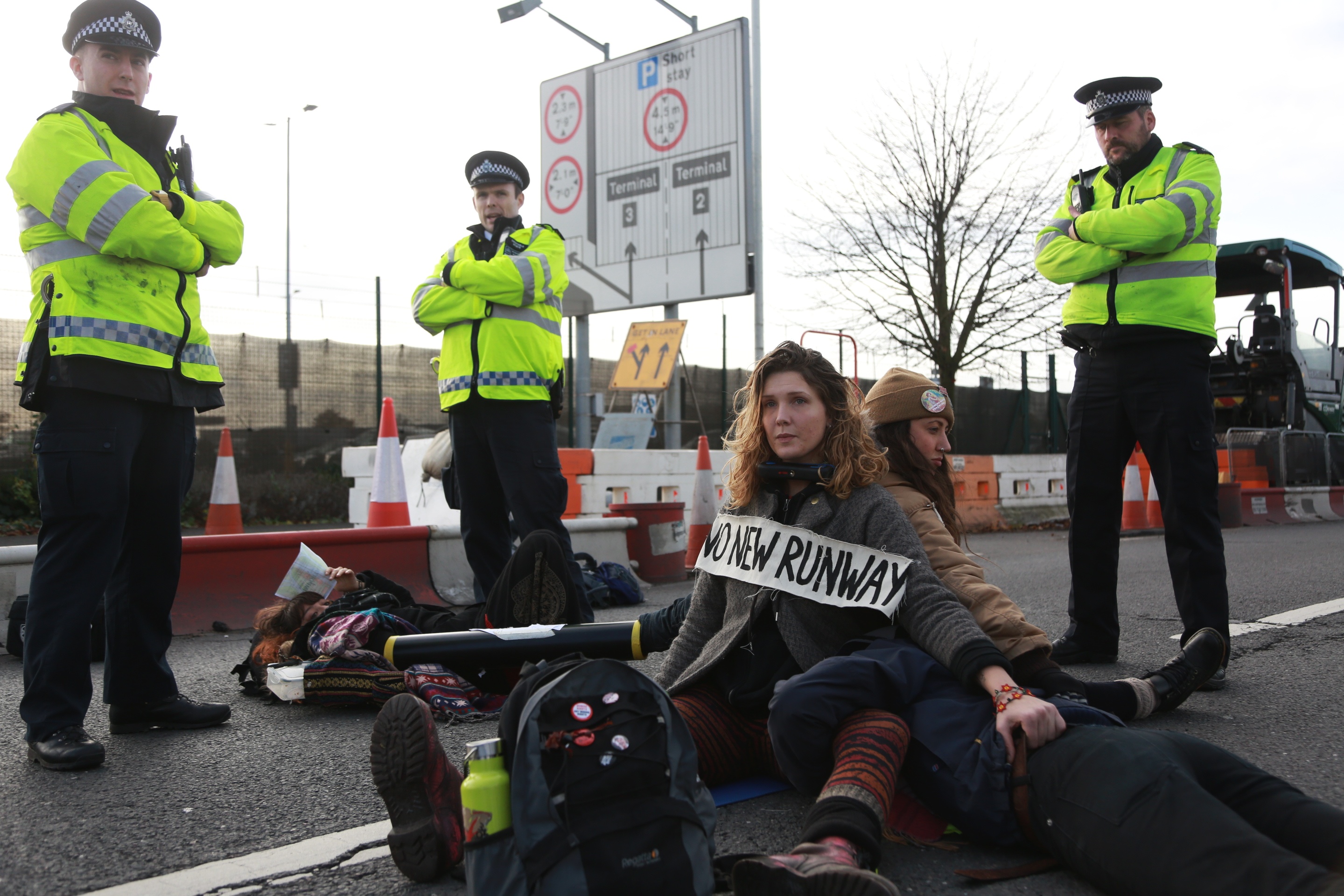 Kristian Buus/By Kind Permission
Donald Trump's rise to power has unleashed a rich tapestry of ecological concerns. His position on climate change is downright dangerous and his cosiness with the world's most notorious climate sceptics should keep us awake at night. It comes as no surprise that he has close financial ties to Energy Transfer Partners: the company attempting to build the pipeline across North Dakota and bulldozing ancient indigenous communities in its wake.
Meanwhile, Theresa May has given the green light for the expansion of Heathrow airport. These developments are chilling because now – more than ever – is the time to prevent global elites from destroying communities around the world in their unceasing quest for capital accumulation.
On 19 November, 15 people were arrested as hundreds demonstrated and took disruptive direct action to shut down the main road to Heathrow airport. Here are five reasons why resisting airport expansion is necessary and why we can win:
1. It's bad for locals.
Airport expansion exposes the contradictions within nationalist discourse and shows that capital accumulation is continuously prioritized over local concerns. Take a look at what airport expansion promises in these classic cases of Heathrow advertising:

The whole narrative around this campaign was laced with nationalism and hope for the 'British people'. But these claims simply generate questions about who is gaining what here and who 'we' are supposed to be anyway. When only 15% of the UK population takes 70% of flights, it's hard to pretend that this expansion is for the enjoyment of the majority. For people who take a couple of flights a year on holiday or to visit family, there's more than enough existing airport capacity. For us, new runways just mean more noise and pollution.
In reality, this expansion – as with most airport expansions – is a huge violation of the well-being and political agency of local communities. In 2009, May herself said: "Local people will be devastated by Heathrow expansion … I am clear that we must say no to a third runway." The third runway will mean the demolition of at least 700 homes and it will expose 124 more schools and 43,000 more schoolchildren to air and noise pollution. One study suggests that if Heathrow builds a third runway, deaths from air pollution will triple by 2050.
2. It's one or the other: new runways or a safe climate.
Globally, aviation is the single fastest growing source of emissions. A third runway will produce the same amount of emissions of the 50 lowest carbon-emitting countries in the world combined. That's equivalent to the whole of the Kenyan economy. Although the UN international climate talks are deeply flawed, reformist and gestural, this expansion shows how little they mean, easily wrecking last year's Paris agreement.
3. The climate crisis is a racist crisis.
Historically, the UK has been one of the largest emitters of carbon in the world, but British people are not the first to feel the impacts – it's the most vulnerable communities in the most disadvantaged parts of the world that are on the frontline of global warming. These are also largely countries whose economies have been systematically and structurally dismantled by colonialism and continue to be kept down by multinational neo-colonialism. While the most disadvantaged communities are hit worst by the climate crisis, it is important to note it is not a crisis caused by them. It is estimated that around 5% of the world's population has ever taken a flight.
And whilst it is such a small minority of people perpetuating these ecological problems, one shocking estimate is that 250,000 people are dying every year as a result of droughts, water shortage, rising sea levels and increasing acidity of the oceans, which are impacting communities. By 2050, there will be 15m climate refugees in Bangladesh alone as a result of flooding, and globally it is estimated that there will be 200m climate refugees by the same year.
Whilst the richest have access to airports, migrants are forced to take dangerous and life-endangering routes into Europe. Sometimes as a result of the effects of climate change, yes, but often to gain access the wealth that nations like the UK developed as a result of the ecological and colonial exploitation of the planet and people.
4. We keep winning.
Last weekend's action stands in a long, proud tradition of successful resistance to airport expansion. Take Heathrow as an example, where there has been 70 years' worth of effective resistance to airport expansion. It's well known that the decision to expand the runway was overturned in 2009 partly as a result of huge community resistance. In fact, David Cameron blamed 'public pressure' for killing off the plans. There was even a political occupation of the land that would have been used, which still exists today as a squatted greenhouse called Grow Heathrow.
Resistance to a runway outside of the city of Nantes has led to the formation of one of the largest autonomous zones in Europe. Called la ZAD, it houses around 500 people in DIY communities who have successfully defended their position against consistent state violence. A short history of resistance to airport expansion can be seen here:
5. There's a growing movement and it's easy to get involved.
If you want to join the movement, email [email protected] for more information on getting involved, or look at the Climate Change is a Crisis website. You can also keep an eye out for upcoming actions to join or support on Facebook and Twitter.