Surviving Hostile Environments: Migrant Families With No Recourse to Public Funds
15 January 2017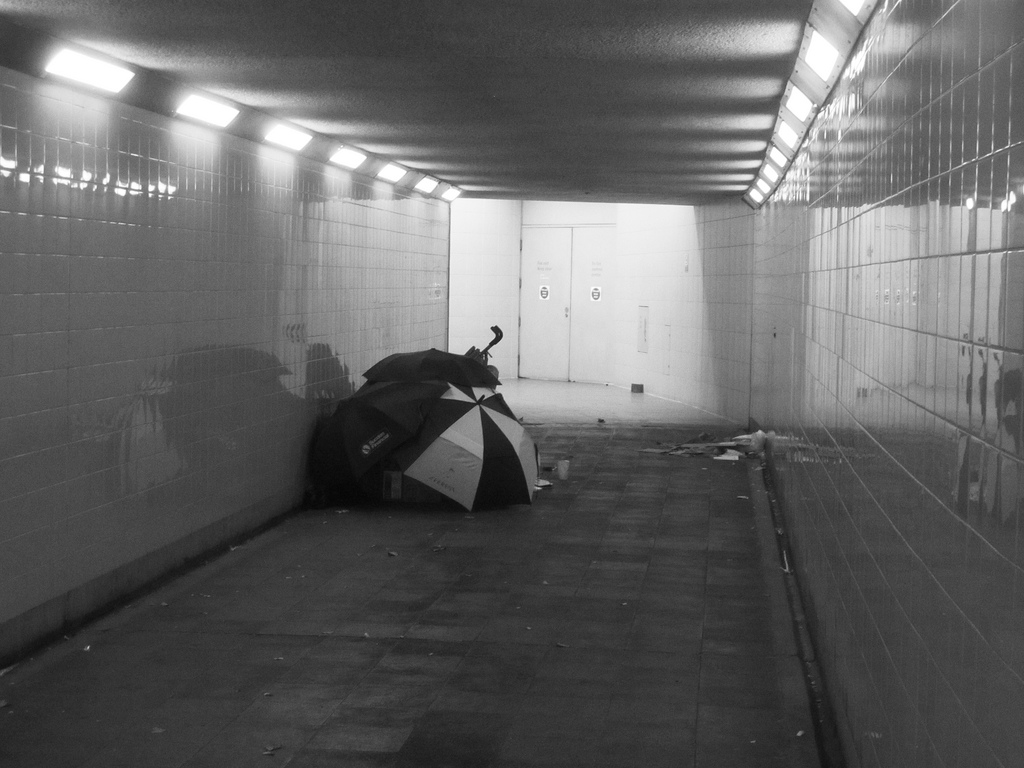 Everyday borders.
We might casually imagine a border as a neat line drawn on a map, demarcating a stable and sovereign territory. Of course, such borders are not benign 2-D lines, but militarised, heavily-policed zones. But once the physical border has been crossed, the policing does not stop. In this way, the borders of the UK extend into workplaces, houses, hospitals, schools, police stations, banks, and  streets. These are the sites of the immigration checks and raids that are routinely carried out; and in which there is a Home Office presence that has increased dramatically in recent years. As home secretary, Theresa May stated her intention to create a "hostile environment" for undocumented migrants in the UK. It seems the policy is working. The anti-migrant emphasis of her recent speeches as prime minister indicate that this hostility will extend to all migrants, regardless of their immigration status. The borders are proliferating, as are the categories of citizen -– employers, landlords, doctors, teachers – being enjoined to perform border policing functions on the state's behalf. Social services acts as another set of institutions that could be added to the already long list of internal patrol points.
Who are NELMA?
North East London Migrant Action (NELMA) are a campaigning group who aim to combat some of the effects of these pernicious policies on a local level, with a focus on social services. We believe that all migrants—regardless of status—have the right to live, work and have a decent life in the UK.
From our initial meetings a serious recurrent issue emerged: unofficial gatekeeping experienced by migrants with 'no recourse to public funds' (NRPF) approaching social services for support under Section 17 of the Children Act 1989. The term 'gatekeeping' describes the processes by which council staff deny people the help, services and support to which they are legally entitled. In response to these concerns, NELMA set up a London-wide accompanying scheme – partly inspired by the buddying schemes set up by groups like Housing Action Southwark and Lambeth (HASL) and Haringey Housing Action – to provide solidarity and support to people approaching social services. NELMA also hosts a monthly forum at Akwaaba in Hackney where people supported under Section 17 can share their experiences.
What is Section 17?
Section 17 of the Children Act imposes a general duty on local authorities to safeguard and promote the welfare of children 'in need' in their area. As long as it is not contrary to the welfare of the child, section 17(1)(b) further provides that a local authority should promote the upbringing of children in need 'by their families'. The definition of 'in need' in the Children Act is very broad: a child will be 'in need' if he or she cannot achieve or maintain a reasonable standard of health or development. In practice, however, the Children Act does not tend to be generously interpreted by local authorities: most families approaching social services are homeless or imminently facing homelessness. Although Section 17 support is not explicitly a provision for children in migrant families, migrant families are especially vulnerable to destitution, as they often have no access to any other state support and also might have no right to work in the UK. But even this last safety net is torn. Unlike with housing benefit, there is no centrally allocated fund for Section 17 meaning local authorities, which are operating on insufficient and ever-decreasing budgets, are reluctant to provide families with the support to which they are legally entitled, resulting in informal and often aggressive gatekeeping practices.
'No recourse to public funds'.
'No recourse to public funds' (NRPF) is an immigration condition that restricts people from accessing mainstream housing and welfare benefits, including homelessness assistance. The category of people with no recourse to public funds includes those in the UK on student visas and spouse visas, some people with limited or indefinite leave to remain, asylum seekers, refused asylum seekers, visa overstayers and some EEA citizens. Asylum seekers are not eligible for Section 17 support as they can access support under Article 3. An NRPF condition has been attached to an increasing number of types of leave to remain in recent years and a highly complex procedure introduced for having this condition removed. Legal aid for immigration cases based on a person's right to a family and private life has been removed, application fees (plus a £500 NHS surcharge for every family member) are extremely high, and appeals processes costly and complex. Such bureaucratic and economic barriers are designed to make it difficult for people to regularise their immigration status, and contribute to placing more people at risk of destitution.
In NELMA's experience, the people most likely to approach social services for support under Section 17 are (a) visa overstayers who are in the process of trying to regularise their status and (b) people with Limited Leave to Remain who have the right to work in the UK but no access to benefits (including to Working Tax Credits). The people who fall into these categories tend to have come to the UK from former British colonies; NELMA has accompanied people from Ghana, Nigeria and (less frequently) Jamaica. The white supremacy of the colonial past is reproduced by contemporary policies that force (overwhelmingly black) people into almost impossible economic situations; people who live and who have often had children in the UK. It is usually black women, and often single mothers, who bear the brunt of this economic violence, which is compounded by the sexist contempt social services frequently display towards them and their reproductive labour.
We believe that NRPF conditions are a form of state violence. Being unable to access support from the state marginalises people to the point of destitution, encourages exploitation, makes it harder to flee domestic violence, and exacerbates structural racial and gendered inequalities. In short, NRPF conditions make it more difficult for people to live.
Social services and the Home Office.
Local authorities have a duty to inform the Home Office if they are approached by someone who is in the UK unlawfully. Therefore people with no immigration status who approach social services must demonstrate that they have submitted or are in the process of submitting an application to the Home Office or they may be at risk of deportation. Even though Section 17 support is technically designed to protect the welfare of a child or children – who may be British or have been born in Britain – it is the adult family member's immigration status that is subjected to scrutiny and the individual in question is often personally attacked, insulted or berated by social workers and Home Office officials about their immigration status. As well as providing a pretext for refusing children the support to which they are legally entitled, Section 17 assessment processes delegitimise the needs and rights of migrants who are not children. A member of NELMA's forum remarked: "When you don't have papers, they treat you so badly, like you are not a person, or like you are irrelevant. We are all human beings – it doesn't need to be like this."
What happens at social services?
People approaching social services for support under Section 17 are requesting a 'child in need assessment'. The local authority must inform them within twenty four hours if an assessment will be carried out and the process can take up to 45 days.
But even getting a social worker to speak to someone who arrives at reception asking for an assessment can be difficult. As a member of NELMA's forum remarks: 'You can't go there on your own. I went alone and called them from downstairs, asking to see someone. I was seven months pregnant and crying down the phone. They refused to come down to see me for the whole day.' Families with nowhere to stay who have received no assistance by the time the offices close have sometimes been forced to go to the local police station to call the social services' out of hours team. But people are understandably wary about approaching the (institutionally racist) police for help and should not be put in the position of being forced to do so.
In the preliminary conversations that take place before a full assessment begins, social workers often ask people why they don't just 'go home' to their country of origin. They often ask people why they need support if they've managed to live in the UK so far without it. Social workers also frequently threaten to take children into care (even though Section 17 is designed to keep children with their parent(s)); they routinely play on people's fears of deportation. If a couple have separated, the social worker will try to contact the other partner (most often the father) even when the parent with custody reports estrangement or abuse.
Families approaching social services might have been staying with a member of their extended family or a friend (often in one room without individual beds). Social workers will contact these hosts directly to pressure them to continue providing accommodation. In almost all cases the onus is placed on the person seeking support to rely on their 'network', even when they have clear evidence showing they have nowhere to stay any longer – often due to overcrowding or their host's own financial/housing problems. As one social worker insisted to a NELMA accompanier: 'everyone has a network'. Social workers sometimes look at social media and might ask why if someone has 'hundreds of Facebook friends' they don't have a place they could stay. In one case a woman with three young children (two of whom have autism) was staying with a stranger she met at a bus stop after being turned away from social services on a previous occasion, which they claimed demonstrated her capacity to rely on 'existing contacts'. Another person was forced to call a nurse – who had treated her children and expressed concern about their living situation – for accommodation support. Asking people to rely on so-called 'existing networks' not only normalises overcrowding and denies people independence but might also place people in danger, forcing them to rely on abusive partners, 'friends' or even strangers who could be taking advantage of them (by demanding they perform unremunerated domestic work, for example).
The assessment process.
If an assessment is granted the process is both long and extremely intrusive. As one woman who went through the assessment put it: 'They dig deep'. Social services routinely make contact with GPs, schools and the police. Some local authorities also have a specialised 'fraud team' to investigate the family's finances. Many interviews will involve a Home Office official, sometimes in uniform. Although a Human Rights Assessment must be conducted before a person can be detained, in-house Home Office officials can serve people with papers stating they are 'liable for detention' and the local authority can refuse to provide support on that basis regardless of whether the child(ren) in question are British. Judicial review, the legal process through which such decisions can be challenged, takes time that families seeking support often do not have.
Interim accommodation and subsistence will often be necessary during the assessment process but councils often try to refuse this support (even though they also often refuse to start the assessment process until the family is already homeless). In Barking and Dagenham a social worker informed a NELMA accompanier that it was 'council policy' to refuse emergency accommodation but could not show them the policy in question (indeed, the policy available on the council's website directly contradicted the social worker's statements).
Every source of income is scrutinised – every pound that appears on a bank statement must be accounted for. One woman was questioned simply because she had a phone contract, as though this in itself demonstrated that she was not in need of support. In fact, the explanation was simple: a family member (reluctantly) took over payments for the remaining months of the contract after she lost her job when her visa expired. Another woman, who broke down crying in the assessment as she had not realised how probing it would be, was told by the social worker that this indicated she must be hiding something. It is also common to play on people's fears of deportation and the police by emphasising that financial checks will expose any under-the-table work people may have undertaken. Again, despite constantly reiterating that Section 17 support is only intended to support children, it is the adult carers whose actions are scrutinised and used as a basis to disqualify the whole family from receiving support.
Social workers will sometimes point to a family's clothes and remark upon their cleanliness, as though being smartly dressed precludes someone from being destitute or genuinely in need. People also experience racism from social workers – a woman from Nigeria who attends NELMA's support forum reported being called a "bush girl" by her social worker. Another forum member noted that the behaviour of social workers is not only dehumanising and degrading but has dangerous, potentially fatal consequences as it justifies leaving families on the streets: 'They are not supposed to treat people like animals, they need to stop this [gatekeeping] before children die because of it.'

What happens once Section 17 support is granted?
If local authorities do agree to provide support, it is usually on a temporary basis, and often inadequate to the family's needs. There is no nationally agreed minimum in terms of monetary support. Housing is sometimes provided out of borough, necessitating long journeys to school and resulting in increased isolation. The quality of housing is also often very poor. A report by Charlotte Threipland, an independent consultant commissioned by the Hackney Community Law Centre and Hackney Migrant Centre, considered the standards of accommodation and degrees of support provided by local authorities. Threipland found that almost two thirds of the properties provided to families failed to meet the practical and emotional needs of the children. Threipland reported on the lack of adequate kitchen facilities, disruptive geographical relocations, overcrowding, insect infestations, rodent problems, damp and mould, frequent moves, and the practice of accommodating families in bed and breakfasts. Support is also often withdrawn at short notice from families who are still in need of it: Haringey recently evicted a mother and her three children from their accommodation even though they had nowhere to go.
A family NELMA accompanied to Hackney Children's Services raised concerns about the safety of a property with their social worker – the children's beds were directly next to gas hobs. The social worker said they would look into rehousing the family but refused to confirm when this would happen, stating that the main thing was that they 'had a roof over their heads' and telling the mother of the family that she was responsible for ensuring the safety of her own children. This shifting of responsibility onto parents is common. For example, when a family who had been evicted from their previous house were refused emergency accommodation by a local authority the social worker asked where they would stay – the mother replied the only place they could sleep was the floor of a friend's hairdressing shop to which the social worker retorted that this would be bad for the children (as if the mother was a bad parent for having no other options). In another case, emergency housing in a hotel was offered, but the social worker tried to scare the family into returning to a friend's place by describing it as a dangerous place 'full of alcoholics and drug addicts'. Local authorities are knowingly putting people at risk.
Demanding a better future.
This cannot continue. We must put an end to local authorities' gatekeeping of support for migrant families, and local authorities must comply with Section 17 of the Children Act 1989. Furthermore, the Home Office must be kept out of Children's Services departments. And perhaps most urgently of all, migrant families must be provided with adequate money and secure housing so that they are no longer forced  to live in destitution. 
***
If you are interested in becoming an accompanier, in helping to facilitate our Section 17 forum, or campaigning or fundraising with us, please email: [email protected]. Please email, too, if you are able to donate to NELMA. Our costs include travel expenses for forum members and accompaniers, printing for publicity and info sheets, and an emergency fund to support families.