5 Ways May is as Bad as Trump
by Steve Rushton
4 February 2017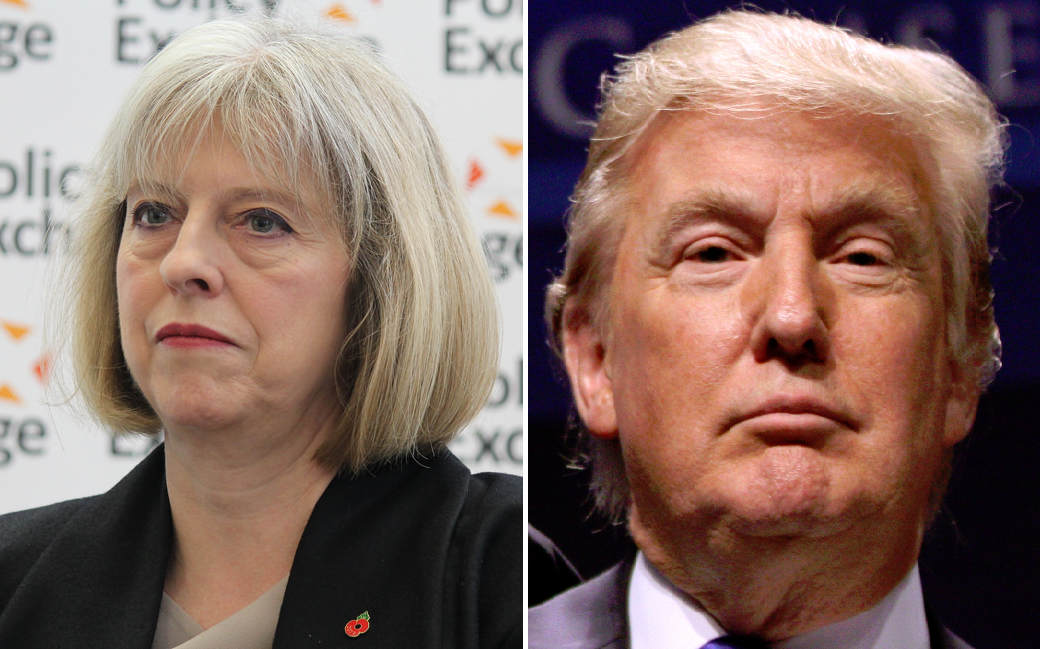 Trump image: Gage Skidmore/Wikimedia Commons May image: Policy Exchange/Flickr
Donald Trump's presidency has already been an unprecedented barrage of racism, homophobia, sexism and other attacks on human rights and the planet. He is a racist, a misogynist, and the world's climate change denier in chief; in short he is terrifying. But the response gives reason for hope: a phenomenal grassroots resistance movement has sprung up rapidly within the US and far beyond. There have been mass mobilisations on these isles too. But fear, outrage, and resistance focused solely on Trump distracts from a danger far closer to home: the British government. When you boil it down, there are stark similarities between the agendas of Theresa May's Brexit Britain and Trump's US.
1. Racist walls.
Before Trump was even inaugurated, the #BridgesNotWalls protests resisted his plans for a new US-Mexican border wall: there were banner drops off every bridge in central London. Then, reacting against Trump's recent Muslim Ban – an executive order which bars people from seven majority Muslim nations from entering the US – there  were over 30 spontaneous protests in British towns and cities, with many involving tens of thousands.
Britain's immigration and wall building policies have concrete connections to Trump's agenda. In September work started on a four metre concrete wall in Calais to prevent refugees entering Britain, as part of a wider £17m Anglo-French border project. The British state is locking up refugees in detention centres, such as Yarl's Wood and Harmondsworth in southeast England. Without trial, they face indefinite detention and widespread abuse. Britain also continues to deport people en masse on charter flights, even to places where they face torture.
As both PM and former Home Secretary, the responsibility for these policies lies firmly with Theresa May. In the latter capacity she also signed off on the infamous 'Go Home vans', further legitimating racism in the UK.
2. Extreme sexism.
The global Women's March against Trump was the largest ever global protest against an incoming President. There was even a protest on the Scottish isle of Eigg, where, of a population of 87, 30% marched. In London, Trafalgar Square was packed.
Trump is an extreme sexist. He has already cut support for survivors of domestic violence and suspended support for NGOs that enable or advocate for abortions worldwide. In response, the Netherlands and over a dozen states have sought to step in to support these global programmes. In contrast, the UK has some of the most regressive abortion laws anywhere: in Northern Ireland it is unlawful to have an abortion even in cases of rape, incest, and when the baby is unlikely to survive. Pre Trump, in the autumn budget the British government reduced support for domestic violence survivors. More broadly, the austerity cuts since 2010 have fallen far heavier on women than men.
3. Climate change and ecocide.
A key target for the new Trump administration has been to push dirty energy and climate denial, with senior oil men greasing the revolving door. An immediate impact is that construction of the Dakota Access Pipeline, initially suspended after mass protests, will be continued. He has set plans in motion to dismantle climate science and censor scientists. Truth is under attack.
Again, parallels can be drawn to May's government. They are bulldozing democracy to implement fracking, which threatens both water and climate. They face a legal challenge for failing to implement their current climate commitments, and there are numerous questions about whether Brexit will be a vehicle to end the 2008 Climate Act. Simultaneously, just like in Trump's new administration, the big oil lobby has tightened its grip over key governmental positions since Brexit.
4. Attacks on liberty and freedom.
Another pressing question about the Trump led US is to what extent the nation will slip towards authoritarianism and ultimately fascism. If you look on Twitter right now there is probably a new example of Trump floating or implementing an attack on civil liberties. Three key examples include advocating for torture, pushing the Orwellian concept of alternative facts, and sacking the Attorney General, Sally Yates, for objecting to the legality of the Muslim Ban.
Emboldened by Trump's victory, Republicans at both the federal and state levels are advocating many further attacks on civil liberties. In five states bills are being proposed to criminalise peaceful protest, including allowing drivers an exemption from running over and killing protesters blocking roads in North Dakota, if the death is deemed not intentional.
This suppression of civil liberties is reflected in Britain. When it comes to British war crimes and torture, May is actively pursuing immunity for British troops. In 2014, as Home Secretary, she would not order an investigation into suspected UK complicity in CIA torture. Other examples of intensifying attack on civil liberties at home is the Investigatory Powers Act, nicknamed the Snooper's Charter, which essentially gives the state power to spy on everything you do online, using counter terrorism as its justification. Under the same auspices, the Prevent Duty compels educators to spy on their students, with Muslim students under particular scrutiny.
5. Dismantling health provision.
Finally, another early push by Trump was to dismantle the limited healthcare coverage afforded by the US state through Obamacare. The UK is mirroring this policy in its dismantling of the National Health Service: Theresa May has even refused to rule out that the UK will sell of chunks of our NHS to Trump's US.
Trump is clearly worse than May. Every day – even hour – there is a new onslaught that threatens people and planet. But equally, the resistance against Trump is escalating both across the US and internationally. We cannot lose sight in Britain that although the Conservative government is moving slower, although it is not so overt, it is still moving in the same direction as Trump, and must be fought just as desperately.