5 Things You Need to Know About the Latest Industrial Action Against Deliveroo
by Jim Benfield
22 February 2017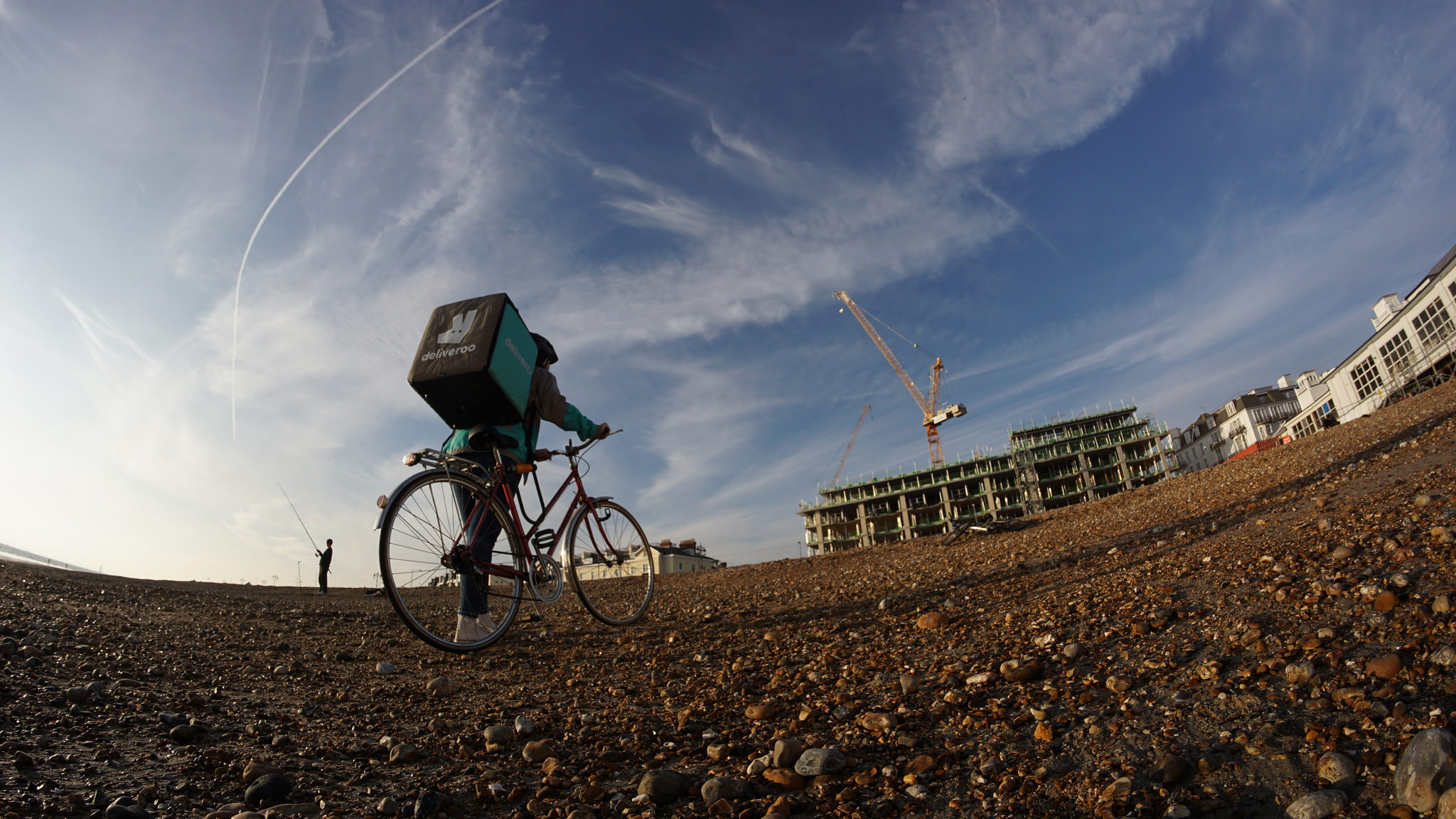 Jon Crel/Flickr
On Saturday 4 February Deliveroo workers in Brighton went on strike over low pay and a lack of work. Deliveroo has been hiring extra riders, reducing orders per rider (and therefore riders' average income, which is earned per delivery). Riders voted unanimously to join the Independent Workers of Great Britain union (IWGB), and gave Deliveroo two weeks to raise wages from £4 to £5 per delivery and freeze recruitment in Brighton. The two weeks are now up, so Brighton riders and the IWGB are launching a full campaign. This is what you need to know:
1. This month's strike was just a taster.
Ten days into the two-week grace period, Deliveroo bosses had already admitted the company has been hiring too many riders and put a freeze on recruitment in Brighton. In a laboured statement posted at the bottom of a regular rider update email, Deliveroo wrote: "When there aren't enough riders at these peak times, resulting in delayed or unaccepted orders for customers, our system believes we require more help and begins to look for new riders in the area. But when you choose to work at busy times, we don't need new riders to meet the additional customer demand."
Not even the underpaid tech start-up worker who wrote this vapid gasp of a statement understands exactly what it means. It does leave two things clear: Deliveroo has the gall to try to blame a deliberate over-recruitment programme (more riders means less waiting time for restaurants and customers) on a supposedly independent 'system', and the company acknowledges it pushed the programme too hard.
Deliveroo is scared because the strike, self-organised by a group of angry Brighton riders, is only a taste of what's to come. It was effective – restaurants like Wagamama, Yo Sushi and Las Iguanas reported up to 50% loss of Deliveroo traffic (in some cases this works out around £1k) – but a properly organised campaign using all the experience of the activist union IWGB will be much more damaging for Deliveroo.
2. Brighton isn't the only place.
Another big concern for Deliveroo is that Brighton is only one crack in their crumbling public image. Riders in London have been organising with IWGB for months, pushing towards a court case that will decide whether they are 'independent contractors' or 'workers', a distinct category of self-employment that affords people more working rights such as guaranteed minimum wage and holiday pay. This case could have huge repercussions not just for Deliveroo but for the economic viability of the so-called 'gig economy' model in the UK, as it would be the third case since October last year (following Uber and City Sprint) in which a court will find that big gig economy names are knowingly misclassifying workers. This misclassification is a trademark of such companies and enables them to increase profits by off-loading labour risk and cost directly onto their workers.
Deliveroo riders in other cities – organising themselves and working with another activist union, the Industrial Workers of the World (IWW) – have been building momentum too. In Bristol, riders and the IWW recently mounted a strike over working conditions and won. Manchester, Salford and Leeds are also seeing increased rider mobilisation and organisation with the IWW.
3. The workplace is changing.
Much has been made of the supposed 'gig economy' in terms its impending dominance as an employment model and the vulnerability of the workforce within it, but often left out of this discussion is the way that gig economy work is changing the nature of the workplace.
In the gig economy, the workplace is nebulous and difficult to define. The boss hides at an email's length away, and most gig economy workers wouldn't even have met their boss. Workers are classified as 'self-employed independent contractors', so labour organisation laws do not apply.
All of these things make for an extremely precarious workforce, but workers and unions are finding ways to turn these conditions against the employers, as the Brighton strike has demonstrated. Workers can discuss shit labour conditions openly without fear of the boss hearing. Strikes can be organised at short notice and without cumbersome ballots designed to shackle worker mobilisation.
Workers can strike at more than one company at a time, and supporters in the community can literally walk into the workplace and support the strike. In Camden, supporters of organised riders have helped petition and unionise at a stall situated on the high street in the heart of the Camden 'zone', making a real contribution to the chances of success at the upcoming tribunal.
Beyond Deliveroo, future struggles in the gig economy will rely on union activists, workers and supporters continuing to exploit gig economy conditions to their advantage through contributing to strike funds, sullying the public image of the company (see #slaveroo), clogging up companies' inboxes and going to strike actions in solidarity.
4. Little unions can have big effects.
Big unions in the UK are outrageously inactive – last year saw the lowest number of workers on strike since records began – but there are pockets of organised labour fighting and winning victories. IWW and IWGB are not the only small militant unions kicking off: the United Voices of the World union, for example, recently won a victory for staff at Harrods and is about to launch a strike campaign with contracted cleaners at LSE. We have also seen workers, such as teaching assistants in Durham, force their unions into action by organising outside of traditional union structure.
There's history here. In the past century or so the UK has seen two key instances of sluggish union movements being galvanized by the militant organisation of off-union labour, first at the turn of the 1890s with the 'match-girl' and gas union strikes, and later in the 1910s with movements such as Mary MacArthur's National Federation of Women Workers. In both instances the mobilisation of labour outside of the traditional union movement led to a huge increase in total labour activity and membership – in the 1890s, for example, union membership as a whole trebled in size.
5. Now the real campaign starts.
Brighton riders and the IWGB gave Deliveroo two weeks to meet their demands before the launch of a comprehensive campaign for fair treatment at work. After ten days, Deliveroo capitulated to the demand to stop further hiring. The grace period is now over and Deliveroo has refused to pay its workers a fair wage, so the IWGB is launching a full campaign. With reference to the historical context, a victory against Deliveroo in Brighton won't just be huge for Brighton riders, but can also contribute to building momentum in a dormant union movement.
Take advantage of the nebulous workplace and support Brighton riders in the IWGB campaign by going to protests and strikes, or sign the petition and follow the IWGB on Facebook to keep up with other parts of the campaign.