Mapping Dystopia: The Hidden Shame of Fortress Europe
16 April 2017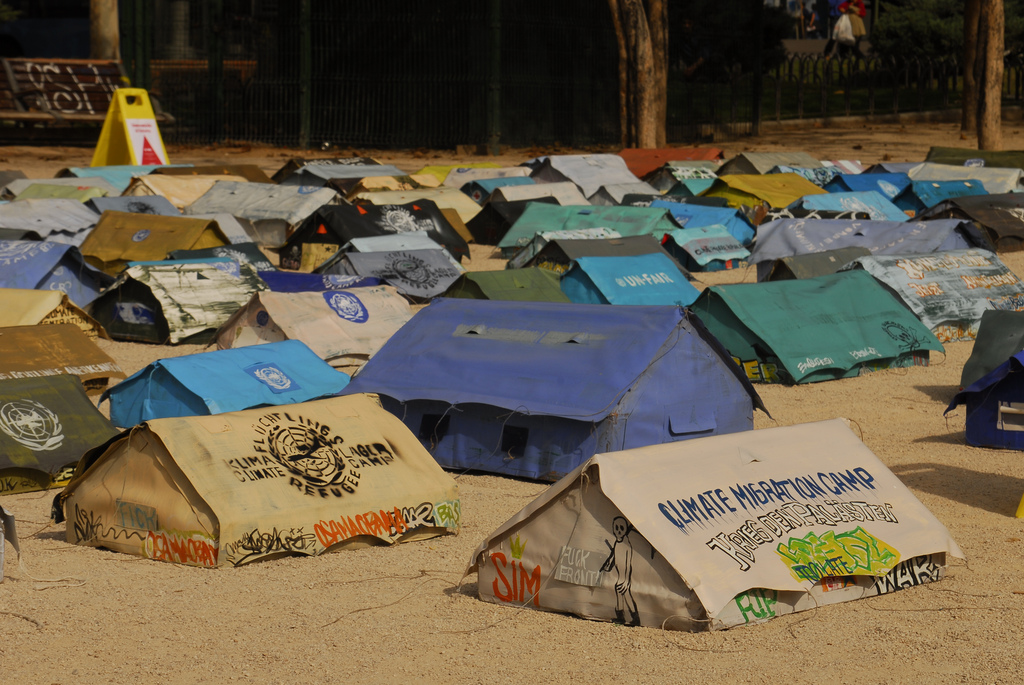 Flickr/ Oxfam International
With warnings that as many as one million migrants are already on the way to to Libya and Europe from countries across Africa, Europe's refugee crisis seems set to get even worse. From police brutality at borders to squalid conditions in detention camps, countries across the continent are responding to the situation with violence and cruelty. As one of the wealthiest countries in the world, Britain has the wherewithal to really help. But, more interested in shirking than sharing responsibility, it might just be the worst of them all. 
The Brexit chronicles began in shambles and false promises and no doubt the ending will be similar. There's an undeniable air of surrealism about the whole thing, as evidenced by last week's quiet revelation that the government has allocated £500 million to re-design the British passport –  more than the amount saved by ten years of divisive and deadly austerity cuts.
Even so, we would be mistaken to start misremembering the European Union as some eden of liberty, democracy and human rights. Since Article 50 was triggered, the media spotlight has zeroed in on Britain's relationship with the EU, while Europe's refugees have slid off the front page and into the shadows. There, they are being treated with such disdain and brutality, you have to wonder if Theresa May has noticed how much common ground she enjoys with some of her EU counterparts.
Since the 2015 resettlement scheme promised sanctuary for 160,000 refugees, Europe has resettled just eight percent of them. With the scheme set to close in September, the European Commission has warned it will accept 'no more excuses'. But excuses are just the tip of the iceberg. Written along every border is a European story that reads like a dystopian novel. And as back-room deals struck with Turkey, Afghanistan and North Africa drag people further south, it's getting harder and harder to keep an eye on what our governments are doing.
All of us, British citizens included, will have to live in the dystopian world this system is creating. Reading what follows, it's tempting to think things can't get much worse. But while the UK and EU continue contributing to the root causes of forced migration – by fuelling the arms trade, widening inequality, worsening exploitation and pushing us ever closer to the cliff of climate catastrophe – they are, in fact, certain to get worse. And Brexit doesn't buy us the right to stick our heads in the sand.
Police brutality in the Balkans.
"When they beat us, they were laughing with each other. The policemen, when they beat us, they are taking selfies… They treat us like animals." These are the words of Shahid Khan, an asylum seeker from Pakistan who was interviewed by the Independent last month. His testimony echoes many other reports from the Hungarian border, where people recount being stripped naked, soaked with their own drinking water that is poured over them in sub-zero temperatures and then being forced back, hypothermic, into Serbia.
Hungarian Prime Minister Viktor Orban has described migrants and refugees as 'poison', a threat to European security and 'culture' and a 'trojan horse for terrorism'. He recently unveiled plans for the automatic mass-detention of all asylum-seekers in container camps, a move Amnesty International condemned as a "flagrant violation of international law." Similar allegations of systematic police brutality and far-right violence wilfully ignored by the state, have been made against Bulgaria, Serbia, Macedonia and Austria, where a slew of terror attacks have been carried out against refugee shelters left marred by Nazi graffiti, leaving people with nowhere to turn.
Neo-Nazi violence in Greece.
State violence is escalating even though the number of people crossing from Greece fell dramatically after the EU struck its deal with Turkey, bribing the government to stop boats from crossing by any means necessary.
While the deal has stemmed boat arrivals, the human cost has been enormous. Now, people are more likely to die on the crossing than ever before. Over 590 people drowned on the central Mediterranean route in the first quarter of 2017. Meanwhile, Greece's remaining refugee population has been consumed by a mental health crisis of apocalyptic proportions. Save the Children reports rising drug and alcohol abuse by unaccompanied minors exploited by dealers and subject to horrendous conditions of trafficking and abuse, while there are reports of children under twelve self-harming and attempting suicide.
Most of Greece's refugee population of around 60,000 lives in squalid, overcrowded camps or destitute on the streets. But the disposession and deportations only seem to have emboldened Greece's far-right. In August, a well-known autonomous shelter for migrants and refugees in Athens was firebombed and on the Greek islands, the neo-Nazi Golden Dawn party now organises demonstrations at refugee camps. And it's not just migrants and refugees, but also volunteers and journalists who report being physically attacked while the Greek police stand idly by.
Turkey's political turbulence.
When it was proposed, the EU-Turkey Deal was vehemently opposed by human rights organisations, since Turkey is not a signatory to the Refugee Convention and has a worsening reputation for state repression. With Syrian civilians shot dead on its border before the deal even came into force, it's no surprise that Turkey hasn't turned out to be the 'safe third country' Europe promised it would be.
As Aisha Dodwell reports for Global Justice Now: "The deal has been called a "disaster" by Amnesty International, while Human Rights Watch has accused it of setting a dangerous precedent of disregarding international refugee laws. Not only were people forced into unlawful detention immediately following the agreement, but some 5,000, potentially very vulnerable people are now totally unaccounted for.  At least 15,000 migrants and refugees remain in squalid conditions in camps across Greek islands."
Germany and the Netherlands recently blocked the Erdoğan administration from holding rallies in support of his controversial plans for constitutional reform. This prompted Turkey to renew threats to withdraw from the deal, with Erdoğan countering that "Europe is heading towards being drowned in its own fears… They are even scared of migrants who take shelter there."
France's food distribution ban.
Three months after the latest demolition of the Calais camp, people with nowhere else to go are inevitably congregating once more around the port. Rather than recognising that the crisis cannot be resolved with tear gas, batons and bulldozers, the mayor of Calais has instead opted to ban the distribution of food to the hungry. Officials have also blocked local charities from re-establishing basic sanitation, while volunteers have resorted to distributing food secretly every night. Now though, police are using tear-gas to prevent even that. To make matters even worse, donations have also dwindled and volunteers no longer have funds to provide the bare minimum of sleeping bags or emergency blankets.
Numbers living destitute on the streets will now rise again after a fire destroyed the Grand-Synthe camp near Dunkirk this week, which has been housing 1,500 people, 900 of whom are now missing. There are also reports of police beatings and the use of tear gas against destitute migrants and asylum seekers across Paris. The Independent reported in February that "Eritrean families said they were told to "get out of France" as police tore away children's blankets, leaving them without protection as the bitter temperatures plummeted to -7C." Other children as young as twelve, who have been refused passage to the UK by the Home Office and forced out of the Calais camp, are now scattered amongst makeshift centres, where assessors report they are not being fed properly or provided with any psychological support.
Mounting deaths in Italy.
In Italy, arrivals from Libya are rising again amid fears that Fortress Europe is going into lockdown, and in response to horrific and worsening conditions in the North African state. So far this year over 15,000 people have been rescued in Italian waters. On 3rd March, 900 people were rescued from drowning, including seven babies. The United Nations Refugee Agency (UNHCR) estimates around 450 people have drowned off the Italian coast this year. But with the funding for Italian coastal rescue operations severely cut, the real figure is likely to be higher – and to climb again come autumn. In 2015, there was one death for every 269 refugees reaching Europe; last year that sky-rocketed to one in 88.
Germany's secret U-turn.
Chancellor Angela Merkel was widely praised for being the only European leader willing to 'open the door' at the height of the crisis in 2015. But last month it was revealed that Germany had in fact planned to close its border, sending thousands of police to turn back anyone without documents – including those seeking asylum. At the last moment, fears that the move would be a PR disaster, not least because it was considered illegal under international law, forced the country into u-turn. However, that came to an end in March, with the government planning to re-start the forced transfer of newly arrived asylum-seekers to Greece.
The story broke in German Sunday newspaper Welt am Sonntag, as Merkel was touring North Africa to broker new deals to curb migration primarily from Egypt, Tunisia and Libya. These deals are being struck, and money is changing hands, as if torture and human rights abuses haven't been exposed in Tunisia, Egypt isn't a repressive military dictatorship in all but name, and Libya is not, as UNICEF puts it, "a living hell hole."
War in Libya.
We are familiar with scenes of carnage and atrocity emerging from Syria and Iraq, but the reality in Libya is less widely reported. Still in the midst of its own civil war, following foreign intervention to oust the former Gaddafi government, Libya itself has 500,000 people internally displaced and a host of militia groups controlling different parts of the country, kidnapping and murdering with impunity.
As the European Council on Foreign Relations reports: "Libyan law does not distinguish between migrants and asylum-seekers as Libya is not a party to the Geneva Convention… all individuals arriving without a permit are deemed illegal migrants and jailed." According to a recent report by the German foreign ministry, conditions in these detention centres are "worse than concentration camps." It cites systematic use of torture, rape and sexual abuse, forced labour, executions and blackmail against the hundreds of thousands of men, women and children trapped there.
A harrowing UNICEF report on the condition of child refugees in Libya – and the sexual and physical abuse they face in the country's jails – was published the day before the UK parliament voted to shut its doors on all but 150 children. While concern has been expressed from all quarters, including the UK foreign office, officials maintain access for verification of the claims is "near impossible due to a lack of security". Which begs the question: if it's not safe for the foreign office to even visit, why is it safe for civilian families to be forced back there?
The EU indicated its willingness to dodge this question by backing Italy's proposed migration deal with Libya. Like the EU-Turkey deal, it would provide funding and training to push back the boats, 'crack down on traffickers' and expand the very same 'concentration camp' detention centres, which are run by militia groups and often, the traffickers themselves. The deal was recently rejected by the Libyan Supreme Court on the grounds that the UN-backed government is not recognised as legitimate throughout the country and lacks the authority to sign it. This has thrown a spanner in the works for the EU's migration enforcement on the central Mediterranean route but the attempt reflects, as if any further evidence were needed, just how far the EU is willing to go to wall itself away from the world, no matter the human cost.
The UK's 'hostile environment'.
These horrors across Europe and North Africa certainly put British hysteria over mythical 'health-tourism'- and the equally mythical 'failure' to master conversational English- into perspective. What it also puts into perspective is the Conservative government's flagrant disregard for human life. Britain is the fifth richest economy and a leading world power. We are in a better position than most to set an example by saying 'enough is enough'. But, not content with its role in creating the crisis in the first place, our government is more interested in creating a 'hostile environment' so that life is as painful as possible for any who somehow survive to set foot on British soil.
While waiting for the right to remain, the UK bans people from working to support themselves, blocks access to vital services and forces them to live in constant fear of detention and deportation with no  access to justice. A few weeks ago, the road out of this 'hostile environment' became longer than ever. Those who manage to navigate our woefully unjust immigration and asylum system, come through the trauma of detention, escape charter flight deportations and secure their right to remain, will now be subject to 'safe country review' after five years. This means the Home Office, with an abysmal record of getting these things wrong, will re-evaluate whether it's safe to force someone back to their country of origin. This means they still can't settle or start a family, re-build their lives or live free from fear. Meanwhile, MPs once again voted down plans to protect more child refugees, ignoring evidence that many local councils and communities are ready to accept them. If anything, our relative wealth, power and insulation from the refugee crisis on the mainland makes Theresa May's 'hostile environment' the most dystopian chapter in the whole story.
Still, despite scandalous abuses in our detention system and the thousands of destitute asylum seekers now homeless in Britain, the whole narrative around protecting 'vulnerable people' really does them a disservice. I don't think I could survive all this. I don't think Theresa May or Amber Rudd could survive all this. And at the very least, these survivors deserve dignity; they deserve our respect. To ignore that, to be silent in the face of all this, says that migrant lives, Muslim lives and ultimately, black and brown lives, don't matter. And that is opening the door to fascism not just on the mainland, but right here at home. No more excuses.
To find out more about how you can support our work at Right to Remain, go to www.righttoremain.org.uk
In the UK, we've found those going through the immigration and asylum system consistently identify detention as the most pressing campaign priority. To find out more about how Right to Remain is supporting grassroots groups to campaign for change, go to www.detention.org.uk