3 Reasons to Retract Your Child's Nationality Data From the School Census
15 May 2017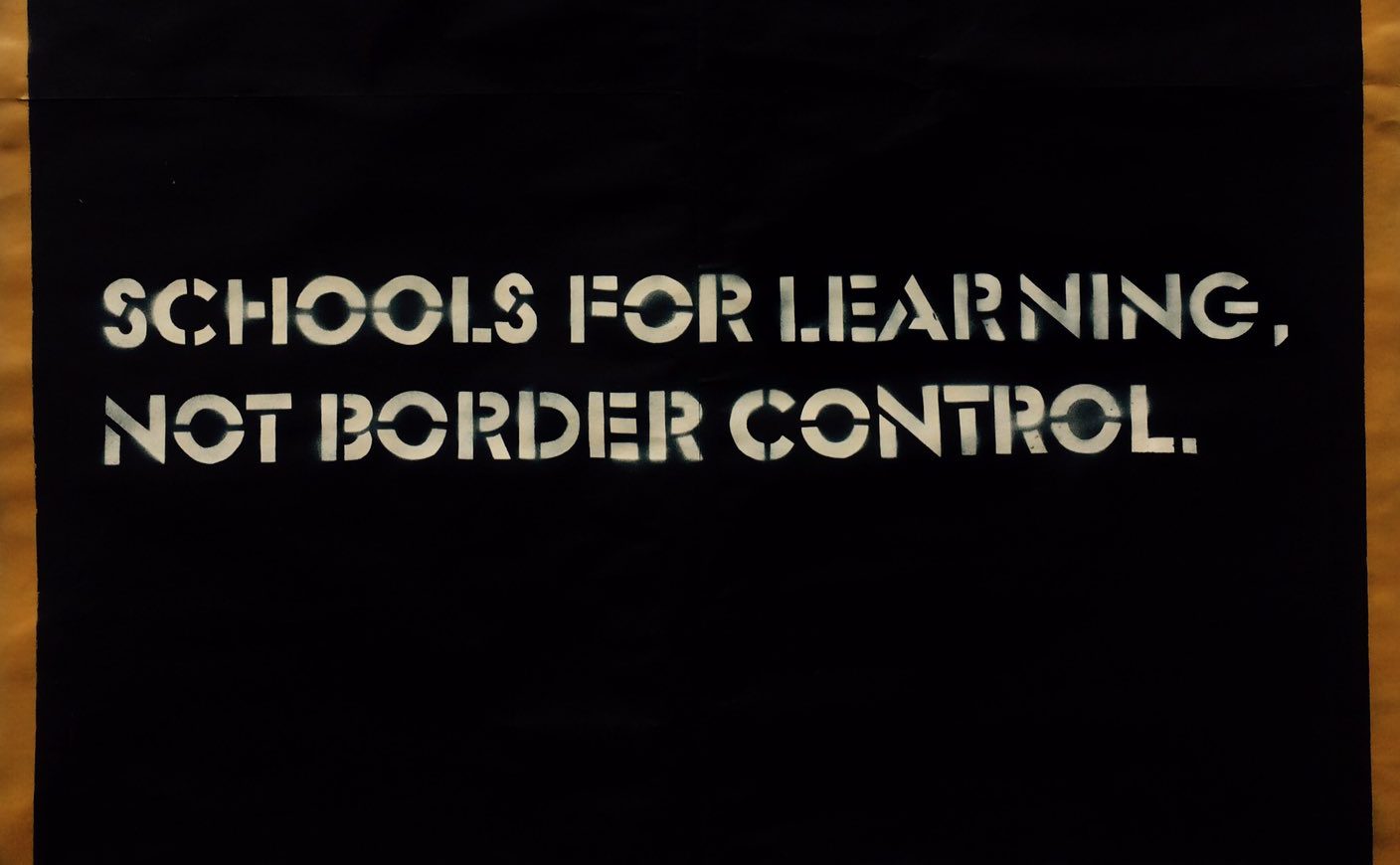 "I have the right to go to school and feel safe…don't I?"
Over the weekend, a number of adverts popped up at bus stops and on tube lines across London. Brightly coloured and illustrated by children's drawings, the adverts call on parents to boycott the national school census by retracting their children's nationality data before 18 May.
Since September 2016, the Department for Education (DfE) has required that schools collect the country of birth and nationality data of all pupils in England through the school census. While introduced under the guise of helping the DfE assess "the impact of migration on the education system", extending data collection to include this information is in fact a compromise with the Home Office on harsh measures aimed at creating a "hostile environment" in schools for migrant children.
From the NHS to the third sector, this policy is just one example of the tentacular expansion of the border from the official frontiers of the state into all spheres of civic life. Here are three reasons to retract your child's data from the school census – and how to do so.
1. The government is creating a "hostile environment" for undocumented migrants.
In 2015, then home secretary Theresa May outlined proposals for the Immigration Bill which aimed to use schools to advance the government's agenda of creating a "hostile environment" for undocumented migrants. These proposals included checking passports in schools and de-prioritising school places for children with undocumented parents. Following opposition from then education secretary Nicky Morgan, a compromise was struck, with the DfE agreeing to collect nationality, country of birth and expanded language data through schools, ostensibly "to improve [the DfE's] understanding of the scale and impact of pupil migration on the education sector."
The government's real motives, however, were far more insidious. In October 2016, Freedom of Information requests revealed that despite protests to the contrary, the DfE was sharing data collected through the school census with the Home Office for immigration enforcement purposes. Since July 2015, up to 1,500 families a month have been targeted for deportation using children's school records, with individuals' details being passed to the Home Office. Country of birth and nationality data was going to be handed over too, but the government was forced to remove it from the data sharing programme after a public outcry last October.
The collection of this new data is part of a government attempt to ascertain children's immigration status through the back door. While they still maintain that nationality data collected through the school census will not be shared with third parties, there is nothing to stop them using this data for border enforcement in the future, or as justification for new policies restricting migrant children's access to education.
2. Data collection could compromise migrant children's safety and education.
In the aftermath of the EU referendum, hate crimes in the UK rose by 41%. In this context, collecting and sharing pupils' country of birth and nationality data serves to further stigmatise migrant children through racial profiling, particularly when schools collect data in discriminatory ways due to poor guidance: demanding passports in error, ascribing ethnicity, or targeting non-white children. Such policies foster a dog-whistle racism that uses children as soft targets for the enforcement of racist immigration policy, and could even lead to parents removing children from school for fear their immigration status will put them and their families at risk of deportation.
As Lord Storey stated in a successful motion of regret against the government's policy to draw up a foreign children database through the DfE last year: "I am afraid that this proposal has all the hallmarks of racism […] Children are children, and to use their personal information for immigration enforcement is disingenuous, irresponsible, and not the hallmark of a tolerant, open and caring society."
3. Data submission is not obligatory.
Schools have a legal responsibility to inform pupils and parents what's done with personal data they collect, retain, or give to third parties. Not only have many schools failed to meet this obligation – in part due to poor initial guidance from the DfE (now updated) – they have also failed to inform parents that submitting their child's country and birth and nationality data isn't compulsory, and that data already submitted can be retracted. Withdrawing nationality and country of birth data has no impact on school funding, and is the right of every parent and pupil in the UK.
If enough people opt out of the school census in May, the data becomes unusable. The deadline for retracting children's data from the 2016/17 school census is 18 May. If you're a parent, you can download a template document to hand into your child's school to opt out of the school census. If you're a teacher, inform parents and pupils of their right to retract data already submitted.
No child is illegal, and as the National Union of Teachers and even the outgoing head of Ofsted have argued, schools should not be used for immigration enforcement. The right of every child to a free and safe education must be upheld, and borders in schools resisted. Retract your child's nationality data from the national school census by 18 May.
For more information and resources for boycotting the school census, visit the Against Borders for Children website.