'A Battle for the Soul of UCL': The Academics Confronting Corporatisation in Higher Education
by Charlie Macnamara
25 May 2017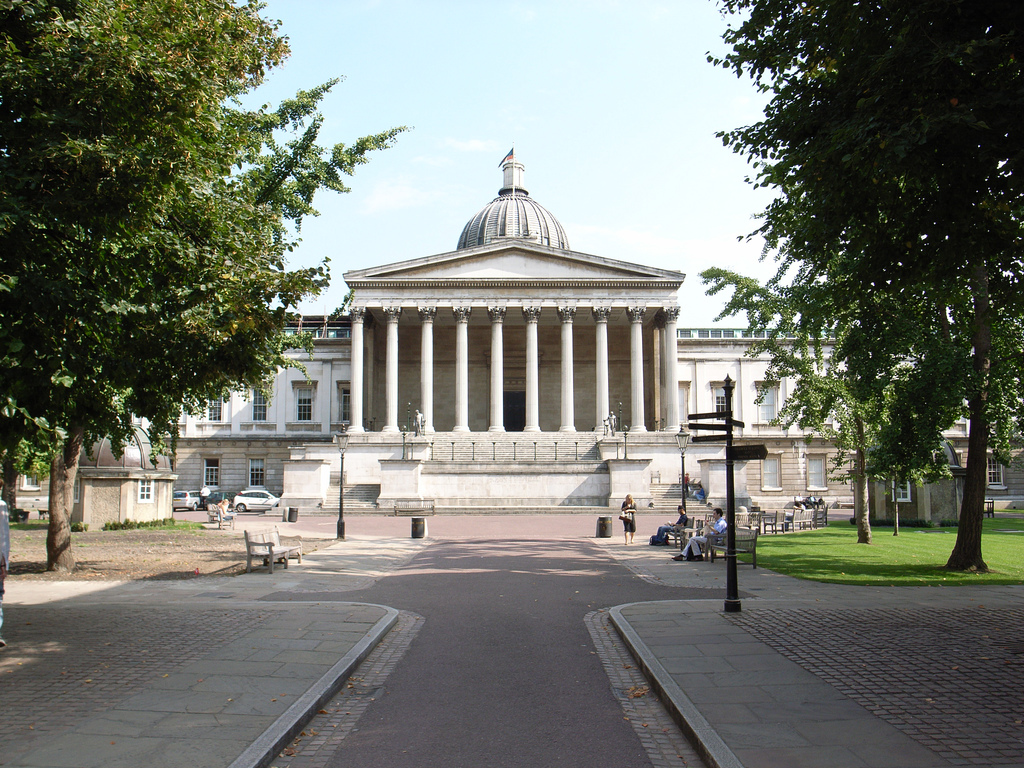 Steve Cadman/Flickr
A group of high ranking academics at University College London (UCL) clashed with the college's senior management team last Thursday 18 May, at an emergency 'special meeting' of the college's academic board called to discuss concerns about the institution's woeful finances and management's lack of accountability.
With a record turnout, the academics voted on Thursday to convene a new 'governance committee' of the academic board with the task of 'scrutinising strategic decisions' made by senior management about UCL's future. Their intention was to return more democratic control and oversight to the academic board — UCL's 1400 strong committee of senior academics and elected student and staff representatives — amid concerns about management's finances and moves made to 'corporatise' the college's governance structures and remove democratic accountability.
This move comes shortly after a survey of UCL academics, leaked to The Guardian, revealed that 68% of the academic board have doubts about the financial management of the college and serious concerns about the senior management Team's ambitious expansion plans. Over 100 members of the academic board responded with additional comments to the internal survey: 'Staff morale at all time low! UCL is being run as a business and not as a university', wrote one academic.
These concerns come in tandem with a host of other issues impacting teaching on the Bloomsbury campus, most noticeably the failure to maintain adequate teaching facilities alongside increasing student numbers. However, the academic community have borne the brunt of extensive cuts to departmental and research funding enacted by management as they attempt to meet the costs of their £1.25bn expansion plans in Stratford.
Although the emergency meeting of the academic board set out to engage academics in helping to solve UCL's problems in cooperation with the senior management Team, it became a flashpoint for tensions between academics and management after the latter insisted on the addition of their own last minute counter proposal onto the meeting agenda.
Instead of the new governance committee called for by the academics, the senior management team proposed the creation of a 'working group' chaired by vice provost David Price — a toothless version of the governance committee that would 'consider the options available to deliver long term financial, academic and reputational sustainability for UCL' (Annex A).
Management's proposition was clearly a riposte to the academics' proposed governance committee, who thought it constituted a threat to their representation in decision making. They were concerned this management led working group would be used in future to circumvent getting approval from the academic board for management's decisions. It would subtly redefine the independent oversight of the academic board as the responsibility of a committee chiefly run by management.
The counter proposal itself was submitted in contravention of UCL's statutes, which stipulate that a special meeting must only have one item on the agenda, in a display of what one senior academic called management's 'typical disrespect towards academic governance'.
UCU (the Universities and colleges Union) released a statement condemning the move by senior management. In an email to the academic board , one of the senior academics calling for Thursday's meeting urged others to attend, writing that they would need to make important decisions 'concerning the future voice of the academic board as representative of the academic community at UCL'. Another academic described the meeting as 'a battle for the soul of UCL'.
Although this seems like a storm in a teacup, with broken china thankfully averted by the academics' vote, there was a tangible risk to academic representation at UCL: at Queen Mary University of London in 2009-10, the establishment of a 'senate' led by that institution's senior management was shortly followed by a complete overhaul and 'modernisation' of the college's constitution, which included the deletion of important definitions of Queen Mary's 'academic body', totally redefining which academics get a say in decisions and arrogating governance powers to the senior management.
Back door corporatisation is clearly not limited to UCL. However, at UCL this sort of maneuvering has come hand in hand with bad management. The Financial Times raised concerns in June 2016 that UCL is dangerously overstretched, after which UCL provost Michael Arthur was forced to admit to the academic board that UCL is in a 'barely financially sustainable position'.
As a result, students at UCL face overcrowded libraries and poor teaching facilities. They struggle for quality contact hours with overworked lecturers, and with uncertainty around coursework feedback and marking. Student Disability and Psychological Services have been forced to ration the assistance they can afford to offer those in need of it. And things are equally bleak for academics and support staff, who are more stressed and overburdened than ever before. Cuts and restrictions to department budgets and increases in course sizes have meant an increasing workload, causing world-class researchers to become bogged down in mounting, pointless bureaucracy.
The expansion plans are central to the management's long term strategic mission to transform UCL's funding model from one based on research and government grants to a more business like model based on tuition fees and revenues from its estates. The side effects of this new business model include exorbitant student housing and campus overcrowding following year on year increasing student numbers.
While UCL successfully negotiated an unprecedented £280m loan from the European Investment Bank to help fund its expansion, no doubt with back room help from the government (who see the transformations at UCL as a flagship project for big picture changes happening across Higher Education in the UK), there is no guarantee that the personal promises of a large government grant made to UCL's provost by Boris Johnson will be upheld after the June election. And impending Brexit makes this picture even less rosy, threatening, among other things, the high student intakes that are sustaining current costs.
Academics at UCL are right to be worried about their finances, but this is a fight that will need to be taken further than UCL's senior management.