7 Reasons We're Taking Direct Action Against Fracking in Lancashire
by Chris Saltmarsh and Leah Lapautre
14 July 2017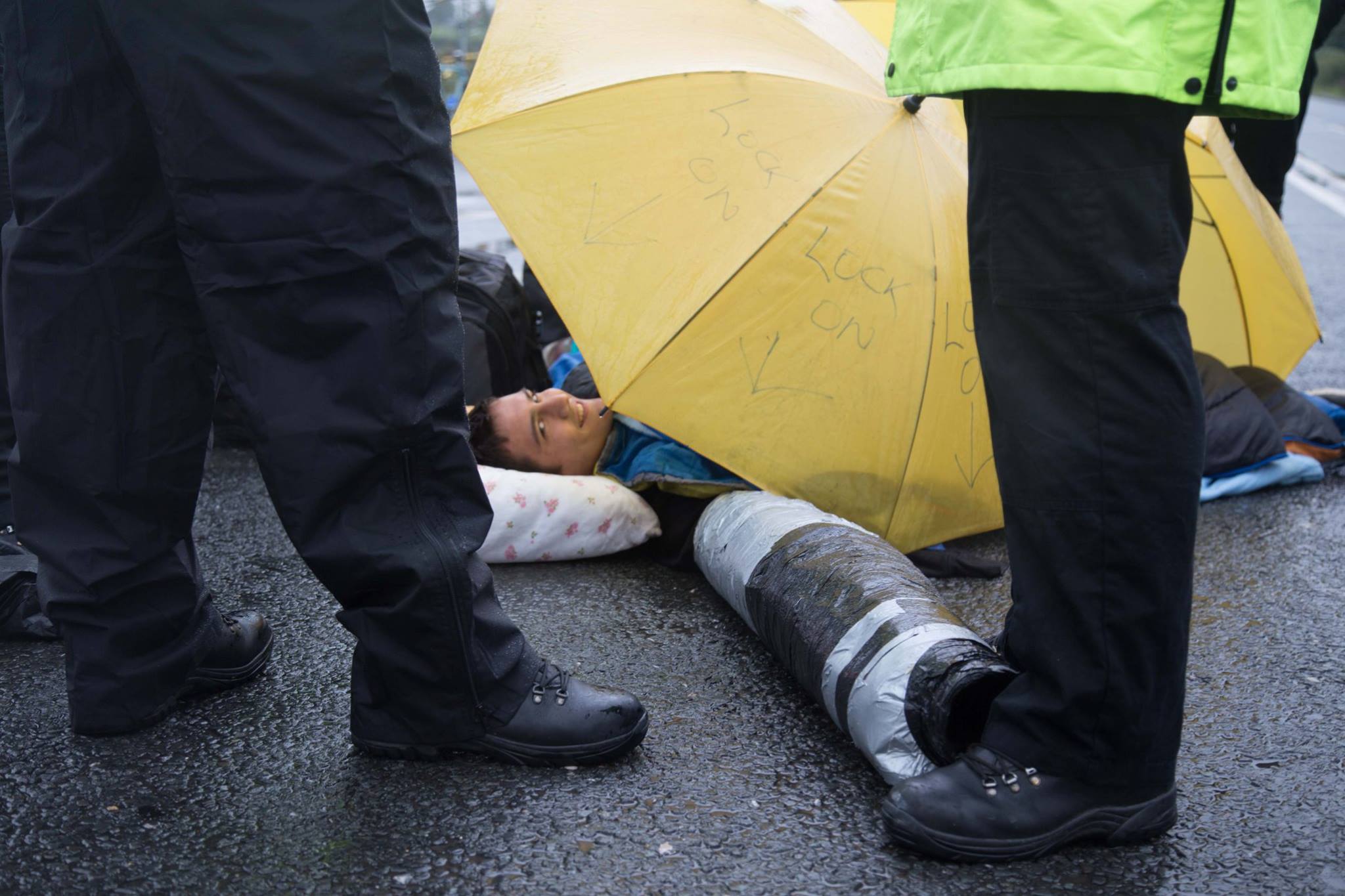 ReclaimthePower
After years of popular opposition and exhausting formal political procedures being ignored by both the government and fracking company Cuadrilla, protectors in Lancashire are resorting to direct action to stop the proposed first fracking site in the UK.
Both writers of this piece have participated in blockades in front of the Preston New Road site over the past week, locking our arms into fortified tubes, providing welfare for protectors in these positions, and offering legal support for arrestees. Here are seven reasons why we're taking part in these blockades.
1. Fighting for climate justice.
Climate change is a crisis multiplying existing injustices. It drives more drought, flooding and extreme weather events, disproportionately affecting people across the globe who are already experiencing oppressions of race, gender, poverty, geography and ill-health. As the climate crisis advances, forced migration will increase, food insecurity will worsen, and conflict will be exacerbated. The fight for climate justice is therefore a fight for social justice, with the aim of radically changing the political and economic system.
These harms are already being distributed at rates faster than first predicted. To avert irreversible catastrophic climate change, the vast majority of fossil fuels must stay in the ground. This means building no new fossil fuel infrastructure: no airports, no pipelines, and no extraction projects like fracking. It means demanding a renewable energy future and a fair transition to an economy that doesn't rely on fossil fuels. Burning more fossil fuels through fracking cannot be part of that transition.
2. Stopping the emerging fracking industry.
After failures in recent years, Cuadrilla are bringing the frontiers of domestic gas extraction to Lancashire to kick-start the industry. But the tireless and innovative direct action being taken by Lancashire locals and other protectors has severely delayed Cuadrilla's timeline for drilling. As the site is still under construction, Cuadrilla require large police convoys to escort equipment into the site, as well as constant private security, heavy 24/7 police presence (made up of forces drafted in from Merseyside, Cumbria and North Wales) outside the site's gate, costing the company hundreds of thousands of pounds a month. With these costs, this industry is not viable and cannot scale nationally.
When gas companies attempt to frack, they radicalise the targeted community. We are making it clear that wherever fracking goes, it will face relentless resistance led by dedicated local people costing the companies and the police millions. Without the resources and violence of the state, the fracking industry would be dead in the water already. Here in Lancashire, we're aiming to kill it off before it even gets started.
3. Solidarity with local protectors in frontline communities.
The fight against fracking has been led and sustained by local protectors for years. For us, the principle of solidarity is working together and supporting each other with deference to frontline communities. Reclaim the Power (RTP) has a longstanding commitment to the community in Lancashire having maintained a relationship and promise to support them over recent years. Beyond this, we all have a responsibility to act together wherever injustice occurs with the trust that such solidarity will be reciprocated when it's our turn to fight.
4. Land autonomy and local democracy.
Fracking is being imposed on Lancashire by the Tory government despite a groundswell of popular opposition to the site and a vote by Lancashire County Council against it. The land shapes local ways of life from cultures to livelihoods, and lifestyles are being taken away as land is stolen by central government in the interests of reckless profiteering. We're fighting for the democratic will of the local communities in Lancashire and to confront the government's disregard for the autonomy of people on whom they have already inflicted numerous violences through their austerity agenda.
5. Defying police violence.
Police violence has been a key government tactic in facilitating Cuadrilla's unviable and unscalable operations. As protectors have effectively frustrated the introduction of fracking in Lancashire, the police have responded with brutality. They've been trying to pull protectors out of arm tubes they are locked into; wrestling activists to the floor while running down the street; assaulting peaceful protectors and their supporters; using disproportionate force during arrests; as well as ignoring incidents such as a van hitting a protector.
Violence is becoming so frequent as part of the police's tactical repertoire that protectors are becoming desensitized to it. But the state's legally questionable and morally reprehensible use of violence against peaceful protectors will not instill fear nor weaken the movement – it affirms that we're right and will motivate us to win.
6. Resisting the Tory government.
Fracking cannot be understood as an injustice in isolation – it is part and parcel of both the Tory government's wider program of entrenching neoliberalism and the expansion of capitalism beyond social and ecological limits.
The story of Tory neoliberalisation has been preaching the mythology of the 'free market' while using the powers of the state (violent or otherwise) to manufacture and protect private industries that lack popular consent. Fracking is the latest frontier of the Tory government's ideological reshaping of the British socio-economy in the interests of an elite group of capitalist profiteers and against the interests of local people.
7. We have the privilege to be able to take action.
Both writers enjoy power and privilege to differing degrees and in different ways, and we both recognise that not everyone affected by fracking and climate injustice can take this action. Those of us who choose to blockade the site are making use of our privilege in doing so, although for some it is a necessary last resort in their struggle. For others, taking part in anti-fracking resistance by being arrested and charged is not an option, but we've all played vital roles in supporting those who have taken this direct action through legal support and welfare support, as well as participating and leading essential tactics beyond the direct actions.
We believe that direct action in a struggle like this is absolutely necessary as a last line of defence for a community that has been both neglected and actively targeted to be the guinea pig of a rogue industry. Not everyone can risk police violence and the legal retribution of the state, or lie in the middle of the road in torrential rain until the police cut you out of your arm tube, but helping to take direct action against the government and Cuadrilla in whatever ways we can is essential in the fight to keep shale gas in the ground forever.