Power-Play in Palestine: The Controversial Return of Mohammad Dahlan
27 August 2017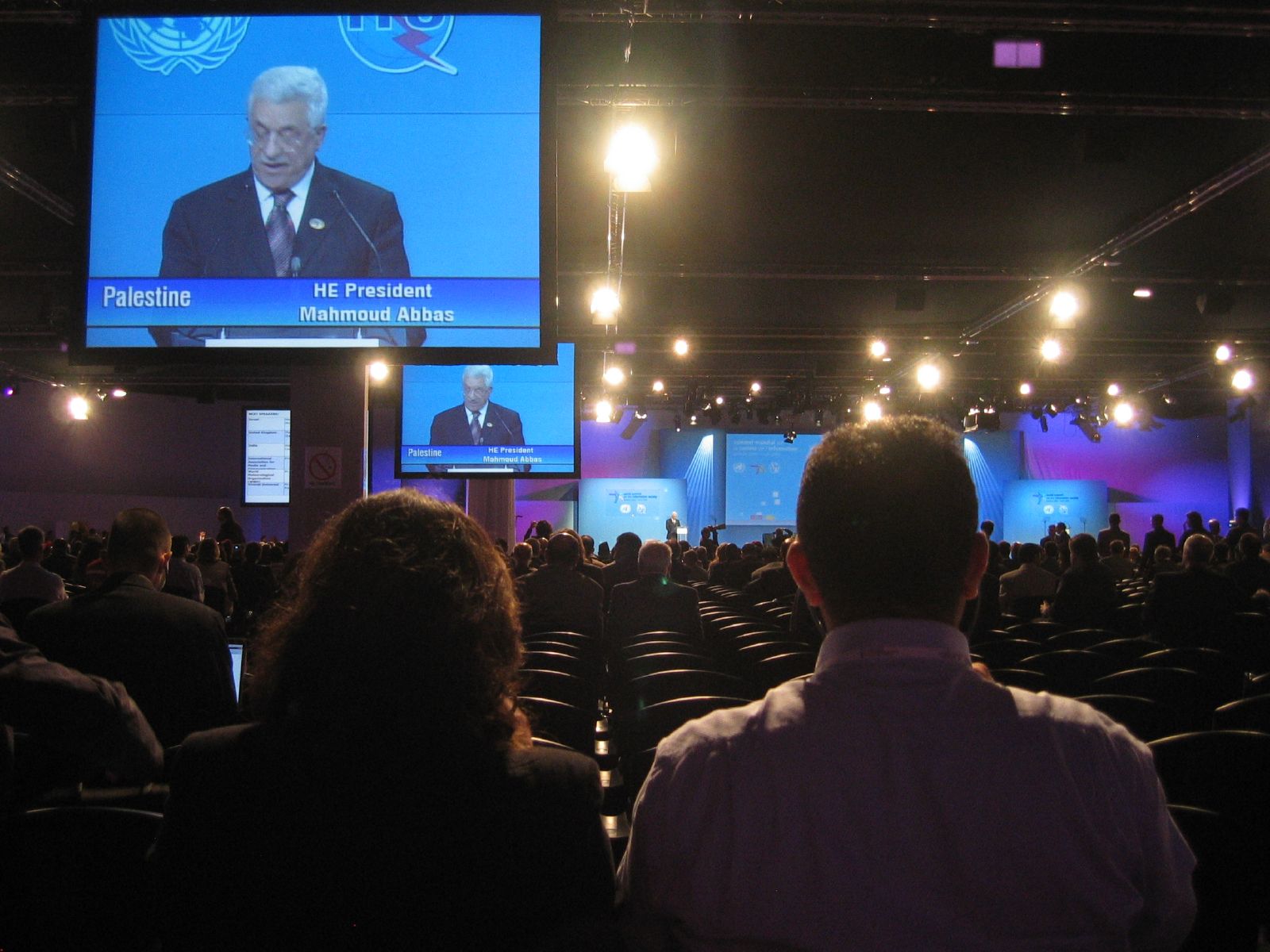 Flickr/David Weekly
With the gates of Gaza purportedly set to open after ten years of brutal isolation, Palestinian politics is entering unchartered waters. Following the rise to power of the Islamist-nationalist party Hamas, a decade has now passed since the coastal territory broke away from the the internationally-recognised, quasi-governmental Palestinian Authority (PA). For Gaza, those ten years outside of the Authority have been far from easy, with closed borders and three devastating wars with Israel putting the very possibility of continued existence there in doubt. Under the leadership of President Mahmoud Abbas and the secular-nationalist Fatah party, what remains of the PA has been confined to the West Bank. With Hamas considered a terrorist organisation by much of the international community, President Abbas, despite lacking both charisma and domestic popularity, has spent the last decade enjoying the exclusive title of 'the Palestinian we can work with' on the global stage. But for how much longer? There's a new cowboy in town. The opening of the Gaza Strip is not just a humanitarian breakthrough but the first triumph of Mohammad Dahlan, a controversial character recently returned to Palestinian politics to try to lead Gaza out of the dark  – and potentially give Abbas a run for his money.
Who is Mohammad Dahlan?
Born and raised in Gaza's Khan Yunis Refugee Camp, Mohammed Dahlan spent his early life in the Fatah party youth movement – only interrupted by his time in Israeli jails – until his appointment in 1993 as the Strip's head of Preventive Security under the newly established and Fatah-run Palestinian Authority (PA). Commanding a force of 20,000 men, Dahlan was soon known for his heavy-handed tactics and was widely accused of torturing suspects by affiliates of rival political party Hamas. Wielding great personal power across Gaza – referred to at the time as 'Dahlanistan' – Dahlan was able to both survive the 1997 Karni scandal (in which his pocketing of 40% of the Israel-Gaza checkpoint's revenues was exposed), and establish his own faction within the Fatah party, based on his outspoken (and perhaps somewhat hypocritical) criticisms of party corruption, incompetence, and the leadership of PA President Yasser Arafat himself.
It took a civil war to bring down Dahlanistan, one that followed Hamas' controversial victory in 2006's Legislative Council elections. Soon after the vote Hamas faced pressure from all sides, with violent clashes erupting with the Fatah party following the breakdown of power-sharing negotiations and the international community reacting with scorn and sanctions as Hamas refused to recognise the state of Israel, accept all prior agreements, and renounce the use of violence. In the now Hamas-Green Gaza, Dahlan was a major player in the conflict, commanding US-backed forces against the rival party and accused by Hamas of  attempting to assassinate newly-elected Hamas Prime Minister Ismail Haniyeh. It was however the climactic Battle of Gaza in June 2007 that truly spelt the end of Dahlan's reign. Effectively ending the civil war, Hamas successfully seized control of Gaza and its institutions, expelled Fatah officials, and began to govern the Strip outside of the PA. Left reeling in Ramallah, and now heading a Palestinian Authority shorn of both the Gaza territory and all Hamas officials, the Fatah party elite had little time for Dahlan, often blaming him for their loss. Finally, the new Palestinian President Mahmoud Abbas expelled the Gazan from Fatah in 2011, privately suspecting him of coup-plotting and publicly accusing him of a role in former-President Arafat's alleged assassination – so Dahlan soon decided to pack up and relocate to the United Arab Emirates.
Where are we now?
Five years after Dahlan's exile and ten years on from the Battle of Gaza, the Strip is in total disarray and Hamas is running out of options. Receiving only four hours of power a day, Gaza is desperate for power; people's access to medical treatments, as well as clean water for both general consumption and food production, is dependent on electricity that simply is not there. With over a hundred million liters of sewage flowing into the Mediterranean every day and without the power to provide the proper treatment, hundreds of thousands are also now at risk of serious waterborne diseases. In an attempt to avoid a humanitarian disaster, the Fatah-run PA has effectively been bankrolling the Hamas government in Gaza for the last ten years, and the still-fraught relationship between the two parties underpins today's energy crisis. Gaza's power plant first ground to a halt in April after Hamas refused to continue paying the PA for what was deemed extortionately-priced fuel. Now, with Abbas refusing to foot the bill in June for the supplementary electricity that Israel provides to the Strip, this squeeze on Gaza's energy supplies must be considered alongside Abbas' recent withholding of salary payments to thousands of former PA employees in Gaza, often associated with Fatah, who had once been instructed not to work  for Hamas by the PA itself. Seeking to bring the territory back under the PA-fold, Abbas is seemingly trying to take the people of Gaza to the edge in order to provoke a popular revolt against Hamas. But whilst that pressure is certainly being felt on the ground, Abbas' machinations are merely undermining what little remains of his popularity, personal authority, and claim to represent all Palestinians, rather than inducing any form of popular revolt against his political opponents.
Gaza is simply in no position to start paying its own way. With unemployment at 42%, the Strip is still reeling from the last decade's three wars with Israel, which brought immense devastation, wiped out any semblance of a productive economy, and that left thousands of families displaced. What's more, the blockade of the Strip, imposed and enforced by Israel and Egypt following the 2007 Hamas takeover, has not only turned Gaza into an 'open-air prison', but choked the territory of the flow of peoples and goods required to re-build, re-develop, and break the cycle of poverty and violence. Gaza needs to breathe again and Abbas and the PA are seemingly tightening the grip. This is where Dahlan comes in.
What does Dahlan's return mean for both the Strip and for Abbas?
From his self-exile in the UAE, Dahlan has certainly been busy. Now a multi-millionaire, Dahlan is an advisor to the Emirati crown prince, Mohammed Bin Zayed, and has cultivated a close relationship with Egyptian President Sisi by helping to put the boot in the Muslim Brotherhood. Now, on the back of his connections, Dahlan is keen to strike a deal for political power with the authorities in Gaza. He can provide  both Hamas and Gaza with that which is desperately needed: electric power and an open border. In an arrangement in which Dahlan and his affiliates would manage Gaza's relations with the outside world, leaving Hamas in charge of internal and security affairs, the UAE is supposedly set to construct a power plant in Egypt to serve the people of Gaza whilst the Egyptians are gearing up to re-open up the Rafah border crossing. What's more, the UAE is also set to bankroll a fund for the families of those Hamas and Fatah members killed in the civil conflict following the 2006 election. Dahlan undoubtedly brings a lot of baggage back to Gaza, and there is no doubt that Hamas members in particular will remain wary and skeptical of his return. But there's nothing like friends in high places to help by-gones be by-gones and Hamas is in no real position to reject what Dahlan has brought to the table.  
Greasing the wheels of the deal is Dahlan's personal relationship with the newly elected head of Hamas, Yahya Sinwar. The pair have a shared history, growing up together in Khan Yunis camp and competing with each other for the leadership of Islamic University's student union. Whilst the two very much parted ways politically, that connection may well have helped in recent months to smooth over old grievances between Dahlan and the broader Hamas party. And yet the shifting sands of the region's geopolitics are also moving in favour of the arrangement. The reliability of Hamas' traditional allies, Qatar and Turkey, has recently been thrown in doubt following the Saudi-led blockade of the Gulf state and Turkey's recent resumption of relations with Israel. At a time when Hamas must be feeling particularly isolated, Dahlan now offers a swift shift of allegiances and a gateway into both the arms of the Arab Quartet (Egypt, Saudi Arabia, UAE, Jordan) and the rewards that such a relationship professes to bring. The replacement of Turkish and Qatari influence in the Strip with that of Egypt and the UAE is also likely to sit well with Washington and Tel Aviv who remain major players in the determination of Gaza's destiny. The one man almost certainly sweating at the sight of all this is Mahmoud Abbas.
At 82 years old, the legacy of Palestinian President Mahmoud Abbas (aka Abu Mazen), a figure constantly surrounded by rumours about his health, is that of a Palestinian economy in tatters, a West Bank at the mercy of a resurgent wave of Israeli settlements, and a people simmering at a security co-operation apparatus that enables the Occupying power. For a man that has spent his administration successfully rooting out any challenges to his personal political authority, the sight of his two greatest challengers-Hamas and Dahlan- brokering a deal must surely be a major source of concern. In a recent interview with the New York Times in 2016 , Dahlan explicitly denied any intention of oust Abbas: "Quote me: I don't want to run in the presidential election". And yet Dahlan held little back when criticizing Abbas' record, "What Abu Mazen has done is turned all of what remains of the authority into a security machine".
If Dahlan does have ambitions for the Presidency, he has a long way to go before he establishes a broad base of popular support throughout the Territories. "Dahlan is a thug and a crook", Jenien, a researcher from Ramallah told Novara Media. "He's more of a militia-man than a statesman. Abbas is bad but Dahlan would be worse". What's more, he's still dogged by suspicion emanating from past accusations of corruption, torture, and trampling over the civil liberties and self-determination of Palestinians. Journalist Ramzy Baroud recently declared that "Hamas should not trade the rights and hopes of the Palestinian people for its own survival by making a deal with Dahlan". Nonetheless, in the refugee camps of Qalandia, Balata, and Jenin, those places where the neglect of the Palestinian Authority is most sharply felt, Dahlan has been putting in the work. A child of a camp himself, Dahlan has in recent years been facilitating the provision of goods and services to camps throughout Gaza and the West Bank, either out of his own pocket or those of his associates, building up a reputation as someone who gets things done. Abbas on the other hand, rather than reaching out, has largely been rooting out those supporters through the security apparatus of the PA.
Abbas is certainly not sitting idle. The President recently held meetings with both Egypt and even Hamas in an attempt to scupper the Dahlan deal. And yet perhaps this politician is now regretting his earlier moves: his rejection of Egypt's previous request to bring Dahlan back into the fold, his squeezing of Gaza to oust Hamas, and his rough handling of Dahlan supporters in the refugee camps. With 65% of Palestinians now wishing that Abbas would step down and conversations concerning the Post-Abbas era growing louder every day, the President appears to be witnessing the future of Palestine being drawn up around him. As with everything in Palestinian politics, the full Dahlan deal may never go through. In the name of Palestinian unity, Hamas and the Fatah-run PA may well reach an agreement to stop the two territories moving even further apart. But if Abbas wants to stop Dahlan's rise and retain his tirelessly-cultivated, exclusive position as 'the Palestinian we can work with', he is going to need to stop making enemies and start making friends.