Migration and the Labour Party: Conference's Unanswered Questions
30 September 2017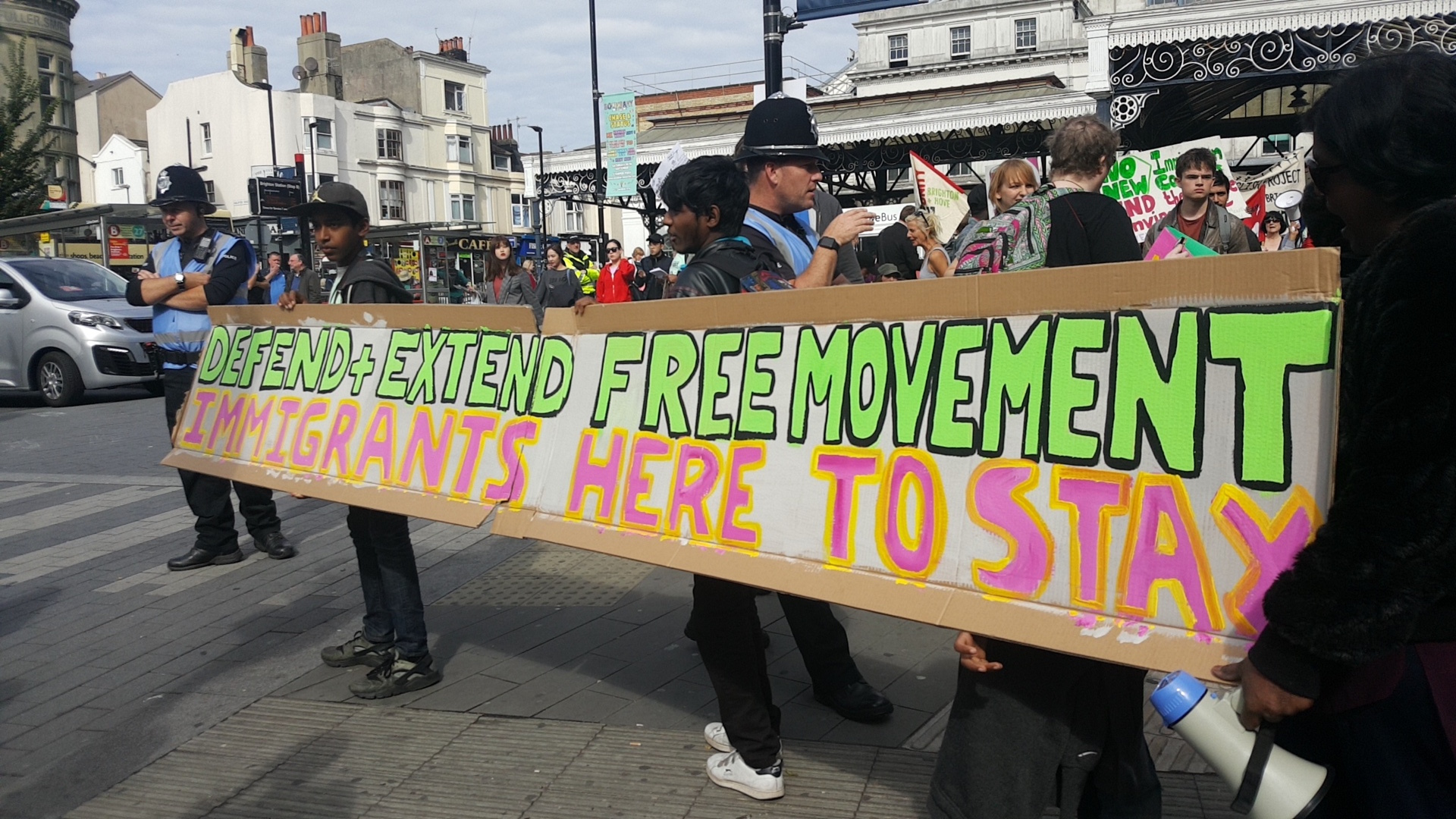 The Left is still buzzing from one of the most energising, diverse Labour Party conferences in recent years. If anyone was still unconvinced, the four days in Brighton demonstrated the depth and breadth of the hold of Corbyn's base on the party's membership and political identity. However, one unresolved issue – and arguably the biggest disconnect between the party and a considerable chunk of its base – threatens the sustainability of this shift: should the Labour Party defend and extend freedom of movement post-Brexit?
Make no mistake, Labour's 2017 manifesto signified a bold shift in the party's politics. It also considerably expanded the public's imagination of what it has the right to demand of its government in key areas such as healthcare, education, housing and foreign policy. The real impact of this on mainstream politics has already been considerable, but its full potential is yet to be realised; indeed, this could signify the beginning of a deeper, more long term shift of the UK's  political centre of gravity.
The success of the manifesto largely comes from its departure from the mealy-mouthed critique (and sometimes outright endorsement) of Tory austerity that characterised Miliband's Labour. Instead, it unapologetically took positions that the political and financial establishment has spent years trying to discredit – such as rent controls, free childcare and free education.
By refusing to capitulate to policy norms that have been pushed by the few and against the interests of the many, Corbyn has established himself as a strong, savvy and principled leader, thereby knocking the wind out of his critics' sails. Where detractors warned that failure to reach out to the party's self-defined 'moderates' would signal Labour's death, the precise and exact opposite has happened: by owning his political identity and mandate, Corbyn and his team have breathed new life into a party that was basically functioning as a reanimated, neoliberal (and frankly boring) corpse.
However, the manifesto is uncharacteristically reserved in its immigration policy – indeed, its policy opens with the somewhat oddly phrased "freedom of movement will end when we leave the European Union" – as if a Labour government would not be able to fight for otherwise if in power. Although it commits to rejecting the "[scapegoating] of migrants" for "economic failures", it still leaves in tact the arguments most commonly weaponised against immigration. For example, it perpetuates the myth that migrants have been a strain on public services – rather than its primary workforce – by committing to reinstate the Migrant Impact Fund, and prohibits recourse to public funds by migrants. Although the pro-immigration stance of Emily Thornberry, Diane Abbott and Corbyn himself have been long known, it is also clear that Keir Starmer – the Shadow Minister for Brexit – wants to see a much stronger British border; a position that is not irrelevant given his post.
This contradiction was repeatedly raised as a point of contention by delegates both at Labour Conference and at the parallel, Momentum-affiliated "The World Transformed" (TWT). Although there has been some division in Momentum regarding whether the leadership should explicitly fight for EU free movement, there was a sense amongst many of Corbyn's supporters that Labour needs to tackle anti-migrant sentiment head on. "Labour does not yet have a coherent narrative on immigration – and this needs to change" says Faiza Shaheen, director of the Centre for Labour and Social Studies.
Indeed, the argument that migrant and non-migrant workers must work together to resist exploitative labour practices at the hands of the bosses fits in seamlessly with Labour's grand narrative of the many versus the few – whereas the half-assed implication that immigration is a problem directly undermines it. It's therefore a wonder why Labour's rhetoric on this issue seems to be one of avoidance and ambiguity. Jamil Kowcun, who attended the pro-free movement demo at Conference and is an organising member of the successful Justice for LSE Cleaners campaign (a shining example of the power of migrant/non-migrant worker solidarity) told Novara Media of his frustration at this stance: "it's definitely the area where there has been the most capitulation, and it's one of the most worrying capitulations.
"If you look at the surge of Corbyn support, a lot of it was because he was really unequivocal in previous conferences about the fact that [blaming] migrants for pushing down wages is a fallacy – and that migrants have been at the forefront of some of the most active unions, and of fights to secure employment rights. It feels like that has started to diminish." It's important to remember here that a sizeable proportion of the grassroots campaigners that put Corbyn in the position he is today are immigrants themselves and/or have a history of anti-racist campaigning; indeed, Corbyn himself falls into the latter category.
For years now, pressure has been put on the broader UK Left, as well as the Labour Party, by pivotal grassroots movements such as Movement For Justice (MFJ) – who organised the march on Conference. The march was bold, well attended and led by ex-detainees, who are often on the front line of draconian immigration policy. Most importantly, it forced the issue of immigration into full view of Conference, at a time when many others are desperate to evade its discussion. Core MFJ organiser, Antonia Bright, told Novara Media the urgency of addressing the core of anti-migrant sentiment: "We are not on the brink of a fascist takeover, but if we continue to not address this, and act like immigrants are the problem, then we will be."
The recently formed, more internally-focused "Labour Campaign for Free Movement" has also been set up to put pressure on the leadership to stay true to its previous principles on immigration, and create the political space in the Brexit debate for a 'defend and extend' stance on free movement. One of its core organisers told Novara Media that it was all about creating a "new common sense" on migration: "there is a common sense in the Labour Party and the Labour movement on education and healthcare, but there has never been one on migration; in fact, the Labour Party has a pretty shocking history of not defending migrants.
"There are lots of hearts and minds to be won over, but if we don't think we're capable of persuading people of different ideas, why are we doing politics?"
Of course, in comparison to the rhetoric being peddled by the Conservatives, Corbyn's Labour is a relief – and indeed, it's a far cry from the days of "Controls on Immigration" mugs. It's also clear that Corbyn himself is committed to ending destructive myths about immigration – indeed, he made it a priority in his address at Novara Media's The Fix Live, and in his final conference speech. However, the broader party's approach at conference had a sense of avoidance: a motion to defend and extend free movement was not prioritised, and therefore not voted on. During a TWT panel on mobilising the working class, Karen Lee – MP for Lincoln and John McDonnell's Parliamentary Private Secretary – responded to a question criticising Labour's ambivalent attitude to the immigration question with shock that anyone would consider Labour to have been weaker in this area than in others. This might be surprising, given that it is one of the most widely circulated critiques of the manifesto from the Left, and that a sizeable protest had been organised for the following day to challenge Labour's current immigration position.
It would seem that an otherwise bold, brave Labour lacks the clarity it needs on immigration. Perhaps this is because it feels this is an issue it cannot win on. However, Corbyn's renewed strength and Labour's powerful identity as the party of hope and alternative means that this is absolutely an issue that can be won – and indeed it is an issue that Labour must win on. The 2017 election showed us that, contrary to the establishment perspective, strength in both strategy and principle are not mutually exclusive. Indeed, we must win on migration not just to retain Corbyn's base, but because it is critical to demolish the migrant/non-migrant divide; so long as this is kept intact, we are leaving untouched the greatest weapon that is used against us – and used against the fundamental goals of solidarity and justice that define Corbyn's Labour.