Funding for London's BME Refuges Slashed by Half in 7 Years
2 October 2017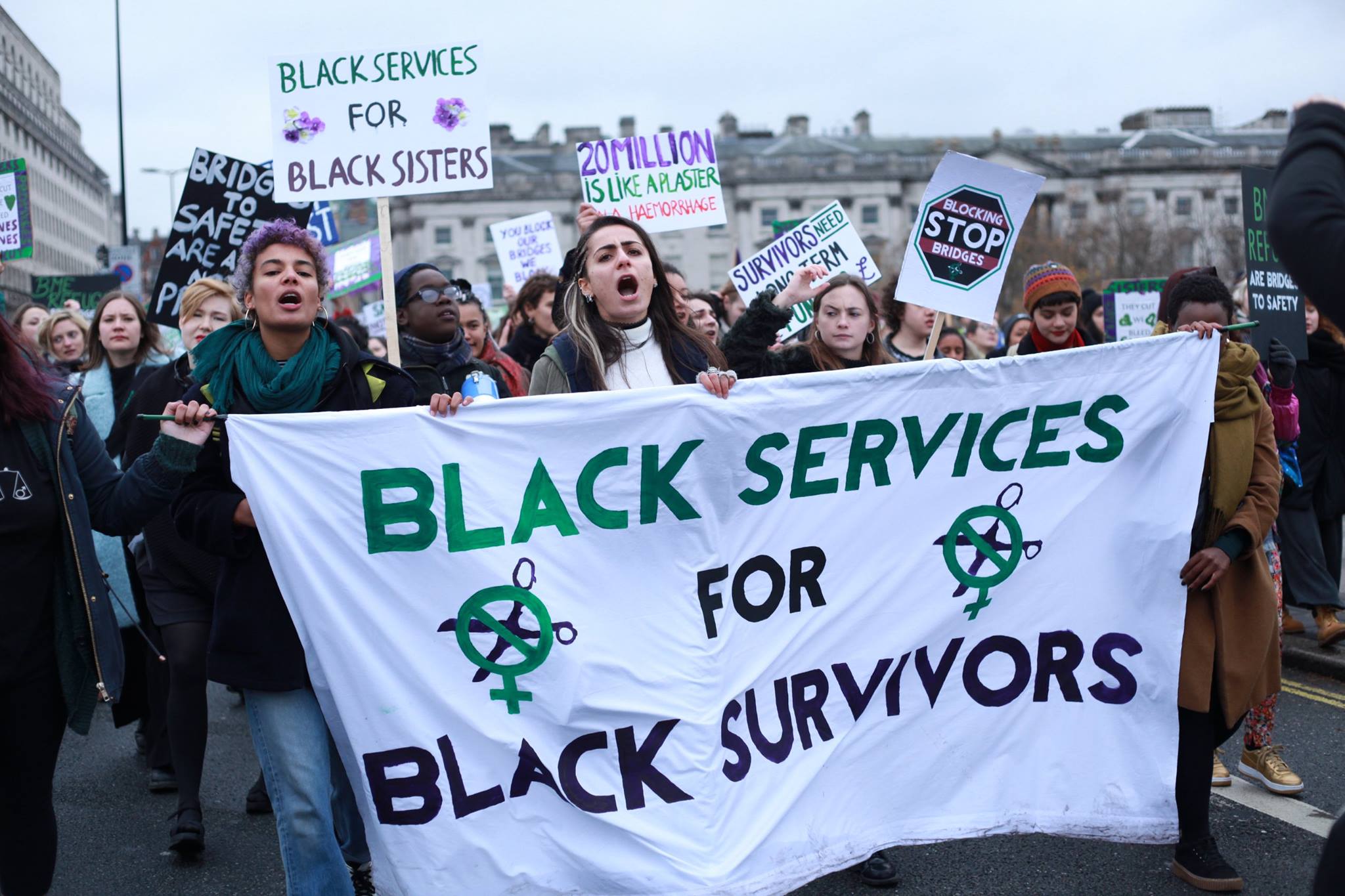 Guen Murroni
The radical history of women's refuges has largely been forgotten, but many started out as feminist squats in the 1970s. Women and non binary people would occupy land, repurpose it as sanctuary from male violence, and demand funding to sustain it. Around the same time, black feminist groups were setting up the first refuges specifically for BME women.
"In the late 70s there was a real triangulation between political theory, the delivery of women's services, and broader black feminist organising", says Marai Larasi, director of Imkaan, a coalition of BME women's organisations. "These organisations recognised you can't deal with gendered violence if you're not dealing with race, class and immigration status as well as gender. That perspective was often missing in the early women's movement."
But this proud legacy of BME services led "by and for" the people they serve is facing an existential threat, as local authorities, under pressure from central government cuts, look for cheaper alternatives. Freedom of Information Requests sent to all London councils by Novara Media show BME women's refuges lost between 45% and 52% of their annual council funding between 2009 and 2016. It's impossible to be more precise because of a trend in local authorities towards merging women's services into one contract. Three boroughs said they no longer know exactly how much they spend on BME refuges. 
"Generic" services, which all women can access, lost out too – losing 28% over the same period. But as ever, it's poor black women and non binary people who are most affected by cuts to public services.
At Latin American Women's Aid, a sense of radical women's history is integral to the services they provide. As I talk to Yenny, the general manager, in their Dalston offices, a portrait of Frida Kahlo watches over us and the whitewashed walls are decorated with pictures of Latina women marching, chanting and dancing.
"LAWA was founded in the 1980s by refugee women fleeing the Chilean dictatorship and the war in Colombia", says Yenny. "When they came to England these women found they experienced a lot of sexual harassment and abuse, and they struggled to access mainstream services because they were migrants. They decided they needed to start a refuge because there was no alternative for women in our community."
LAWA are celebrating their 30th anniversary this year. And while there is much to celebrate, Yenny says that in many ways she feels like the organisation is back where it started in the 1980s. "It's the same situation. Migrant women are being forced to fight for the most basic rights: housing, employment, spaces where we can escape from violence."
Data released to Novara Media shows London councils fund just 115 beds reserved specifically for black and minority ethnic women, in a city where around 40% of the population is BME. 40 more, like LAWA's, are entirely self-funded. In the year to 2015, Imkaan found around 733 BME women sought refuge spaces. LAWA have just 12 spaces – six for women, and six for children. In the last year, they were forced to turn away 101 women. Wandsworth and Haringey, like Islington, have entirely defunded their BME refuge service in recent years. Just nine London boroughs now fund any specialist refuge, down from 12 in 2010.
Local authorities point out that non-white women can access mainstream support. So why are BME women's services so important?
For many of the women accessing specialist support, abuse intersects with a whole host of other areas of disadvantage: the threat of deportation, poverty, forced marriage, trafficking, language and cultural barriers. It's incredibly difficult for anyone to leave an abusive relationship and seek help, but for migrants and women of colour leaving is only the first step in a long struggle against bureaucracy, gatekeeping and misunderstanding. LAWA's internal research has found that 65% of women who accessed their services were unable to get support from mainstream services.
Migrant women often experience abuse at the intersection of state and interpersonal violence. Yenny tells me about a woman she supported recently who was unaware she had the right to access domestic violence services in the UK because her perpetrator had repeatedly told her she was "illegal". "Her husband told her if she left him he would go to the Home Office and have her deported."
Language is an important barrier to support for many women, but making services truly accessible is about much more than just translation. As well as running English lessons in refuges, LAWA are experts in dealing with issues faced specifically by migrant survivors, some of whom have no recourse to public funds.
"It's not that we want to fight against generic services", Yenny insists. "We should be working together. We both want to ensure all women, not just white women, have spaces where they can really feel safe."
In 2014, Latin American Women's Aid received notice from Islington Council that their service would be defunded. Since then, they have had rely on crowdfunding and bidding for individual grants to stay open, which is a constant struggle. 
Their story is typical, according to Marai."There's a real problem with how local authorities assess what 'value' is. A bed in a BME service might cost, say, £20 more a week, but it seems they don't take into account how much more work is going into that space, like immigration support or language lessons."
A spokesperson for Islington Council said: "We do support LAWA, and have done for many years. We recently helped them secure £100,000 of central government funding, which is good news for an important national service."
Yenny situates the defunding of BME women's services in London in a much broader context – gentrification, the loss of community spaces, and the hostile environment which aims to make migrants lives' unbearable. "London's not perfect. But compared to other places in the UK, and in Europe, it's very tolerant place, where migrants could feel at home. But we have to ask: why is that? It's not because the state just gave us everything we wanted. It's because we got organised in our communities, we built our own institutions, and we fought for our own political representation."
Photo: Guen Murroni