Norwegian Court Case Over Arctic Drilling Shows Where the Climate Movement Is Heading
by Fanny Malinen
15 November 2017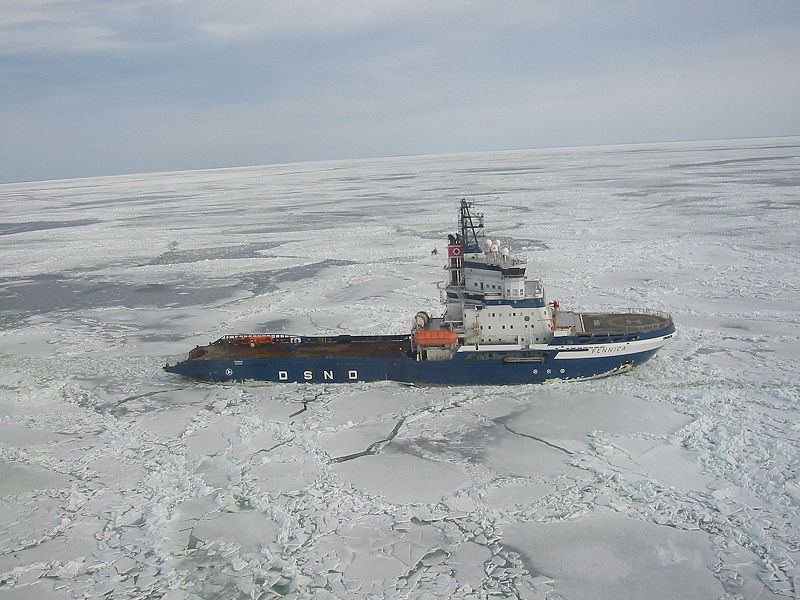 Marcusroos, Wikimedia Commons
On Norway's Arctic coast lies the world's most northerly town. Surrounded by breathtaking fjords and mountains, Hammerfest was clearly once a beautiful place. Today, however, the coast has been taken over by industrial developments and, as far as the eye can see, oil and gas tankers plough into the horizon. The town is the fossil fuel industry's hub in the Arctic; a hub which is only set to expand. For the first time in over 20 years, Norway has opened up new oil drilling areas, granting 13 oil companies generous licences in the Barents Sea.
Two environmental organisations, Nature and Youth (or Young Friends of the Earth Norway) and Greenpeace Norway, are challenging their country's drive to exploit its oil deposits in Arctic waters in a court case beginning on 13 November. Norway's constitution guarantees current and future generations the right to a healthy and safe environment. But both of these groups argue that granting the new licences cannot be reconciled with the commitments Norway made when ratifying the Paris Agreement last year, promising to reduce emissions to help limit the global temperature increase to 1.5C.
Head of Greenpeace Norway, Truls Gulowsen, expects that the state's responsibility for protecting the climate will be raised on the agenda, not only in Norway, but internationally too:
"If the environmental paragraph in our constitution is interpreted as other laws, we should win this case. The science of global warming is clear, the 1.5-2C target is well established as a limit for dangerous interference, and there is no room for oil from new oil fields in a carbon budget consistent with those climate targets."
With that said, as the article has never been tested before, the outcome is hard to predict. But if Greenpeace and Nature and Youth win, as Gulowsen posits, "it will protect the Norwegian Arctic from more oil exploration, change the Norwegian oil industry forever, and serve an important role in setting an international precedent for other climate lawsuits that are underway in other countries."
Increasingly, people around the globe are litigating for the climate to hold governments and big polluters to account. Ongoing cases include an investigation by the Philippines' Human Rights Commission into 47 multinational corporations whose contributions to climate change could be seen as violating the island nation's inhabitants' right to life. While, Switzerland's Climate Grannies case sees 770 women, aged 65 and over, challenging their government's climate policies on the grounds that they are putting lives at risk.
In the U.S., 21 American youth are challenging the federal government, including Trump, on actions that cause greenhouse gas emissions; new pipelines, subsidising the fossil fuel industry and exploration in the Gulf of Mexico. In their lawsuit, Juliana v U.S., they assert that through the government's affirmative actions that cause climate change, it has violated the youngest generation's constitutional rights to life, liberty, and property, as well as failed to protect essential public resources.
They have added their weight to a long list of people taking legal action against Arctic drilling. "All 21 of us in the Juliana v U.S. case stand with Greenpeace, Nature and Youth and other young people across the globe who are fighting to secure and enforce their legal right to a safe and stable climate," says Kiran Oommen, a plaintiff in the lawsuit.
The effects of climate change are, of course, not limited to future generations. As Gulowsen maintains, "climate change is already having a profound and deadly impact around the world, like in the Philippines, with vulnerable communities and countries being hit hardest. Those who are least responsible for the problem are affected the most."
One of those affected is 26 year old Joanna Sustento from the Philippines, who survived the super typhoon Haiyan in late 2013, but lost her home and family to it. This summer, she visited communities in the Norwegian Arctic with Greenpeace's ship Arctic Sunrise, which also took peaceful direct action against Norwegian multinational oil company Statoil. "Joanna finds it hard to accept that the government, representing a wealthy country, is pursuing short-term oil profit over protecting people's lives," Gulowsen explains.
Sustento's Arctic activism signals a change in focus for the climate movement. Having so long appealed to the world with images of starving polar bears, increasingly, climate activists are connecting with the human cost of climate change.
Last year, Black Lives Matter shut down London's City Airport to highlight the fact that communities of colour suffer most from air travel pollution, be it through climate change in the global South or locally in the vicinity of airports. And when U.S. authorities brutalised indigenous North Americans for standing up against the destruction of their lands and waters at Standing Rock, the whole world showed solidarity.
Calls for legal recognition for climate refugees are growing stronger, as the UN predicts that globally  at least 250 million people will be displaced by climate change in the next three decades.
This year's UN climate negotiations (known as COP23) in Bonn, Germany, are hosted by Fiji – the first time a country in the frontline of climate change is hosting the summit. Among the vulnerable island nation's top priorities is increasing funding for adaptation and mitigation schemes and creating insurance schemes for countries facing climate change induced disasters. Pacific island states have previously been calling for the UN Security Council to regularly consider climate change and grants for the countries who are worst affected. Nearly a fifth of the region's population could be displaced by 2050.
The start of the Norwegian court case coincides with COP23. It will be the first time the Paris Agreement – that has only just become binding after being ratified by 55% of countries – is used in a courtroom.
Gulowsen believes it could set a precedent for holding governments to account. Some 90 countries have similar provisions in their constitutions about the right to a healthy environment:
"Just like what happens in the Arctic does not stay in the Arctic, whatever protections of rights to a healthy environment and safeguarding of rights for future generations that happen in a Norwegian courtroom will not stay contained to that room, but may inspire and guide other courtrooms fighting climate cases around the world."