Surround Yarl's Wood: We Must Keep On Demanding an End to Immigration Detention
27 November 2017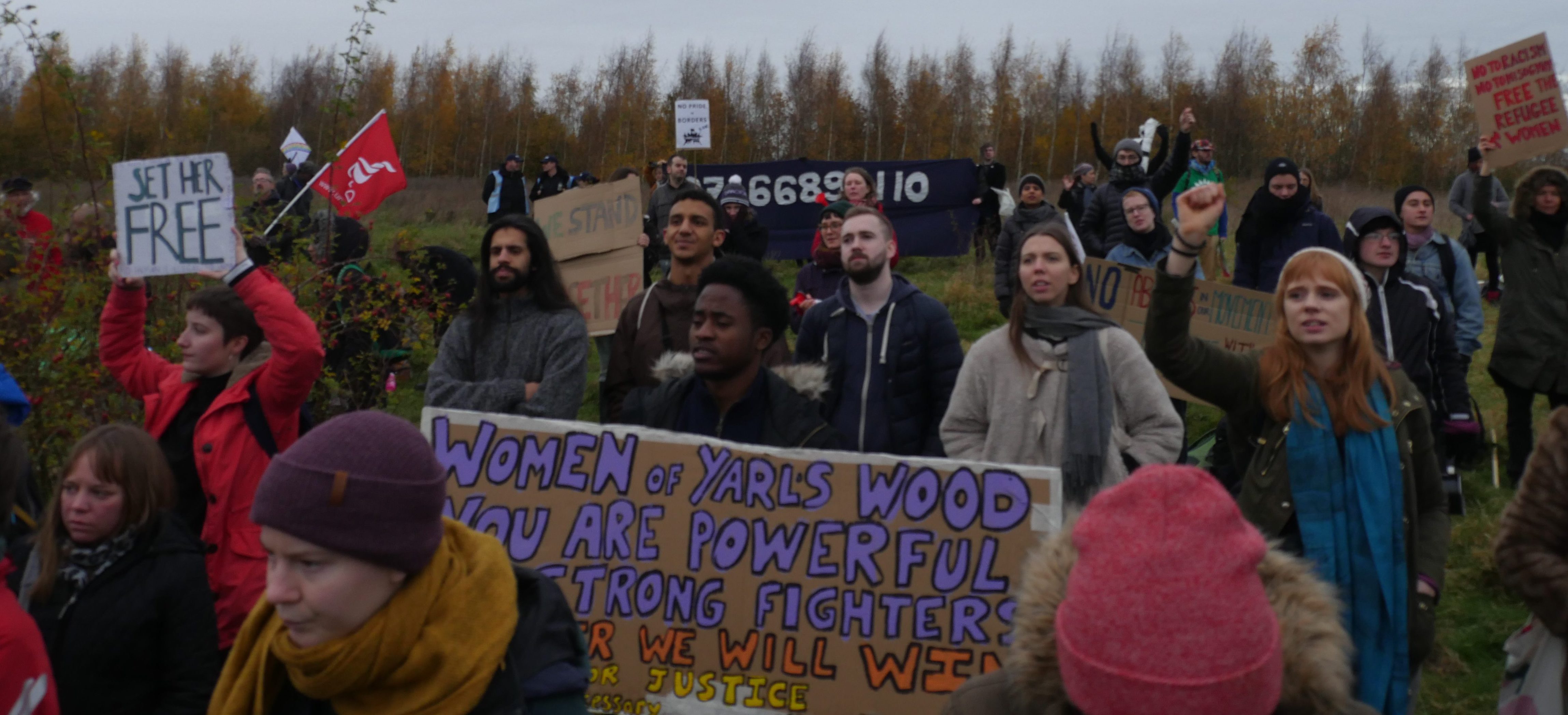 Two hundred activists surrounded Yarl's Wood immigration removal centre (IRC) in Bedfordshire for the 12th time on Saturday 18 November, braving the cold and mud to demand all of Britain's detention centres are shut down.
The demonstration could not have come at a more pertinent time—literally sandwiched between the departure of a charter flight the day before and a death in detention the day after, highlighting just how important it is that the movement to shut down detention centres does not lose momentum.
But the protest was smaller than it has been in the past, and the mood different as many groups decided not attend because of allegations made against the organisers, Movement for Justice (MfJ). Very few journalists were there, presumably having lost interest since coverage peaked last year.
On 17 November, dozens of migrants are believed to have been forcibly removed to Jamaica on a flight the Home Office had claimed was cancelled, before catching people off guard and deporting many before they could access adequate legal advice.
Earlier this autumn, three people died in detention in the space of a month. The death of a man on 19 November in a suspected suicide at Morton Hall in Lincoln was the fourth at that facility within a year meaning twice as many people have died in detention so far in 2017 as in all of 2016, when a larger number were detained.
The circumstances surrounding the deaths—which in many cases the Home Office initially sought to deny entirely—remain shrouded in secrecy as longwinded investigations supposedly take place behind closed doors. With no details to fix on to, the press usually loses what little interest it had in the meantime, and the public forgets.
Meanwhile, two separate reports released this autumn—one by the Prisons Inspector and one by Women for Refugee Women—have condemned the detention of extremely vulnerable women, including rape and torture survivors, in violation of the government's own guidelines. In September secret filming exposed the extent of abuse at Brook House IRC, near Gatwick.
Novara Media spoke to people at the protest who had been detained in Yarl's Wood to find out what it's like inside.
One woman, Anju, who was recently released from Yarl's Wood read us a poem about her time in detention.
We also caught up with Flick, who visited Anju and her daughter inside detention through the student group SOAS Detainee Support (SDS). She told us what it was like to bump into Anju at the demo.
Detention is inherently cruel and the only solution is to end the practice completely. But the situation is particularly bad at the moment because so many people are being detained annually.
Britain is one of the biggest users of immigration detention in the European Union. It is also the only country without a time limit, which means detainees can be held indefinitely, at the whim of the Home Office. Mabel Gawanas, a Namibian asylum seeker who was released a few months ago, was detained in Yarl's Wood for just shy of three years.
In the 12 months to May, nearly 28,000 people were taken to detention centres around the UK. This included a large number of EU migrants, who are being locked up for allegedly violating the terms of their freedom of movement rights, simply by sleeping rough. The detention and deportation of EEA nationals under this Tory interpretation of the rules is currently undergoing a legal challenge in the high court.
Hospitals and schools are also increasingly being forced to share people's information with immigration enforcement, as Theresa May doubles down on creating her racist and threatening 'hostile environment' for migrants.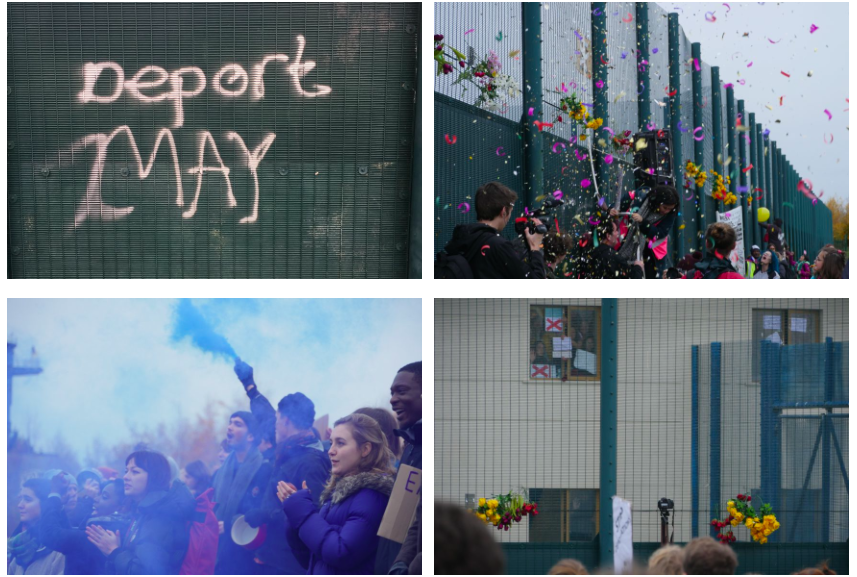 Yarl's Wood, which holds around 400 people at a time, is the only detention centre in the UK designed exclusively for women (although families and children are sometimes held there too). A high profile sexual abuse scandal in 2013, in addition to its proximity to London, has made it central to the anti-detention movement. But there are actually 11 designated immigration removal centres spanning the UK, from the Verne in Dorset to Dungavel in Scotland.
While Yarl's Wood attracts the biggest protests, Scottish activists often surround Dungavel detention centre in South Lanarkshire at the same time.
Activists from the Unity Centre in Glasgow sent us video of their protest on the 18th.
What next for the movement?
In December 2016, 2,000 people protested outside Yarl's Wood, at the tenth demonstration there. A similar number turned out in May. The movement appeared to be steadily growing and attracting sustained coverage from mainstream media including the Guardian and VICE. But less than a year later the crowd had shrunk by 90% and volunteers acting on behalf of activist collective Detained Voices were almost alone in trying to get messages from inside out to a wider public.
During the protest, women on the phone and leaning out of the windows from inside the centre shouted: "We love you Movement for Justice". But outside, the demonstration was mired by allegations of abuse made against the organisers by a former member. The fallout from this threatened to derail the protest entirely.
Allegations against MfJ were first made publicly in October, when a migrant member alleged that the group—who many people were not aware is part of Trotskyist organisation the Revolutionary Internationalist League (RIL)—is controlled by older British-born people who groom and tokenise migrants and use 'cultish' abuse tactics to control them.
The former member set up an anonymous blog, writing: "MFJ is not migrant & youth-led. It is not a grassroot movement, but a deceptive political project of a cultish trotskyist [sic] group".
When other groups from London and Brighton held a meeting to discuss how best to respond to the allegations—in particular whether to attend the demonstration or not—MfJ organisers are accused of having deliberately disrupted the event in a way many found intimidating.
Despite agreeing that surround Yarl's Wood demonstrations are a vital opportunity to show solidarity with detainees and to raise the profile of immigration detention, some groups and individuals decided to stay away to avoid conflict on the day, while a small number attended as part of a separate bloc.
In light of these events, the demonstration felt different—not only because of the far smaller turnout. MfJ has huge influence inside Yarl's Wood. It has done a lot to support people inside as well as to build the movement opposing the centre. But if migrants are allegedly being groomed to serve a larger political cause, the reliance of people inside on MfJ and the faith they have in the organisation is worrying at best.
While surround Yarl's Wood has undoubtedly served a purpose, it appears to have lost some of the draw and power it had in the past. The allegations against MfJ have certainly played a large part in this, but there might be other reasons too. The media, for instance, has probably just lost interest because the demonstration has been covered so many times before and it always looks the same. For a number of reasons—including a discussion around the helpfulness versus harmfulness of noise demos— it might be time to consider new tactics.
Shut them down.
What remains certain is that immigration detention must continue to be opposed.
Detention is immensely harmful. It's not hard to see why so many migrants suffer from mental health problems in Yarl's Wood and other centres: Extremely vulnerable people are routinely locked inside oppressive facilities under poor conditions, without a release date. Many detainees report being bullied or abused by staff.
Earlier this month, the Prisons Inspector, Peter Clarke, condemned the detention of women in Yarl's Wood for months on end. During the summer, he found 15 women inside who had been held for between six months and a year—and Gawanas who had been detained for more than three years at the time.
He also criticised the fact more victims of torture, rape and trafficking are being detained at the notorious facility than in the past, in breach of the government's own policies.
His findings echoed a report by the charity Women For Refugee Women, published at the end of October, which found the same thing: severely traumatised survivors of sexual violence are routinely being locked up at the centre.
All of the women the organisation interviewed said they had been depressed in Yarl's Wood.
We spoke to Sarah Cope, co-author of the report, about what she heard from women inside.
We asked her to tell us about a case that particularly stood out.
Less than half of people who are detained are ultimately deported or leave the UK voluntarily, which means in most cases detention is essentially a pointless drain on government resources, which does nothing to benefit even the Tories' own agenda. The statistics are even worse for Yarl's Wood, where two-thirds of women are eventually released not deported.
But that's not the point. Detention is inhumane and brutalises people who simply seek a better life for themselves and their families. It instils a sense of fear in migrant communities. That is and always was Theresa May's true objective.
Detention centres are an inherently cruel and abusive part of a racist system. It's time to shut them down.
(Women detained in Yarl's Wood address the protest)
Charlotte England is head of articles at Novara Media.