How Greater Manchester Became the Capital of Housing Action in the UK
6 February 2018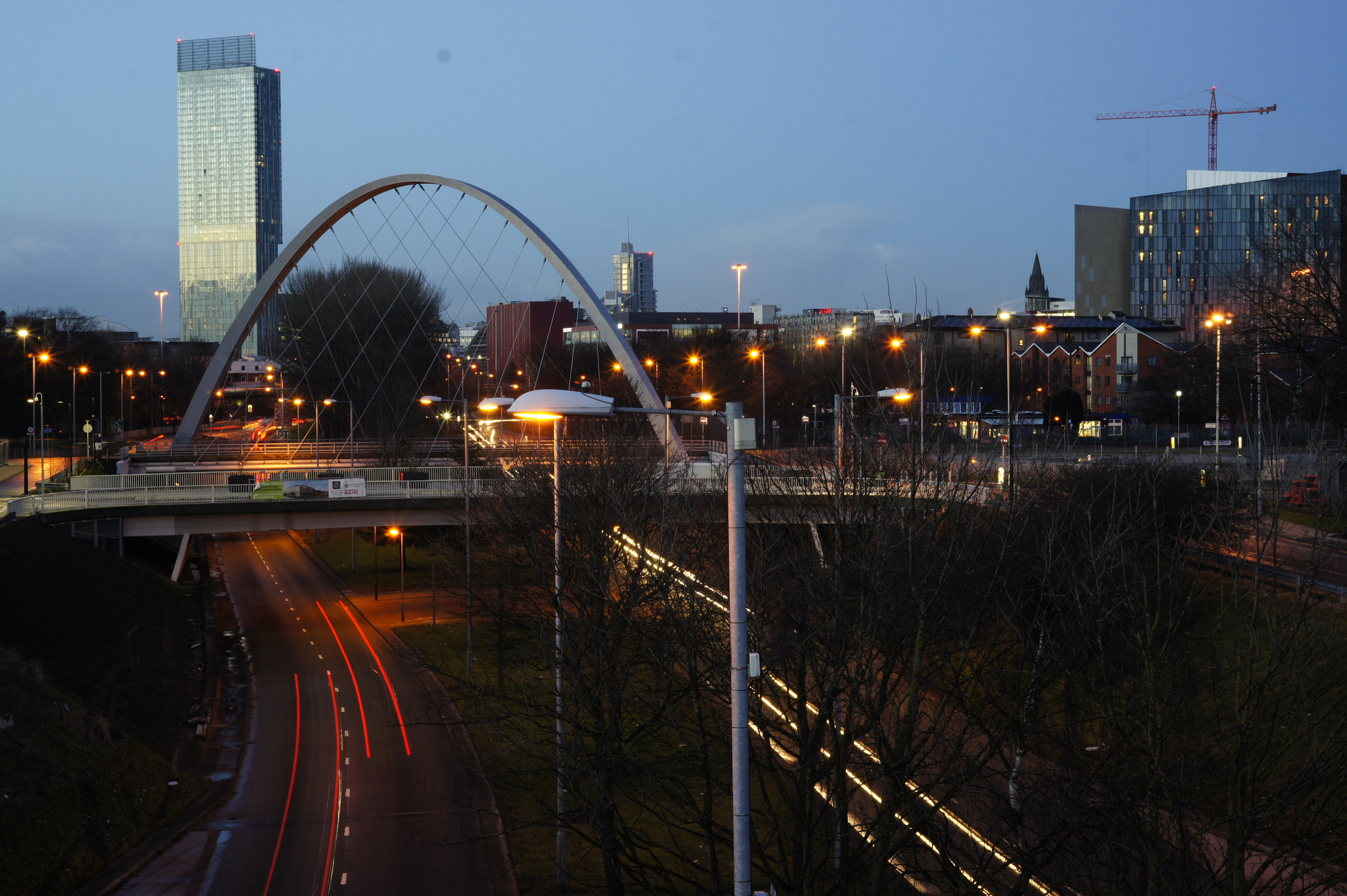 Grey World/Flickr
Anybody who lives in or visits Manchester cannot avoid seeing the stark reality of the city's housing crisis – a large and growing homeless population.
Homelessness is the product of a failed housing system, but is only the most visible element of a wider crisis. Rising rents, compulsory purchase orders and social cleansing, and a mass proliferation of build-to-rent apartments are some of its telltale signs. The crisis is the product of a generation of local leadership that has sought to make Manchester a 'global city' – code for a development model prioritising foreign investment in a speculative property market over investing in the social reality of the city. Yet this agenda is coming under increasing pressure as a growing housing movement – and an increasingly confident Labour left – question the direction of the city, attack its orthodoxies and call for a change of course.
A growing housing movement.
One of most exciting developments in the housing movement nationally has been the growth of tenants unions, and Manchester is no exception.
On 30 January, the tenants union and anti-poverty group Acorn launched a Manchester branch to start organising renters in the city with a meeting of over 100 people. In Sheffield and Bristol, Acorn has been extremely effective in organising anti-eviction mobilisations, defending its members, and applying pressure to local government to act in the interests of tenants in the private rented sector. At the inaugural Manchester meeting, attendees voted to focus campaigning efforts on stopping Universal Credit evictions, something Acorn has had success with in Newcastle and Sheffield.
Already this year Acorn in Manchester has been attracting a consistent crowd to organising meetings, and has been boosted by the support of the local branch of Plan C. Recently the group won its first case in Manchester, forcing a letting agent to agree to all their tenants' demands for basic maintenance and good conduct. If Acorn can continue providing wins on these sorts of bread and butter issues – massively commonplace, especially among Manchester large student population, it has the potential to grow rapidly over the next year and emerge as a powerful force.
Meanwhile, Tenants Union UK (TUUK) has been operating in Manchester since early 2017 and is aiming to use an innovative technological approach to providing legal and educational services to renters. Operating in partnership with the legal firm Tenant Protect and the data science company Etic Lab, TUUK plans to take rogue landlords to court for breaches of contract around deposit protection – and extract significant financial gains for renters.
As well as running regular renters' rights sessions, TUUK is partnering with Greater Manchester Housing Action (GMHA) to deliver the Manchester Renters Forum in March, providing an opportunity for private renters to hold political leaders and policymakers to account in a space where the agenda and facilitation is controlled by representatives of the housing movement. It is hoped the event will provide a model for a more progressive form of civic engagement where the delivery is outsourced by local authorities to grassroots campaign groups.
Working to meet three core aims of strengthening the housing movement, educating the public about the root causes of the housing crisis and conducting strategic interventions in local politics, GMHA is making connections with a wide number of partners. Its projects range from working with the growing squatting movement to frame the crisis and conduct accurate counts of the street homeless population to partnering with Sheffield University's Urban Institute to produce knowledge on how co-operative models could provide secure housing to low-income and marginalised demographics.
A shifting political landscape.
Last year I wrote in these pages about the potential for devolution to shake up the turgid political settlement in Greater Manchester. The departure of Howard Bernstein – the pro-developer Manchester Council chief exec (now working for Deloitte), and the arrival of an elected regional mayor presented an opportunity for the political agenda to be seized and radically shifted.
GMHA played a significant role in this process by organising the best-attended hustings of the mayoral campaign, which provided a space for the massive tensions over housing and homelessness to explode and for people's fury to be directed squarely at the candidates. Andy Burnham was forced to make housing and homelessness a priority issue in his campaign and spoke of the need to end 'developer-led' housing policy and to rewrite planning frameworks.
Since winning the mayoralty, he has ordered a "radical rewrite" of the Greater Manchester Spatial Framework, started a fund to address homelessness, and appointed left-wing Salford mayor Paul Dennett to head up the rewrite of the region's housing strategy. However, Burnham's direct powers are limited – most power over planning and housing strategy remains at the level of Greater Manchester's ten borough and city councils.
Burnham's actions have ruffled the feathers of many within the local Labour right-wing establishment – concentrated particularly in Manchester's Town Hall. Since the mid-1990s, Manchester Labour has been run by the same group, which has been dubbed 'the cabal' by many campaigners. Throughout this time, Council leader Richard Leese has sat at its head and has always been politically close to Howard Bernstein.
In recent years the council has had a total lack of commitment to affordable housing provision and a preference for flashy skyscrapers and gentrified neighbourhoods. This model has attracted staunch opposition, with flashpoints including the recent battle over a city centre development fronted by footballers Gary Neville and Ryan Giggs that would have seen the destruction of a Peterloo-era pub replaced by luxury accommodation. Opposition was significant enough to force the developers to redesign the plans, but there remains no affordable housing. In November, Shelter laid bare the extent to which Manchester city council had been giving developers an easy ride over their Section 106 contributions towards affordable housing – singling it out as one of the worst councils in the country for meeting affordable housing targets, only being beaten to first place by Kensington and Chelsea.
A strengthening Labour left.
Bearing in mind that Burnham himself has limited powers, one of the most important forces redefining the political landscape in Manchester, particularly over housing, is the growing strength of the local Labour left. Here, Paul Dennett is a key figure – and the difference in tone and direction between the city councils of Manchester and Salford is striking. A clear example of is the difference in the collection of Section 106 (planning obligation) payments from developers. Last year Salford took £6.5m compared to Manchester's £1.5m. Across the board, however, Dennett is setting an agenda for what a city run by the left could look like – for example beginning the construction of council homes for the first time in three decades, and drawing up a Greater Manchester-wide housing strategy with a guiding principle of "no ghettos, rich or poor."
In Manchester itself, boundary changes have forced an 'all out' election in May. Every councillor has been up for reselection, and the left has been making gains. In the city centre, Sam Wheeler, who is close to the party leadership, has been selected as a Labour candidate, while in Burnage, socialist Ben Clay has been selected. Clay's nomination is especially significant because he is deeply embedded in the city's housing movement – an active organiser with TUUK and an expert on planning and affordable housing. In his stump speech in the selection meeting he called for developers to "pay their way" and was warmly applauded from all sides of the room. People are sick of the city being run in the interests of developers, and the Labour left is managing to successfully draw upon a wider constituency of feeling that the housing movement has built.
These new voices and agendas are certainly having an impact. Eyeing the elections, councillors on the council's planning committee have been unusually hostile to a development proposal in the city centre's historic Northern Quarter, which has had a decision delayed twice now, while Labour's candidates in the city centre Piccadilly ward have issued a strongly-worded statement saying Manchester doesn't belong to developers to "drain and destroy".
Prospects for the future.
When GMHA was founded over two years ago, two key observations drove its founders. First, that the state of the city's housing movement was too fragmented and siloed, necessitating an organisation similar to London's Radical Housing Network in order to support and strengthen the movement's ecology as a whole. The work of the organisation since has seen it successfully perform this role – pulling together a wide range of groups including tenants' organisers, squatters, the Labour left and progressive academics to find common ground.
Second, there was a clear sense of the critical juncture that the city found itself in. While a London-style housing crisis had not yet come to pass, the direction of travel was unambiguously going that direction. Devolution presented an opportunity – to shift the narrative, change the agenda and exert a powerful push from below for democratic control over the city's governance. This object remains incomplete – but the work of the housing movement over the last two years, from making housing the number one political issue through direct action and campaigning to engaging with progressive policymakers and politicians in a constructive manner, has had an undeniable effect.
With a strengthening left, and a shifting political discourse, there is undeniably hope yet. 2018 is set to be a very interesting year for the city's politics, and the left and the housing movement across the country would do well to watch it unfold.
Isaac Rose is one of the coordinators of Greater Manchester Housing Action, which can be found on Facebook and Twitter.