Divestment Is Now Mainstream. What Next for the Radical Climate Justice Movement?
13 February 2018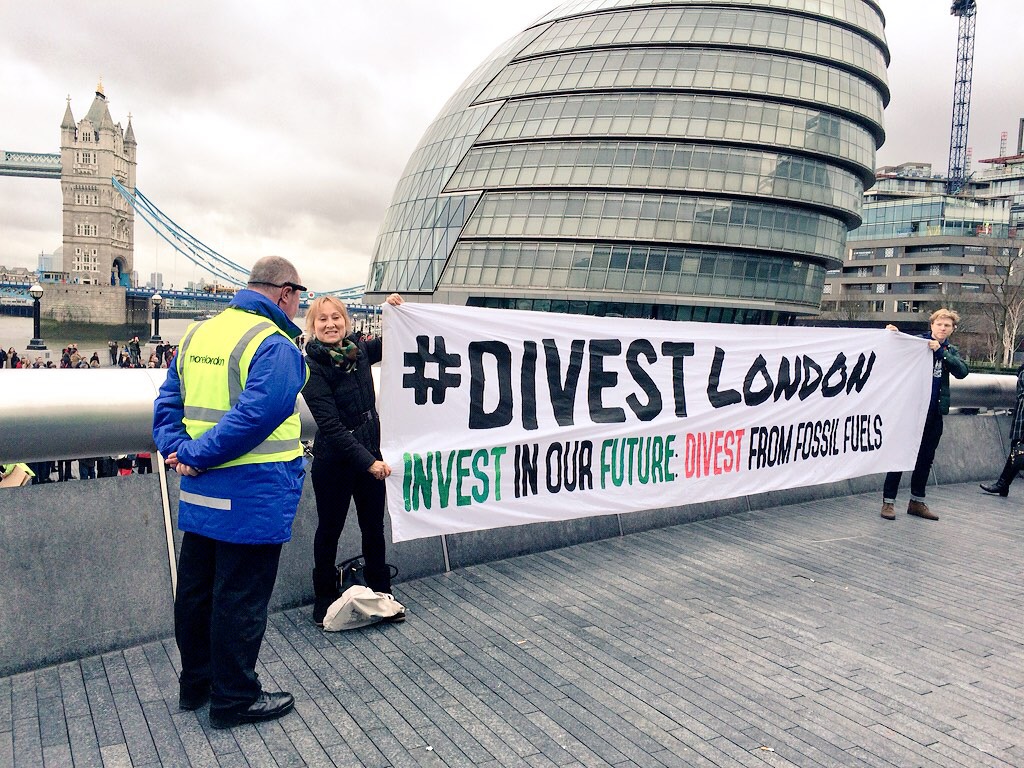 AlexJWhite/Flickr
Last week the University of Edinburgh divested its £1bn endowment from the fossil fuel industry, joining over a third of UK universities to divest over £11bn and becoming the wealthiest to do so. Days later, a vote in Ireland set the country on the road to becoming the fourth in the world to ban fossil fuel extraction on its territory.
$6tn has now been divested from the fossil fuel industry, with other recent commitments coming from New York City, which is also suing Big Oil in the Federal Court, and insurance giant Axa which ditched coal and withdrew insurance for three major oil pipelines.
Fossil Free doesn't appear to be the most radical movement. It comes with the crisp branding of 350.org and doesn't speak of anti-capitalism, revolution or post-scarcity communism. But identifying the fossil fuel industry as our common enemy and demanding 100% renewables comes from a radical critique of corporate power and its incestuous relationship with the state. Divestment may have made its way into the rhetoric of liberal political elites, but it's these demands and critiques that have propelled the climate movement to its largest and most powerful ever.
Divestment expresses collective power by leveraging reputable institutions with significant capital to affect grassroots ambitions for the political marginalisation of the fossil fuel industry. Through it, we're building a radical common sense and organising communities globally around the inseparability of climate crisis, corporate power, colonialism and demands for just transition. We're winning the argument from the smallest campuses to the largest municipal governments and creating space for radical state-level policies for climate justice to fill the void left by fossil capital.
But even as divestment enters the political mainstream, embraced by liberal politicians like Bill de Blasio and Emmanuel Macron, climate breakdown persists. Despite their support, the fossil fuel industry still receives the financial and political support of many in the nexus of supranational power, including the EU and the finance and insurance sectors, allowing it to impose more extractive infrastructure despite the deepening consensus that we must avoid a carbon lock-in to avoid catastrophic climate change. The burden of resisting those projects falls on indigenous communities, historically colonised people in the Global South, and the global poor. Sometimes they win, sometimes fossil capital is too powerful. Either way, we must ensure these projects are never even considered before direct action becomes necessary.
What next then for the radical climate justice movement? We are winning concessions that are rapidly degrading the fossil fuel industry's social license to profit from climate crisis. Now it's time to use a diversity of tactics to finish of fossil capital and implement a radical programme of just transition to a post-fossil fuel society.
First and foremost, the Fossil Free movement must move beyond the comfortable position of its increasingly common-sense critique of the fossil fuel industry. We must develop a programme of propositional demands for a post-fossil fuels future and use a range of tactics to win them. We already have existing structures capable of facilitating such a process, such as local organisations and 350.org as an overarching resource. Developing a programme we can rally behind requires thousands more people having hundreds of debates, and many more essays to flesh them out. Our demands must push the boundaries of the politically possible, lay claim to the future, and materially decarbonise and decolonise global economies.
Second, we must recognise that the fossil fuel industry can't fund new extraction infrastructure without finance from major banks. With a strategy of direct action and targeted institutional boycotts we must demand they ditch all fossil fuel finance. People & Planet have already begun targeting Barclays, but this tactic must scale globally to successfully drive a wedge between fossil and finance capital to accelerate exploitable tensions within capitalism.
Third, we must show solidarity with the global labour movement. We can't separate struggles for climate justice from struggles to fundamentally transform society. The profit motive driving both the exploitation of labour and colonial theft of land for fossil fuel extraction must be ended. By organising in solidarity with trade unions and on the front lines of fossil fuel extraction, we can build workers' and community power including and beyond electing a Labour government. We can co-develop policy to exile fossil fuels and ensure prosperity for workers and communities currently relying on fossil fuel infrastructure.
Fourth, we must fight climate change through litigation. As some governments legislate to totally exile fossil fuels, most are lagging. For those, we can work with radical lawyers to leverage the legal system into forcing governments into action consistent at least with the Paris Agreement. Most climate law is inadequate, so we should attempt to create new law mandating action and experiment with legal innovations like leveraging human rights law to create new possibilities for movement building and policy formation.
Failing all else, we still need capacity to shut down new projects before they begin. This means building networks of solidarity where those organising mostly in different movements are primed to respond rapidly by mobilising for mass blockades at key moments. For this, climate organisers must reliably lend their own solidarity to other movements and use our resources to train and educate a critical mass of protectors.
Alongside these ambitions, we must remember that divestment is foundational to climate justice. For every major city divesting and suing Big Oil, we need dozens of successful campus campaigns, and hundreds of organisers building consensus around radical climate solutions in communities and guarding against mainstream co-option. The struggle continues.