A Dangerous Threat to Our Autonomy to Organise As Students
by Hope Worsdale
8 March 2018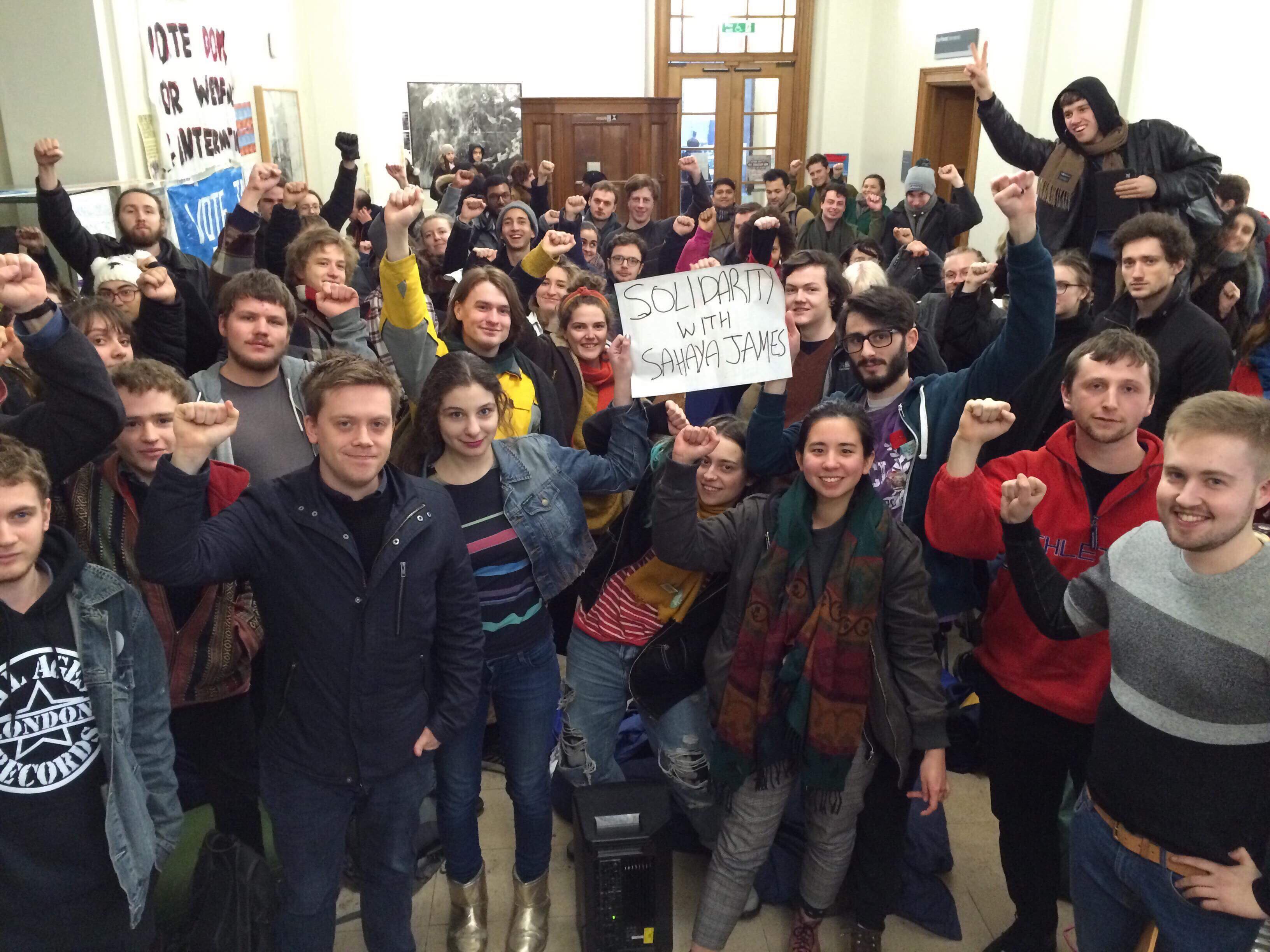 Elected students' union officer Sahaya James is facing disciplinary threats from University of Arts London (UAL), as well as dismissal from her role as campaigns officer at the university's students' union, Arts SU, after leading a student campaign against her university's participation in gentrification. Unelected managers in our universities and students' unions have no place setting the rules for student political activity. If James is sacked, it will set a dangerous precedent for the political autonomy of the student movement.
On 23 January, students occupied offices at UAL's London College of Communication in Elephant and Castle to protest their university's complicity in the social cleansing of the area. After a series of attempts to clamp down on the week-long occupation, the university decided to freeze out the occupiers by denying them access to toilet facilities – in breach of the university's own policies regarding student protest.
The students packed up and left on 30 January. But not without some success. Property developer Delancey, UAL's partner in the plan, was running scared and not long after announced they would delay their planning application to the council to try to come up with a better offer – although community campaigners have since voiced their disappointment that new plans still fall far short of what is needed.
But on 1 February, James, one of the leaders of the anti-gentrification campaign, received notification from UAL that she would face a disciplinary process, ostensibly for breaching health and safety rules by opening a fire door at one point in the course of the occupation.
The disciplinary process has dragged on for over a month, and James has been left entirely in the dark, yet to receive any written details of a hearing or what will happen next.
James has been restricted access to university buildings and prevented from carrying out her job as a student representative, stalling her campaigns to Cut the Cost of Study and for Justice at Work at the university. Then, on 22 February, unelected managers at James' students' union organised for a motion of no confidence in James to the union's trustee board, which will meet this week to vote on her dismissal. Both UAL and Arts SU have put out public statements denying UAL has had any involvement in the motion of no confidence and stating that it is an internal matter for the students' union.
It is not only the timing of this that would suggest otherwise: the "causes for concern" document produced by an unelected union manager, which forms the grounds for the no confidence motion, includes complaints about James's political activities, which she believes can only have come directly from UAL. Coordination between union and university managers is not unheard of, but it would be a worrying betrayal of students.
Far from having nothing to do with the anti-gentrification occupation – as the university and students' union publicly claim – the document repeats the fire door complaint made by university management. The idea that the action posed a genuine risk to student safety is ludicrous and quite clearly only a pretext for punishing James.
Another of the concerns raised by the student union staff revolves around a campaign James led in partnership with the university's GMB union, where she tried to hold the university accountable for alleged negligence over students' and workers' health and safety on the university's newly redeveloped Camberwell College campus.
In order to open the campus in time for the new academic year, UAL welcomed students and workers into an unsafe building: building works were still ongoing and not a single risk assessment or fire check had been carried out; an exposed asbestos disposal bin would later be found and there was no running water across an entire floor where chemical products were to be handled.
James stands accused in the document of spreading false information about the situation, but the GMB union publicly contests this complaint – particularly as her statements were written in conjunction with the union and unanimously approved by a vote of the technical staff across all unions on the site – not to mention signed off by all elected officers in the students' union.
Whether or not UAL are involved in the attempts to sack James, this affair is deeply concerning for the student movement and student unionism, representing an attack on the political autonomy of elected student representatives by unelected union bureaucrats.
The document raises a number of issues around how James prioritises her time as a student officer, criticising her for dedicating herself to campaigns for free education and better working conditions on campus – as James was elected to do in her manifesto – over attending meetings of obscure university councils.
As a student union officer myself, elected on a free education platform, this is of real concern. Students' union managers have no business dictating to elected student representatives what sorts of political activity they should pursue – that is up to students themselves.
While students' unions across the UK have complex organisational structures that leave elected representatives vulnerable to this sort of pressure, we must be clear now that our students' unions exist to democratically represent the views of their members, not university management.
We can be sure that university and union officials across the country are watching this situation unfold and will take success here as a precedent to suppress disruptive political activity on their campuses. As such, this is not an individual issue, but a collective one – we must stand with James and fight tooth and nail for the political autonomy of the student movement.