Why Is Turkey Attacking Afrin?
17 March 2018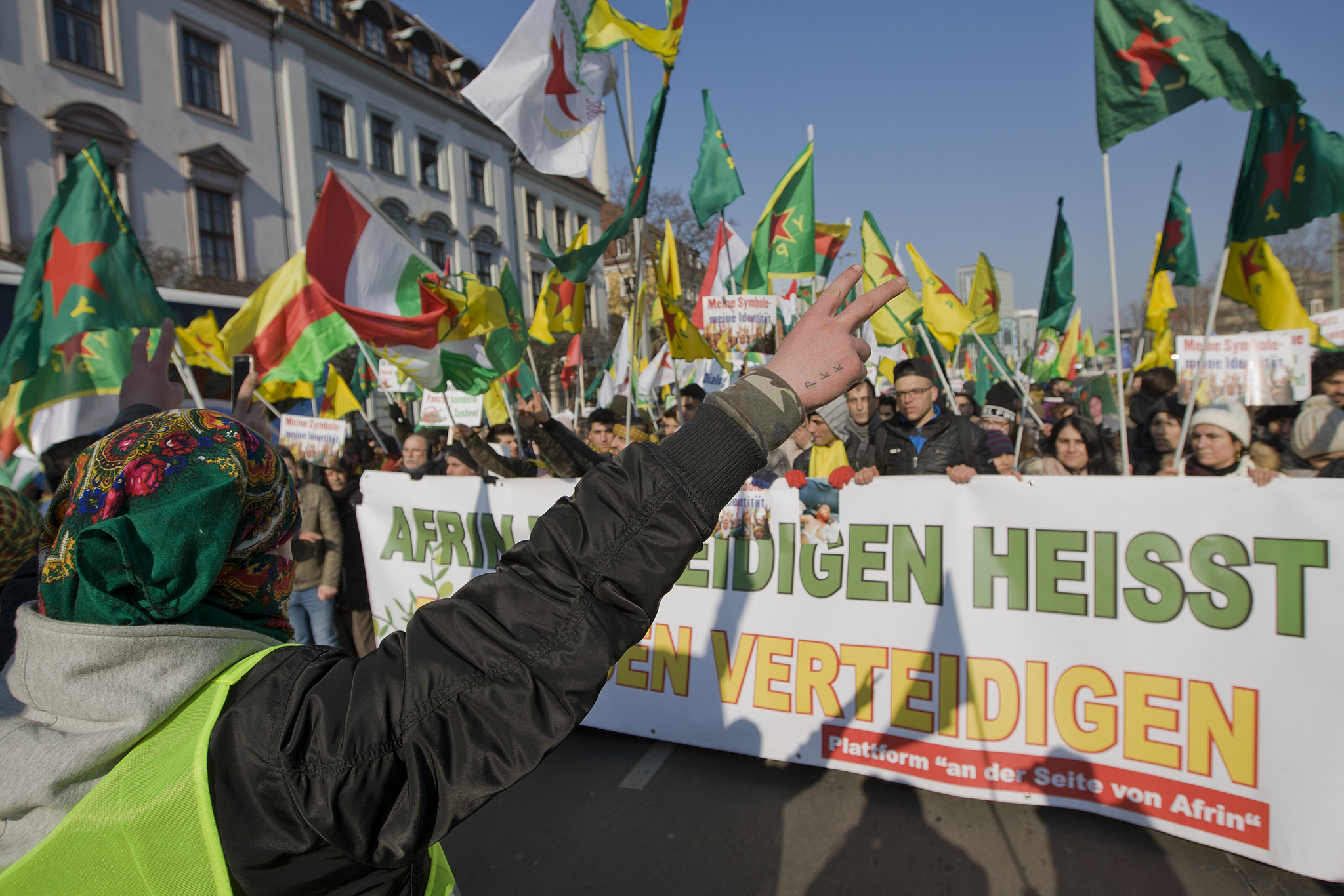 Matthias Berg/Flickr
"The Rojava revolution is midwife to the birth of another world," explains writer and feminist Rahila Gupta for CNN. She then quotes Turkish leader Recep Tayyip Erdoğan: "Our mission is to strangle it before it is even born."
Turkey is attacking Afrin, part of the autonomous Democratic Federation of Northern Syria (DFNS). The operation began two months ago, during which time Turkey is alleged to have committed war crimes.
Initially known as Rojava, the predominantly Kurdish DFNS was the first force to resist and hold back Isis, drawing international attention in the battle of Kobanê in 2014/5. Before then, Isis's march across Syria and Iraq seemed unstoppable. But the DFNS has liberated swathes of land from Isis, and after the liberation of its de facto capital Raqqa, the DFNS spanned a third of Syria.
Britain has strong international ties to Turkey, despite allegations it is supporting Isis as an ally against the Kurds, particularly the secular Kurdish-led DFNS. According to WikiLeaks, leaked emails substantiate how Turkey has helped sell Isis oil. Extensive evidence suggests Turkey is providing military support, allowed foreign fighters passage, and provided intelligence and training, amongst other support.
Where is Afrin?
Afrin lies in the western part of the DFNS, which was formed in mid-2012. After Bashar al-Assad's government forces retreated during the Syrian civil war, the people took control. The new system of governance is based on a democratised economic model of cooperatives, where the economy serves the people. Previously known as Rojava (Kurdish for 'west'), the autonomous region changed its name to DFNS in 2016.
From the ashes of Syria, the DFNS has provided a sanctuary to 2m internally displaced refugees. It is rare globally in that it enshrines human rights and welcomes refugees. Despite an embargo by Turkey, the democratic federation – including Afrin – has provided sanctuary to refugees, including for those fleeing massacres and genocide from Syria and Iraq.
Why is Turkey attacking Afrin now?
Turkey claims it is attacking Afrin to secure its borders. But as Gupta asked at the parliamentary launch of the Women's Initiative for Peace in Afrin: "Since when has it been legitimate for a country to secure its borders by carving out 30km of a neighbouring state?"
Turkey has intensified human rights violations against its own Kurdish population since 2015, and is now expanding its persecution of Kurds to neighbouring Syria.
"The reason for the invasion is two-dimensional. One is structural, one is conjuctural [a combination of circumstances]," said Kamran Matin, senior lecturer in International Relations at the University of Sussex, speaking at a Kurdish Student Union event in February.
The structural reason is related to the fact that ideologically the DFNS challenges everything about the Turkish government. The democratic federation is concerned with women's liberation, anticapitalist in ethos, secular, and challenges the idea of the state. Erdoğan wants to crush this people-power.
Matin explains that domestically, Erdoğan has intensified his attack on the Kurds to galvanise support for his ultranationalist agenda, not least as Turkey's economy is in trouble.
International implications.
According to Matin, due to the successes of the DFNS in neighbouring Syria, Turkey's priorities have changed from overthrowing Assad to containing the Kurds.
Under embargo, surrounded by enemies, the DFNS has taken various strategic alliances for survival. It is important to remember that Syria's conflict also involves a number of international powers, often backing factions duplicitously. This explains why the US and other western powers have simultaneously supported DFNS against Isis, whilst remaining strong allies with Turkey. Russia's role is also complex. It had offered some political support to DFNS, but appears to have shifted stance. Matin explained that Russia and Turkey have now basically agreed to ignore what the other does in Afrin and Idlib [in Northwest Syria].
But last month, a former Isis fighter asserted that Turkey is now recruiting ex-Isis fighters in its attack on Afrin.
The coordinator of the Kurdish Student Union, Elif Sarican, described Turkey's closer alliance: "When they could not control the Isis forces enough to defeat the DFNS, they have created an area and environment for the defeated Isis members to continue their fight."
"The fact that Turkey is allied with the jihadist Isis forces alone shows that this is a fight against humanity," she added.
Meanwhile, the UK government is playing its own underhand strategy. Turkey is 'priority market' for UK arms sales. Based on previous wars in the Middle East, it likely sees the national interest amounting to British multinationals taking the spoils, as they did in Libya and Iraq.
The reason, perhaps, why Boris Johnson has supported Turkey's invasion of Afrin. "Watching developments in Afrin closely," he tweeted when the attack began. "Turkey is right to want to keep its borders secure. We share goal of reducing violence and keeping focus on most important task: a political process in Syria that leads to the end of the Asad [sic] regime."
Solidarity with Afrin.
Sarican calls for global solidarity. Almost daily, Kurds have been taking direct action in the UK and across Europe, including mass protest outside PMQs at Westminster, blocking the Westminster Bridge, and occupying the train tracks at Manchester Piccadilly and London's King's Cross.
"Ultimately the war being waged is not just against the people, but it is against the [democratic confederalist] system… to be in meaningful solidarity it is important to understand what that system is about."
Meanwhile, the intensifying pro-Afrin protests and a growing solidarity movement behind it, including the Women's Initiative for Peace in Afrin, also seek to unveil and stop the UK government's hypocrisy.
As Labour MEP Julie Ward made clear in a statement read out at the initiative's launch: "The current attack on Afrin by the Turkish state is an attack on women, it is an attack on all of us and on our democratic values. It is an attack on the future… [DFNS] is a pathway to inclusive and sustainable peace, we need to all take note."