Why #Spycops Victims Walked Out of the Public Inquiry
by Connor Woodman
21 March 2018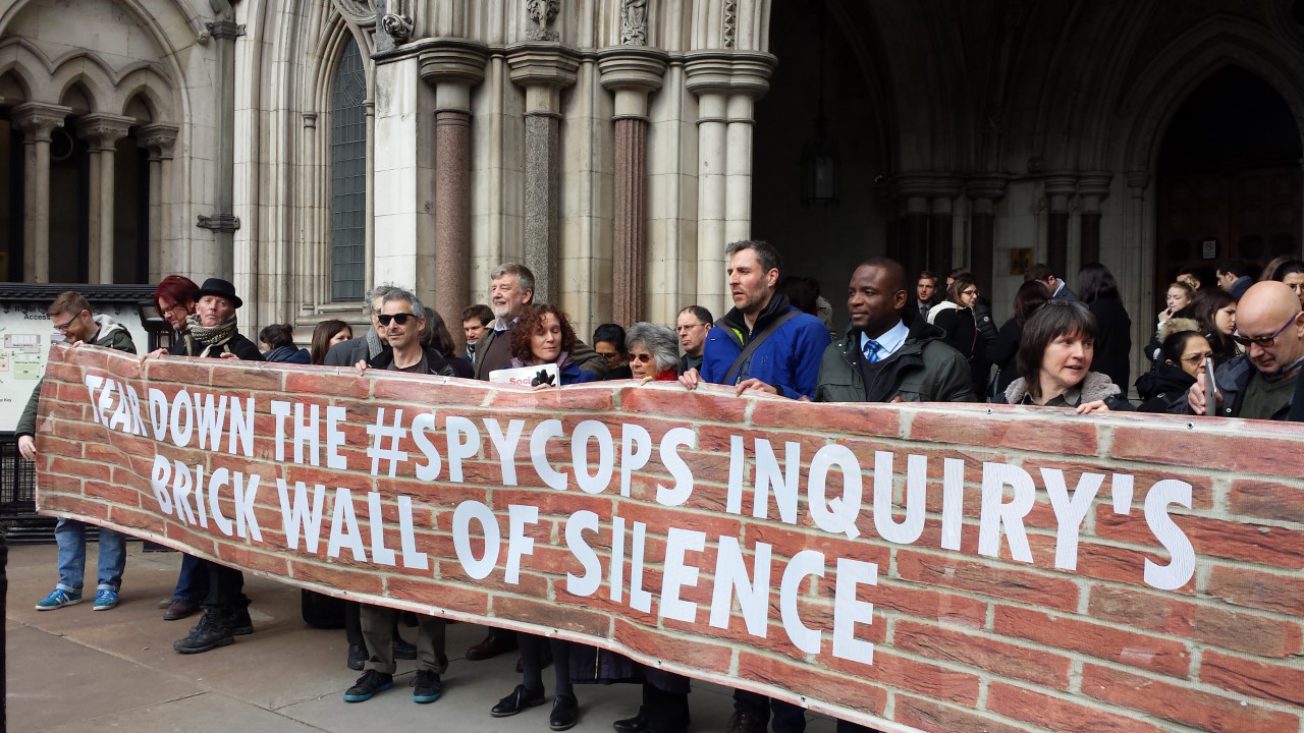 Following revelations that undercover police officers infiltrated hundreds of political and justice campaigns in the UK, the government launched an Undercover Policing Inquiry in 2015. Three years later, to cries of 'no justice, no peace', dozens of spying victims marched out of the latest Inquiry hearing, denouncing the process and calling for the resignation of presiding judge John Mitting.
The hearing was set to examine applications submitted by former undercover police officers requesting anonymity during the inquiry. It was just getting underway when Phillipa Kaufmann QC, representing hundreds of 'spycops' victims, made a dramatic statement.  
In condemnation of the Inquiry's extensive secrecy and Mitting's bias towards the police, Kaufmann called on the judge to step down, stating that "we refuse to be window dressing any longer."
'We gave Mitting a chance, we came to this in good faith,' Merrick Cork, an environmental activist and spycops victim, told Novara Media. "But he has proven himself to be absolutely incapable of doing the job. He's got to go."
The Undercover Policing Inquiry is examining 40 years of undercover policing operations, during which over 1,000 political groups were infiltrated, including anti-war groups, socialist organisations, anarchist collectives and campaigns by the families of people of colour killed in police custody. Officers formed long-term relationships with women activists, even fathering children before disappearing into the ether. Undercover cops stole the identities of dead children, appeared in court under fake names, and one allegedly fire-bombed a Debenhams's store in the 1980s.
The conflict between the Inquiry chair and the spied upon has been brewing ever since the Inquiry's previous presiding judge, Christopher Pitchford, died unexpectedly last year. Immediately, spying victims raised concerns about the replacement judge, John Mitting, noting his prior legal experience in 'Kafkaesque' secret surveillance courts. Concerns about his membership of the elite, men-only Garrick Club were also raised, given that a key function of the Inquiry is to examine the routine abuse and manipulation of women activists.
The secrecy surrounding some former officers is so intense that Mitting declared during an earlier hearing that victims were going to hit a 'brick wall of silence' in their attempts to get the officers' names. For some undercovers, the public are not being told whether the cops infiltrated left- or right-wing groups, or even when their deployment was. Mitting's refusal to reveal some cops' cover names on the grounds that their family lives would be disrupted by media attention has been particularly poorly received, given the disruption to activists' personal lives caused by police infiltration.
The straw that broke the camel's back came at the February 5 hearing this year, when Mitting stated that an officer who had a long-standing marriage after their deployment would have been less likely to have slept with activists whilst undercover. Despite being greeted with derision and jeers from the gallery – and admitting that his views may be 'naïve and a little old-fashioned' – Mitting continued to rely on such argumentation in granting anonymity requests.
The overarching context for today's actions is the growing tension about what the Inquiry should be for. For Mitting, the Inquiry is an objective judicial process through which the totality of evidence and legal considerations are weighed in his mind, and a final adjudication is reached on the questions laid out in the terms of reference. As long as he knows all the information he thinks is necessary to form conclusions, he sees no need for that information to be shared with the public or the spying victims. For the spied upon, however, the Inquiry is largely a source of information, and Mitting's own positionality – as a white, male, upper-class Knight – will inevitably inflect his decision-making.
As Suresh Grover, director of the Monitoring Group, told Novara Media: "inquiries are not expected to bring justice to anything, we don't have any illusions about that." Grover speaks for many of the spying victims when he states that, "the outcome for me is really getting my file and finding out how the spying took place". Victims don't need to be told that the undercover officers did wrong – they already know that. What is needed is a full and transparent picture of the nature of police infiltration, and some idea of its broader consequences.  
The Inquiry teeters on a knife-edge. If nothing is done to satisfy the concerns of the core participants soon, a mass strategy of non-engagement will likely commence, rendering the process completely illegitimate.
Ultimately, we can't lose sight of what brought this Inquiry into being. As Grover states, "undercover policing can be summed up in this way for black and Asian communities: they lied to us, we died as a result, and then they spied on us … the police has a huge amount of power and influence in our society and it needs to be curtailed."