Uber Eats Riders Facing Precarity and Pollution in Mexico City
by Caterina Morbiato
3 April 2018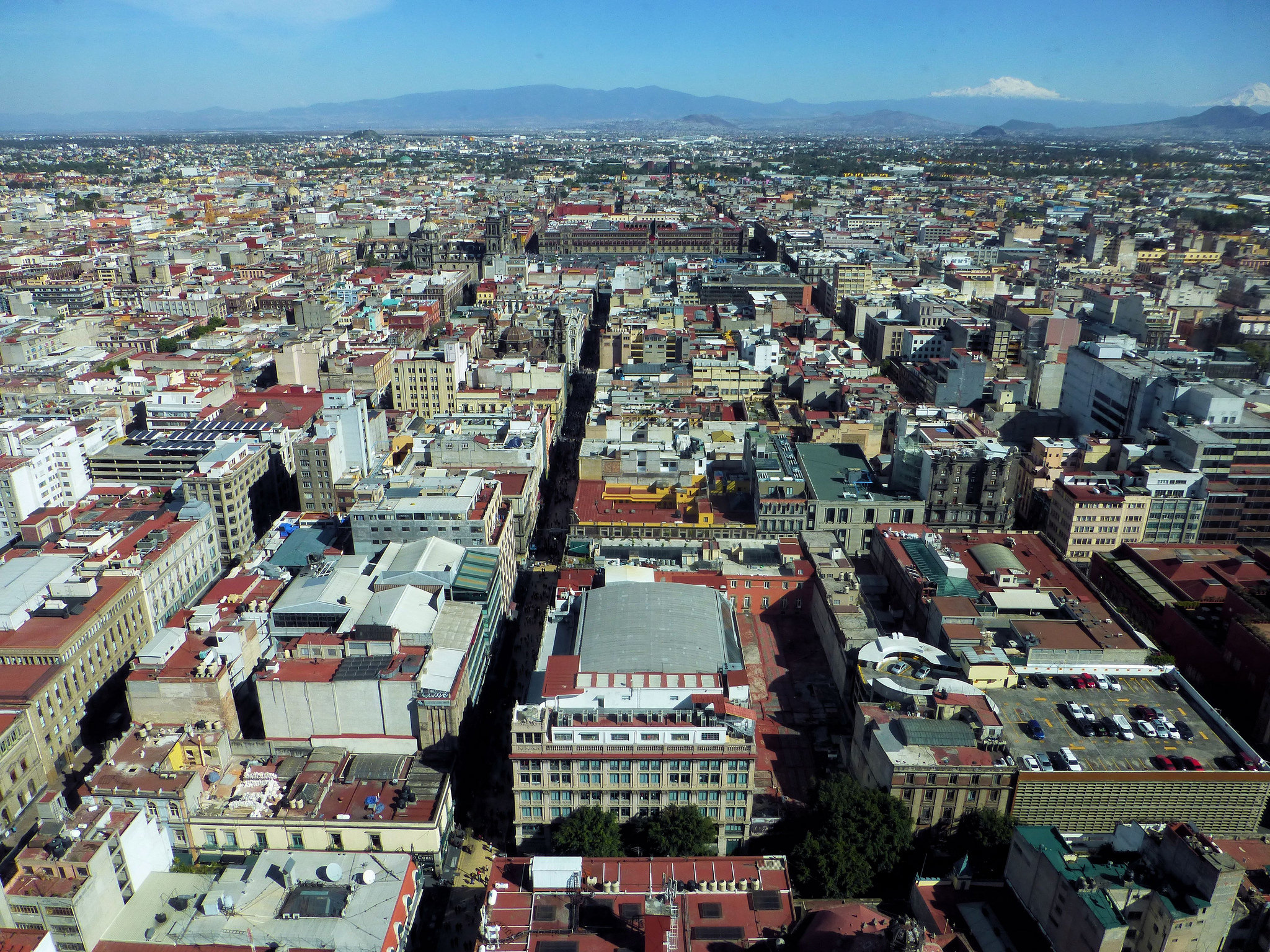 Kevin Sato/Flickr
Arandeni never thought to call them. It made no sense. Since the beginning it has been about making money, riding her bicycle all day long, and simply organizing her schedule however she liked. She was her own boss. Anything was better than keep wasting her time locked up in the grey cafeteria where she used to work.
Riding through the big city: that was an adventure. Snaking down its crowded avenues, looking for new shortcuts: adrenaline served 24/7. The urban details she had never seen before, spotted everywhere on every corner, tracing a totally different landscape. She felt she was part of the troop. That bunch of riders facing the 'monster city', with its 20m people, its terrific traffic jams and its aggressive pollution.
She was headed to La Roma — one of the most hip districts in Mexico City — to see if she could get food orders. Riding along Cuauhtémoc Avenue, a dangerous road where cyclists prefer to ride in the bus lane, she took a fall. "I wasn't paying attention and I stumbled upon one of the plastic barriers that separate the lanes. I fell and landed on my left hand."
Arandeni never thought of calling the company she was working for. What for? She knew Uber Eats would never respond in a case like hers, especially as on this occasion she wasn't carrying any food. Instead she called her brother and two colleagues.
The pain radiated from her hand. At the nearby hospital, the doctor's diagnosis was that Arandeni had suffered a serious distal fracture. She had no choice but to undergo surgery.
"It would be great if Uber Eats provided some kind of medical care," says Arandeni now, examining the vine shoots tattooed on her left forearm. A fresh scar cuts them off at the wrist. "Many of us have been hit by cars, or have had some kind of accident. Uber just doesn't assume any responsibility. And it doesn't do that because you are not its worker. You are a self-employed contractor."
The Mexican market.
In Mexico, Uber has grown fast. In only four years, the country became the third largest market for the company – the top two being the United States and Brazil – with about 7m registered users. So far Uber is active in 21 states and 35 cities. If everything goes to the firm's plans, by the end of 2018, ten more Mexican cities will be uberized.
Uber's success hasn't been immaculate. As in other parts of the world, groups of taxi drivers demonstrated against the company, denouncing its unfair competition. The governments of some states, like Querétaro, Guanajuato, Puebla, responded by drawing up measures to regulate Uber's activity in their jurisdictions. But so far the biggest controversies have been those involving passengers. Recently, complaints of assaults, robberies and rapes have escalated, and safety – a feature Uber has always lauded as its first priority – has become a major problem for the firm. Nowadays, Mexicans don't trust the service the way they used to just a few months ago.
Despite the critics, Uber still considers Mexico one of its most important markets. By the end of 2018, the company plans to invest $360m (£257m) with the intention of doubling its number of drivers – from 230,000 at the moment – and extending service across the country. Uber Eats, Uber's food delivery platform, was first launched in Mexico City in October 2016 before expanding to other cities, mainly in the central and northern states. At present, it serves more than 4,000 restaurants. As in the UK, riders can choose to do deliveries with motorcycles or bicycles.
The hiring process is simple: you don't have to show up to a job interview, demonstrate any kind of previous experience, or show specific documents. In fact, you don't even need to sign a contract: the relationship between workers and the company is almost entirely managed through the app. Due to the ease of the onboarding process, within a few months of the app's launch of the app squads of riders started to plough through the cities connecting thousands of users with meals.
Extra cash.
A dozen Uber Eats riders gather around the Carl's Jr on Bucareli Avenue in downtown Mexico City. The fast food restaurant is one of the busiest for deliveries and serves as a meeting point for riders. But the day seems to be slow. Some drivers have dropped their bikes and lie down on the floor. But even those who've come from far away don't take their eyes off their smartphones and tablets for more than a second: an order may arrive at any moment.
Waiting can be tiring. Especially when you are paid per delivery and don't get a guaranteed hourly income. In Mexico City, a rider's pay is made up of the pick-up fee (14.30 MXP, or 55p) plus a delivery fee (4.30 MXP, or 16p) plus a kilometre fee (5.70 MXP, or 22p). For each trip, Uber deducts 35%.
A wage like this hardly permits making extra cash working during your spare time or only at weekends, as is assured on Uber's website. To make the day work many Mexican riders keep connected to their app up to ten or twelve hours per day, especially those who come from the suburbs and need an hour or more to reach the central neighborhoods, where they will be in greater demand.
Like the majority of riders, Diana lives on the northern outskirts of the city. It takes her almost an hour to ride back home, which is why she now unsure whether she ought to keep waiting for an order in front of Carl's Jr, go to "hunt" in other areas, or disconnect from the app. Recalling what motivated her to work as a delivery rider, she explains it was because she wanted to become more resilient and loved spending time outdoors. In the beginning, Uber Eats was quietly satisfying because of the bonuses it offered. She could get them weekly, or on Sundays and on other special occasions. But things changed fast: it soon became more and more difficult to complete the minimum number of orders to achieve the bonus and within a year their value has been heavily reduced.
While waiting for a call Diana shares her doubts with Doris, another rider who showed up at the meeting point: the two of them have been connected for six hours and have delivered just four orders. They earned 100 pesos (£3.81) each.
It's August – holiday time in Mexico. But the vacation isn't the only reason orders don't arrive.
"We've got an oversupply of riders and Uber doesn't regulate it," Doris complains. "Take Sundays – that is when you normally work more: you go to Condesa neighbourhood and it's infested with riders. There are more riders than food orders."
Uber, like similar platforms, recruits thousands of riders. The strategy permits Uber to have a huge number of available and easily interchangeable workers, while promoting itself as a dynamic firm that generates new employment and helps to 'revitalize local economies'. Nevertheless, the reality feels like hyper-flexible wages, neglect and economic exploitation for growing numbers of people.
The sky has turned grey and the first drops have begun to fall, heavy and sharp. Diana and Doris still don't know what to do: many riders back out when it's raining, which would suggest a better chance to get some orders. On the other hand they feel tired and disillusioned, the extra cash promised by Uber proving hard to get.
Toxic streets.
"Rain is a relief for the city because pollution diminishes. OK, it goes from one form to another, but at least we are not breathing it." Sat at her laboratory desk, Dr Patricia Segura Medina, head of the bronchial hyperreactivity department at the National Institute of Respiratory Diseases (INER), explains the complex array of toxins people inhale each day in the metropolis.
Lead, ozone, particulate matter, carbon monoxide: Mexico City's air is like a minefield for the lungs. The 5m cars that take to the streets daily, together with aerobiological and other anthropogenic contaminants, continually threaten the possibility of good quality air.
"Cyclists are the most exposed," says Dr Segura. "The air quantity they need is two to three times higher than someone who is sitting without doing any kind of exercise. Moreover, they are supposed to ride just five metres from the source of pollution. Here cycle lanes are just one metre wide, and cars and buses invade them often."
Air pollution is a huge problem for Mexico City and its citizens. That's why, on days of particularly low air quality, INER recommends that "children, older adults and people who do any kind of intense physical activity should restrict their long-term outdoors effort". Physical exercise and the long hours spent outdoors are the inherent conditions of a rider's job. Moreover, it is one of the more enjoyable aspects of the job according to many Uber Eats riders who sail across the city.
"Air pollution is a serious occupational risk," explains Dr Segura. "But in Mexico we don't take occupational health into account. It would be really difficult for a bike courier to demonstrate that they got ill because of work."
Unending precarity?
In Mexico City, being a delivery rider is not an easy task. Poisoned air and streets that are still inhospitable for bikes are just some of the several threats riders face. In many neighborhoods the chance of being assaulted is high and workers prefer to cancel the order rather than risking their lives. However, repeated cancellation is not a viable option since it could incur a bad rating from the customer and, in the long run, result in less work. So, many riders live with the fear of being robbed: cell phones, tablets, bikes, motorcycles and even their black delivery bags could be tempting goods.
Losing one of these belongings could seriously damage a rider's own precarious economy, always depending on the whim of the on-demand market. Along with that, Mexico's Uber Eats riders lack basic workers' rights: they don't get paid vacation, nor do they have medical insurance or any kind of employee benefit.
But in case of an accident, like what happened to Arandeni, the community of uberenos comes together and reacts. The same happens when someone is attacked, or needs help to change a flat tyre; or during the "death hours", when chatting with colleagues could be a cool way to kill time; or when new riders have got doubts about the app's operations or need tips about where and when is better to "hunt" food orders. Certainly, the riders' world functions as a small society that joins forces in case of need. In several countries these spontaneous forms of cooperation have been transformed into a useful basis for self-organized action. London, Madrid, Berlin, Turin: Uber Eats riders, along with those who works for other big companies like Deliveroo, Foodora, Just Eat and Glovo, have converged into a united front.
"We know about strikes that riders have been doing in other countries," says Diana. "But in our Facebook group people mostly comment that Uber is only an app. That we are not its workers but contractors and that we cannot demand too much."
While protests and new forms of organization spread across numerous European countries, many wonder if a resistance network will be able to grow this side of the ocean. Eyes are on Mexico: the first Latin American country in the Uber empire.