"It's strikes that win": UCU, Students and the Fight Against Outsourcing
26 April 2018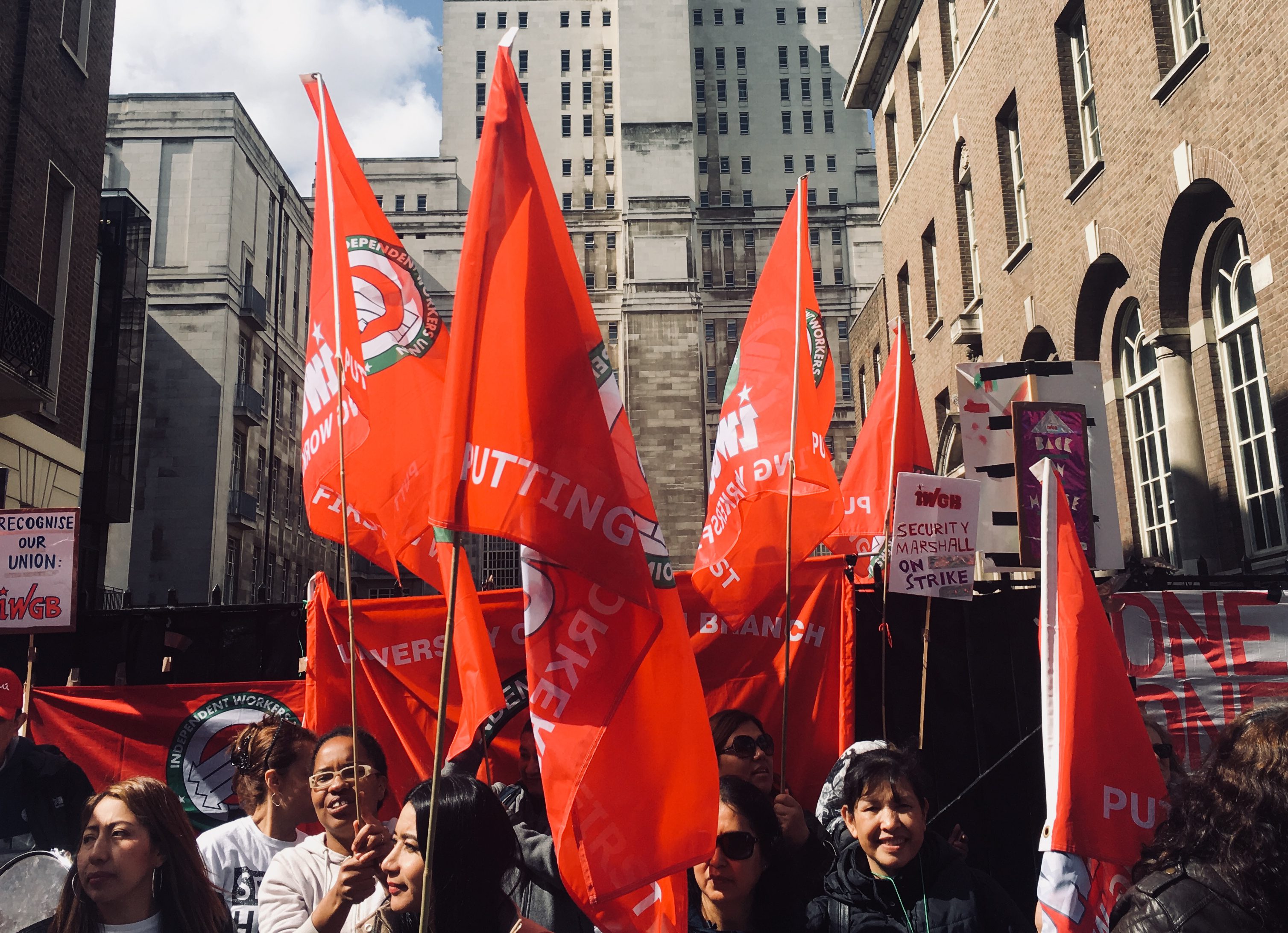 Gordon Roland Peden
On 15 March, the University of London (UoL) branch of the Independent Workers Great Britain (IWGB) union announced an overwhelming 'yes' for strike action, demanding that all outsourced workers receive the same pension, parental leave and sick and holiday pay as directly-employed staff.
On 25 and 26 April, more than 100 outsourced staff, from six different workforces, under three different employers, will stop work at UoL. From near-inactivity just one year ago, how did they manage to build what will likely be the largest outsourced workers' strike in higher education history?
Outing outsourcing.
Back in April 2017, a handful of IWGB security officers at UoL went on strike over pay. At the same time, UVW-repped cleaners at LSE were striking for the same benefits as in-house staff. In mid-May, the groups synchronised their strikes, with their joint march completely blocking Kingsway traffic. As a result, that June, UVW announced that all LSE cleaners would be getting the same benefits as direct employees – and that they'd be brought in-house within a year.
"It's strikes that win things – knocking on doors with petitions doesn't get you anywhere. You need to be out there with whistles, making noise", IWGB member Liliana told me, speaking through a translator.
Liliana is from Colombia and has been cleaning UoL for six years. Why is she striking against outsourcing now? "The university has lots of money and pays the intermediaries, who take their cut", Liliana explained, "because of this we don't know where to start with grievances and complaints, because we don't know who's above who".
Sub-contractors' profits come from working people harder for less, meaning UoL workers' demands for equal terms – plus an end zero-hours contracts, and to honour promised wage increases – is effectively a demand to end outsourcing at UoL.
Following UVW's LSE win, IWGB began organising protests explicitly against outsourcing at UoL in September 2017. UoL Management announced a review in November. But, as an IWGB officer explained, "they haven't engaged with the campaign, except through spending more on scab security at every demo". 
Since April last year, hundreds of UoL workers, from outsourced caterers to directly-employed adminstrative staff, have joined IWGB's branch (according to the same officer, "we're the biggest union on campus, by far"). A petition of support from directly-employed UoL workers got over 500 signatures.
"People are very afraid", said Liliana, who's been bullied at work. "I got over my fear by winning something, by being a witness to the fact that victory is possible".
But it's not just Liliana or IWGB that have changed. Over the past three months, there has been been a significant political shift on UK campuses.
UCU's unprecedented pause.
University UK's (UUK) attack on the pensions of pre-1992 university workers – from a 'Defined Benefit' pension to a 'Defined Contribution' scheme, leaving workers potentially tens of thousands of pounds worse off – provoked an unprecedented 14 days of strike action over February and March. 
IWGB members directly employed by UoL refused to cross UCU's pickets, and instead held a solidarity protest over the 14 days. After that, "lecturers owe it to us, to come out with us, to be united with us", Liliana said.
On Monday 9 March, UCU leadership announced an agreement based around the Defined Contribution pension scheme and within hours, #NoCapitualtion was trending on Twitter, as members sensed a sell out. The day after, at UCU's Camden HQ, branch delegate after delegate reported members' strong objection. 
#NoCapitulation both widened and deepened a sense of antagonism with the bureaucracy of UCU and resulted in several nascent rank-and file-groups gaining coherence. Having momentarily lost control, General Secretary Sally Hunt and the wider UCU leadership needed a new agreement, as the threat of exam-period stoppages – delays to students' graduating – got ever closer.
On Friday 23, Hunt announced UUK's offer of a Joint Expert Panel's (JEP) revisiting the pension valuation, in exchange for ending industrial action. Whilst the majority of branch delegates were against the agreement once again, the JEP approach got a big 'yes', on a substantial turnout. 
With the UCU's huge dispute on hold, there are thousands of activists who want to continue organising. One of them, who wished to remain anonymous, was galvanised by the victory: "these smaller unions [IWGB and UVW] are showing us that the top-heavy, patronising and univocal approach of the employer doesn't have to be mirrored by our union".
UVW cleaners only got rhetorical support from LSE UCU six months into their campaign. But, since IWGB announced today's strike, UCU branches at Senate House, Warwick, and Liverpool, plus the Senate House-based School of Advanced Studies, have backed IWGB's strike.
Given the hierarchy of workers on campus, this support may prove vital in bolstering IWGB's anti-outsourcing campaign. What's more, through increasing solidarity with outsourced workers, demobilised UCU activists can keep their branch's focus on campus-based industrial campaigns, in the process, learning from some of the most successful unions currently operating in the UK. 
2010 is Dead. Long Live 2018?
Most students barely noticed the April 2017 strikes and the majority opinion about UVW's campaign at LSE went from sleepy support to passive hostility, as disruption went into the exam period.
The campaign's shared explanation was that the 2011 Education Act had, as feared, changed student consciousness and campus politics, with many students internalising the understanding of teaching as a service, which staff strikes prevented them from accessing. Despite this, a radical minority, has asserted itself over the past three months. 
When UoL workers started campaigning to be brought in-house, Liliana recalled, "students were fantastic. Often it's been them that are the first out, supporting us…they don't have anything to fear, they don't have anything to fear from management".
"There were around 20 involved initially", said an organiser of the Justice for UoL Workers campaign, who wishes to remain anonymous. But then, over February and March, a new, noisy generation of students backed UCU and around 25 solidarity occupations took place across the UK. Some pickets – Glasgow, Warwick, King's – attracted hundreds of students.  
At the same time, students' support for IWGB massively increased. "We had over 100 involved, and occupied Senate House on the 19th", the same organiser told me. From then until the 28th, they near-enough stopped the day-to-day functioning of UoL's administrative hub.
In the wake of these industrial disputes, students have launched their own campaigns. In March, students at Queen Mary's occupation against cuts had looked blankly at visitors' mentioning the 2010 student movement. But a month later, they announced management's pledging over £500 000 towards bursaries over the next two years. Proof that though it might have a different face, the student movement is committed to organising and fighting back. 
Horizons.
Whilst IWGB have barely affected national industrial statistics, the union's escalation over the last year has been astonishing – perhaps there'll be ten times more workers on strike this Wednesday than there was back in April 2017.
With UCU activists re-animated, and a new batch of students energised from participating in the biggest strike on their campuses for a generation, new possibilities have emerged for staff, teachers and students in higher education; new avenues for organising have been opened up. 
"Yes, I'm optimistic about the strike, about our current demands being met", Liliana said. But, she was also quick to point out, "the problems aren't going to go away once we're in-house. We're going to have to keep making demands. If we remain disunited, companies will keep on winning, and workers will keep on losing".
The strike's Facebook event is here. For news of further actions, follow @IWGBUoL.