Outsourcing Incarceration: Privitisation in Britain's Immigration Detention Estate
by Rudy Schulkind
27 April 2018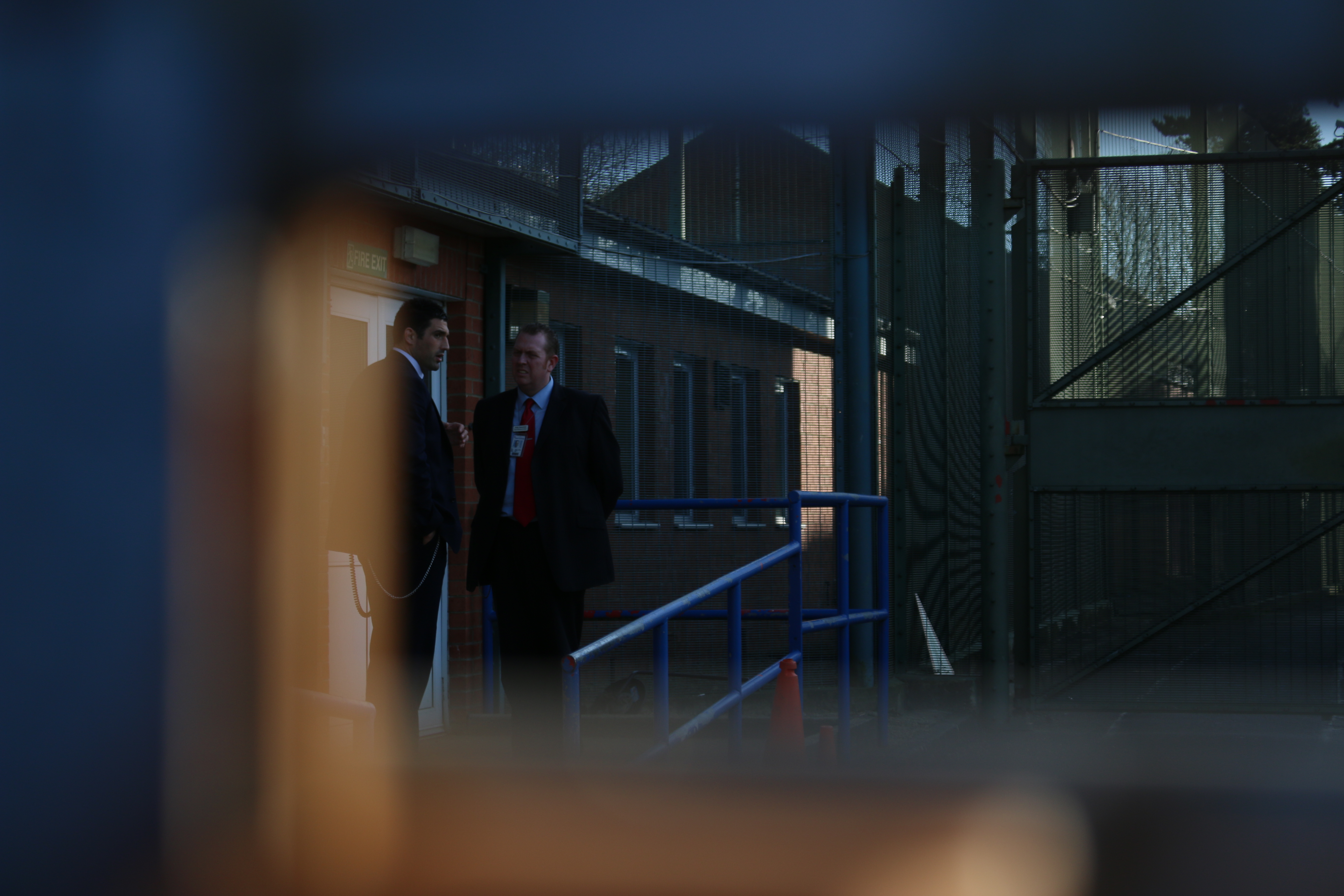 Serco CEO Rupert Soames, sporting a branded t-shirt adorned with the slogan "Serco and proud of it", cut a robust figure at last month's Home Affairs Committee inquiry into conditions at Yarl's Wood and Morton Hall IRCs.
During a grilling from the Committee's Chair, Yvette Cooper, he defended his firm's running of Yarl's Wood in the context of the mass hunger strike, arguing that it was "extraordinarily important that there is a demarcation between the people who are looking after you, making sure that you are fed, that you have access to food, the religious stuff and the activities, and the people who are making the decision about your immigration status."
The emptiness of Soames' position was emphasised by the presence of his brother, the Conservative MP Nicholas Soames (both are Winston Churchill's grandsons), sitting in the audience. Each of them represents a different wing of the same British establishment. The relationship between Serco and the state is more complex than the mere 'demarcation' he describes, given Serco's dependence on the state for lucrative contracts. Nevertheless, he highlighted a crucial issue: the Home Office's relationship with the private firms that operate detention centres on the government's behalf.
Detention centres are big business. The government has spent more than half a billion pounds on immigration detention in the last four years. Most is spent on contracts awarded to the giant private firms that run them: G4S, Serco, Care and Custody and Mitie. Just one centre – Morton Hall – is run by the prison service.
Their collective track record is appalling. Serco has been dogged by widespread allegations of sexual abuse in Yarl's Wood and a recent HMIP inspection into Harmondsworth detention centre (Europe's largest) heavily criticised staff and the Home Office for consistently deteriorating standards of safety and respect for detainees; incarceration in a prison-like environment; and over-use of handcuffs, strip-search, and isolation. Last year's BBC Panorama Britain's Immigration Secrets documentary on Brook House was shocking in its brutality. Staff members were filmed attempting to strangle detainees, subjecting them to verbal abuse and falsifying records to cover their tracks.
But as Gracie Mae Bradley argues for Verso, it is just the latest in a string of scandals that have beset these centres 'since their inception'. And to those who work directly with detainees, the stories were depressingly familiar. Detainees' main concerns focus on: staff behaviour; inadequate healthcare; lack of fresh air, poor hygiene and overcrowding; excessive periods of time spent locked up, violence and self-harm. The gravity of the situation is exemplified by the 647 cases of detainees receiving medical treatment following incidents of self-harm in the 20 months before August 2017 (more than one a day).
Once commercial firms have won the contract to manage a detention centre, they seek to drive down costs as much as possible to maximise profit margins. The lack of public scrutiny helps them achieve this. There is no incentive to spend money to improve meals, get rid of bed bugs, maintain hygiene, or even to increase the number of staff and properly train them. According to "Winston", detained in Colnbrook IRC:
"It's Care and Custody, but it's more like profit and custody. Because here is privately owned, there's no duty of care… We are the forgotten people here, we are just numbers and profit. The more people here, the more money the shareholders make… When you go to the healthcare, the healthcare bill comes out of Care and Custody budget".
Some detainees told me that they preferred prison. They cited better healthcare, more fresh air, less "mental torture". As Winston told me, "When I was in jail they sent me to Brook House, I had to beg to be sent back to jail because it was so bad… you've been treated worse than in prison because of profits".
Outsourcing in detention is complex, and different firms carry out different services, which makes accountability a challenge. Tascor (owned by Capita) is responsible for the movement of detainees – for example to court, the airport, or interviews with embassies or high commissions. Hospital appointments or immigration related appointments are frequently cancelled because of failures by Tascor. Detainees sometimes miss their bail hearings because transport is unavailable.
In February, the Guardian reported that a Tascor van taking eight detainees to their chartered flight caught fire, and that the detainees were handcuffed before they were escorted off the van. The van soon exploded. It later emerged that the company which manages Harmondworth IRC, Mitie, was aware that there was an oil leak as there was a puddle of oil on the ground in the bus holding area. Whether Tascor was made aware of the oil leak is not known. In response to the incident, the Home Office simply released a statement which said: "There was an incident involving a Home Office vehicle on the evening of Wednesday 14 February. All those on board were safely evacuated from the vehicle. The welfare of all those in our care is of the utmost importance and we expect detainees to be treated with yy and respect."
In the recent Home Affairs Select Committee session on the management of immigration detention centres, Serco athletically dodged questions about healthcare by arguing they came under the remit of the healthcare provider (which is G4S in Yarl's Wood) or the Home Office. It became difficult to follow who was accountable for which problems.
There are repeated examples of firms evading responsibility and failing to protect the rights, dignity and safety of detainees. But the blame must lie with the Home Office for creating a contractual framework that allows such behaviour.
These situations represent the erosion of rights through subcontracting, a phenomenon with a simple logic that has been replicated across sectors in the global political economy. Political scientist Neera Chandhoke suggests that while democratic rights require a unitary state, globalization and neoliberalism have produced the pluralization of the state. Rights imply duties, and wherever it's unclear upon whom the correlative duties are binding, rights are no longer guaranteed. As governments outsource responsibility for state functions, the locus of responsibility and accountability is diffused through a network of actors. In the case of detention, this confusion of accountability is intensified by secrecy. Journalists can't get into detention centres (until recently, nor could the shadow home secretary) and the details of the contracts themselves are not in the public domain.
Bail for Immigration Detainees (BID), a charity which provides legal advice and representation to immigration detainees, is bringing a public law challenge against the cabinet office in relation to its contract relationship with G4S. "The Panorama documentary confirmed the reports we regularly receive about the disgraceful treatment of detainees in immigration detention," said Celia Clarke, director of BID.
"It was incumbent upon the government to act swiftly and decisively in the light of the appalling revelations broadcast in the programme. We called for the Home Secretary to hold a public enquiry and to suspend G4S from managing detention centres. We also hoped that the government would immediately designate G4S a 'high risk supplier'. To date, we are only aware of an inquiry into Brook House commissioned by G4S itself. Aside from some initial expressions of regret, the government's subsequent silence has been deafening."
In response to BID's pre-action protocol letter, the cabinet office has stated that BID's concerns are not public law issues. It has argued that the government's policy allows it to designate strategic suppliers "high risk" as an aspect of its commercial functions and that the government is not required to confirm if and what action it is taking in respect of G4S contracts generally.
If the government's position is upheld by a court, the government will have succeeded in constructing a framework through which it can evade responsibility for public services. BID will press forward with its challenge. "The cabinet office's relationship with G4S," Clarke says, "cannot be viewed as purely commercial. Government policy makes clear that when considering whether to designate a supplier "high risk", the government should have regard to the delivery of public services. There is a clear public interest here."
Immigration detention is the only setting in which an individual can be deprived of their liberty with no judicial oversight. This in itself is a simple, familiar narrative of abuse of power by the state. It is the fact that must be stressed first, and the one that must be condemned before all the others. When challenging the government on the outsourcing of its power to incarcerate, I do not argue that it would be fine if they found a 'better way' to incarcerate. It is rather that the addition of privatisation and the culture that it produces has led to a situation in which accountably is evaded by all.