Tommy Robinson and His Mates Don't Really Care About Abused Kids or Terrorism
by Benjamin Walters
30 May 2018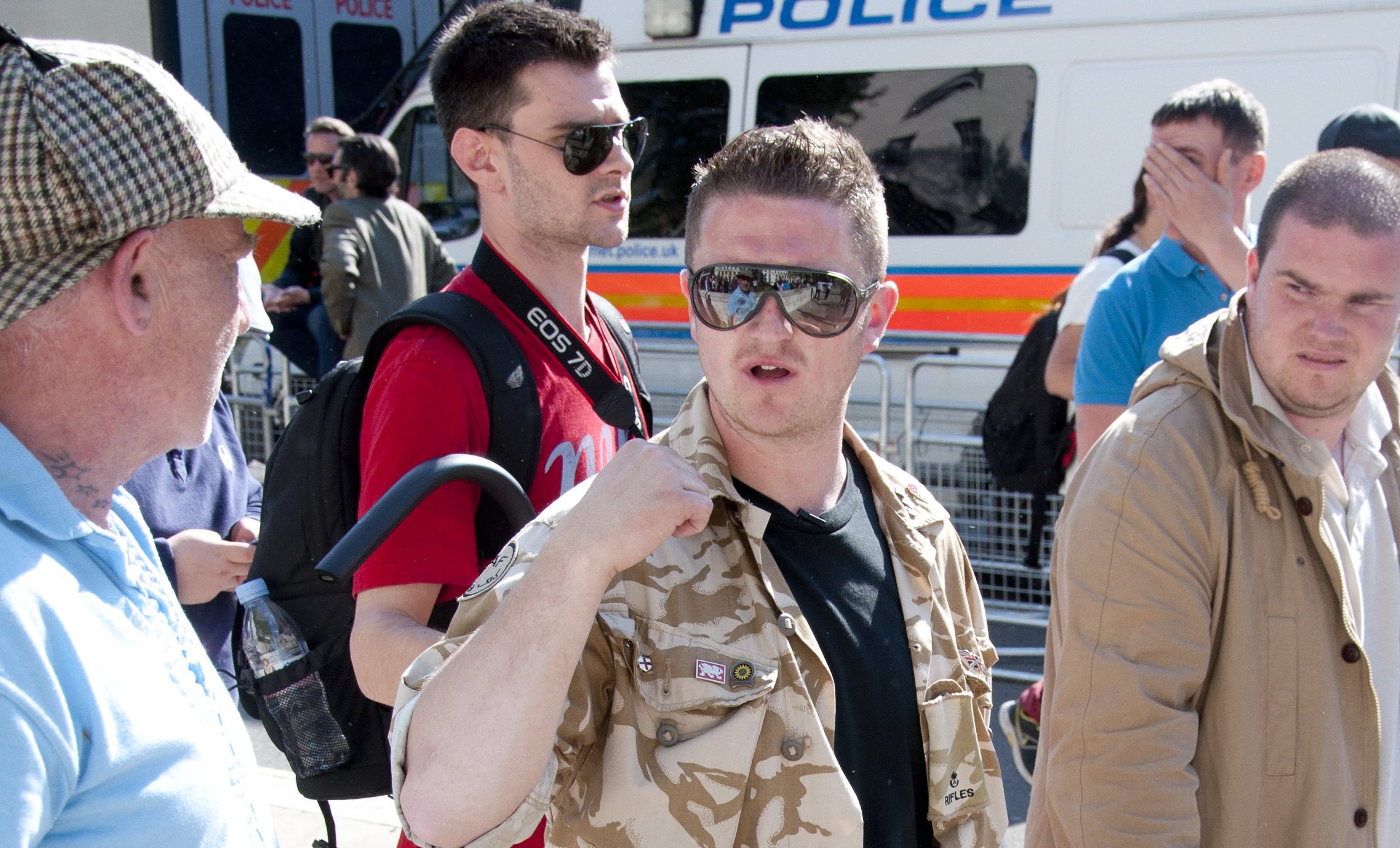 Andy Thornley/Flickr
Tommy Robinson once again finds himself in prison greys. Having plead guilty to contempt of court charges on Friday, he was sentenced to 13 months behind bars. Robinson was arrested outside a court in Leeds where a child grooming case was taking place. He'd been breaching reporting restrictions by livestreaming his attempts to speak to the defendants.
Robinson has a track record of interrupting trials. A few months before in Canterbury, a judge warned him: "In short, Mr. Yaxley-Lennon [Tommy Robinson], turn up at another court, refer to people as 'Muslim paedophiles, Muslim rapists' and so on and so forth while trials are ongoing and before there has been a finding by a jury that that is what they are, and you will find yourself inside. Do you understand?"
The idea behind reporting restrictions is that they can be used by a judge to prevent coverage of the trial prejudicing the decisions of the jury, which would cause a mistrial. An application from the defense for a mistrial could mean the whole trial having to start again with a new jury.  
Having been through the judicial system himself a few times, Robinson knows this. But he still chose to make a tit out of himself to get some easy publicity and a handful more social media likes. Now, rather than the story focusing on the abused children, he's at the centre playing the victim. If he really cared about the damage done here, he wouldn't undermine the trials of child abusers. As usual, he's using the suffering of others to advance his own career.
And maybe, if he's so interested in targeting abusers, he could start with his mates. Richard Price was a leading member of the English Defence League (EDL). In 2011, after he was nicked on a demo, police raided Price's home. They found child pornography. Tommy Robinson rushed to his now-convicted mate's defence, claiming he had no idea how the pictures got onto his computer.
Price isn't the only one. Take Kristopher Allan, a member of the Scottish Defence League who chanted 'Allah is a paedo' one minute and was convicted of sexual contact with a 13-year-old the next. Or John Broomfield, 'Regional Commanding Officer' of Britain First, who too was found guilty of having child pornography on his computer. The far-right are up to their necks in the sexual abuse of children.
The reality is that child sexual abuse is a horrific problem that is too important to be left to far-right muppets like Robinson. If you actually look at the data, it shows the ethnicities of people convicted of sexual contact with children are pretty much the same as the ethnicity mix of the UK.
With the UK welfare system falling apart as a result of austerity, vulnerable working class children are falling through the gaps and ending up becoming victims of systematic abuse. These trials are about how the state has failed working class children – not about race or religion. Not only do Robinson's antics risk the convictions of rapists in actual trials, but his constant finger-pointing at Islam as the sole motivating or enabling factor in these cases runs the risk of allowing those in authority who should have acted earlier off the hook. He's building an alibi for the guilty.
It's the same with the Football Lads Alliance (FLA). Their organisation, founded last year, was meant to be about showing a united front against terrorism. And doubtless some people on its first demos did just care about terrorism. No one likes the Salafists who bomb concerts packed with kids, throw gay people off buildings, keep women as sex slaves and behead hostages.
That's why left wingers from across the world have volunteered with the International Freedom Battalion, a military organisation within the Syrian Democratic Forces that took the fight to Isis rather than drinking tinnies in a town centre and shouting about Muslims. Unfortunately, some of these heroes have been arrested as a result – but the FLA did nothing about it. The only solutions they seem to offer are to give the state more powers to arrest and detain Muslims. But the state is best mates with Saudi Arabia, the main source of Salafist ideology, and has formed alliance after alliance with jihadis as part of UK foreign policy. If they get more powers, they'll only use them to sell more weapons.
A large part of the FLA was always far-right, and care more about promoting hate than they do remembering victims. That's why Dan Hett, brother of one of the victims of the Manchester attack last year, joined a counter demonstration to their last pissed-up remembrance in the city. As he said: "No class. No respect. Not welcome."
Even on their favourite issue of all, free speech, the far-right don't really give a shit. Robinson and the FLA are always on about how much they love free speech. It's become the favourite slogan of a section of the right. But if they care so much about it, why do they attack speakers' corner veterans and Muslim bloggers?  
On every issue, the far-right are talking out their arses. They don't care about preventing child abuse, fighting terrorism or protecting free speech. They care about finding scapegoats and pushing their divisive agenda. They look at all the problems facing the UK in 2018 – falling wages, insecure work, bad housing, failing public services – and then blame people of different religions and skin colours. They let the state totally off the hook. And all the while our real enemies, bosses and landlords, keep on getting richer.
If we actually care about child abuse, terrorism and free speech, one thing is very clear: we can start by mobilising against the far-right.
Join the Stop the DFLA in Manchester demo on Saturday 2 June at 11am, St Peters' Square, Manchester.