"Our queerness never dies": The Battle Against Far-Right Violence in Greece
14 November 2018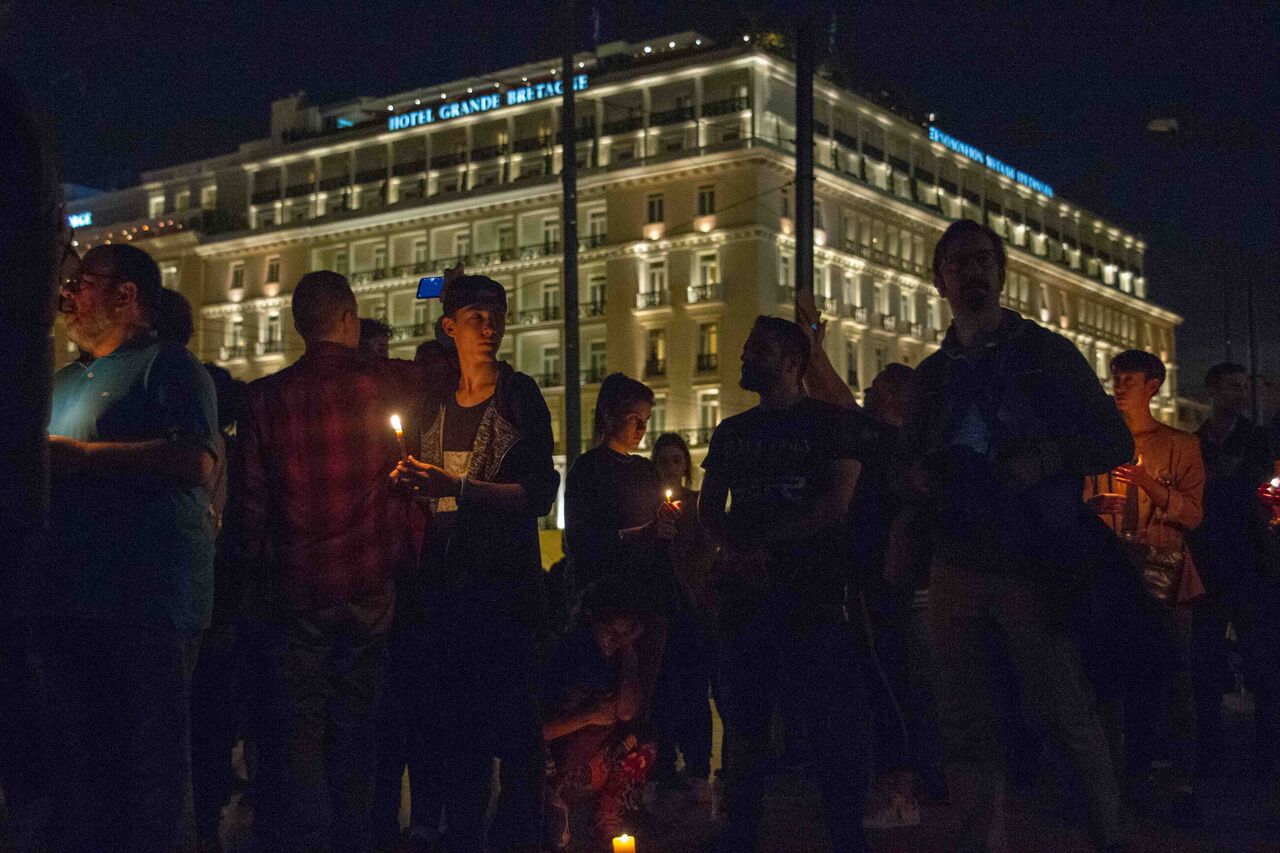 Alex King
The man looked confused and was awkwardly brandishing a fire extinguisher. He was trapped inside a pawn shop on a busy commercial street in central Athens, when two men smashed the glass, pulled him out and began beating him. Police arrived soon afterwards and continued the beating, eventually handcuffing the by then unconscious man and putting him into an ambulance. His exact time of death has still not been established.
Greek TV news was quick to report the event as 'HIV positive junkie attempts to rob a jewellery store and is killed by its owner in self-defence'. They played and replayed a short segment of footage and an interview with the store owner, where he justified the violence in defence of his property. The tone of coverage was largely that citizens and the state had responded appropriately to a drug-crazed attacker. Case closed.
Yet with each new piece of evidence that surfaces, this narrative looks increasingly flawed. It soon emerged that the man beaten to death in broad daylight, minutes away from Omonia police station, was Zak Kostopoulos, one of Greece's most prominent LGBTQI+ activists. While the circumstances around Kostopoulos' death remain mysterious – even more than a month later – and the motive is still not fully understood, if activists' worst fears are confirmed the likelihood of far right and police involvement suggests the full truth might never come out.
A fatal misstep.
Kostopoulos' murder occurred just four days after the fifth anniversary of the fatal stabbing of leftist rapper Pavlos Fyssas by a member of the neo-Nazi group Golden Dawn in September 2013. To date Fyssas' killer has still not been convicted, despite his confession to a judge. Although there are many unknowns in Kostopoulos' death, the apparent parallels between his and Fyssas' case are sobering: an influential activist killed, with allegations of police collusion and obstruction of justice. It suggests the battle against far-right violence is being lost, and that fascists can still murder with impunity in Greece. Yet after talking with activists and academics the picture is more nuanced, and both the achievements and setbacks of the last five years offer important lessons for all those confronting fascism across Europe.
Kostopoulos was the first in Greece to publicly announce he was HIV positive, was much-loved as drag artist Zackie Oh! and worked with many groups, from those promoting LGBT education to refugee solidarity. It's still impossible to prove his was a premeditated or homophobic attack, but the media were not alone in using his sexuality to frame the incident. The far right have also attempted to exploit the killing. Golden Dawn destroyed the makeshift memorial and tributes left at the sight of Kostopoulos' death and paraded around Athens shouting: "Junkies and gays, you're not necessary."
Since the crisis of 2008, Greece has provided textbook conditions for the rise of fascism. But unlike in Brazil or the US, in Greece the far right have been kept out of power. This has in large part been because their momentous surge was choked off by a strategic miscalculation: the killing of Fyssas. After huge protests, prosecutors took the unprecedented decision to connect scores of incidents of violence and charge Golden Dawn itself as a criminal organisation. In May 2015, the start of this (still ongoing) trial ended the state's long-running leniency towards Golden Dawn and its attacks on political opponents and migrants – crimes which have now all been aired in full public view, along with allegations of police complicity and lies about the Fyssas attack.
"Exploiting crisis and austerity allowed Golden Dawn to acquire legitimacy with a silent majority," explains political theorist Anna Carastathis, who studies intersectionality and gendered violence. "But that legitimacy has been undermined throughout the trial. Once the full details were made public, people could no longer use the excuse that Golden Dawn was merely a protest vote against the major parties."
After becoming the third largest party in 2015, Golden Dawn has stalled at the polls. The leadership's disavowal at trial of the violence inherent in their Nazi ideology and members testifying for the prosecution have harmed internal cohesion. Simultaneously, anti-fascist activists have steadily built alliances and claimed back neighbourhoods that were once far right strongholds. Action in the streets combined with pressure in the courts is helping to dismantle Golden Dawn's power and influence. However, a fragmenting far right – known to receive knowledge and funding from international fascist networks – still poses real danger.
Building bridges.
One of the most pronounced social changes in recent years in Greece has been the enormous progress in terms of visibility, acceptance and legal rights for the LGBTQI+ community, while Athens is experiencing a queer arts renaissance. "It's still challenging to be gay in Greece but a growing majority accept us," explains Menelas Siafakas, an artist, activist and organiser of fundraisers for Kostopoulos' campaign. "However, the minority against us is becoming more assertive and violent. We want truth and justice for our friend Zak. But people don't realise the judicial process will be a marathon – just like the Fyssas case."
Meanwhile, the Racist Violence Reporting Network has recorded an increase in far-right attacks on refugees and migrants, as well as a rise in racist abuse perpetrated by the police. This supports anecdotal evidence from activists, who see police too often turning a blind eye as the far right shifts its focus away from LGBTQI+ people and towards migrants and refugees; a softer target, with weaker pillars of support in the wider community.
In life, Kostopoulos supported and inspired so many – from refugees to people living with HIV. In death, he continues to bring both the LGBTQI+ and refugee communities deeper into a broad anti-fascist coalition, uniting Athens' progressive communities in condemnation of homophobia, fascism and violence; from LGBTQI+ and gender activists; human rights and refugee solidarity networks; to anarchists, anti-state violence and police reform groups.
As elsewhere, there is still much to be done in confronting racism and homophobia within the police, and more work needs to be done to build bridges of solidarity. Greece's ongoing struggle with fascism also shows the importance of fighting fascism on multiple fronts: from winning the battle in numbers on the streets, to owning the cultural debate and fighting in the courtroom and at the ballot box.
But we can all learn from the defiant refusal of LGBTQI+ communities in Greece to bow to pressure to disappear, conform and surrender demands on public space. "This murder won't be silenced, it won't become just another obituary," as activist group Ieries Tou Eshous signed off a city-wide poster campaign. "Listen up Greeks: Our queerness never dies. You'd better be afraid of us."