Rebuilding Hope in Gaza
by Karama Fadel
22 November 2018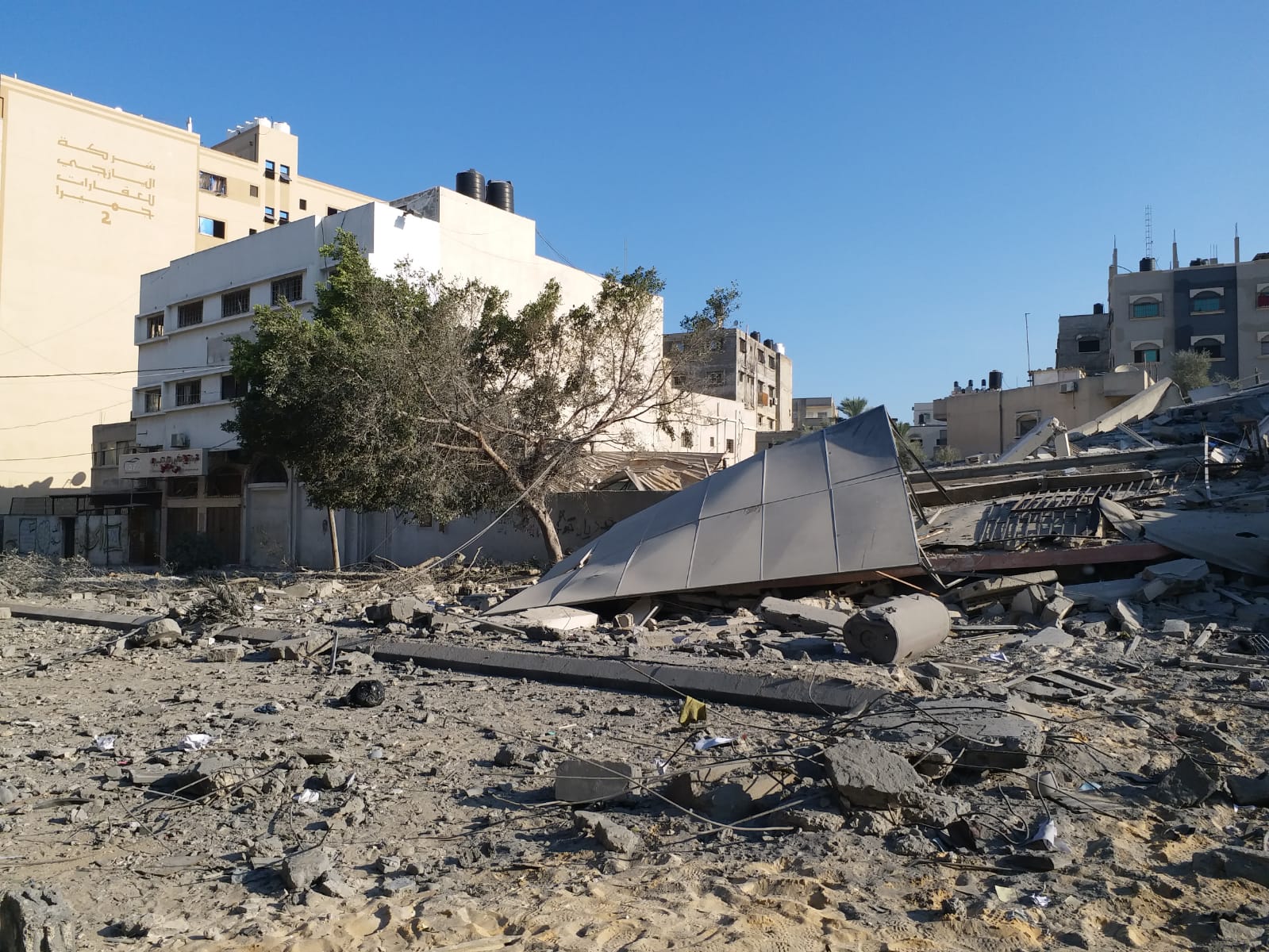 Palestinian Center for Human Rights.
Earlier in November, Israel botched an undercover raid into the besieged Gaza Strip. In the ensuing firefight, seven Palestinians and one Israeli lieutenant colonel were killed. Thus was a fragile ceasefire broken. The Ezzedine al-Qassam Brigades fired rockets into southern Israel, while Israeli warplanes began bombing sites in Gaza. One of those sites was right next to Karama Fadel's home. This is her account. 
"Wake up, get out of the bedroom!" my sister shouts. "They are bombing the Al-Amal hotel!"
It is 11:30pm. I am sleeping when my sister wakes me with her shouted warning. My entire bedroom is shaking – my bed too. I jump to my feet and can hear a jumble of voices mixed together, the sound of the air strike, my little niece crying, breaking glass of the windows, ambulances out in the street. 
"Oh no! The war is starting again."
A flood of bad memories come rushing back to me. I have been through three wars in Gaza already, which I was lucky to survive. Many were not. This will be the fourth. Will I survive again?
Booooooooooom. A sound so loud, so massive, that it leaves me terrified. I know this sound far too well. I haven't forgotten it even now. It's still ringing in my ears.
I look outside the window and see the dark of the night transformed by unnatural light, the sky turned to red. Bombs, one after the other, fall on the Al-Amal hotel. My mother shouts at me and my siblings not to go to the window and not to look outside.
I rush to the living room where all my family are gathering, my little nephew looking at me. He has many questions in his small smoky eyes, his tiny figure cradled in his grandmother's arms as she hugs him and mumbles some prayers. He thinks that this is the safest place for him. My aunt beside me holds her small radio. Loudly, she tells us, "The warplanes have destroyed Al-Amal Hotel".
Israeli warplanes have carried out five airstrikes against the hotel and it hurts me deeply. In Arabic Al-Amal means 'hope'. This building is located in my neighbourhood and I have many joyful and beautiful memories associated with it. It is a famous and well-known landmark in Gaza. In addition to people, buildings, and families, I can now say that Israeli bombs also destroy hope. 
But hope we must maintain. We must still dream of one day living in peace.
I had hopes of my own. I wanted to build my own business, an Arabic language tuition agency. The offices I had located were also bombed and damaged in the attack. Back to square one.
I feel naïve for believing that if I worked hard I could build a future for myself in this country. I feel bitter for having hoped to live in peace like people in other parts of the world. The war teaches people toughness and hatred. The war is killing all the beautiful things that any Gazans hold in our hearts.
My memory drifts to two decades ago, when I was ten years old. My aunt took me to the Al-Amal hotel to meet delegates who had come to visit Gaza. We sang Palestinian songs for them. I danced and ate delicious food. I played and laughed a lot. 
I am an Arabic teacher. I have a strong bond of friendship not only with people that I meet living here but also the people to whom I teach my language. They come to work in Gaza for a while, and then they leave forever. I used to see such visitors every day. My heart would attach to my students with no control because I love them.
However, I also know that these people are only guests. They will leave me and travel and never come back.
I also have a strong connection with the places and buildings that I used to see every day on my journey to work, on my runs in the early morning, or when I would take a taxi and tell the driver "Take me to Al-Amal Hotel," which is next to my house.
The bombing had finally stopped but the drones were still heard in the sky. My phone didn't stop ringing with my friends and relatives calling to ask if we were okay. When I picked up my phone I was still shaking. "We all are fine, don't worry, the kids are okay too."
Early the following morning my mother told me that both sides had agreed to a ceasefire. After the horrible night, and despite the curfew, I rushed to the hotel to see the destruction. It was completely ruined and the nearby houses and buildings had sustained severe damage too. I found it very painful to be in that place, so I left.
Once back home I checked Facebook for any news. I was shocked by the photos my friends were sharing on social media. Among the bad news I saw photos of the offices in which I had planned to start my business. It was badly damaged.
Frustrated and angry, I contacted my team in London who were also closely following the latest assault on Gaza. I was relieved when they explained that they understood the risks of starting a business in Gaza. They urged me to continue, to not to let this Israeli violence destroy the plans we are building together and to work harder to reach our goal.
To live in Gaza is to be trapped where others are free. Westerners working for NGOs, for the UN, and other bodies come and go, while I must remain. That is one of the most difficult parts of living here. 
Difficult too is the uncertainty. Buildings that seem permanent suddenly disappear at the whim of a warplane, obliterated in a moment of explosive hatred. A building that symbolised hope gone in an instant.