Sacked at Christmas: Uber Eats Fires Workers for Objecting to Pay Cut
12 December 2018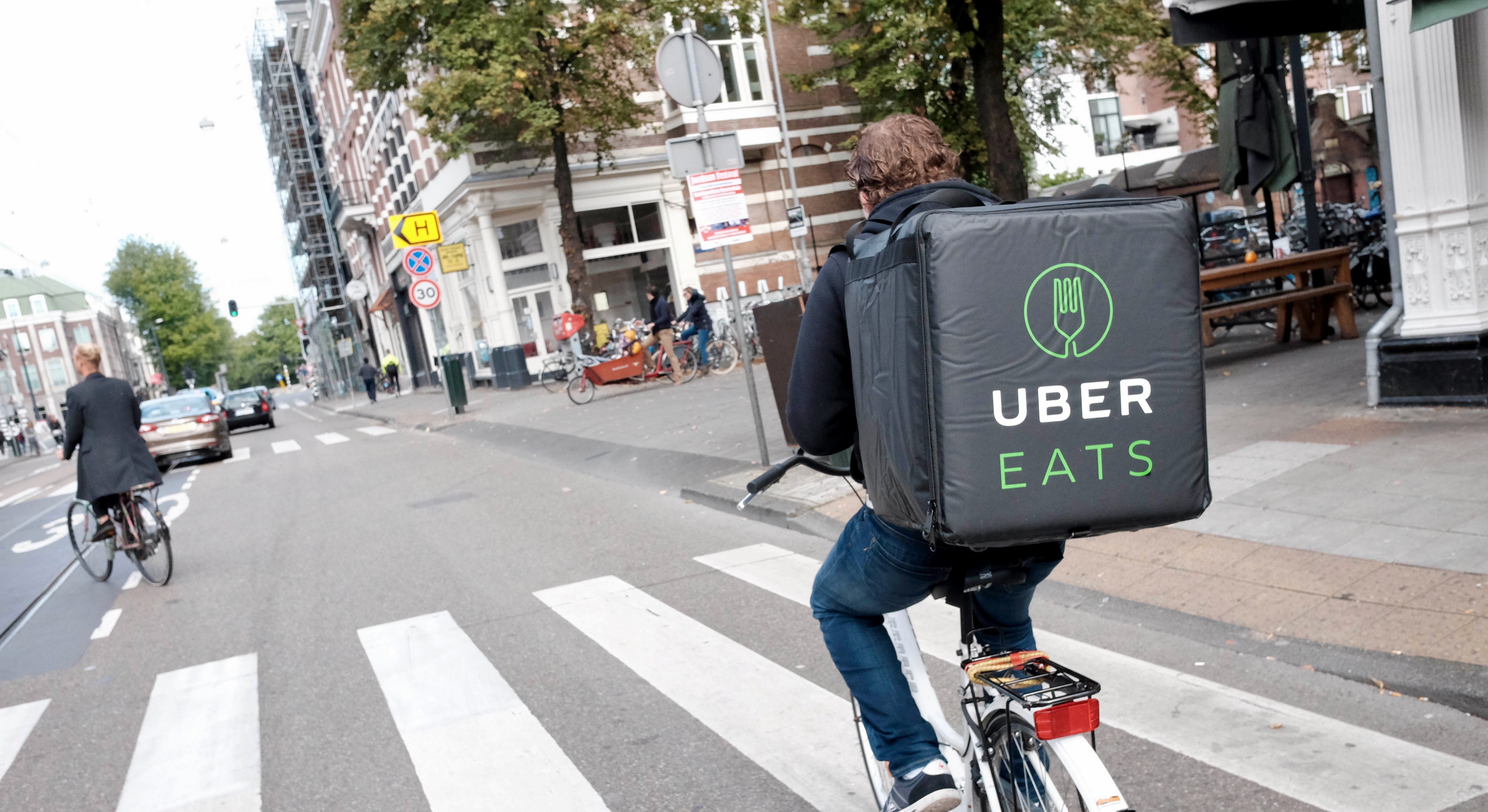 As the lunchtime rush came to an end on a cold Monday in late November, Uber Eats couriers in West London realised they were about to experience a 60% drop in pay. Their app was showing a 'boost' – a multiplier applied to workers' pay at busy times – of just 1.1 in their zone instead of the usual 1.6 for the first time since Uber Eats reduced their overall wages and minimum fee per drop in October. This meant they were about to be paid at the lowest rate they had ever been.
Of the 20 or so workers who do deliveries in the Hanworth zone, 12 decided that they wouldn't work for a rate that low. So, they sat down in McDonalds, which functioned as their informal break room when they were waiting between deliveries, and refused to accept any more orders.
Greg Bayliss, a father of two children aged five and eight, was one of the workers who went on strike. Bayliss chose the job because one of his children is disabled, and his caring needs vary day by day. The flexibility of the job meant he could always be there for his kids. Since Autumn 2017 he had worked for Uber Eats full time, often doing 60 to 70 hour weeks. "I worked so hard for them," Bayliss told Novara Media. "I was out in the rain and the snow, everything."
In October, Bayliss participated in the large Uber Eats strikes that shut down the app in the capital over the change in minimum fee per delivery from £4.26 to £3.50. This time, however, the workers didn't contact other zone across London or take part in any demonstrations. "It wasn't even a proper strike," Bayliss said, "we just decided not to work".
An argument broke out. One worker wanted to go back to doing deliveries, whilst the others wanted to maintain their protest. Bayliss says he broke the two up, then decided to head home. Later, the worker who'd wanted to carry on working returned to McDonalds with a group of friends, looking to settle a score.
Bayliss, however, was at home by then. He messaged Uber Eats to tell them why he wasn't working and got a message back twenty four hours later thanking him for the information. The next thing he heard was that all ten workers who had stayed at the McDonalds had had their accounts temporarily suspended, apparently for taking part in a strike.
Not him, however. Bayliss carried on working for another forty hours that week. After costs, Bayliss's typical hourly wage averages out between £8 and £9 per hour, well below the London living wage of £10.55 an hour. This hourly average has been declining since he started the job – the 1.1 boost was just the icing on the cake.
Then, on Monday evening, Bayliss got a phone call from an Uber representative. They told him that his supplier agreement had been terminated, with no right to appeal. The reason given over the phone was that a McDonalds manager claimed that he had participated in strike action. As a result, Bayliss immediately lost the ability to work for Uber Eats, without any notice period or any redundancy payments. He tried to argue his case, to say that he had gone home, but he was told repeatedly that there was no possibility of the decision being reversed. At least six other workers in the zone have also had their contracts terminated for the same reason.
Uber did not immediately respond to a request for comment.
Because Bayliss is legally classified as an independent contractor, he has no legal protection under UK law if he withdraws his labour. He cannot appeal the decision to an employment tribunal because he is not an employee.
Losing his job has hit Bayliss hard. "It feels like I've been failed," he said "Like I have no rights anywhere. It's a joke."
He added:
"Everyone knows that self-employed riders have no rights. Uber Eats exploit that to its fullest potential to avoid legislation. We're in a country that is full of human rights, but we have none."
The financial pressure caused by the sudden loss of his primary source of income has driven him to feel suicidal. The proximity to Christmas just makes the situation harder. "I can't even get my kids presents," he said, in tears.
This is the reality of precarious work. Uber bosses might have launched a PR offensive offering free rides to NHS staff over Christmas, but when they think the public isn't looking they lord it over their workforce like little dictators. That doesn't make them uniquely evil – this is how all companies aspire to operate in a system where nothing is more important than the profits of the already-rich. Precarious workers, who have been thrown under the bus of late capitalism, know that only too well.
What did you do at the weekend? @LondonIWW (supported by the @IWGB_CLB) shut down #HanworthMcDonalds who had blacklisted and victimised @UberEats couriers. An injury to one is an injury to all. More to follow. pic.twitter.com/eYfHNAHPOr

— IWW Couriers Network (@IWW_Couriers) December 10, 2018
But Bayliss isn't taking it lying down. He's never been a member of a trade union before, but he's got in touch with the Industrial Workers of the World (IWW) – the union that called a national strike of food couriers in October.
On Saturday 8 December, Uber Eats workers in Hanworth were on strike again. This time with the support of the IWW, Bayliss and the others picketed the McDonalds where the whole saga began. For three hours, the vast majority of workers refused to cross the picket line – including those brought in from different zones by the app in an attempt to break the strike. One even brought the strikers a pizza. IWW members stormed the store with megaphones, and shut it down until the regional manager of McDonalds for the South West of London eventually got the police to eject them.
Achille Marotta, an organiser with the IWW, says that this is just the start. The IWW is preparing for strikes every single Saturday until the boost rate is increased and McDonalds management agree to stop harassing drivers.