Latin Venues in Elephant and Castle Forced Out to Make Way for Redevelopment
19 December 2018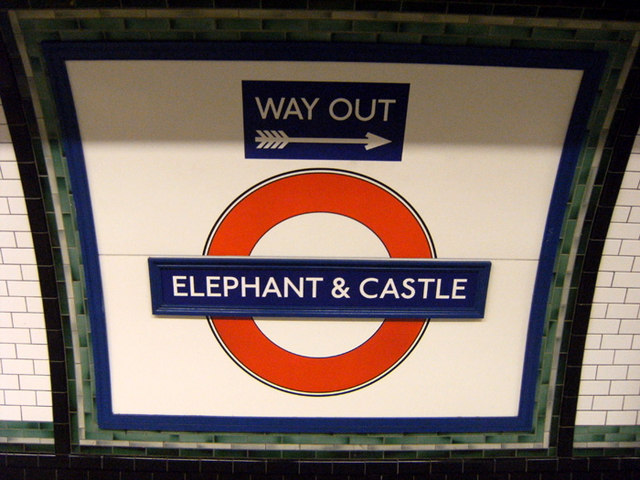 Wikimedia Commons
The long-running regeneration of Elephant and Castle has been a source of local acrimony for more than a decade. This week, the starkly differing fates of three of its best-loved cultural venues have raised new questions about Southwark council and developer Delancey's approach to local residents and businesses.
On Thursday, Sadiq Khan gave his seal of approval to the latest stage in the lavish redevelopment of Elephant and Castle, a diverse working-class neighbourhood in south London: the demolition and rebuilding of its central shopping centre. A squat and increasingly dilapidated mid-70s concrete megalith, the Elephant Centre is nonetheless a crucial hub for the area's under-served minority groups, with everything from Polish cafés and a busy open-air market to African fabric shops and Colombian nightclubs.
It's the last of those spaces which has prompted specific concern this week, after local business group Latin Elephant highlighted the worrying outlook for two popular restaurants and music venues catering to Elephant's Latin American community. Following the mayor's sign-off, it now seems certain that La Bodeguita and Distriandina, situated in the railway arches underneath Elephant & Castle train station, will be forced out of their current sites to make way for new shopping space and a pedestrian access route respectively.
However their immediate neighbour Corsica Studios, an independent club and gig space which caters to a predominately white audience, is not facing demolition. Indeed, because the club is staying where it is, it's eligible for £125k of funding from Delancey for new soundproofing to pre-empt possible noise complaints from the upmarket apartment blocks which will also form part of the redevelopment.
"An ignorance and disregard towards businesses of minority ethnic culture".
These disparate outcomes are deeply troubling – potentially yet another example of unconscious or structural bias from wealthy developers and public bodies. Following the mayor's report, Distriandina's management has publicly accused Southwark of showing "an ignorance and disregard towards businesses of minority ethnic culture".
Santiago Peluffo of Latin Elephant spells out the challenges his charity has faced in representing Elephant's Latin American business owners since its inception in 2014, when Delancey first bought the shopping centre.
"Our main focus throughout has been retaining the migrant and ethnic businesses which are under threat here. Fundamentally, we want to make sure that all BME tenants are given equal treatment, either in the form of compensation for the loss of their space, or the proper provision of a relocation site which will suit the needs of each business, particularly in the case of late-night businesses like Distriandina and La Bodeguita.

"Delancey's consultation process has been poor; a lot of key information hasn't been shared and traders have had to get information through us. Despite this, we've been able to secure improvements to Delancey's plan, like a first-refusal offer to existing tenants in the 10% of affordable retail space in the new Centre and the capping of rents over 15 years for independent businesses".
"Southwark is proud of its diverse population".
Southwark council's position contrasts with some of these criticisms. Councillor Johnson Situ says the council has "worked hard to make sure that all of the traders affected by the redevelopment of the shopping centre are helped through the planning process, including guaranteeing affordable retail space in the redeveloped centre and surrounding area".
Southwark has strongly defended the consultation process in particular, pointing to the mayor's conclusion that the council has "secured an unprecedented level of support for traders affected". Southwark also confirmed that La Bodeguita and Distriandina will be able to apply for relocation funding from a central pot of £643k, split between an as-yet unconfirmed number of traders.
Council representatives have also pushed back strongly against the suggestion that their involvement reflects a lack of concern for Elephant's Latin American community, or indeed for any of the other BME groups within the borough, with Situ arguing:
"Southwark is proud of its diverse population, which is why we have been particularly aware of the impact the redevelopment of the shopping centre has had on the different communities in the area. We have been clear at every step that whilst the redevelopment is a key element in the wider regeneration of Elephant and Castle, this must not come at the expense of the area's vibrant local community."
Despite this, questions remain over how the redevelopment is being handled, with Distriandina's management raising a number of concerns:
"Throughout the consultation process we feel that our views have often been ignored by the council. In their initial documents, we were not listed as a nightclub or a site of cultural provision, with the council instead only noting our function as a coffee shop and bakery.

In addition, the relocation sites offered by the developer only take into account the small market traders and stalls, and ignore our railway arch; none of the sites currently offered would be suitable for our relocation. The total retail space on offer for relocation in 2019 is still significantly less than the affected businesses currently occupy. As a large business, this is of particular concern to Distriandina".
Adrian Jones, the owner of Corsica Studios, doesn't feel that the different outcomes for him and his immediate neighbours reflect an underlying bias. However, he does share their concerns about Delancey's interactions with traders and has been vocally supportive of both Distriandina and La Bodeguita, who, in turn, have welcomed the solidarity and support.
"The fact we're not facing eviction has nothing to do with us 'collaborating' with the developers or anything like that," says Adrian. "It's simply a result of the plans originally being drawn up with us outside the redevelopment area, and La Bodeguita and Distriandina inside it."
"I don't think the developers really had a full understanding of which businesses were here when they first drew up those plans," he explains, outlining that Corsica had to reach out to Delancey to begin conversations about the redevelopment, rather than being contacted proactively. "In terms of the money for soundproofing, again those protections exist because of Agent of Change legislation, not because of Corsica lobbying Delancey or it being a discretionary expenditure for them. We haven't worked out the exact cost of this work yet: the sum they've proposed might cover things, but it might not."
Delancey "committed to listening".
When asked about the initial design of the redeveloped Elephant Centre and their subsequent engagement with existing businesses, Delancey's response provides some insight but leaves other questions unaddressed:
"Throughout the five-year long design and consultation process, we have been committed to listening to Elephant and Castle's Latin American community – as well as the wider community and other minority groups – and alleviating their concerns wherever possible."
Delancey outlines a number of steps it has taken to achieve this, which include "meeting with Latin American interest groups, providing a full time bilingual community engagement representative in the shopping centre and the creation of a Traders Panel to assist with relocation."
Delancey asserts its commitment to providing "affordable retail space for tenants currently trading within the shopping centre", which includes "providing some of the commercial space needed for local independent businesses, and first refusal would be given to existing shopping centre tenants."

As with all questions of unconscious bias, or the competing demands of complex urban regeneration projects, precise lines of culpability and justification can be knotty and hard to untangle. Southwark and Delancey are evidently making efforts to work with existing traders, but it's also clear that several minority businesses are not being listened to or valued in the way they would want to be.
The Legacy of the Heygate Estate.
In unpicking those differences of perspective, it is perhaps relevant to note that La Bodeguita, Corsica Studios and Distriandina all face out onto Elephant Park, the slickly rebranded complex of apartments, pseudo-public spaces and Boxpark-esque popups which occupy the former site of the Heygate Estate.
Having sold that 25-acre plot for a paltry £55m to multinational developers LendLease in 2010 (despite valuing it at £150m three years earlier) Southwark then spent £50m clearing its residential blocks, dispersing residents to the fringes of the borough and destroying the communities which they'd built there over the previous 40 years.
Although there were 1,200 social housing units on the original Heygate site, these have been replaced by a mere 82 available for social rent in Elephant Park. In 2014 the first of its full-price properties went on sale, not in south London but in Singapore; by 2017, it was reported that every one of them had been sold to foreign investors.
Since 2010, a number of Southwark council staff have landed lucrative jobs at LendLease, whose takings from the Heygate are expected to top £200m; Southwark has said it does not expect to see any profit for the public purse. Kim Humphries, deputy leader of Southwark council at the time of the Heygate sale and the man in charge of evicting its residents, has since taken up a private consultancy role advising Delancey on the redevelopment of the Elephant shopping centre.
It's not unreasonable to suspect that business owners who've watched the Heygate saga unfold mere yards from their front doors might have legitimate fears about the same happening to them. Meanwhile Southwark council argues that the Heygate project began more than a decade ago, under a different administration, and says that it has learnt important lessons from it.
Either way, the Heygate offers a stark reminder that the challenges inherent in large-scale urban renewal projects are never dormant. The importance of ensuring that local communities are given their rightful seat at the table, particularly minority groups whose voices have not always been privileged by those in power, remains as visible as ever.